Let's talk about the 10 Rosehip oil benefits for skin care and antiaging. They're so many amazing properties of Rosehip Oil, you'll want to use  on your face today!
Rosehip Oil is AMAZING for under eyes / eye wrinkles
I know what you're probably thinking… BUT Jen I have oily / acne prone skin, won't it make my skin greasy? Nope.
Read my rosehip oil uses and why I now receive compliments on my skin! This is all thanks to rosehip seed oil.
I use rosehip seed oil for face skin care day and night. I have even been using rosehip oil for skin care and antiaging for six months!
Rosehip oil is my favorite daytime anti aging oil, please learn why and learn the rosehip oil uses for skin care. Also rosehip oil uses and benefits.
Here's the #1 beauty oil I recommend
for treating under eye wrinkles fast
Rosehip Oil Benefits for for skin care: I knew my rosehip oil was really working when a stranger at the bank complimented me on my skin. This woman wanted to know my "beauty secret" this made me blush, but I was confident telling her I was using rosehip oil for my skin care, mainly just using rosehip seed oil for face skin care.  She also wanted to know why I didn't have any wrinkles (after she asked my age thanks for asking) We had a nice conversation!
She never heard about rosehip oil before and she wrote it down! Yes, rosehip seed oil for skin care is my anti aging secret. I told her I discovered rosehip seed oil while watching the Dr. Oz show when he had a skin care segment.
I've been rosehip oil on my skin every morning and night and learning everything I can about rose hip oil benefits for skin care for the past six months. I had no problems using rosehip oil acne – skin care, my skin is acne prone and I didn't break out. I also had luck using rosehip seed oil for scars.
Yes, Rosehip Seed Oil is
great for under eyes too!
Rosehip Oil Benefits:
Here's my Rosehip Oil!
I removed the label
so you could see the oil and because I'm not being paid to advertise this brand of rosehip oil! This oil is a beautiful amber color. Isn't it pretty?
(like my nails btw?
) Oh thank you! 😉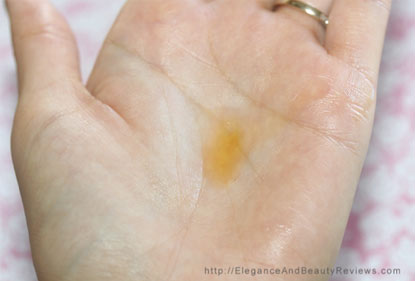 It quickly absorbs into the skin replenishing moisture and creates a protective barrier on the skin to help prevent dehydration. Fun fact Rosehip oil is scientifically known as rosa mosqueta.
And this is the rosehip oil I use:
UPDATE: they changed the bottle design!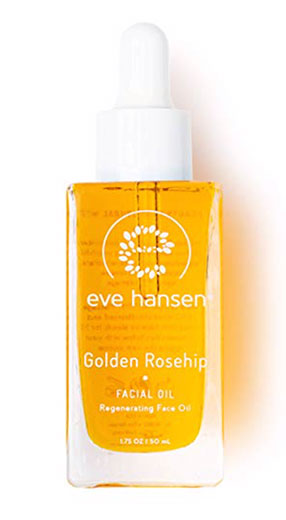 Link to purchase this rosehip oil: http://amzn.to/1yOUbFM
Here's their old bottle design: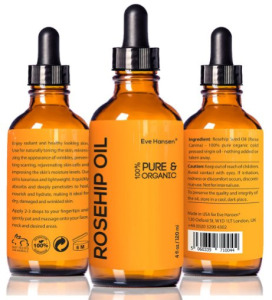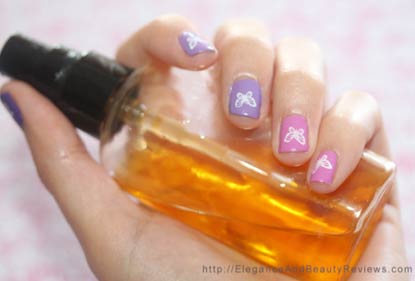 Rosehip Oil Benefits  – How I use Rosehip Oil in my skincare routine:
Rosehip Oil benefits In the morning skin care: I have been using Rosehip oil after I exfoliate, cleanse, tone, and moisturize my face. This beauty oil is very light weight and absorbs so quickly, that I'm always adding an extra dab under my eye area just in case I need it. It also helps prevent under eye makeup creasing. I only use a dime sized amount in the morning. I let it soak into my skin for a minute and wipe away any excess oil with a dry cotton pad. After that, I apply my bb cream, primer, and go about my makeup as usual. This helps keep my skin looking well hydrated all day!
Rosehip Oil benefits Before bedtime skin care: I use my rosehip oil on my face after I've removed my makeup, exfoliated, cleansed and moisturized. I use a generous quarter sized amount of the rosehip oil on my skin all over my face. At night, I add a little dab of Vaseline on top of the absorbed oil under my eye area to help heavily seal in the oil. This method has been helping me battle under eye wrinkles and help prevent them!
I like to use all types of oil for specific needs. For example, dark under eyes – I use sweet almond oil. Rose hip oil is my favorite beauty oil to use at bed time because it specifically helps fight those under eye wrinkles! I also have an article just about How to remove under eye wrinkles using Rosehip Oil.
Rosehip Oil benefits upon waking up: When I wake up in the morning, my skin always looks hydrated, not greasy. I love the glow my skin has in the morning when I use my Rosehip oil before bed. I admit, sometimes I'm too lazy or forget to apply the oil and I can always tell the difference.
When I do use rosehip oil, I wake up in the morning and I don't have any signs of dehydrated skin. No dry patches or flakiness, and especially no fine lines! I usually get this weird fine line in my forehead when I sleep on my side, not the case when I'm using my rosehip oil! 🙂 Many people notice the rosehip oil is good for acne scars and helps fade the acne scars over time. Lets talk about rosehip oil for acne.
Rosehip Oil Benefits for Acne Scars and Acne
If you suffer from acne scars and lots of face acne, rosehip seed oil is good for your skin. Lots of people think if the have oily skin or acne, they can't use rosehip seed oil for skin care. That's a myth. Your skin is producing excess oil because your skin is dehydrated. When your skin produces too much oil, your pores easily get clogged and acne happens.
I suggest you start drinking more water and using rosehip oil on your acne and face. The rosehip oil will create a protective barrier so your skin won't get dehydrated. You skin will thank you by giving you a healthy complexion. Your acne scars will fade faster when you use rosehip oil. Rosehip oil has vitamins that help the skin heal and regenerate healthy new skin cells.
You can use rosehip seed oil for acne and acne scars and see improvement withing two weeks. I wrote about rosehip oil benefits Acne here.
YES! It's OK to Use on Oily Skin
If you have oily skin, you can use rosehip oil on your oily skin. The skin care benefits of rosehip oil make it perfect for oily skin. Rosehip oil is a light weight oil that can deeply penetrate the skin and help remove excess oil from your face.
Oil removes oil. Here's how to apply rosehip oil on oily skin. First make sure your skin is clean, next you can apply some rosehip seed oil on your oily face and gently wipe it off with a paper towel. Try doing this twice.
How to use Rosehip Oil on your face:
1. First prep your skin. Make sure your skin is clean and exfoliated to make sure the rosehip oil is deeply absorbing into your skin. I like to use baking soda to exfoliate the dead skin.
2. Apply a small amount of rosehip oil into the palm of your hand
3. Gently pat the rosehip oil onto your skin with your fingertips.
4. After five minutes apply another small amount of rosehip oil onto your dry skin areas such as under your eyes and forehead. Use rosehip oil on wrinkles!
The rosehip oil should be deeply absorbed into your skin and helping to create a protective barrier so your skin does not dehydrate.
The Rosehip oil benefits are truly amazing! Here's some photos of me using my rosehip oil: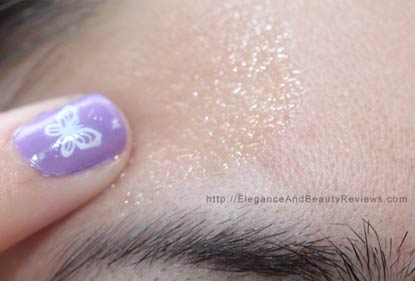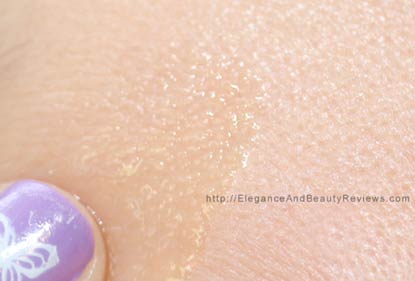 Why is rosehip oil so good for skin?
Here's my top ten rosehip oil benefits for skin care. My favorite rosehip oil beauty benefit? I love how rosehip oil treats wrinkles and moisturizes the skin around my eyes.
 Top ten Rosehip Oil Benefits for Skin Care
1. Moistens Skin
The skin care benefits for rosehip oil are amazing for dry skin. Dry skin lacks essential fatty acids and vitamins and rosehip oil is full of essential fatty acids and vitamins, giving you naturally moisturized skin. When you skin has everything it needs, you skin looks healthy. Rosehip oil is an excellent choice for dry skin on the face because it's light weight and won't feel heavy. It deeply absorbs and won't leave you looking super shiny.
2. Treats wrinkles Wrinkles
The skin care benefits for rosehip oil are so nurturing for mature skin
and
rose hip oil is perfect for treating wrinkles
. Just as mentioned, rosehip oil has the ability to moisturize skin and treat wrinkles with vitamins E and A. The essential fatty acids also help repair the skin and make wrinkles plump back up.
It's a fact Rosehip gives you younger looking skin! If your skin wrinkles are deep, it will take more time and patience to see a huge difference. Use rosehip oil every morning and night, at night use the rosehip oil on your wrinkles – let the oil absorb and apply another layer. Next, after that absorbs – apply some Vaseline (petroleum jelly – I don't like this name)on top to lock in that moisture overnight!
Rosehip oil is wrinkles worst nightmare because it works. I would add rosehip oil to my skin after steaming my face. Be sure to read Benefits Of Face Steaming for wrinkles
Not only does rosehip seed treat wrinkles, it also helps prevent wrinkles from forming if worn daily.
3. Treats Eczema 
The skin care benefits for rosehip oil are therapeutic for eczema skin problems.  You can apply rosehip oil to your eczema daily to sooth your skin with its anti-inflammatory benefits. Instead of purchasing smelly creams, I would much rather use rosehip oil.
4. Treats Psoriasis  
The skin care benefits for rosehip oil are therapeutic for people suffering with embarrassing psoriasis skin problems.  You can apply rosehip oil to your psoriasis daily to sooth your skin with its anti-inflammatory benefits. I have a friend that says her rosehip oil is liquid gold! It has helped her psoriasis very much!
5. Exfoliates 



The skin care benefits for rosehip oil are helpful to exfoliate your skin. Rosehip oil is very moisturizing for healthy skin. When you combine rosehip oil with baking soda onto your face, you have a natural facial exfoliate. I recommend rosehip oil as an oil to exfoliate with because it's very light weight.

6. Brightens your skin   
The skin care benefits for rosehip oil are perfect for brightening skin. The vitamins, antioxidants, and essential fatty acids in rosehip oil has all the building blocks to give you brighter skin with rosehip oil. Your skin will radiate a nice soft glow that healthy looking skin has.

7. Evens out skin tone 
Supermodel Miranda Kerr told the Huffington Post, "I Put It On at Night and Wake up Glowing." I think Miranda Kerr is evidence that you can even out a skin tone with rosehip oil. Her skin is flawless. It should be the dictionary's definition for flawless skin with an even tone! Miranda Kerr has spoken about the importance rosehip oil has had for her skin care. This is the more expensive rosehip oil Miranda Kerr uses ($20): http://amzn.to/1rBgGh6
8.Firms Saggy Skin
If your skin is saggy or looking tired, rosehip seed oil is amazing to help firm your skin. Rosehip seed oil has everything your skin needs to help it normalize again and give it all the vitamins it may be lacking. I also find that it helps my skin look less tired when I don't get much sleep at night. Yes, rosehip oil benefits help firm saggy skin.

9. Helps skin Elasticity  
The skin care benefits for rosehip seed oil are perfect to building skin elasticity. The more skin elasticity you have, the younger you look. Rosehip seed oil deeply moisturizes the skin, giving back firmness and elasticity. The nurturing oil helps build skin elasticity without feeling greasy.
10. Fades Scars  
Over time rosehip seed oil helps reduce/lighten scars and other skin blemishes. Rosehip oil has so many high quality vitamins in it, it works faster then other beauty oils sold in store that are usually "watered down" with other inexpensive oils. Use 100% rosehip oil on scars.
Rosehip Oil for Under Eyes:
Yes, it's great for calming puffy eyes, reducing dark undereye circles, and under-eye wrinkles.
Your skin just keeps getting better with rosehip oil over time
Other notable rose hip oil benefits include: Treating dermatitis, acne, and treating sun damaged skin, and even sun burnt skin. One of my friends has told me she's been seeing improvement in her skin using rosehip seed oil for stretch marks.
I would like to mention many people I know have enjoyed the rose hip oil benefits and used it to treat their acne scars. Rosehip oil benefits for hair are great too! You can get shiny hair too with rosehip oil. Because rosehip oil is a light weight oil, it's great for fine hair types.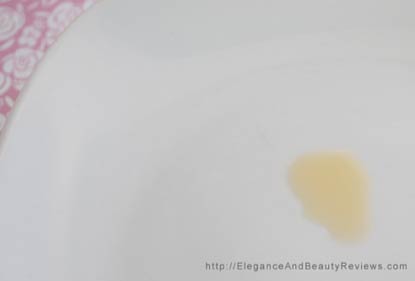 Popular Rosehip Oil Benefits FAQ:
Does Rosehip oil smell?
Yes, it has an herbal smell. It reminds me of  black tea.
What's in Rosehip Oil?

Vitamin E
Vitamin A
Vitamin C
Essential Fatty Acids
Antioxidants
Does Rose Hip Oil Contain Retinol?
No, but rosehip oil does contain a vitamin A acid that retinol converts to.
Can I use rosehip oil if I have acne or oily skin?
Yes! Rosehip oil is a light weight oil and it's good for all skin types! This will help improve your acne too!
What is a Rosehip?!
A Rosehip is that part of the rose that holds the rose petals and seeds. After a rose blooms the petals gradually fall off. What's left is the rose hip. This rosehip has seeds inside. If the rose was pollinated, the rosehip will ripen and, you can plant the seeds. Most people that have rose bushes in their garden will cut the rose hip off the plant to ensure the rose bush spends all it's energy into making more beautiful rose blooms and not seeds!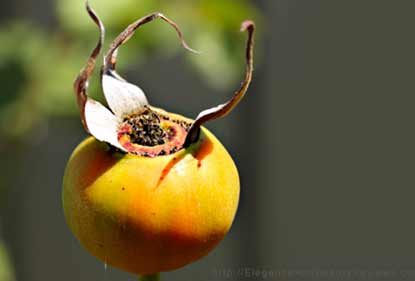 What to look for when purchasing Rosehip Oil for maximum rosehip oil benefits:
Rosehip oil is commonly found at whole foods markets, and online. Make sure the rose hip oil label says the oil was cold pressed. This process makes sure the oil has all the vitamins still intact, giving your the best rosehip oil benefits. I like to purchase my own rose hip oil online, especially from people that make it themselves. I like supporting small businesses aka "Mom and Pop shops." I just do a Rose Hip Oil Search on either amazon or ebay. Here's the rosehip oil that I use. I recommend rosehip oil for all skin types as the best all natural oil for anti aging and skin care.
I hope you enjoyed reading my rosehip oil benefits and learning how I use my rose hip oil. This is my favorite oil to wear all day and night!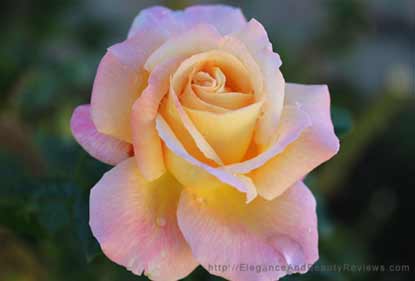 Thank you so much for reading rosehip seed oil uses health benefits skin care and stopping by! I primarily use rosehip oil for face skin care, and I use olive oil for my body skin care. There's a couple reasons why. Rosehip seed oil is more expensive and rosehip oil is a lighter oil making it perfect for using rosehip oil for face anti aging. On the other hand, olive oil is thicker and less expensive making it perfect for your hair and body! Does that make sense? I recommend you also read about the 20 Skin Care Benefits of Olive Oil. Olive Oil is my "go to" beauty oil for my body and hair.
If you have any questions, please feel free to ask in the comments below! Thanks!
There's tons of high quality rosehip seed oils available online:
XO
– Jen
Wikipedia also has information about Rose hip Seed Oil here:
Wikipedia
Why Rosehip Seed Oil is the Next Coconut Oil
Rosehip Oil Skin Care Benefits for Face Video:
http://youtu.be/BozsQMPpDrc
I understand that everyone is not ready to start using oil on their skin. If you want rosehip oil in a creamy texture like a lotion, take a look at this page. (The Skin Care Benefits of Rose Hip Oil) There's a lotion by Miranda Kerr that she just developed.
Also read why Rosehip Seed Oil is my current obsession and the
health benefits and uses