Brave enough to try the titanium micro needle bearing Derma Roller?  I was and I'm sharing my first impressions & experience. I have been testing out this anti-aging skin care tool, the Derma Roller by Diva d'or for the past two weeks. I've been wanting to test this out on my face for a few months now. Keep reading for my full Derma Roller by Diva d'or Review + First Impressions. I'm going to share my honest personal opinion and experience testing this Derma roller. How to use the Derma Roller by Diva d'or and what realistic results you can expect in a short time.
Thanks for checking out my Derma Roller by Diva Review. I have been having fun testing out anti-aging tools and seeing what's new on the skin care market. If you're into skin care and saving money by at home treatments, you probably have noticed how many exclusive spa and dermatologist products have made their way mainstream. For example, intense anti-aging skin exfoliation known as microdermabrasion has become available at home with the PMD microderm system, and now the big kept spa secret of  a derma roller is gaining big popularity for restoring collagen and elastin + more with the release of this derma roller by Diva d'or. I'm loving this beauty tool and I'm recommending you try it out too.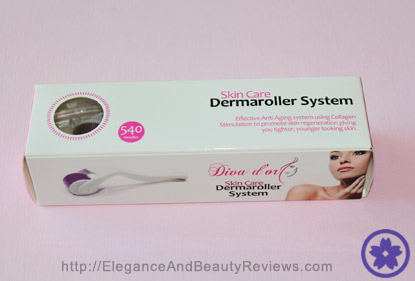 First impressions of the Derma Roller by Diva d'or
I discovered the derma rollers in action by traveling through a random youtube beauty community wormhole. The beauty tool with needles looked crazy to me at first. What are they putting on their face? Ouch! Is it worth it? Does it hurt? Is this a real spa procedure? I started asking my beauty community friends and looking up spa procedures.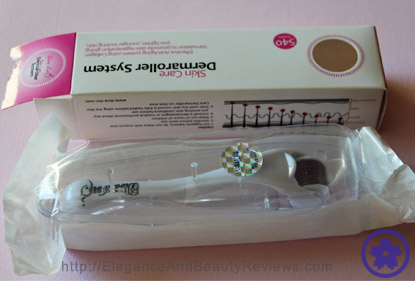 I opened up my shipment from amazon and the box looks so spa like and fancy.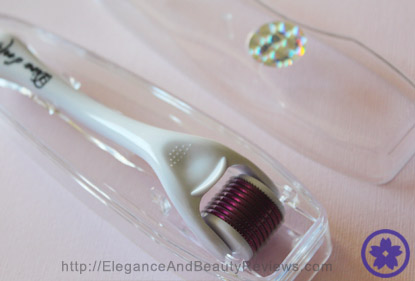 Everything about this product exceeded my expectations in quality. First of all the product was vacuum sealed in a plastic storage case. The derma roller looked medical grade and perfectly clean. The titanium needles did scare me! They really do look like needles and the length was a wow factor.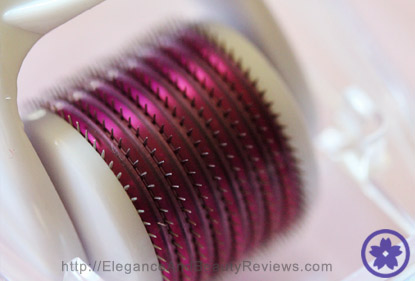 How I used the Dermaroller
I filled up a plastic cup with Isopropyl Alcohol and dipped the derma roller in there first to sanitize it. I freshly washed my face and I was all ready but too scared to put it on my face. I decided to test it on my leg first. I made sure I wasn't putting pressure on the handle, I just moved the handle back and forth – no turning!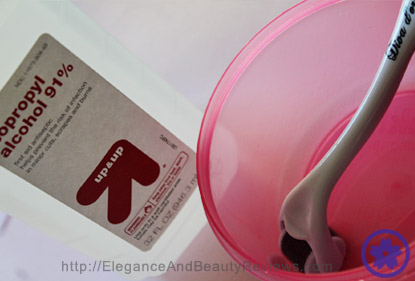 Make sure your skin is cleansed very well with no traces of makeup or dirt. I did my usual and all time favorite natural olive oil makeup removal routine.
The first few second were not fun, ouch! My skin felt like it was too sensitive at first.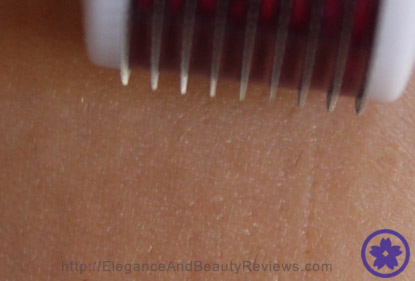 Examining my skin I saw needle impressions, no blood. Good! The needles are hard to get used to but possible. After going back and forth on my leg twenty times, it didn't hurt! It's as if my leg was numb. I felt a lot of circulation in the area and some tingly feeling. I was ready to try my face, yay! I sanitized the roller again. You can see the impressions left by the needles on the right side. I think I used too much pressure on the right.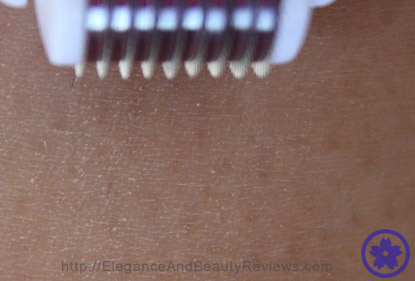 I started rolling the derma roller on my forehead. My face felt really sensitive too, and after a few strokes it was fine. Again, I felt a lot of circulation on my face and a couple spots of blood. My face felt fine and I put a little rosehip seed oil on top to moisturize. My face wasn't red which really surprised me. My skin looks really dry after using it.
[wp_ad_camp_1]
This is a Spa Service known as Collagen Therapy
To receive this exclusive service at the spa, you would ask for collagen therapy. Then you can expect to see an esthetician, latex gloves, creams and a sanitized dermaroller. However, now you can have all this in the comfort of your own home. This is what I would prefer! After taking a shower, I have been using the derma roller.
I haven't had this spa experience, but I'm glad I saved my money and ordered the derma roller. I would never spend hundreds on salon visits. It makes more sense to me having this available for an at home skin treatment. Right?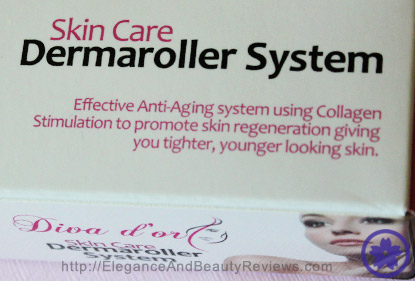 How does the Derma Roller work? Benefits?

Rolling the dermaroller all over your face for a few minutes activates your skin to make brand new healthy blood vessels and create it's own collagen and elastin. If your skin was lacking collagen and elastin, the derma roller just stimulated your skin out of hibernation. If you know about the foundation for healthy youthful skin, you know how important collagen and elastin is – they're the building blocks of youththful skin.
If you want lighter skin and a decrease in wrinkles, there's another beauty tool I use with this derma roller, it's the PMD microderm at home skin care system – for acne scars and more. I'm currently using it once a month. (as of 4/15/15)
The micro needles actually penetrate your skin causing a little pain and circulation and "trauma" to the area, your skin reacts fast to heal and renew the "damaged" skin. This causes new healthy blood vessels in the skin. This is one of the only home skin care treatments that I have discovered that actually creates new blood vessels. Wow! New blood vessels also brings nutrients and produces healthy looking skin. These skin benefits only happen to the areas you use the dermaroller.
[wp_ad_camp_5]
Dermaroller by Diva d'or skin benefits:
This is another great anti-aging beauty tool that has really impressed me. Understanding the science behind it makes it a smart choice for anyone that's looking for results treating their skin with many benefits: (remember this is helping you form heather skin -lots of benefits!!!)
Firm saggy skin
Plump up skin wrinkles naturally
Treat pox scars
Acne
Scars
Large Pores
Stretch marks
Hair loss
 When can I see results using the Dermaroller by Diva d'or?
Warnings: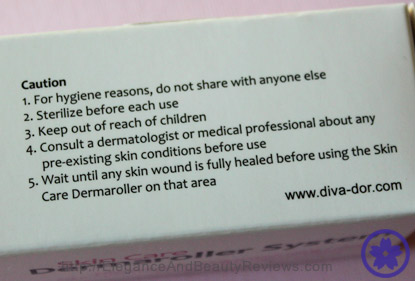 One unfortunate scare I've been noticing on many of the youtube video reviews and beauty blogging community is that many of these Derma rollers are not being used properly! Yikes! People are causing excessive tearing and bleeding and actually hurting their face causing more harm than good. They're rolling and turning it on their skin – don't turn the roller while using it. – only go back and forth and then lift up when you want to change directions!
For the best results using a dermaroller
I recommend your use the dermaroller before bedtime. Just in case you do experience redness, you can sleep and heal. I also think it's best to use this before bedtime because when you sleep your body repairs itself. (beauty sleep)
Derma Roller by Diva D'or Specs
Needles: 540
Model No. DRS100Titanium micro needle length: 1.00mm
Color: purple
Where can I purchase the derma roller by Diva d'or?
Here's the official amazon link for the dermaroller by Diva D'or with the best price, about $18.00
I want to make a youtube video soon showing how to use the dermaroller by diva d'or, please come back soon!
What are your questions about the dermaroller I can go over in the upcoming video?
Thanks for reading my Derma Roller by Diva Review.
XO
Jen