Here is my very own PMD Personal Microderm Review, and results. I've been using the famous at home PMD Personal Microderm System now for 7  years! 
My skin now has ZERO wrinkles and NOW I look even younger than I did five years ago! This is a BIG secret how I look so young!
Don't be intimidated by this big noisy beauty tool, it's for serious skincare results and for the maintenance of perfect skin.  I wanted to wait until I learned all about Microdermabrasion and its safety before I purchased this PMD Personal Microderm System.
I wish I bought this a lot sooner because my skin now has an even tone! Let me tell you about my PMD Personal Microderm Review. By the way, I'm all about DIY, do it yourself, and saving money. Save yourself a trip to the salon. This beauty tool is a wise investment!
Enjoy my PMD Personal Microderm Review :

[wp_ad_camp_4]
Why I purchased the PMD Personal Microderm System
My skin had little rough patches of skin on my temples and forehead that were slightly darker than the rest of my light/medium complexion (sun damage) The funny thing is that I'm hardly ever in the sun. Exfoliating with scrubs didn't seem to improve it nor did serums.
I had a noticeable uneven skin tone I was hiding under makeup. After a week of reading all about microdermabrasion and asking friends that have gone to a real beauty spa and had the whole expensive "Hollywood" spa service and fancy skincare experience with facials and rose petals in the water, I noticed their reviews of microdermabrasion were all positive and even life-changing! One friend actually quit going to her esthetician after having her own PMD Personal Microderm System.
One friend of mine goes monthly to maintain her clear skin and she says it's so expensive! It was that evening while shopping online I bought my own and now I'm sharing my PMD Personal Microderm review with you.
I use the PMD Personal Microderm once every month

What is the PMD Personal Microderm System Microdermabrasion Device?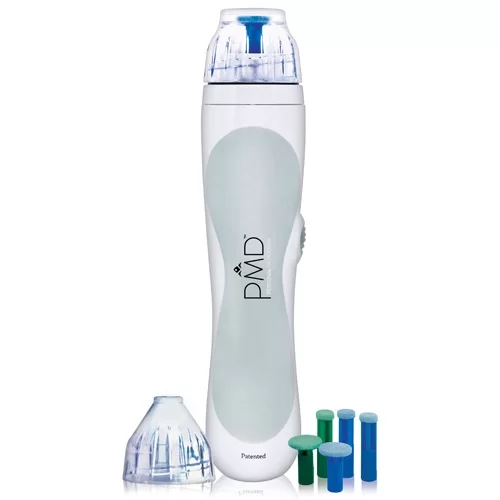 In a nutshell, it's to remove the top thin layer of your skin, to reveal your new skin cells. And new skin cells are so much prettier and vibrant than dull old skin cells. This is a handheld skin care tool equipped with two different sizes of disc attachments used for skin exfoliation.
The two different sized discs offer two different grit levels for exfoliation. The blue disc is for sensitive skin and the green is for normal skin. I use the blue one for the areas around my eyes and the green one for everywhere else including my hands.
When this is held to the skin, a suction will pull the skin towards the rotating disc, stimulating your skin's blood flow, and will gently remove the thin outer layer of dull and dead skin cells from the surface. Don't be scared of cutting your face or causing damage! The only way you could possibly go wrong with this is if you keep it spinning too long in one area.
Skin Benefits using the PMD Personal Microderm System
Even skin tone
Softens wrinkles
Reduces fine lines
Your beauty creams will absorb better and deeper
Brightens skin tone! (my fav)
Removes acne scars over time
Reduces pore size
Unclogs pores! Helps acne! PMD Personal Microderm Review
Removes dry patches of skin
Removes flaky skin
Skin looks refreshed
Glowing skin!
The Softest skin ever!
My PMD REVIEW VIDEO:
My PMD Personal Microderm Review :
The first time I tried using it, I read the instructions, watched the CD and felt like a pro. I used it after I took a shower at night and had clean dried skin.
I Just plugged it in and use the green disc on my hand to get the hang of holding it steady. Easy, I applied it to my face starting on my cheek using slow horizontal lines towards my nose. It didn't hurt, I could feel it sucking my skin, but the disc spins so fast I can't really notice anything "scrubbing" my face.
It felt very gentle. However, the noise it makes is a little loud I think. Then again remember you're using a powered tool. You get used to the noise. When I started gliding it gently,  I could see it leaving a trail of my exfoliated skin behind looking like a fine powder.
Wow, that's my face exfoliating as I've NEVER seen before! I wiped that trail of powdery dust with the back of my hand and saw a lighter shade of skin emerge! I would like to point out that this made my skin lighter because it removed the tan I had on my skin, this does not whiten skin. Baby soft skin was hiding under there. I used the PMD Microderm in sections, using the green disc to: my cheeks, my chin, my forehead, and then carefully around my eyes (with the blue disc) and the small disc on my nose.
Do you also want firmer tighter skin? This beauty tool called the Derma Roller helps your skin build collagen naturally. I use it twice a week after I wash my face.
The first thing I did when I was done, I splashed my face with lukewarm water to remove the dust. (my exfoliated skin) Yay! I looked up in the mirror in amazement with a lighter color and brighter skin.
I looked immediately more healthy. I closely examined my skin and rubbed my hands feeling the softness, I felt some exposed blackhead coming out of a couple of the pores. I was able to gently push them out. The PMD Microderm system was able to knock it loose!

PMD Personal Microderm System Review for ACNE
The PMD Personal Microderm System will do wonders for acne-prone skin! I haven't had a bad breakout since I started using it. The reason behind that is the fact the microdermabrasion process is erasing the old layer of skin that isn't properly shedding itself because it's sluggish.
This sluggish skin that's not naturally shedding fast enough is trapping oil and bacteria deep in your skin! Skin slows down the shedding process as we get older. I noticed that in areas my skin is oily such as around my nose where I had visible pores after using the PMD Microderm system I'd look at the tip I was just using and it would look oily!
This is because not only is the vacuum suction extracting the trapped oil and dirt in your pores, it's exfoliating the dead layer off to expose the oil head-on! Wow! This PMD Microderm system really helped me out preventing breakouts because it went to the root source. It also helped my friend with her acne scars over time.
I highly recommend this for acne sufferers. People with acne-prone skin will notice a ton of exfoliated skin in the collection cap and filter of the PMD Microderm hand held device. The tips you use may also look oily after you're done.
UPDATE:

My long term results with this fancy PMD Personal Microdermabrasion System

It's been 7 years that I've been using the PMD Microderm system I first started using it once every 2 weeks to ease into the process of gently removing the old layers of skin. Now I used it once a month to maintain the exfoliation to keep the fresh skin glowing! I have an even skin tone now, especially on my forehead.

If I could compare my skin to how it was 2 1/2 years ago, I would say I have younger-looking skin today and no forehead wrinkles or sun damage. This is a really great investment for your skincare because it goes to the root of the problem and fixes it. It defiantly fixed my problem with an uneven skin tone. This Microderm also helps make all your other beauty products perform better and absorb deeper especially facials. Your skin will soak up the good stuff for nurturing your skin better. I also can't stress enough this is great for anyone that has congested skin/ acne breakouts. The PMD will help unclog those pores!
PMD Personal Microderm System – Tip for Best Results
I suggest shaving your face and removing the peach fuzz. Please read: Women How to Shave Your Face + 5 Beauty Benefits
I suggest you take your time using the device to make sure you are using careful movements with even pressure. This will make sure you evenly exfoliate the skin. You don't want to leave streaks in your skin.
Don't hold the device too long in the same spot.
Schedule your PMD sessions to ensure your skin will be in the right shape prior to use (I use mine once every month)
Don't use any harsh cleansers before using the PMD, you don't want to dry out your skin. Use a nonsoap cleanser always.
Replace the discs at least once every three months for consistent results.
When going outside, wear sunscreen
After removing the dead skin, moisturize and re-balance your skin's PH using Rosehip Oil. Read Rosehip Oil Benefits
PMD Personal Microderm Review – Can I use it on my Body?
*UPDATE Yes, I have just started using the PMD Microderm on my hands to remove the tiny wrinkles on my hands and fingers. I also tried it on my neck, it works. It takes longer to see results on your body because your skin is actually thicker on your body than on your face.
I also have a DIY How to remove wrinkles on fingers.
Hear what a real dermatologist has to say about this PMD Microderm System
And that's The PMD Personal Microderm review I have for you today!
A great place to get a discount on a new or used PMD Personal Microderm System is eBay: Shop it Now
Which of your skin problems would you treat with the PMD Personal Microderm?
Let me know in the comments section below! Thanks!
-Jen
Here's where you can shop for the PMD and similar microdermabrasion products:


Don't forget to subscribe to my new YouTube Channel: https://www.youtube.com/user/ElegancebyJen
PMD Personal Microderm Review Comments: