Skin care tools every woman should own.
I've done all the research for you and I've been using these products for the past decade; proving they work! 🙂
(My favorite is #4 – I use it every night!)
These 4 skin care tools transformed my skin and have been consistently keeping my skin looking young, healthy, and glowing.
OK, so what are these amazing skin care tools every woman should own?
Now here's the BEST
Skin Care Tools Every Woman Should Own
#1 PMD Microdermabrasion
This tool excels at: Removing the outer dead layer of sun damaged skin that regular exfoliators cannot remove. The results are dramatic after first use and with regular use it's possible to remove ten years of skin damage to the skin such as acne scars, sun damage, and deep wrinkles. It helps any of your serums work 10X better!
#2 Clarisonic Skin Cleansing Brush
This tool excels at: Deeply cleansing the skin. Keeps pores clear and small. Massaging pulses help tighten and firm the skin with regular usage. Helpful for anyone that has acne prone skin or anyone that wears makeup. (waterproof) You can keep this in the shower or at your sink. It's also rechargeable. I've had mine for over 13 years and it's sill going strong.
#3 Pore Extractor
This tool excels at: Unclogging pores. If you do suffer from acne, this tool immediately removes blackheads and safely pops a pimple aka comedone. Sometimes, you have to remove or pop a pimple; this is how you safely pop and extract blackheads at home. Just dip the tool in alcohol and apply a little alcohol to the area with a cotton pad before and after extracting. I like to use it by just placing the loop end around the pimple and firmly applying pressure down to "pop" the pimple. Next I wipe away the white puss and place the loop around the popped area to extract the clogged oil / blackhead. Once its pushed out, I apply a cotton pad with alcohol to disinfect the area.
#4 Pore Vacuum
Here's the Amazon link to this Pore Vacuum only ($25.99).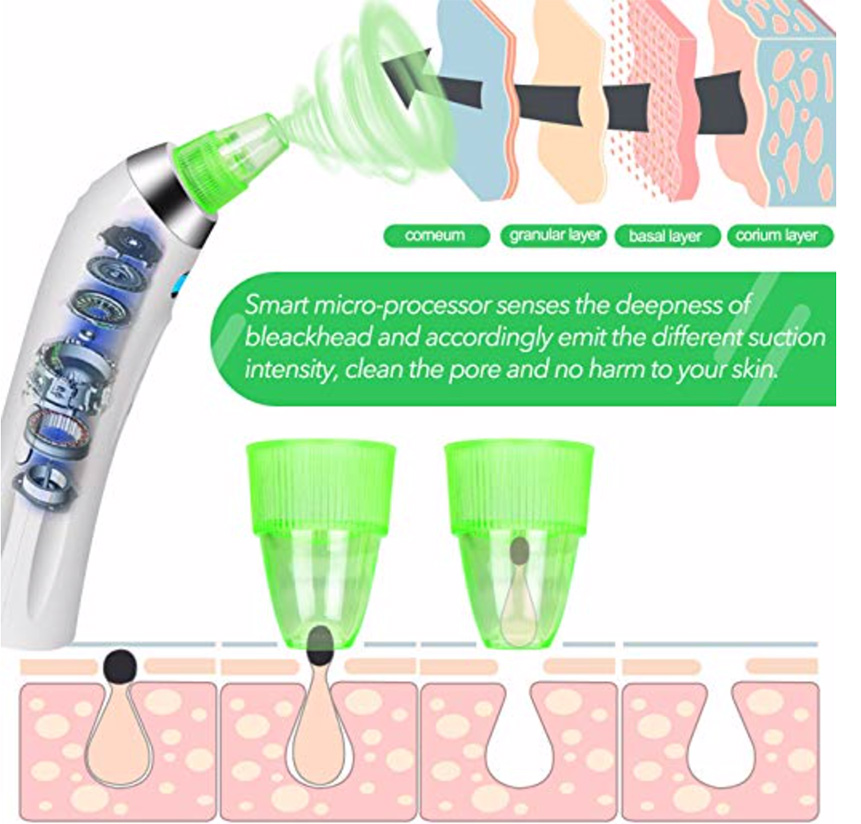 This is my favorite beauty tool of 2019 that I use ever single night! After once use I was addicted. This little "pore vacuum" removes the excess sebum everyone has around their nose creases. You immediately see this waxy substance collect in the transparent tube as seen below. I effectively remove all the little clogged pores that accumulate on my nose by the end of the day. This also helps prevent a whitehead from forming if you use it regularly. It's my favorite skin care tool! My skin is bump free. Perfect skin for flawless foundation application. It also has a USB charger so you don't need batteries!
Where to purchase these skin care tools
I recommend using amazon because their shipping is fast and amazing. Second, you can ask the seller specific questions and read customer reviews.
Ok, these are defiantly the best skin care tools every woman should own.
Did this post help you?
Please share the image below on pinterest 🙂

If you want to take the best care of your skin at home without a dermatologist, I highly recommend you buy these 4 skin care tools today.
Sometimes skin care products like creams and exfoliators are limited.
You need a specific skin care tool to get professional results.
There's been so many advancements in skincare these past five years alone! Tools that were once untouchable, guarded by fancy salons are now affordable and available to be delivered to you with the power of Amazon prime!
Whether it's anti aging, cleansing, or removing blackheads and preventing acne, a specific skin care tool is perfect to get the spa results you want.
The best part about using these skin care tools is that they actually help your skin care products work better. Yes! They're also affordable verses going to a spa or purchasing the commercial version of these tools used by estheticians.
If you have any questions about these amazing skin care tools every woman should own, please leave them below in the comments.
Thanks!
Jen