Tatcha Skin Care Review
Tatcha Enduring -The Ritual for Normal / Combination Skin Photos, Review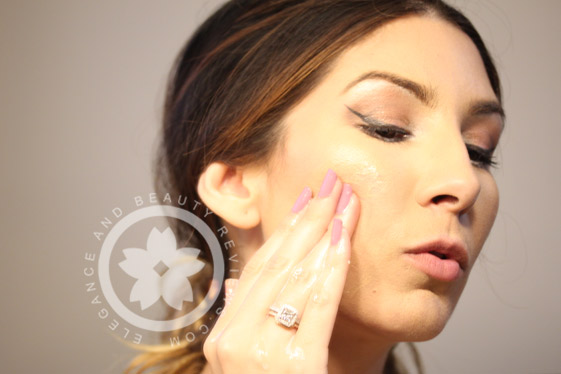 Today, I'm sharing my honest Tatcha skin care review. I saw this on QVC. I researched, shopped, and purchased this skin care system myself.
TATCHA has done an excuiste job bringing us the time honored geisha skin care secrets. The Tatcha skin care ingredients contain everything the elusive geisha use.
Every Tatcha item explains a brief history of the natural skin care ingredients found in everything.
From the unique Tatcha cleansing oil to Tatcha rice enzyme powder, my Tatcha skin care reviews cover all your questions.
Can you imagine finding a 200 year old book that contains recipes for flawless skin? Yes, I'm talking about the look of smooth, porcelain, radiant skin you can't help but stare at. That's exactly what I'm covering in today's Tatcha Skin care review. Enjoy.
The skin care company TATCHA has respectfully and accurately brought this book to life for your convenience so you too can have beautiful skin like a geisha at home.
I have nothing but respect for Victoria Tsai, she did her research and wyveloped such a high quality skin care brand I've grown to love.
Everything from the ingredients, the beautiful branding and marketing, attention to detail, there's even fun facts why the Geishas use the specific ingredients. Most of all a luxury skin care system that brings real results – gorgeous skin!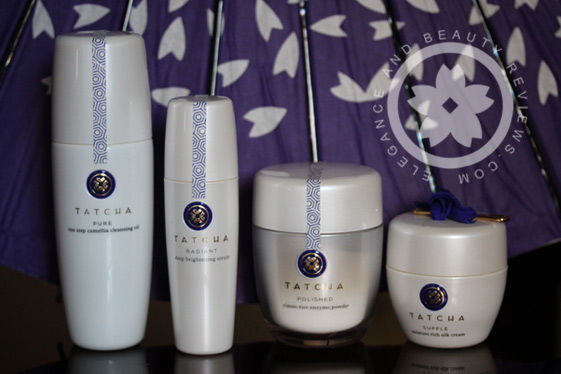 Today I'm reviewing TATCHA The Ritual for Normal/Combination Skin. There's four pieces to this collection.
Each item in this TATCHA The Ritual for Normal/Combination Skin is of the highest quality and makes a difference in your skin following each step.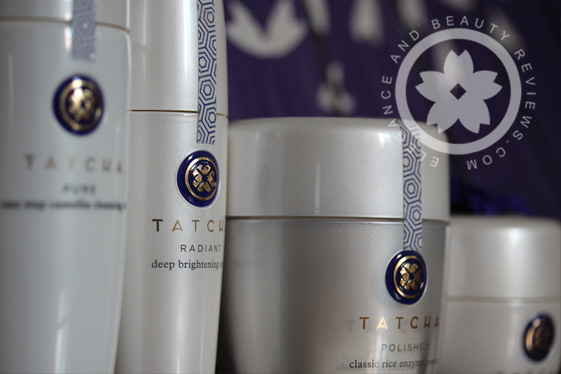 Step 1:
PURE One Step Camellia Cleansing Oil Review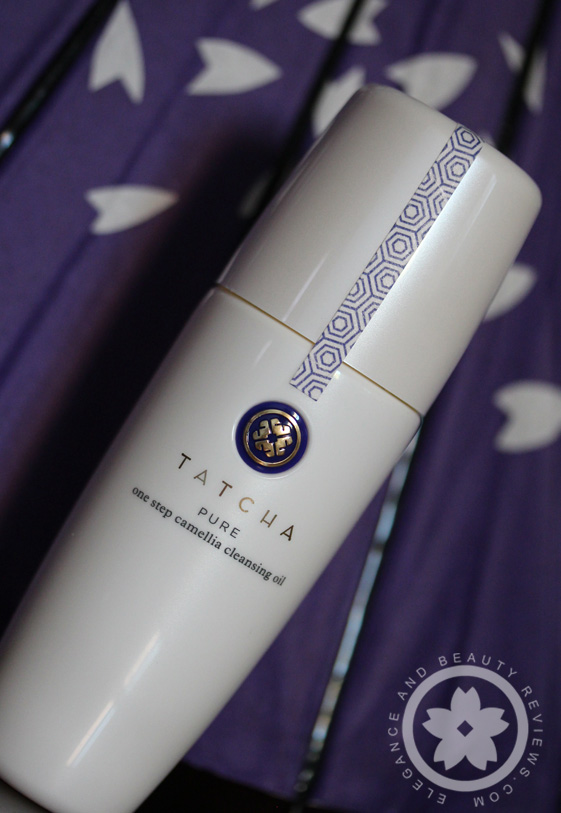 Cleanse with oil? Isn't that bad for oil acne-prone skin?! Nope! This oil does not have a bad smell or leave a greasy feeling behind. It's a lightweight cleaning oil that helps dissolve makeup on contact, even the thick water proof makeup.
If you don't wear makeup, this is still a great step because it helps deep down cleanse your pores of excess oil, old skin cells, sweat, dirt, air pollution, and more. It gently cleanses your skin and conditions it leaving behind glowing skin, not greasy skin.
Here's the Tatcha cleansing oil up close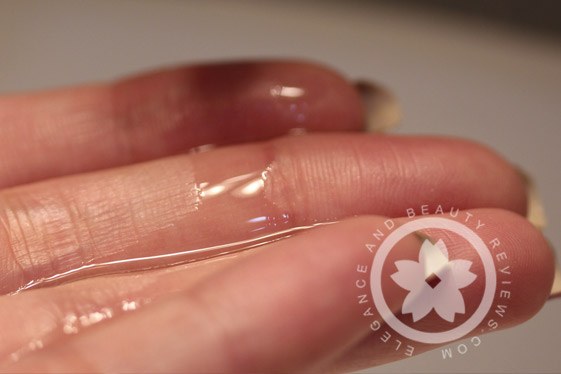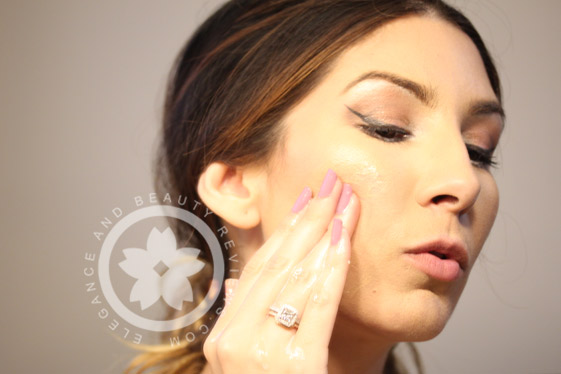 Surprise! It foams with water!
I was amazed how powerful but gentle this Tatcha cleansing oil is. It completely removed my matte foundation after a long hot day. My skin felt clean and refreshed after.
I used two pumps on my face, swirled it around and I washed it off with luke warm water.
I used another pump and massaged it into my face in upward strokes to massage my face muscles. I rinsed with luke warm water. It lathered like a cleansing milk and rinsed perfectly. There was NO oily residue. 
My skin type : combination. I get oily in my T-zone and dry under my eyes. Using this skin care system, Tatcha – the ritual agrees with my skin!
Watch Tatcha remove my makeup – Yes it even removed my mascara and eyeliner.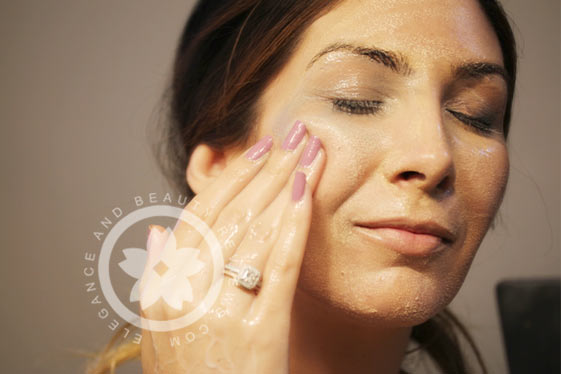 Tatcha PURE One Step Camellia Cleansing Oil up close -It's not a thick lather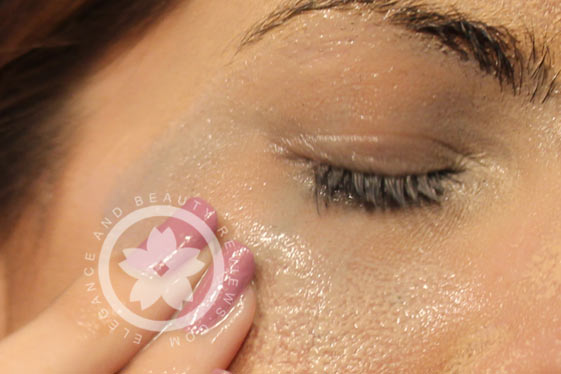 The story:
"Discovery is an essential ingredient of beauty. The glowing skin and flowing hair unique to Anko, the Camellia-harvesting women of Oshima Island, were a mystery to most outsiders. But not to the Geisha, keepers of Japanese  beauty secrets for generations."
Step 2:
POLISHED Classic Rice Enzyme Powder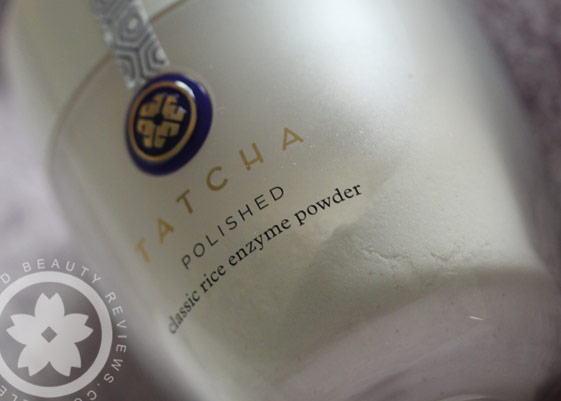 If you only want to try one product from TATCHA, I highly recommend you start by trying the classic rice enzyme powder. It's my favorite step!
The special ingredient in this Tatcha cleanser is Rice Bran. The rich lather this powder and water creates is luxurious. I lather and massage this cleanser onto my face and I let it sit on my skin for a moment and rinse it off with warm water. I feel like my skin is being instantly exfoliated by the enzymes. My skin feels incredibly deeply cleansed. I felt my skin was immediately more even toned.
Here's a photo of the Tatcha Rice Enzyme powder up close: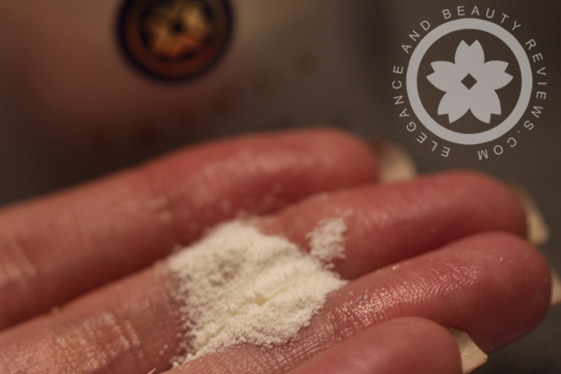 [wp_ad_camp_4]
Here's a photo of the Tatcha Rice Enzyme powder wet. See the lather up close: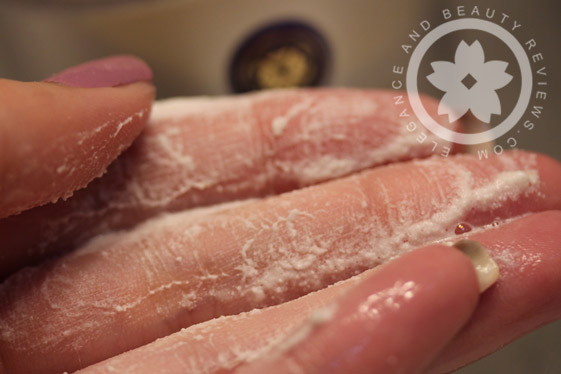 I love using the rice enzyme powder. It feels like it's deeply cleaning my skin.
This is my FAVORITE step, I love how my skin feels after.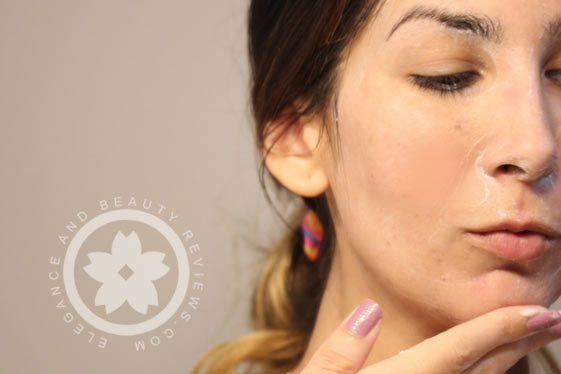 After I rinse, my skin feels squeaky clean and polished like a pearl.
The story:
"When brewing their fabled drink, Japan's sake masters, the Toji, constantly immerse their hands in Rice Bran, only to have them emerge fresh, pure, ageless. Geisha noticed this phenomenon and they still include Rice Bran among their beauty secrets today."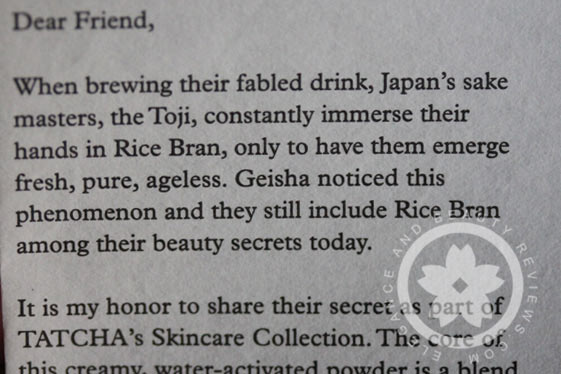 Step 3:
RADIANT Deep Brightening Serum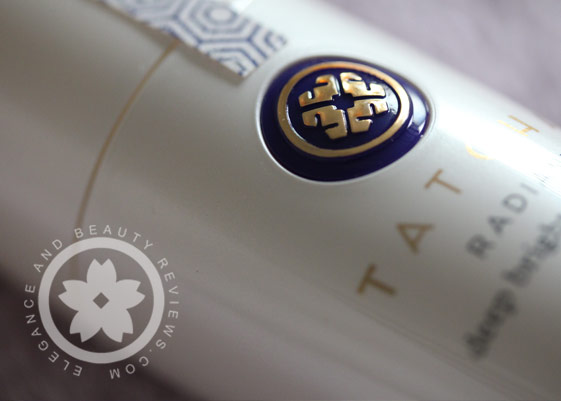 This serum immediately gives you glowing skin. I feel that this step gives my skin a diffused soft focus glow. I can imagine this product helping blur the appearance of wrinkles. Your skin will appear more bright after using this cream.
I felt like I didn't need much foundation either! At the end of the day, my skin looks healthy without makeup and more glowy. I think this radiant deep brightening serum is what gives my skin the healthy youthful glow.
I just apply two pumps and quickly feel it absorbing into my skin.
The story:
Some secrets are meant to be revealed. A lifelong secret of the Geisha is her bright, clear skin. Seen out of performance makeup, the color clarity of her complexion is dramatic. A mix of key natural ingredients have allowed generations of Geisha to achieve this regenerative wonder. This potent serum features Licorice, Scutellaria, and Jujube extracts working in harmony with our HADASEL-3 TM Bioactive Complex of Rice Bran oil, Red Algae and Green Tea.
Step 4:
SUPPLE Moisture Rich Silk Cream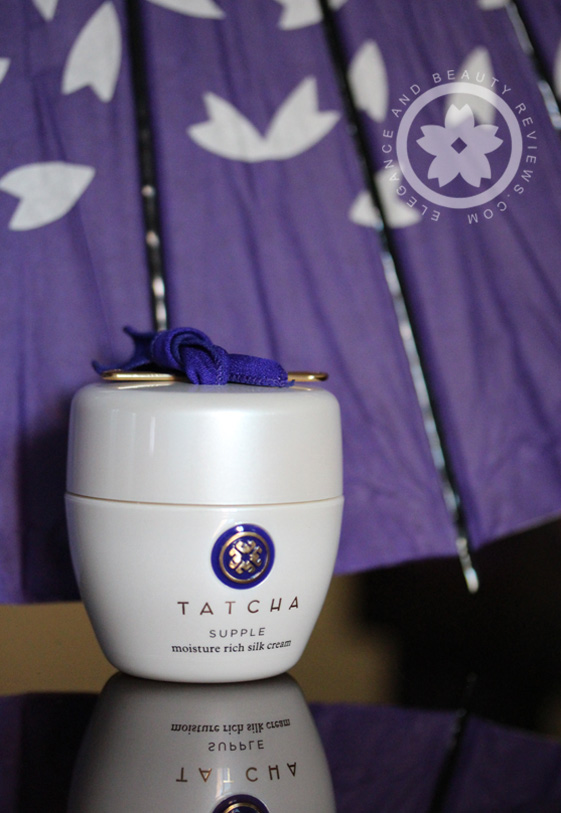 I was surprised how fast this absorbs into my face. My skin felt immediately pampered and nourished after applying this cream. My face looks smooth and moisturized. For some reason I thought my skin was going to look greasy after using a serum followed by this moisturizer but I was pleasantly wrong. I was so relieved to see my face didn't look shiny.
After this step I was able to apply my BB cream and foundation without any problem. My makeup set flawless. One thing I notice is that in the middle of the day at work, my skin is glowing. It took me a while to realize that my skin wasn't greasy, it just had a natural soft glow. I blotted the glow on my nose and left the rest!
Check out the little golden spoon Tatcha gives you with this luxurious cream 🙂 Isn't it cute?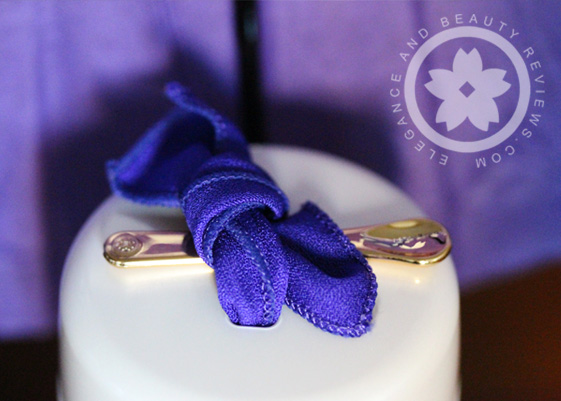 The story:
"At the heart of beauty is the power to transform. Japanese Silk workers, daily handlers of shimmering silkworm cocoons, were known to have soft, youthful hands long into old age. Their customers, observant Geisha, adopted Silk extract as an essential part of their closely-held skin moisturizing regimen."
How fast can you expect to see results using Tatcha – the Ritual?
I saw a difference in my skin immediately after trying the classic rice enzyme powder!!! My skin looked like I had a very deep down cleansing. My skin was immediately more even toned. My face looked radiant.
After using Tatcha the Ritual, for two nights, my skin looks deeply hydrated and "glowing from within"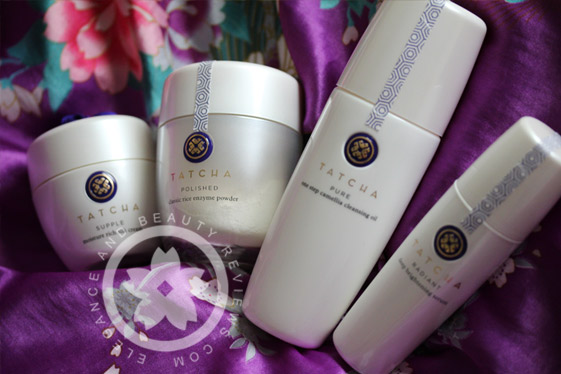 My overall thoughts – Tatcha skin care review
This is the most unique skin care system I have ever used. I appreciate that this is a respectable duplicate of a Geisha's skin care regimen. I trust that this is skin care for long term beautiful skin. I love and prefer natural skin care vs. chemical laden skin care systems.
You may be a huge fan of my website and have noticed I have actually taken the time to make and use money saving natural skin care ingredients such as rice water for skin brightening, olive oil for makeup removal, coconut oil skin care body lotion, almond oil for dark under eyes, turmeric for acne, and more.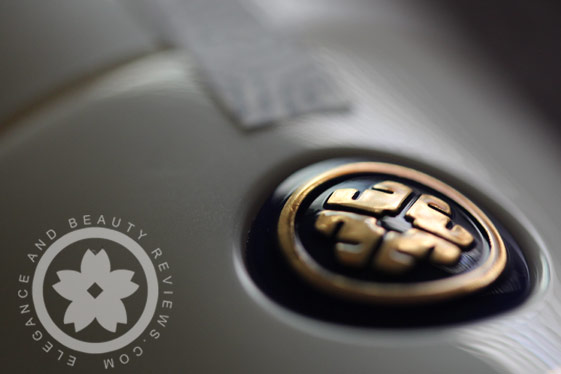 If you have the money for a generous beauty budget, I HIGHLY recommend you try the TATCHA skin care system. For myself, I tried the Tatcha POLISHED Classic Rice Enzyme Powder. After one use, I was hooked! If one product made my skin amazing, I was curious how incredible using all four steps would be.
My opinion is that the money is worth the investment in your skin care. If I can continue to afford this collection, I will defiantly continue to make future purchases from Tatcha.
Once again I appreciate the accuracy creating the same or similar skin care that a geisha would use.
The most important element, the Tatcha skin care ingredients
Learn more about each Tatcha Ingredient here
Japanese wild rose
Loquat leaf
Abaca leaf
Japanese indigo
Colloidal oatmeal
Peony
Gold
Silk
Rice bran
Camellia
Green tea
Red algae
Pearl
Licorice
I adore the handwritten notes with every order: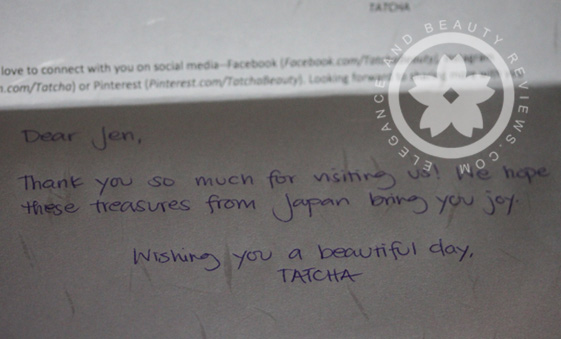 I also ordered the 2016 limited edition Tatcha parasol. It's the nicest parasol I have ever owned. It's very high quality,  from traditional parasol makers in Kyoto.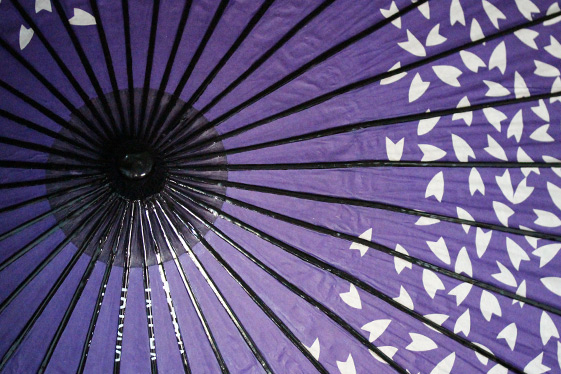 It even came in some fancy draw string cloth bag.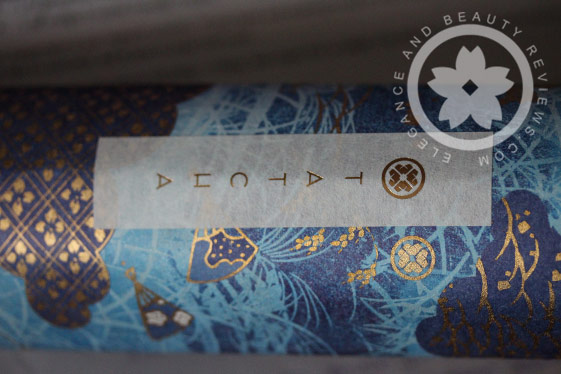 UPDATE: 
People have been asking me:
Can I use Tatcha with my acne skin care products?
YES. The skin can absorb all the products and work with the Tatcha skin care system as well as your regular acne skin care routine. For example, I have acne prone skin and I use this Tatcha skin care routine in this order for best results:
Look:
Use the Tatcha cleansing oil
Use the Tatcha rice enzyme powder
NOW Use your regular Acne cleanser, toner, and any spot treatment repair lotion
Use the Tatcha brightening serum
Use the Tatcha silk moisturizer
TATCHA Promo Codes:
Are you looking for Tatcha coupon codes or promo codes online? I found mine on retailmenot.com
I received a free travel sized rice enzyme powder with my first purchase using coupon code: WELCOMEGIFT
also, you can currently receive:
Complimentary Luminous Deep Hydration Firming Serum Travel-size With Orders Of $100 – Use promo code: FIRM2016
Don't forget
You also get 3 free samples with every order
TIP – If you're s frequent Tatcha customer and don't need to try new samples, you can always grab the free samples anyway and use them when you travel or keep them in your purse. Better yet, share with a friend! 🙂
My first purchase from Tatcha was the Tatcha luminous dewy skin mist. (Love it) lined below under its photo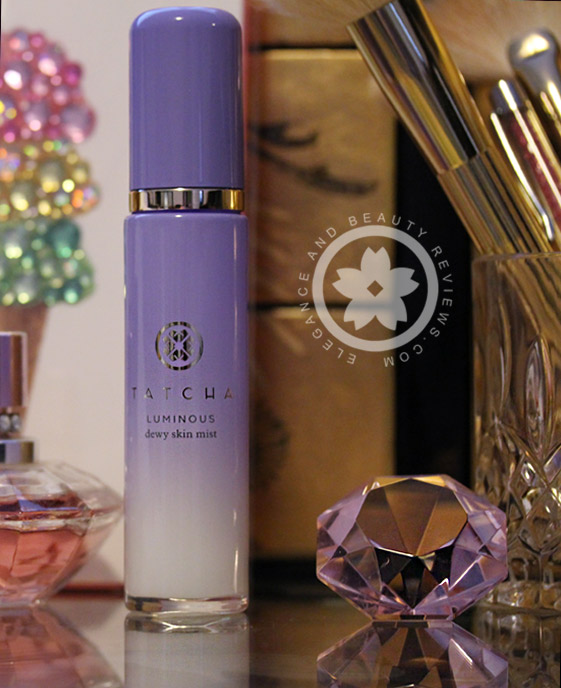 Read my TATCHA Luminous Dewy Skin Mist Review
The Tatcha company is great about releasing coupon codes on a regular basis. If you sign up for their email subscription, you'll be the first to hear about the deals and they'll email you coup codes.
Tatcha Skin Care Amazon
I've noticed that if you shop for Tatcha on Amazon it seems to be a little more expensive but t's not because of shipping. It depends.


Do you have any beauty questions about my Tatcha Skin Care Review?
Thanks for reading,
Jen