Women's Fashion > Jord Wood Watch Review
JORD Wood Watch Review
Cora Series | Maple and Lavender 
Wooden watches are elegant and deserve a review on my blog!
I've been loving my Jord wooden watch. I get so many compliments and questions whenever I wear my Word watch.
"Is that watch made out of wood?" Yes it is!
Being so used to heavy watches made from metals, this wooden watch is light and you forget it's on.
TYes! Super light weight and smooth! Beautiful as they are comfortable to wear.
Please read my JORD wood watch review and share my photos on pinterest.
TA-DA! Here's some stunning pix I took of my Word watch, model: Cora series – maple and lavender.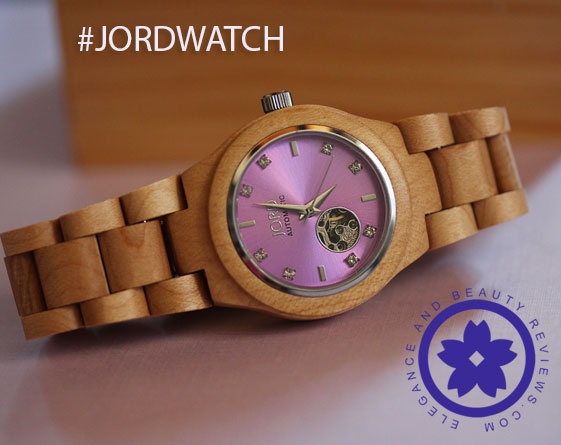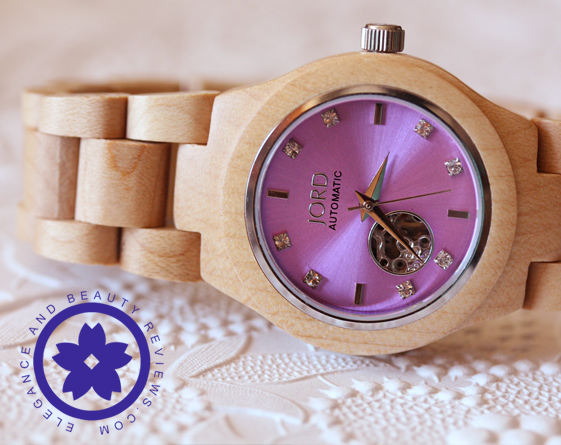 This is a JORD Wood Watch, Cora Series. This particular maple wood watch has a gorgeous sapphire crystal face and swarovski crystal markers. The combination of nature and technology make this watch a rare treasure and conversation piece.

People are amazed when they notice my JORD watch
The first thing people ask, "Excuse me, is that a wooden watch?" Yes! Oh, yes it is… it's a JORD watch.
Related post: I love bamboo! Check out my bamboo purse review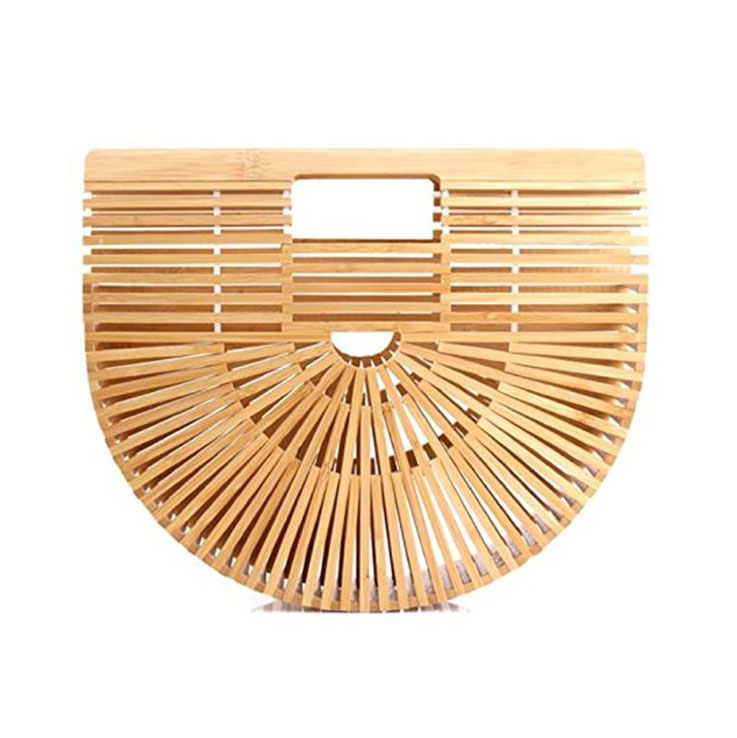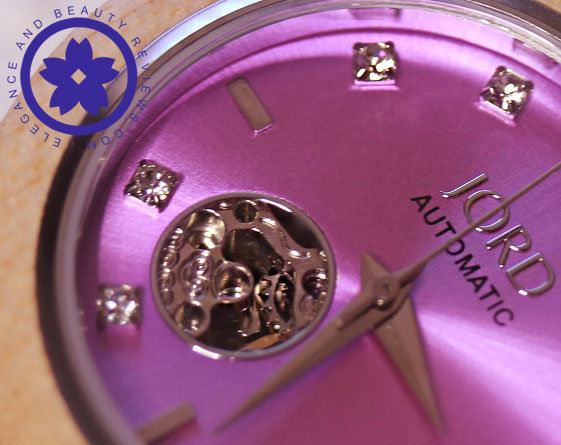 Admire the high quality craftsmanship of this JORD wooden watch. They're hand-made and one-of-a-kind, truly a unique watch that will get a lot of attention where ever you go. I love my new wood watch.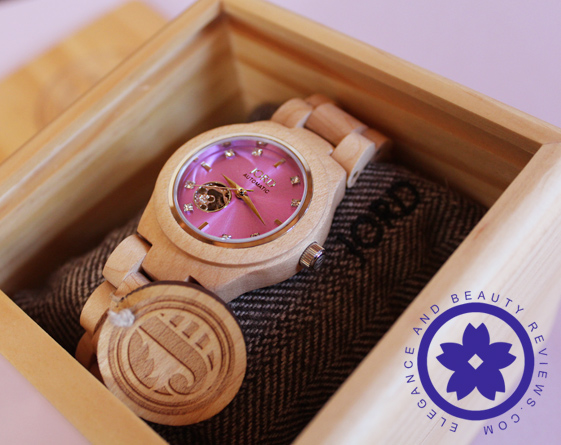 My first impressions of the JORD Wood Watch – High Quality Features
The first thing I noticed was the pride in craftsmanship and extreme attention to detail. This is a clean well made by hand. If you're a watch expert, you know how to spot quality, you'll be happy to see this watch has a stainless steel butterfly clasp. This is a preffered closure, most high end luxury watches will have a butterfly clasp.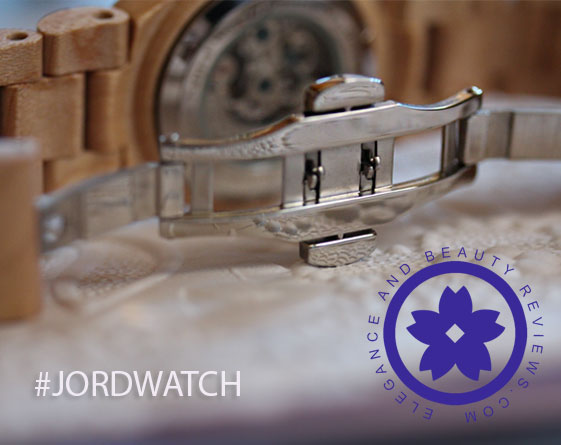 The clear back cover that shows the mechanism movements. The back of the JORD wood watch is clear and shows the mechanical movements. It's a nice surprise to see while you put on and take off this watch. it also compliments the small front clear window that shows movements. This is a nice quality feature that adds beauty to the watch.
JORD Back Movement
This timepiece has beautiful watch movements on the back. The fine details are stunning.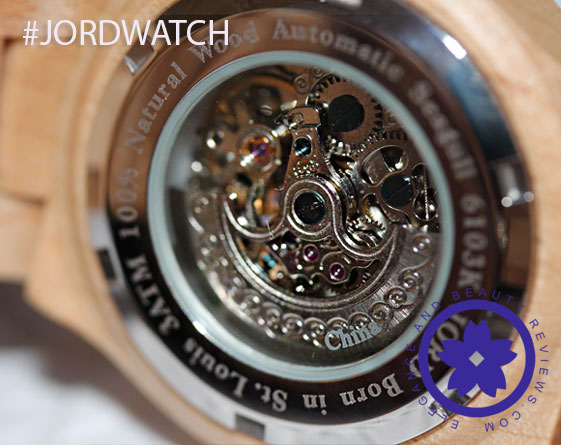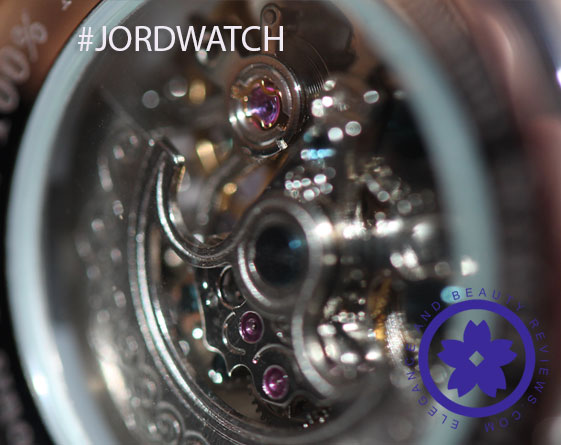 The wooden watch band
Band Length: 211mm
Band Thickness: 18mm – 22mm

JORD Branding
When you receive your JORD Watch in the mail, you will might be surprised where you find the branding. I love the deluxe maple wooden box this watch arrived in!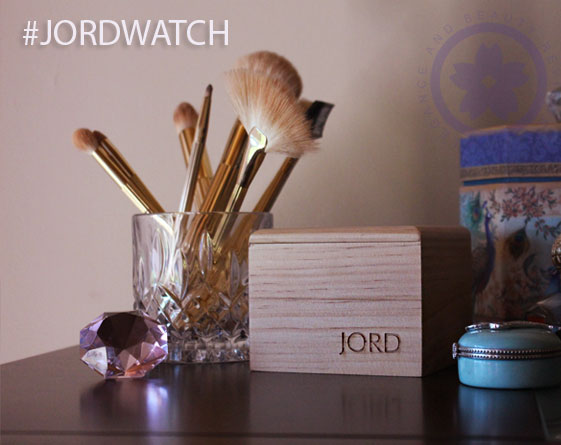 It sits beautifully on my dresser next to my other jewelry boxes and keepsakes. I love the big "J" on the box. (oh let's look at my dresser shall we?)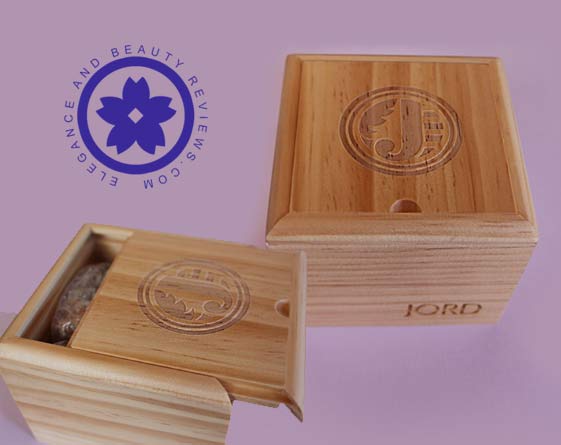 Upon sliding the wooden box open (fun) I was dazzled with the same wood used for the box also used to make the watch band. It match perfectly. This box is so well made, I'm amazed at the quality. How pretty! Elegant watch! Consistent packaging. Great job JORD.
Hey, since we're talking wooden accessories, be sure to check out my wooden bamboo purse trend alert: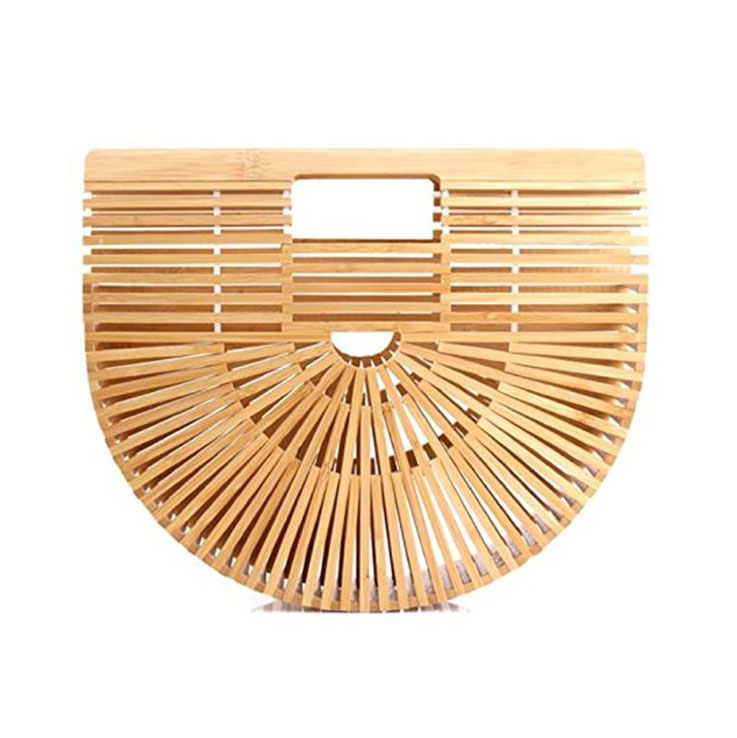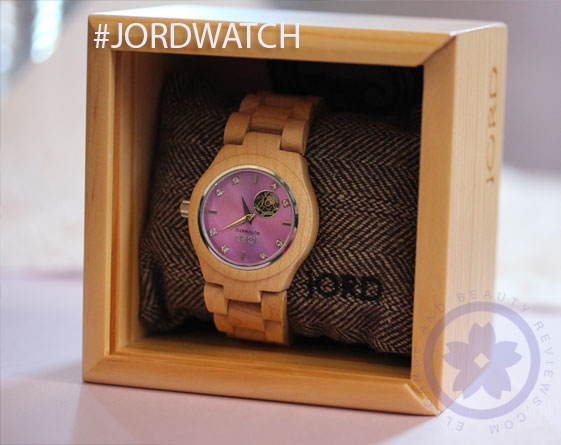 The watch also had a wooden JORD "J" tied to the watch. Love the branding!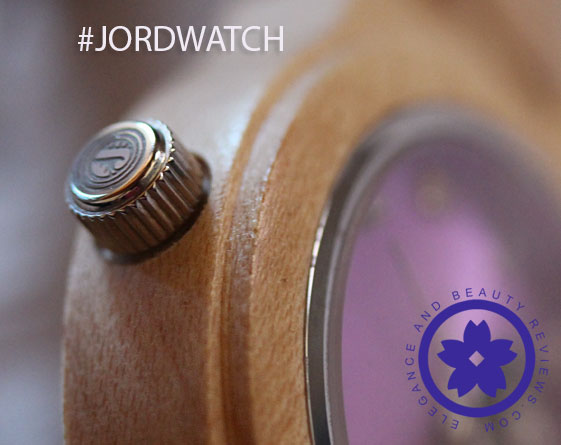 But wait, it gets BETTER!
The screw down crown has a JORD "J" on it too! OMG, now that's attention to detail and pride in craftsmenship! The watch even comes with instructions how to use the fancy screw down crown. If you know about luxury watches – this is a "high end" feature. This is a feature to help with water resistance. (don't submerge in water!)
Next, the watch is comfortable snug on a JORD watch pillow. Another nice touch of quality branding.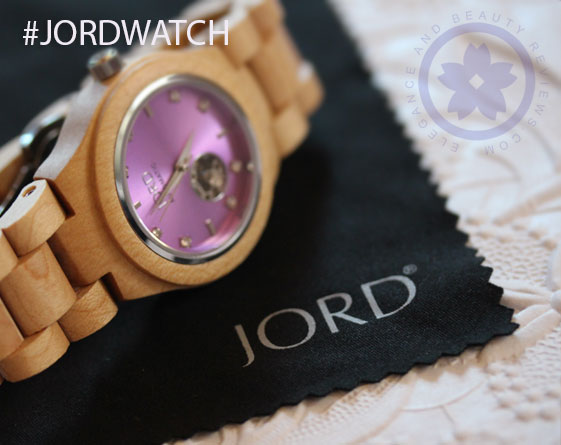 Don't forget the JORD watch cleaning cloth! WOW! Very impressed at this point.
JORD Watch Sizing
JORD will save you a trip to the jewler and size your new watch for you before they ship it.  They even sent me the leftover wooden links.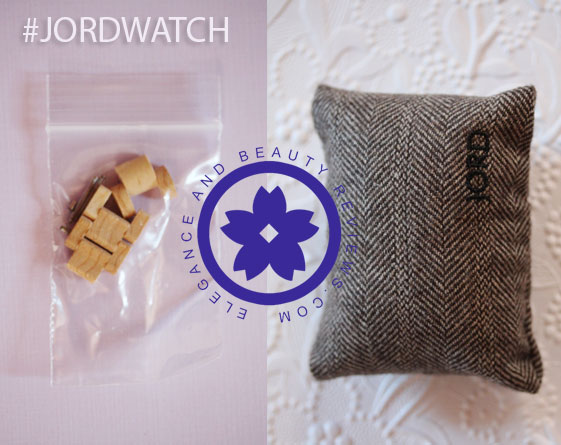 Look at the JORD branded watch cushion
The JORD watch cushion is nice too. I love that it's branded.
How to set the time of your JORD Watch:
If you're not used to luxury watches, JORD includes a handy reference card how to set the time. You have to first unscrew the crown and it will "pop out" so you can easily turn it. Set the time and then screw it back into place. It's not easy for a beginner, especially if you have long nails. I love that they included this reference card. They really go the extra mile. I love the hashtag card and JORD limited warranty card.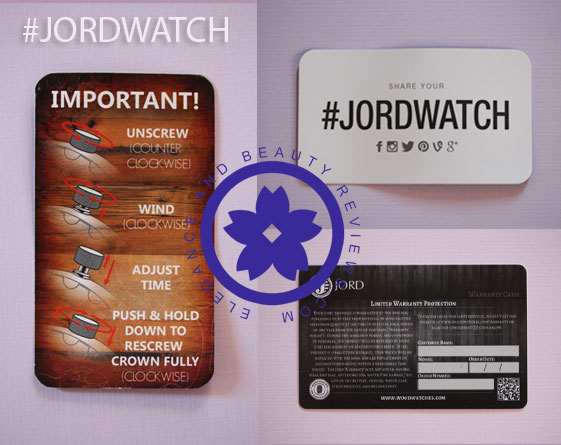 Natural Wooden Watch – Vegan Watch!
Good news nature lovers, if you're all about natural products, this wooden JORD watch is going to impress you. The wood is safe for sensitive skin, I have not had any irritation on my sensitive skin.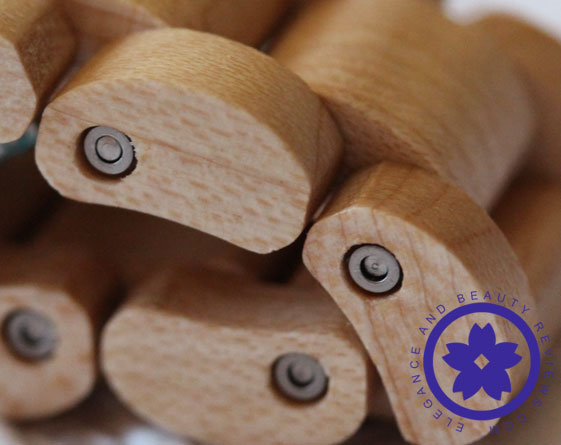 Perfectly hand crafted – admire the wooden links!
The wooden links are all perfectly even and smooth. I'm amazed how smooth the wood is! It's like silk! You will never have to worry about this wooden watch getting splinters, the finish is perfection. You really have to feel how smooth the wood is for yourself to understand. I thought it was going to feel like my wooden table – nope this watch is smoother!
What I like most about my JORD Wood Watch
My favorite JORD watch feature is definatly how comfortable and light-weight this watch is. Normally, I'm not a bracelet or watch person because I don't like heavy or jingly things on my wrist. This watch is comfortable! Especially in summer weather, my arm isn't getting sticky wearing this watch.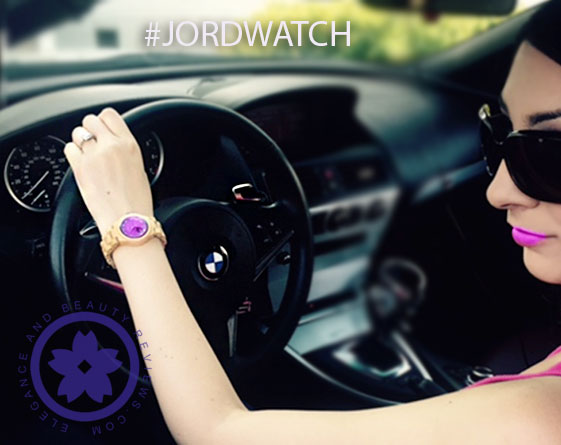 Dressy or Casual?
I love that this watch is considered both dressy and casual. The wood gives it the relaxed casual feel while the watch face gives you that elegance and luxury feel. I can wear this watch with denim or dress it up with office attire. Be sure to check out the hashtag #JORDWATCH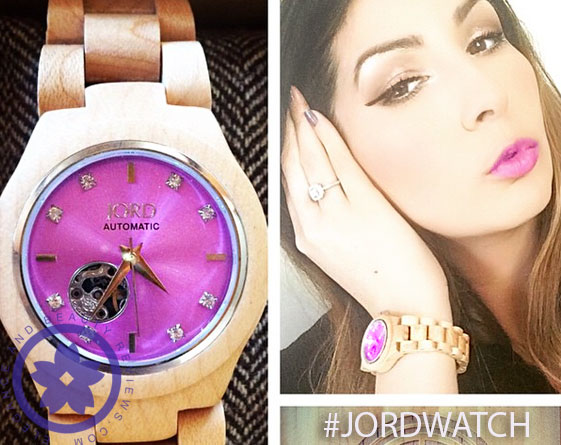 JORD Watch Designs
There's a JORD watch design for everyone. There's so many different types of wood and shapes, you'll find the one that's right for you.
Check out the dozens of wooden watch designs. Also, new designs keep appearing so be sure to follow them on social media and keep an eye on the JORD website:
http://www.woodwatches.com