Sharing my House of CB review today. I've been shopping and buying things online from House of CB http://www.houseofcb.com ever since I stumbled upon some stunning instagram photos. Their fashions are out of control fabulous and I've made enough purchases to give you my dead honest review of the quality, pricing, sizing, shopping experience, and even the shipping and size chart. I purchased everything myself with my own $ money, the company has never contacted me to write a review etc. Here's my Un biased review about House of CB.
I first stumbled upon the House of CB London (CB stands for celebrity btw) while browsing instagram. It was love at first sight, I browsed the website and totally wanted like ten things right away. OMG! Exciting.
Prices
Most things on the website are expensive. I was shocked at first…like hey this blouse costs $157.00 Daaaang that's expensive! But after closely examining the quality of the blouse online. (they have great photography on their site) I said OMG the quality is AMAZING! The fashions are all dazzling, yes you will pay top dollar rightfully so.
Quality
You're paying for quality! The quality is outstanding A+. Everything is so well made and gorgeous. I feel like a princess opening their boxes, or a celebrity! I'm always amazed. Stunning fashion every time, and there's been a lot of "every times" 😉
Sizes
The sizes for House of CB run small.
I'm a 34B and their size small fits me perfectly.
According to their size chart, they recommend that I order a size XS but that's way too tight!
In my personal experience with blouses and jackets. I used their size chart and match my measurements, however maybe because I have a long torso I needed to go one size up to medium. House of CB offers free exchanges and free shipping on exchanges as long as the garment has not been worn/soiled with makeup etc.

Shipping
You must be present for your delivery. (or have someone sign for you at your address- you cannot have your neighbor sign)
The shipping at House of CB is fast, free and impressive! I ordered this blouse on a Tuesday night and received it Friday afternoon. Shipping is FREE. 🙂 The only thing I hate about the ordering/shipping process is that upon checkout, you have to confirm the fact that a signature is required upon delivery. You cannot request to leave it with a neighbor or have a young kid sign for it either. Your sig is required. It sucks for me because I have to make sure I order on a Tuesday evening because I'm off on Fridays…lol. If you miss a delivery three times in a row, it's sent back.
There's also a security wrap around each garment. A white chord that's there to protect the company in case you want to return an item. If you cut the rope/string you can't return the item. LOL I love that they do this.
House Of CB Review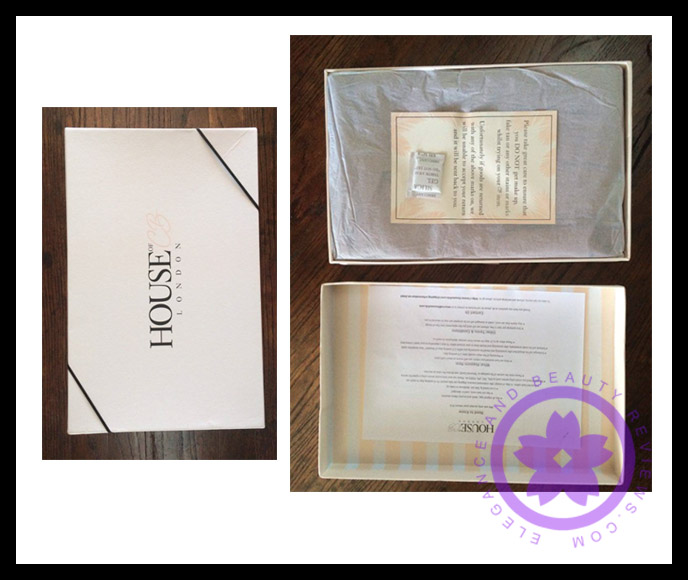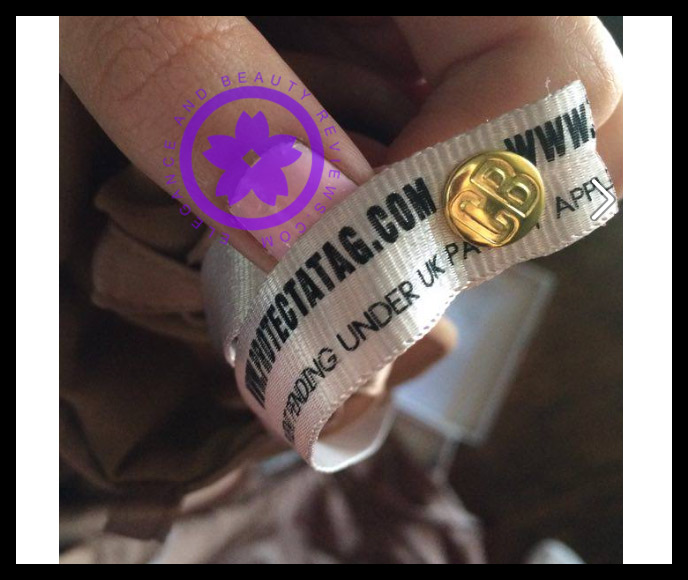 House Of CB Review
My first purchase, the Saccala Blouse 
This blouse is probably better quality than my wedding gown. LMFAO. Needless to say, I purchased the blouse. BTW all the clothes have a nice name; this blouse is called, "Saccala" $157.00 It's a dusty pale pink / dusty rose blouse with lace. It's semi sheer (wear a beige crop top under) short sleeves and cute lace high neck. The intricate sequins is what the website photos lack. The blouse in person is incredible, A+ in person. The sequins sparkle, I really wish the website had a better photo of the sequins! The lace/ sequins are wedding gown quality. STUNNING! This is my favorite blouse in the world! Might leave it in my Will. lol 😉
Unfortunately when I ordered this, it was too small. I used their size guide and I think their clothes run small. I ordered a small and had to get a medium. The small was skin tight and uncomfortable, so glad I went a size up.
http://www.houseofcb.com/saccala-light-pink-lace-cropped-top-us.html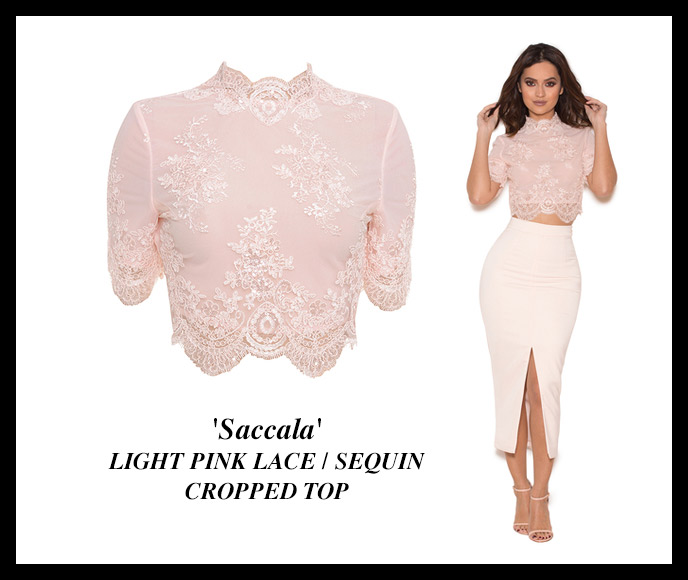 My second purchase, the "Suri" the Lilac sheer lace bodysuit
This lilac bodysuit is crazy gorgeous. It's another piece I fell in love with. The color and lace is jaw dropping. However, I'm 5'7″ and I have a long torso and I don't do too well with body suits 😉 I wish I also ordered this perhaps in a larger size because of the length issue. I could barely snap on of the snaps. LOL. Grrrr….. I don't want to sound like I'm complaining, (I should have ordered a size medium, I love it. However, I made it work, wearing high waisted jeans. Yay! I wore a light beige lace bra underneath. It looks amazing. Heads will turn when you wear this sweet body suite out for dinner. lol. Meow. 😉 The lilac color pictured on the left is more accurate in person btw.
http://www.houseofcb.com/suri-lilac-sheer-stretch-lace-bodysuit-us.html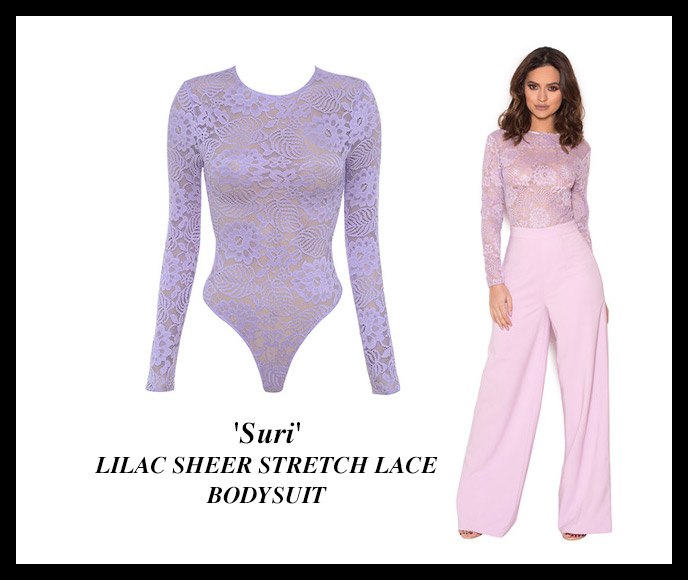 Here I am wearing the Suri lace bodysuit.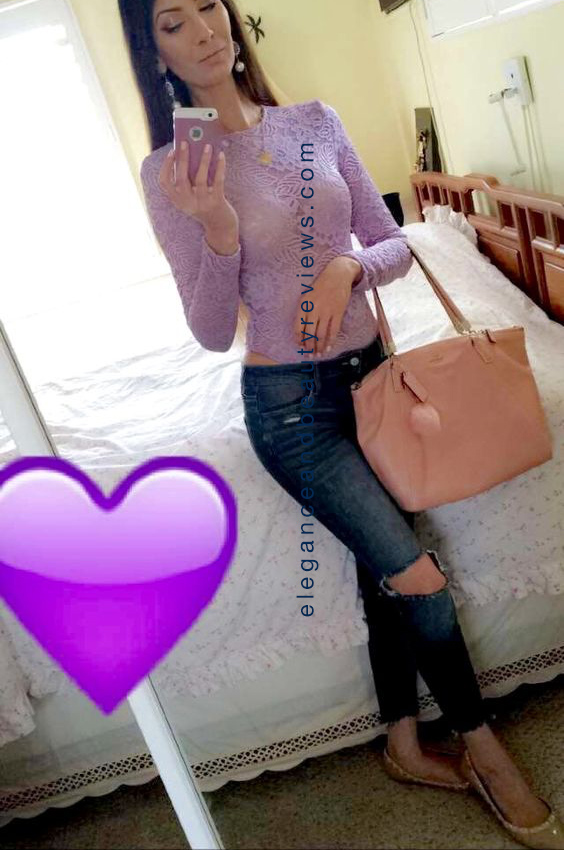 My third purchase, the "Dena" Rose Gold Satin Bomber Jacket
This is my new favorite bomber jacket. The color is on trend, rose gold! The satin is so luxurious it's well made and I adore the small gold accent zipper side pocket and buttons. It's too cute! I love wearing this jacket with ripped jeans. This color is everything and so hard to find the right shade of "rose gold" This bomber jacket SLAYS. It's dressy/casual and so fun to wear.
http://www.houseofcb.com/dena-rose-gold-satin-bomber-jacket-en-us-au-us.html

Here's the dena jacket fresh out the box: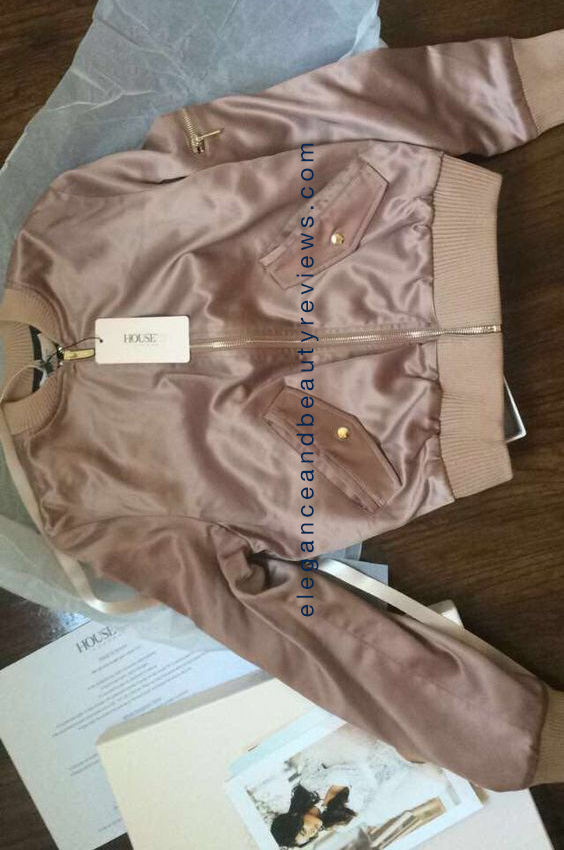 Notice how the dena jacket is a nice muted color. Not too pink. Perfect for Fall colors! Elegant color! 🙂
My fourth purchase, the "Fabienne" Rose Gold Satin Duster Coat
You're probably thinking, holy cow, how much stuff did she buy? Yes… lots. lol. Ok, I HAD to have this duster coat. I said I wasn't going to buy it because I didn't think it would be a practical color but OMG I was soon wrong. This is an amazing satin duster coat that I can't live without now that it's in my life. I love wearing this out to dinner over my dress. It's so fancy! Very well made like everything else and the color and silky look to this jacket is mesmerizing. The photo of the model wearing it looks like it's a thin material but it's not. It's a lot more heavier, structured and solid. The color is not the same rose gold as the Dena jacket above, it's a little more rosey and brighter. Lovely. I caught a group of girls checking out this jacket and overheard them talking about well made jackets… 😉 This jacket is stunning! I'm so happy I got this jacket. I honestly couldn't stop thinking about it and checking it out online since I saw it.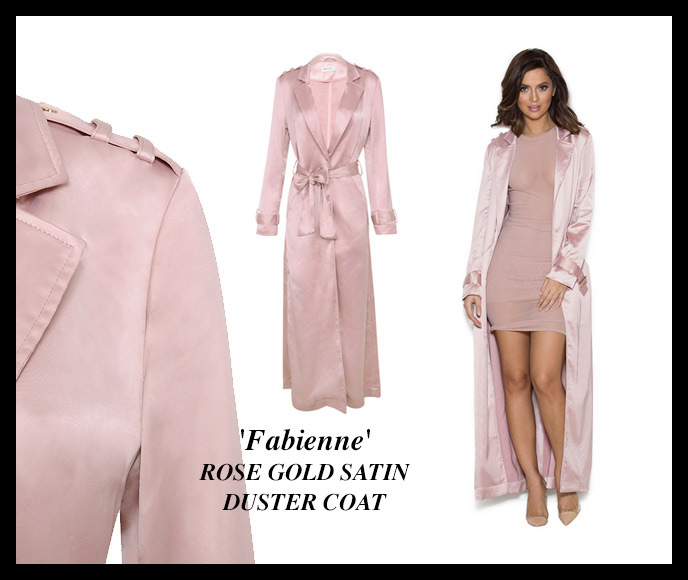 http://www.houseofcb.com/fabienne-rose-gold-satin-duster-coat-us.html
Here I am with the rose gold Fabienne:
My fifth purchase, the "Coryn" Rose Gold Silky Duster Coat
This jacket has some amazing sheer sleeves. This coat looks so sexy, yet you can wear it with anything. The neutral rose gold color is so flattering on everyone. I love wearing this to work over my blouse and pencil skirt. I also wear it on the weekends with ripped jeans and pumps. So comfortable and effortless style. It really is well made. You will have to throw this in the dryer to release the wrinkles occasionally. lol. The color is accurate on the left down in the photo below.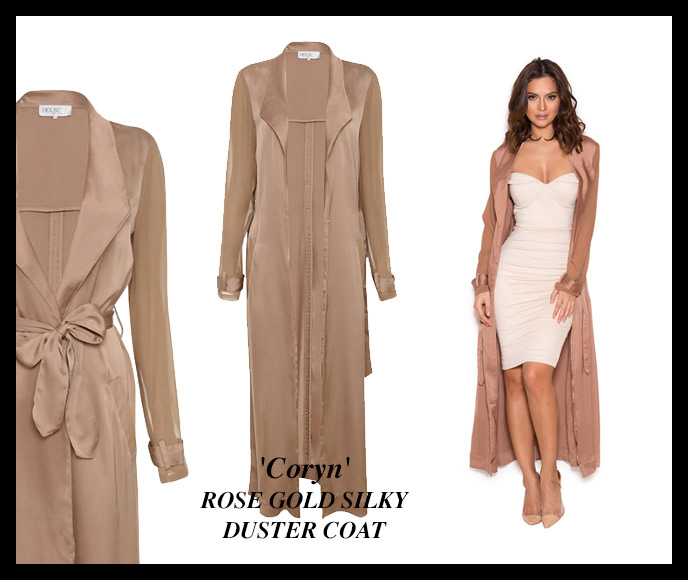 http://www.houseofcb.com/coryn-rose-gold-silky-duster-coat-us.html
My sixth purchase, the "Rei" Blush High Neck Bandage Dress
(This is the famous blush pink dress worn by Nikki Glaser wore to the Roast of Rob Lowe September 6, 2016)
This dress will accentuate your curves and nip/tuck right where you want it. 😉 This dress will give you a booty! This thick luxurious material wraps you tightly and securely 😉 This is one elegant and sexy dress. The high neck was a tad too long for me, I need to get it altered but it's fine. The dress has a nice shimmer. It's perfect for any occasion! I actually wore this with my pink "fabienne" duster coat. I also wore beige pumps and beige COACH purse. I love this dress. I can't wait to find an excuse to wear it again soon. I wore this in Las Vegas at the Wynn for a fancy dinner there at the SW. Yes, I did receive compliments from guests 😉
House of CB dresses are so sexy and on trend. They have a dress to accentuate your body type, from bandage dresses, bodice dresses, two pieces, bandage dresses, structured, loose, and maxi dresses. You'll find something unique and fall in love just like I did.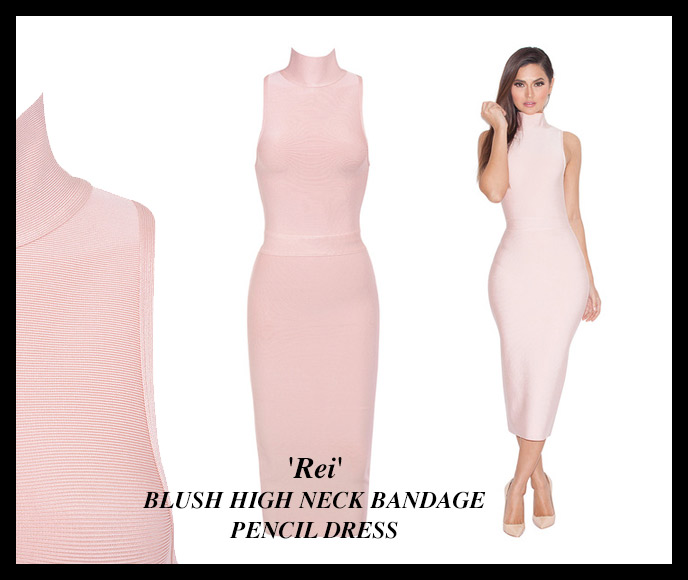 http://www.houseofcb.com/rei-blush-high-neck-bandage-pencil-dress-en-us.html
My overall shopping experiance at houseofcb.com
I love seeing "what's new" OMG, they're always making my jaw drop. I also love seeing people on instagram share their outfits they purchased #houseofcb . I'm happy with the company and they're doing a great job in my opinion. I will be taking more photos of myself wearing these outfits. I have lots of photos / selfies I shared on my snapchat (elegancebyjen) and on  my instagram: (freshjen). however the quality of the my photos with my camera phone are not great quality. So I'll be taking new pix soon! 🙂
People have asked if the House of CB ships from London, here's my shipping screenshot:
From the United Kingdom to my house in San Diego, CA. USA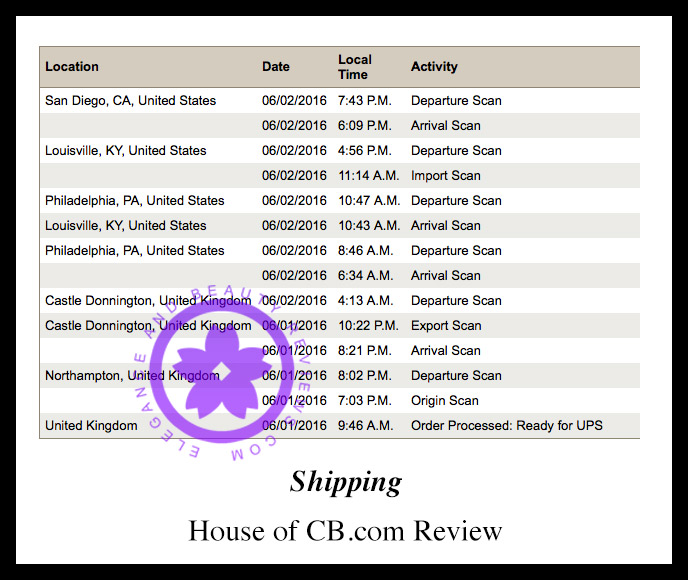 I would like to mention that one of my last shipments from house of cb was from China. 
House Of CB Promo code:
Here's how to get House of CB to send you a promo code fast:
If you want them to hurry the process of emailing you a discount code, you can request a birthday promo code for the remaining calendar year. If it's currently January, try registering your birthday under January to receive a birthday promo code emailed to you. Sign up / register an account online their website using the current month as your birthday month.
If you have any questions about these outfits I purchased, I'd be happy to help you!
Take my word, Go one size up after matching your measurements to their size charts. You'll be so glad you took my advice.
Thanks for reading my House of CB Review and haul
Jen