infusium 23 leave in treatment Repair and Renew Review! Finally! I've been needing to do a review on just this product. I'm always raving about this stuff. Seriously, I recommend it for so many hair remedies! It's Old skool but it works!  My favorite infusium hair care item is their infusium 23 leave in treatment Repair and Renew. It's the only infusium product I use and depend on for repairing so many of my hair issues. Learn why I'm obsessed with this stuff.
[wp_ad_camp_1]
infusium 23 leave in treatment Repair and Renew Review 
and how to use for best results!
I stumbled upon infusium 23 the weirdest way I ever imagined possible. Back when I had freshly bleached my whole head of hair blonde, my hair was badly dried out and some parts were fried and breaking off. I was so sad wishing it would stop breaking and become manageable again. I went to the store that weekend and when I came home and unloaded all my bags, I discovered an EXTRA bag with Infusium 23 leave in treatment Repair and Renew in it! I looked at my receipt and it wasn't on the list…
It was accidentally forgotten by the people ahead of me in line. It was a HUGE blessing and score for me that day because I kept it and tried it on my hair. I was soo happy it worked. My hair had life in it again! I found a miracle product that saved my hair! And that's a true story I'll never forget.
Check out my AMAZING before and after photos using infusium 23 repair and renew
I love infusium 23 so much that I included it on my top recommended hair products to fix and maintain bleached hair
The BEST way HOW to use infusium 23 leave in treatment Repair and Renew: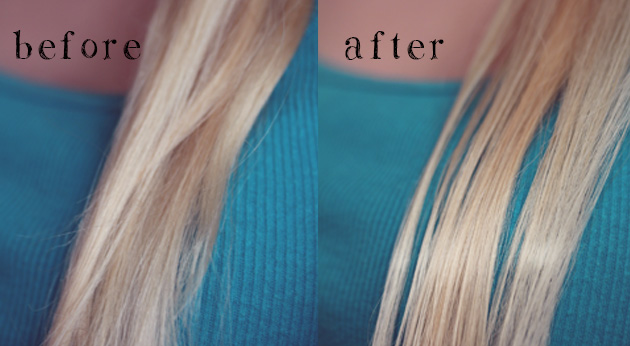 I highly recommend you put this infusium 23 leave in treatment Repair and Renew into a regular SPRAY BOTTLE! Any, old hair spray bottle will be perfect. This treatment is a watery liquid form and the bottle is dispersing it through a tiny cap with a spout opening. The bottle design is horrible for this reason of pouring the liquid out onto your hair and spilling it. Using the current bottle design and pouring the product into my severely dried up hair is laughable. The liquid will just roll right off my hair.
I have to section my hair and splash it into each section. A good amount gets dripped up my arm or splatters onto the carpet. So, in that struggle getting the product evenly dispersed into my hair is a real non enjoyable experience. However, when I use a spray bottle, the process is enjoyable and easy. So if the infusium 23 company ever reads this, PLEASE PLEASE PLEASE change your bottle design to a spray bottle! THANKS!
*Update – Yay infusium 23 comes in small spray bottles and these large bottles are to refill them. Found them at Target.
Tip: You should also buy airline approved 3 oz spray bottles to travel with your infusium 23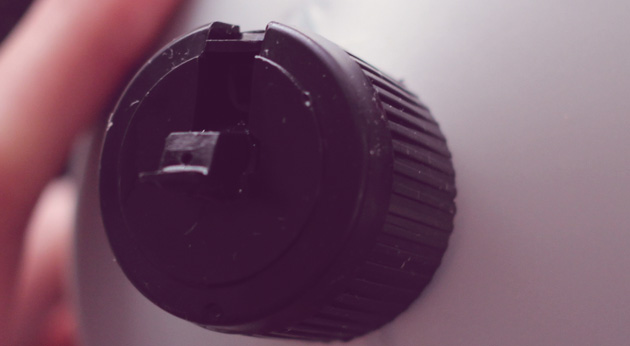 Once you do get the product into your thirsty damaged locks, comb the product in evenly and keep brushing or combing until the infusium is completely absorbed into your hair. If you leave a big wet area in your hair, it will harden up and give you a crunchy bunch of hair. If that happens, wet that area and work it into the hair again all the way.
Also, too much of a good thing is bad. I love the infusium but, if you keep adding layer after layer of this stuff, your hair can look oily! I accidentally did this when I thought it would be a good idea and my hair just looked dirty! Be careful not to over do it!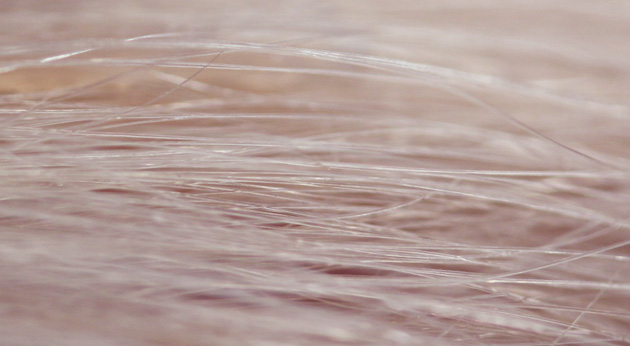 infusium 23 leave in treatment Repair and Renew Review- RESULTS
I can't say enough great things about the benefits of the infusium 23 leave in treatment Repair and Renew. Overall, infusium 23 leave in treatment makes me feel like I have a whole new head of healthy hair when I use it. Even on days when I skip washing my hair, if I spray some in my hair, it feels so moisturized and refreshed. The ends of my hair always come back to life and look healthier. It's my quick hair "go to" product. Here's 9 reasons I'm in love with it:
infusium 23 leave in treatment Repair and Renew Benefits:
1. My hair feels like silk after I use it
2. My hair feels moisturized
3. Manageable hair
4. Helps to detangle
5. Smells amazing
6. My hair feels stronger
7. Noticeably shiny hair
8. My hair has more body
9. More elasticity in my hair
10. Bleached hair feels more manageable and softer
BTW this is a life saver for bleached hair. I wish it was advertised this way. I have included infusium 23 in my tips how to fix fried bleached hair
Also, infusium 23 is great for hair snarls! Please read my how to untangle hair snarls how to tutorial <–
Thank you for reading my infusium 23 leave in treatment Repair and Renew Review!
 *UPDATE 5/18/2015 
Using Infusium 23 for best results
Many users are using too much infusium 23 in their hair at once, resulting in dry crunchy weird hair. Please please please use it how I mentioned above. Use it on dry clean hair. Spray a small amount and comb it through your hair until its dry. Your hair should feel more manageable and silky. This is great for dried bleached damaged hair or if you hair is just really rough dry and damaged.
You're using too much infusium 23 – take it easy
If you use too much infusium 23, the protein will clump up and build up unevenly. Your hair needs an even layer or the infusium 23. It may be hard to get used to using. I hope that helps. I know it's tempting to use a ton of infusium and saturate your hair with it but don't do that! Spray a little and brush it in, spray a little more and brush it in until it's completely dry. You'll thank me later. Also, if you use too much, the smell will be too strong and unbearable.
I once made the same mistake
When I used too much infusium 23, my hair was hard and crunchy. The smell was also so strong it gave me a headache. I had to wash it out! You know you used too much with it gives you a headache from the smell. lol. Take it easy and you'll love the results you get with infusium 23.
What's your infusium 23 story? Please leave me a comment down below, it makes my day to see I had visitors!
😉 Jen