How to Deep Condition and Get Shiny Hair in 3 hours! Follow my deep conditioning treatment for dry damaged hair and get shiny hair! This weekend my hair became dry as a haystack from the dry weather! How did I go from dry rough damaged hair to soft silky shiny hair? Read this DIY hair remedy treatment and learn how!How to Deep Condition and Get Shiny Hair! You can use any brand of hair conditioner for this amazing deep conditioning hair treatment. You don't have to use the most expensive hair shampoo and conditioner! It's not so much about the ingredients but the technique in applying the hair conditioning treatment and time you spend treating your hair and the heat you use!

[wp_ad_camp_5]
Here's a video I made telling you how to get Shiny Hair Fast:
[wp_ad_camp_1]
Here's a picture of my dry damaged hair that is so dry at the moment, I won't even try brushing it because it's susceptible to breakage! We're going to treat the scalp, length of hair and the dry split hair ends! This treatment is in my opinion THE BEST Natural WAY how to deep condition and get shiny hair! Then my hair will be transformed into luxuriously soft and hydrated hair that will shine!
My hair is blonde color treated at the ends and dark with my natural color at my roots.
How to Deep Condition and Get Shiny Hair –
Ingredients
1. You can use any brand of conditioner that's for dry damaged hair, I prefer WEN Re Moist Intensive Hair Treatment
2. Extra Virgin Olive Oil
3. 1 Drop of Tea Tree Oil
Optional: Plastic nozzle for easy application
Let's Begin! Prepare your Hair! Scalp first!
To ensure a solid foundation, start in your sink by rinsing your hair and scalp in warm water. Follow my Natural Itchy Scalp Remedy – 1 Minute Cure! This will get our scalp prepared ready for our How to Deep Condition and Get Shiny Hair treatment.
How to get Shiny hair
Finally, unveil your towel and wash your deep conditioning hair treatment in the shower with your normal hair shampoo and conditioner. Let your hair dry naturally. Letting your hair dry naturally is also a big secret how to get shiny hair! Blow dryers will take away the good moisture your hair needs to stay elastic and shiny! You should now have hair that's conditioned, moisturized, and very shiny! Enjoy your shiny hair!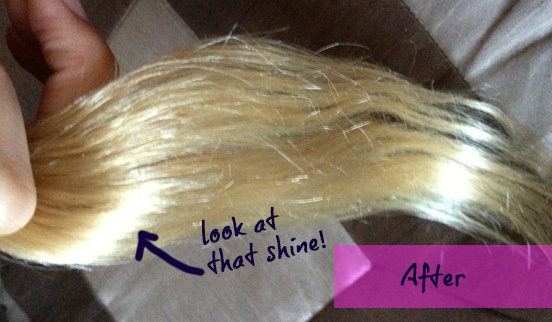 Thanks for reading my DIY: How to Deep Condition and Get Shiny Hair
I suggest, if you want shiny hair forever, make it your lifestyle and take care of your hair. Try reading my article How to grow long hair fast
If you have any tips how you deeply condition your hair at home for shiny hair, please let me know in the comments below!
-Jen