How To Untangle Hair Snarls and Remove KNOTS from your hair FAST! This method how to remove snarls from my hair saved me from cutting out some HUGE snarls! First of all my hair is already damaged when I bleached my hair with peroxide, second I woke up with a WILD head of hair snarls one morning. This is the worst combo of hair to fix! I'll tell you how to How To Untangle Hair Snarls and remove knots from a whole head of hair.

How To Untangle Hair Snarls 101
today's lesson is how to untangle hair snarls. Ya, I cried when I woke up with a whole head of snarls in my hair. I couldn't put a loose comb through my hair. It's SO frustrating dealing with hair snarls or hair knots, whichever you call them. I used to call them a "Rat's Nest" The back section of my hair felt fried and had a rough texture from the peroxide almost like a steel wool pad. There was one massive hair snarl that felt so tightly wound up in my hair. Thank goodness I had the time to fix my head of wild hair snarls. If I had to be somewhere in a hour I wouldn't have time to deal with any of this hair! It would be a day to pull back my hair in a messy bun.
How To Untangle Hair Snarls – Whole Head of Hair Snarls Scenario 1
This is the scariest hair situation I've experienced. I was able to save my hair from not cutting out the snarls! I untangled the whole situation of hair! You just need a good hair conditioner, sink, wide toothed comb and warm water! I like to call this untangle method a "Whole Hair Reboot"
The Ultimate LONG HAIR Guide
I prefer a hair conditioner that has a pump because I'll be pumping out massive amounts of hair conditioner onto the hair snarls.
1. Fill your sink with warm water. Not hot, not cold, warm because you'll need to be comfortable!
2. Dunk your whole scalp into the warm water. Get all your hair into the sink. Grab a cup if you can't dunk your head all the way so you can scoop water onto the back of your head. Make sure your drain is plugged up because you don't want to get your hair caught going down the drain! YIKES!
3. Keep your scalp submerged for a good minute. Now drain all that water out. Next, grab a generous giant handful of conditioner and gently work it into all your hair concentrating on the worst hair snarls.
4. Wrap your wet hair up in a towel for a good TEN minutes and let that hair conditioner work its way into the hair snarls. You might even want to heat up the towel beforehand in your laundry dryer.
5. Fill your sink back up with warm water and submerge your scalp back in the water.
6. Using your fingers gently start at the ends to comb out the conditioner.
(Your hair should be nice and "slippery" now The conditioner I use for this treatment is the Garnier Fructis Sleek and Shine)
If your hair is still too tight to comb out, go back to step number 3.
7. Your hair should be unsnarled by now! Continue with a wide toothed comb to comb out the rest of your hair.
This How To Untangle Hair Snarls method saved my whole head of hair! I hope this can help someone untangle their hair knots fast too!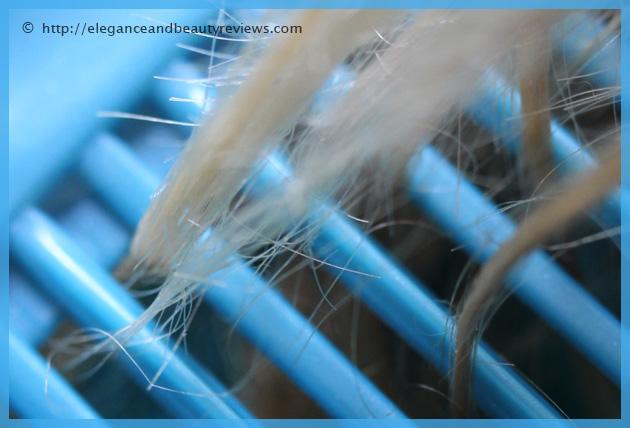 How to Untangle One BIG Hair Snarl Scenario 2
You're lucky if you only have one big hair snarl in your life instead of having an entire head of hair snarls mentioned above. This method should only take five to ten minutes to untangle your hair snarl fast!
I suggest you use a spray bottle of infusium 23 leave in treatment or their detangler spray. Feel free to read my infusium 23 leave in treatment review.
1. Section out your hair to concentrate on your hair snarl. You might want to take a hair tie to the specific hair snarl section to keep it from getting lost in the rest of your hair.
2. generously spray the snarl with the infusium 23 or detangler spray and scrunch it into the snarl by squeezing the snarl like a sponge letting the liquid into the hair snarl. Make sure the whole section is wet.
3. Working from the bottom, use your fingers or a wide toothed comb to gently pull apart the snarl little by little. You don't want to start from the top of the hair snarl because that will make the snarl tighter and more hard to let loose.
4. Take your time and gently work your way up. Spray more hair detangler into the snarl as needed.
5. Carefully work your way all the way up. Once your hair is un snarled. Spray more detangler onto the whole length of hair and comb it out again starting from the bottom. The snarl might have left some jagged waves in your hair so it's best to try and smooth it out to prevent the hair from knotting up again.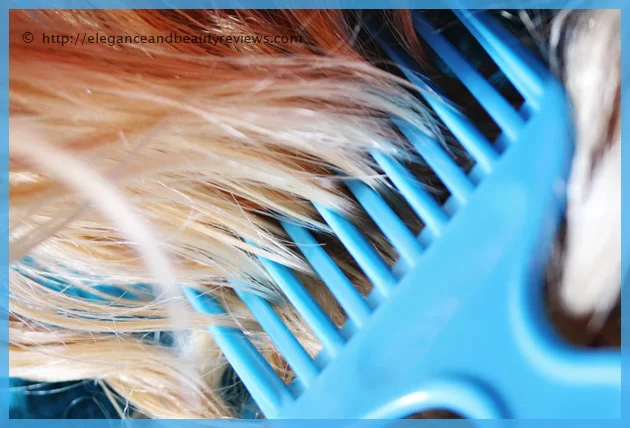 And there you have it. That's how to Untangle Hair Snarls and Remove KNOTS FAST!
I hope this helped someone out there! If you know anyone that needs to know How To Untangle Hair Snarls, share this article with them please! Also, please notice that the ends of my hair here are bleached and damaged! If you're like me, read my How to Repair Bleached Damaged Hair here
More great hair remedies!:
Natural cure for receding hairline
How to strengthen hair at home
XO Jen