Skin Care Benefits for Witch Hazel that you will make you want to start using it today!
Witch hazel is a popular ingredient in many skin care products that you can benefit by using at full strength.
In fact,witch hazel is as popular for skin care as it is cheap. You can purchase a generous sized bottle of witch hazel for $1.44. Let's dive into the great skin care benefits for witch hazel and everything it does for your skin!
Learn about all the witch hazel uses for face and body. I also answer any questions you have about witch hazel.
Skin Care Benefits for Witch Hazel that are so amazing, you won't be embarrassed buying something with such a funny name!
Yes, I always think the cashier is going to think I'm a witch..lol. Nope, sorry! I think everyone should have some witch hazel for their medicine cabinet or beauty bag. Whether it's T.N. Dickinson's witch hazel or another fancy brand. (I usually buy the target brand witch hazel)
The smell isn't lovely (smells very herbal) – in fact, my fiance hates the smell but compliments me on the smooth skin witch hazel gives me. These are the best uses for using witch hazel. You might be asking yourself, Is witch hazel good for skin? Yes! Is witch hazel good for your face? Yes!
Why should I use witch hazel for my skin? or Is witch hazel good for acne? Is witch hazel safe? YES!
I'll give you the top 20 reasons to use witch hazel right now!
Skin Care Benefits for Witch Hazel
Here's a video I made, showing me using witch hazel in the morning to help my skin:

Skin Care Benefits for Witch Hazel
Benefits of witch hazel on face:
20. Deeply Clean your face with Witch Hazel
Witch hazel is the most effective non soap cleanser / toner to remove anything your cleanser leaves behind. Fun fact: Did you know? Witch hazel removes the cleanser you just washed your face with. Yes, your cleanser can leave a film of soap on your skin that disturbs your skin's PH level.
Witch hazel removes the soap and restores your skin's PH. Witch hazel will remove so much dirt, oil, makeup, and dead skin cells it might even scare you the first time you use witch hazel. I dare you to try with hazel on your neck.
19. Sooth Chickenpox with Witch Hazel
For an all-natural treatment for chickenpox, apply witch hazel. You should feel instant cooling and your itching should stop fast. Use witch hazel on chickenpox as often as you need throughout the day. Witch hazel also promotes drying out chickenpox and shrinking them.
18. Reduce Under Eye Bags with Witch Hazel
If you look tired, you can refresh your eyes simply by using witch hazel. Close you eyes and apply cotton pads soaked in witch hazel. Leave on for ten minutes. Your eyes should look fresh and awake.
17. Stretch Marks
Yo can actually fade stretch marks with witch hazel. It takes months to see a difference, but with continued treatments, you can minimize stretch marks at home using witch hazel.
16. Sooth Kitchen Burns
If you burn yourself, you can get some relief with witch hazel. As long as the skin isn't broken, apply some witch hazel for the anti-inflammatory benefits.
15. Sooth Emerging pimples
With hazel will sooth skin soreness when you feel a pimple starting to emerge from your skin or feel a break out about to happen. Apply witch hazel to your face in a compress for five minutes to feel relief.
14. Loosen Blackheads
After cleaning your face, apply some witch hazel to your blackheads with a cotton pad. You can rub off excess dirt and oil from your skin. Within two weeks, you will notice your blackheads disappearing and your pores tightening. Witch hazel is a toner and it's all natural.
13.
Hemorrhoid Relief
Is witch hazel good for hemorrhoids? Yes. Witch Hazel will soothe even the most irritated skin including hemorrhoids. Witch hazel soothes all three irritants of hemorrhoids including itching, swelling, and bleeding.
12. Stop Bleeding Fast
If you get s cut on your skin, witch hazel will help you stop bleeding. Witch hazel also contains alcohol to help disinfect your wounds. It's strong but gentle on your skin.
11. Prevent Razor Burn
The skincare benefits for witch hazel are effective in preventing razor burn. After shaving, pat some witch hazel on skin to help stop bleeding. Witch hazel will fight the inflammation and heal you skin. The alcohol in witch hazel will help disinfect and kill germs.
10. Reduce Puffy Eyes with Witch Hazel
Skincare benefits for witch hazel are amazing on your eyes! Puffy eyes can happen to anyone and witch hazel is the best way to beautify and reduce puffy eyes, tightening the eye area back to normal. Yay! I find the best way to apply the witch hazel is by soaking a cotton pad and gently applying it to your closed eyes for a minute or two. Let it soak into your skin and dry, then go for round two and soak the eye area again! For an extra beauty bonus, take a tea bag and pour the witch hazel onto the tea bag and apply to the eye area as well! That will also help with giving your eyes a youthful glow, might as well! Eyes always look refreshed after witch hazel!

9. Treat
Acne

with Witch Hazel

Is witch hazel good for acne? Yes!

Acne scars: Witch hazel is good for acne scars. The skincare benefits for witch hazel are amazing on acne-prone skin!

Pimples: It's good for your face and works gently on pimples. Your pimples will reduce in size and the inflammation will lessen. With all the expensive creams and cleansers, a budget-friendly and effective way to combat acne is once again Witch Hazel!

Oily skin: It's an effective, yet gentle astringent that reduces inflammation, reduces redness, reduces pore size, and removes excess oil from the skin. Witch hazel is good for oily skin too, it helps balance the PH level of your skin and moisturize.

How to use witch hazel for acne: After cleansing your face, saturate a cotton pad with witch hazel and thoroughly wipe your skin with it. You may see some excess dirt and oil dissolve onto your cotton pad. Amazing how much oil and dirt witch hazel dissolves.  My skin always looks and feels smoother and tighter after treating it with the natural goodness of witch hazel!

If you have sensitive skin and ACNE, I highly recommend you use an alcohol free witch hazel! My #1 recommendation is using the Proactive Revitalizing toner that's highly concentrated in witch hazel and it's alcohol-free, gentle and contains skin-nourishing goodies. Read my Proactiv Revitalizing Toner Review here! It helped clear all my bad acne! Check out the before and after pix! Yikes! LOL. You can separately purchase the Proactiv Revitalizing Toner on Ebay! YAY!

8. Heal Bruises with Witch Hazel
The skincare benefits for witch hazel are amazing on bruises! Did you find a new mystery bruise? I find those mostly on my shins from bumping into the coffee table… Heal those bruises by the weekend with witch hazel! Try saturating a cotton pad or washcloth with witch hazel (depending on the size of the bruise.) Tiny bruises can be healed by wetting a cotton ball and letting it stick onto the bruise with a band aid! The witch hazel helps heal the injured skin, reduce the swelling pain, and constrict those blood vessels! Heal your bruise with witch hazel asap!
 7.  Skin Refreshing Witch Hazel Spray
The skin care benefits for witch hazel are amazing for refreshing your skin. Whenever you're feeling tired, or having a bad skin day, spray your face and body with some witch hazel! That's right, pour witch hazel into a spray bottle and enjoy a refreshing feeling. The witch hazel will remove excess oil, dirt, and soothe your skin. Add some drops of essential oil and you have a refreshing pick-me-up facial spray that will wake you up! Try Eucalyptus oil for a daytime refresher and Lavender oil for a soothing skin refresher in the evening.
6. Moisturize your skin with Witch Hazel
Is witch hazel good for dry skin? Yes, let me tell you all about it. First of all you need alcohol free witch hazel if you have dry skin. The small amount of alcohol may be too irritating for dry skin. However, the skincare benefits for witch hazel are amazing for moisturizing skin! Just because witch hazel isn't a cream or oil, doesn't mean it can't be a traditional moisturizer! Let's review, witch hazel will remove the bad stuff such as excess oils, and other impurities, and will actually nurture your skin with good moisture and prevents skin from drying out. Use witch hazel every day for consistently moisturized skin.
5. Reduce Varicose Veins with Witch Hazel
The skin care benefits for witch hazel are amazing on Varicose Veins! Witch Hazel is an effective treatment for varicose veins. The reason it works so well is the high content of tannins witch hazel has. These tannins help constrict blood vessels and will help reduce inflammation, especially the swelling of the varicose veins. You can apply the witch hazel onto a cloth and treat each area. If I had them on my legs, I would put on some compression socks and saturate them in witch hazel.
4. Disinfect minor cuts and irritation with Witch Hazel
The skin care benefits for witch hazel are amazing for disinfecting cuts! Witch hazel will help relieve the pain from minor cuts and irritation, and disinfect the germs! Most varieties of Witch hazel sold have alcohol added. And alcohol is great for killing the germs!
3. Treat Sunburn with Witch Hazel
The skin care benefits for witch hazel are amazing for treating sunburns. A sunburn can leave your skin with an irritated feeling of burning, relieve your sunburn with witch hazel. Simple, pour some witch hazel into a spray bottle for some instant relief! Ahhhh! Make sure you use the alcohol-free version for sun burn!
2. Treat Eczema and Psoriasis with Witch Hazel
The skin care benefits for witch hazel are amazing for treating eczema and psoriasis. Witch hazel is a must for anyone suffering with Eczema or Psoriasis because of the amazing anti-inflammatory benefits. Witch hazel will stop the itching, redness, painful burning, and even the scarring that comes with these skin conditions. Check with your doctor prior to use, there's even witch hazel creams and wipes now! Another natural treatment for psoriasis and eczema is Olive Oil, check out the Skin Care Benefits of Olive Oil here.
1. Reduce Wrinkles with Witch Hazel
The skin care benefits for witch hazel are amazing for reducing wrinkles! Dry skin is prone to wrinkles, I love using witch hazel in the dry winter months for this reason! Wherever you find a wrinkle, Plump your skin back up and remove the wrinkle with witch hazel! I take a cotton pad and saturate it with witch hazel, hold it on the wrinkle for a minute, let it dry and repeat. Goodbye wrinkles! This is my fav witch hazel benefit! My fiance always comments how witch hazel always makes my skin smooth as porcelain. If you want to concentrate and work on under eye wrinkles, try my How to remove Under Eye Wrinkles Recipe.
Bonus Witch Hazel uses for face skin care
Glowing skin: My favorite witch hazel use is for making my skin glow. After I apply some witch hazel with a cotton pad onto my face, I feel my skin tighten and it glows.
Tightens pores: My pores seem less visible immediately after one use.
Witch Hazel for dog's hot spots
I use witch hazel on my dog's hot spots to sooth the skin and stop the licking, itching, biting. When I my dog is constantly licking or biting an area on her skin, I treat the affected area with witch hazel.
I take a flat cotton pad and saturate it with witch hazel. Rubbing the area getting onto the skin moving the hair around. After I have saturated the affected area, I take a dry cotton pad any dry the area.
Many times If I discover a wet irritated hot spot on my dog, I will dry the area with a cotton pad because her saliva is full of bacteria and can infect the area. If the skin stays wet with her irritation and saliva, the skin can't breathe and will get worse.
Next I will treat the area with witch hazel and dry it again.
Where to buy witch hazel
Where is the best place to buy inexpensive witch hazel? Luckily witch hazel is already inexpensive. The cheapest witch hazel I've seen is at Target, for $1.44 16 OZ. That's the Target brand (Up & Up) and it's the same formula as the name brand ones.
Target.com With Hazel (In-Store Only) $1.44
Walmart.com Witch Hazel $3.28
Walgreen's Witch Hazel $5.49
Rite Aid Witch Hazel $6.29
CVS.com Witch Hazel $6.49
If you want an Alcohol-Free Witch Hazel for sensitive skin, try the once from The Homestead Company (pricey)
Looking for the top selling witch hazel online?:
Alcohol-Free Witch Hazel with Rose Petal Water $7.99
Alcohol-Free Witch Hazel Homestead Company $12.95
Ebay.com Witch Hazel Ebay always has small biz venders that make their own or have name brand witch hazel for sale, you can find some good deals!
Don't like the smell of witch hazel?
Finally, I know witch hazel has a very "herbal" smell. That's why you might want to try a witch hazel with natural added scents such as rose petal witch hazel by Thayer's ! (smells incredible) Pictured below: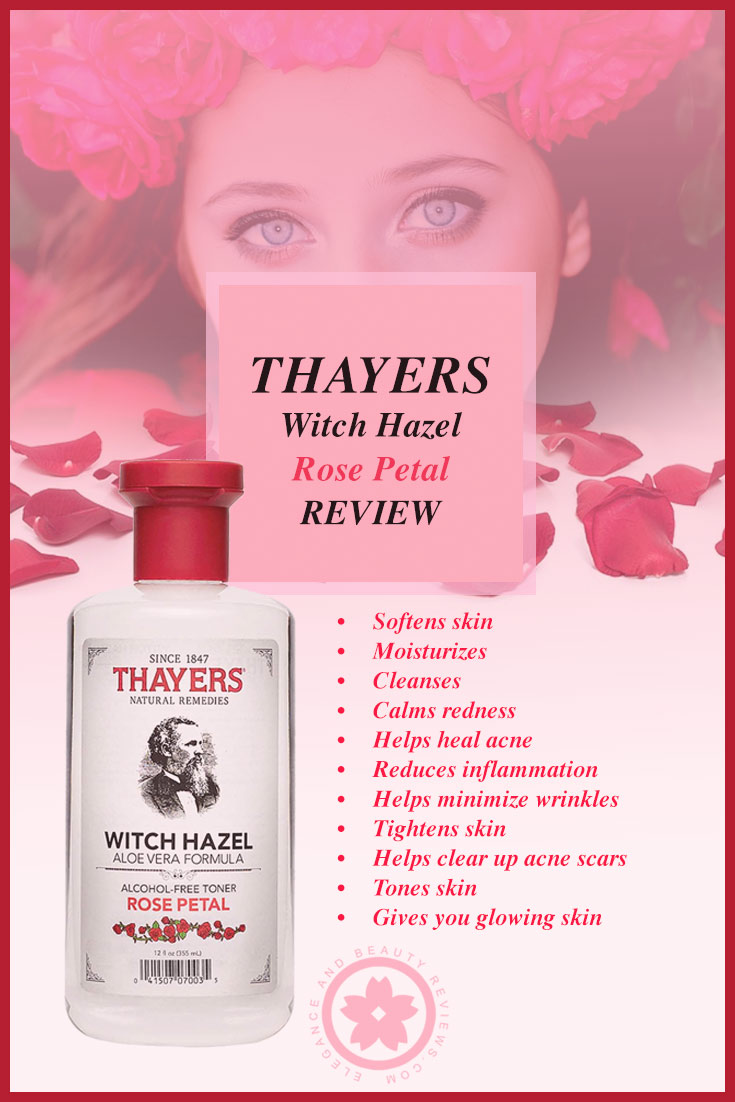 Ebay Proactiv Revitalizing Toner $8-15 If you have ACNE and sensitive skin, I highly recommend purchasing Proactiv Revitalizing Toner (contains mostly alcohol free witch hazel and has skin loving goodies)
What is witch hazel? What does witch hazel look like? The photo on the left is a photo of witch hazel.
Witch hazel is a medicinal plant. The twigs, leaves, and bark is what's used to make medicine. It's also known as Hamamelis Virginiana.
Thank you for reading: Skin Care Benefits for Witch Hazel
That's basically everything you need to know about the benefits of witch hazel for your face. If there's any other witch hazel tips, please let me know in the comments section below!
Do you like the smell of witch hazel? More witch hazel benefits in the comments please:
More information about Witch Hazel Skin Care, including side effects, manufacturing, etc.