How to Grow Your Nails 
20 Fast Nail Growth Tips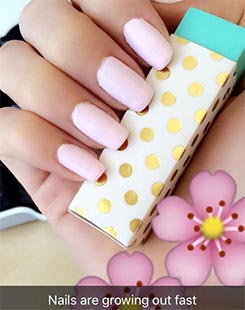 Here's how to grow nails faster in a week. Not only can you grow nails faster naturally, you'll also have stronger nails and harder nails.
Hi, I'm Jen!
Want to grow out your nails fast? Follow my tips to make sure you never break a nail again!
Try all 20 of my Home Remedies for Nail Growth
I used every one of these tips to increase nail growth. These are also natural remedies you can use with ingredients in your cupboard. However, there is one amazing nail strengthener I recommend you purchase too, it's listed below.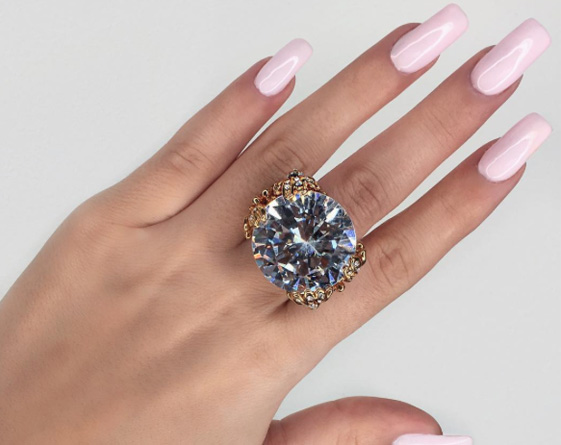 I finally have the elegant long nails I always wanted. Try all 20 of my home remedies for nail growth and you'll notice you nails growing faster and stronger in one week.
documented my nails on my snapchat
If you follow my snapchat, you would have seen my nail growth documented everyday. Follow me on snapchat: elegancebyjen
Long pink nails
Did you know nail health is a sign of your overall health? It's true.
My nails have always been short because they always break. Take a look at all the nails care tips and home remedies I did. My nails went from being short brittle nails to finally strong, long, and healthy nails. Yay!
My nails grew fast too! If my short brittle nails can grow out, yours can too.
Here's my 20 Home Remedies for Nail Growth
Massage your bare nails and cuticles with Extra Virgin Olive Oil
Wear nail polish! This strengthens your nails. A base coat + two coats of color + one top coat
If wearing nail polish add a drop of Extra Virgin Olive Oil under each nail (this conditions the other bare side of the nail making it stronger)
Exfoliate your nail bed and cuticles with baking soda/ water paste or use a brown sugar scrub with olive oil. You need to exfoliate the dead skin so the moisturizer/ olive oil can absorb
Wear rubber/latex gloves when cleaning the house/chores to protect your nails
When wearing the gloves, apply a generous amount of your favorite lotion or olive oil to your hands and nails. This is an excellent conditioning nail growth remedy. You'll condition while you clean.
Never do anything that can risk breaking a nail such as adding a key to a keychain, opening a clasp on  necklace, lifting heavy objects – ask for help like a Queen! 😉
Make sure you use a nail strengthening base coat, even if you're not going to apply colored polishes
File your nails in one direction to keep the ends healthy and neat
If you see your nail polish chipping, make sure you fix it immediately, it leaves the nail vulnerable to breakage
Moisturize your nails / hands/ cuticles after you wash your hands
Apply moisturizer as often as needed. Morning, noon, evening, and night
When removing nail polish, ALWAYS use an acetone-free formula to avoid drying out the nails
Take a biotin supplement, my fave is called "Hair, Skin, and nails"
You can add a coat of nail gel top coat and cure under a UV light to make your nails strong as cement
Remove yellow stain from nail tips using a little diluted hydrogen peroxide, moisturize after!
If nail fungus is slowing down your nail growth, apply a drop of tea tree oil to each nail and massage
Keep the tips and edges (part of your nail you nail file) sealed with clear top coat – this keeps the nail strong
Always use a natural moisturizer, like olive oil
After moisturizing nails before bed, add vaseline on top to seal in the moisture – wake up to conditioned nails
[wp_ad_camp_5]
Long nails are sexy
Long nails are beautiful and sexy. My favorite youtube stars always have long beautiful nails painted in the trendy nails colors. And then I look at my nails and wish they would hurry up and grow. Or at least grow but not break. Nail goals, yes. Now my nails are finally strong and long. I can get more fancy with nail designs now too.
I love seeing my long nails in my selfies. I feel more feminine and yes, elegant. 😉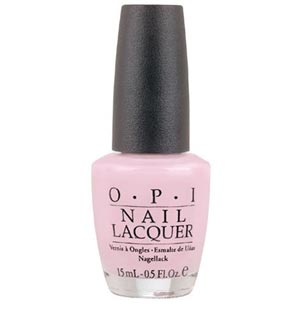 That glamerous long nail lifestyle
What I was doing wrong, sabotaging my nail growth
Queen it up ladies! Ask you man to keep you lift heavy things, don't go breaking a nail my dear.
I used to live a lifestyle that could not endure long nails. I've turned into such a girly girl. Geez it's difficult keeping your nails long when you're not used to long nails. I hope all my nail growth tips and remedies work for you like they did for me.
I would grab wet clothes from the washer machine, now I use my knuckles lol
try to lift heavy junk in the shed, now I ask for help
move furniture, now I ask for help 😉
place new keys on my key rings, now I ask for help lol 😉
Opening clasps for wearing necklaces… I still need to find a solution. I broke my thumb nail doing this! 😉
Changing a tire, now I just call my roadside assistance lol
Overall I try to be more careful!
It's been only two weeks, and my nails have grown out faster. I've already received my first compliment on my long nails, which is what lead me to writing all my home remedies for nail growth.
Long nail inspiration: Jennifer Lopez 
This video of JLO is enough reason to make you want to grow your nails out. I could do this all day. Vogue! Vogue!
I prefer my own natural nails rather then getting fake acrylic nails applied. They're expensive and damage your natural nails. If you remove your acrylic nails, these nail tips will help you heal and grow out your nails after  acrylics too. Grow your own nails faster and stronger at home naturally and you'll never have to go to the nail salon again. Save time and money on your nails.
Nail Supplement I take: Hair Skin and Nails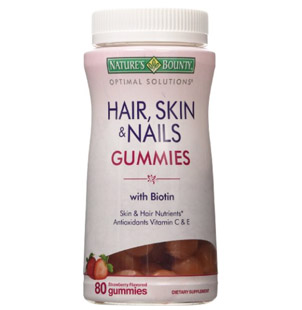 #1 The best Nail strengthening base coat I use: Pink Armor Nail Gel 
Read my Pink Armor Nail Gel Review
In my pink armor nail gel review I give you tips how to get the best results using this nail strengthening gel.
Nail Care May Get Expensive, but You're Worth it!
Girl Talk
There's some funny nail salon names around where I live in San Diego, California.
Here's my favorite nail salon names
I included the Yelp link on each one if you want to check out their nails.
Do you have any nail care tips? Please leave them in the comments.
Thanks for reading my natural Home Remedies for Nail Growth.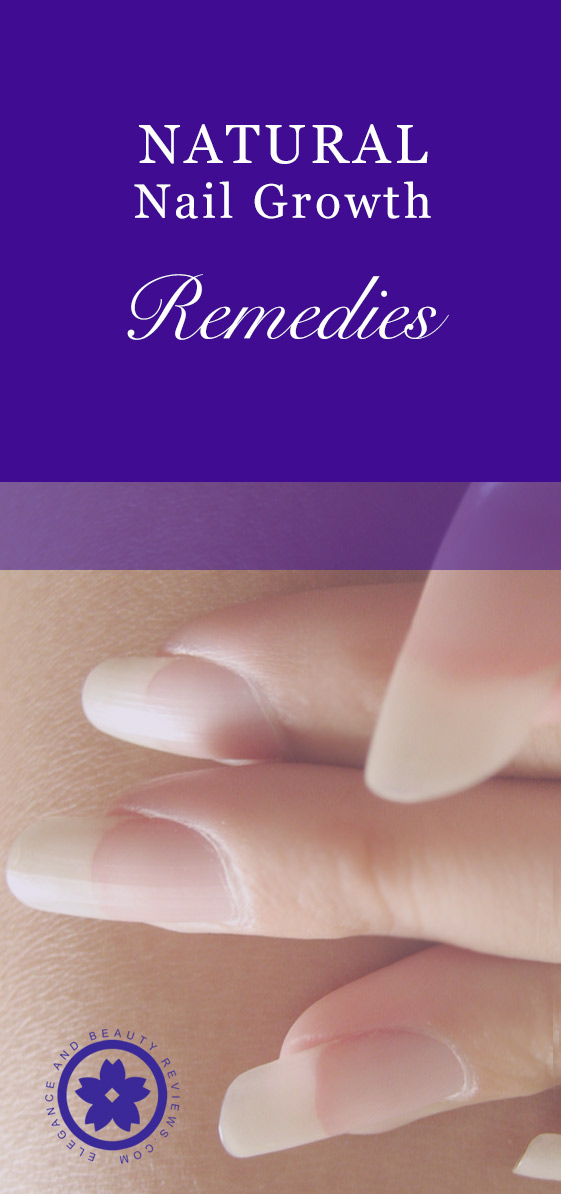 Want even more beautiful hands?
Here's how to remove wrinkles from fingers and hands
Thanks for reading Home Remedies for Nail Growth.
xo, Jen