Rice Water Skin Care is one of the BIGGEST skin care secrets of Asia! I really wish more people here in the U.S.A. were open to the idea of a more natural skin care treatment for skin lightening rather than using expensive skin whitening serums. Rice water skin care is an amazing solution for many skin care issues that's cheap and most importantly effective! Read about how to use rice water skin care with photos and read my experience with rice water skin care.
Rice Water Skin Care is great for all skin types. No matter how complicated your skin care regimen is, rice water is an easy step to add! The most exciting thing about using rice water on your skin is that you see and feel a huge difference after one use!
Watch the video I made for this blog post below:
Do you need to also treat wrinkles?
Here's the #1 beauty oil I recommend!
Rice Water Skin Care Benefits
Rice water can give your skin a flawless porcelain finish and even lighten and whiten your skin over time – better then expensive skin whitening serums. When I mean whiten, I'm referring to removing hyperpigmentation, age spots, and sun spots.
You can also expect to see it help firm up your skin and reduce your pore size. This would explain the smoothness I always experience!
Rice water is full of skin loving vitamins, minerals, especially PABA, allantonin, and ferullic acids, especially antioxidants that have an anti-inflammatory effect on the skin.
Popular: Skin Whitening Body Scrub Recipe
Rice Water Skin Care – How to Make Rice Water – Step 1
I've tried all types of rice this last year to find the best rice to use when making rice water. The brand of rice that I recommend is called Nishiki Premium Grade Rice. It's Medium grain rice specially selected. For 5 lbs it costs $6.59 USD. I use this brand to create delectable sushi dishes with but in this situation, I end up being the real dish in this winning skin care routine 😉 shhh! Try it! 😉 You can use any white rice to make rice water, this brand is just my personal favorite!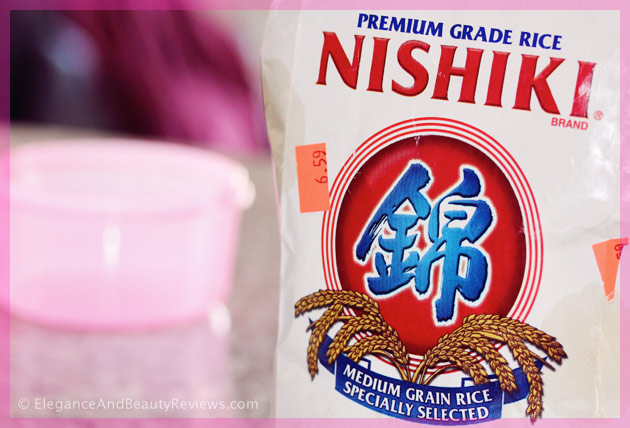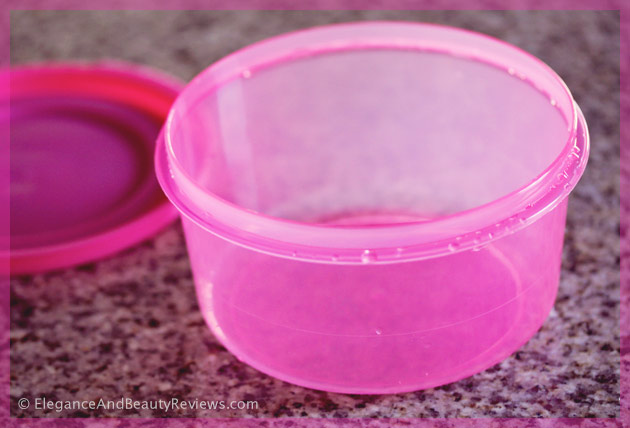 – Get an airtight container
– Scoop 4 TBSP. of uncooked raw rice into the container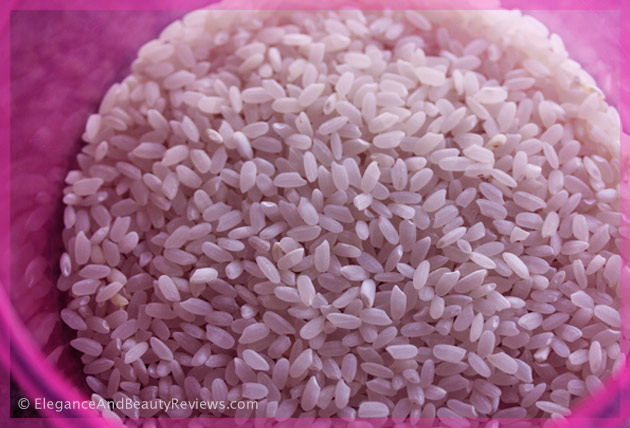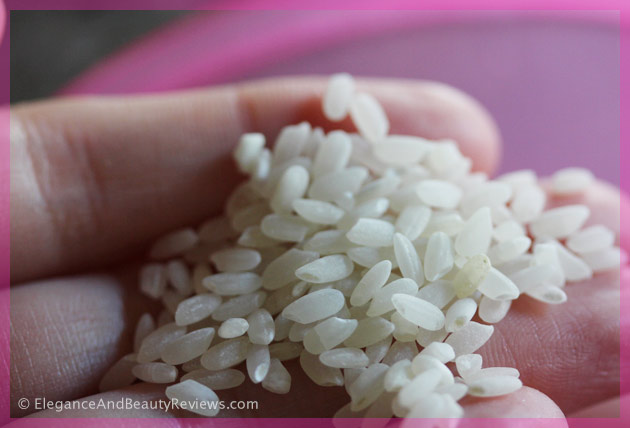 Rice Water Skin Care – How to Make Rice Water – Step 2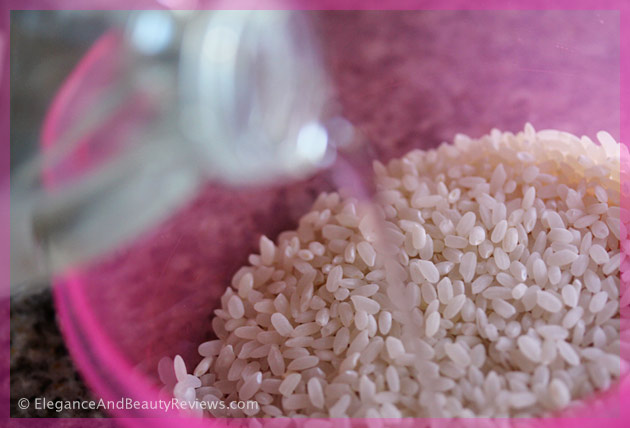 – Pour a generous amount of purified water into the container. I'm using cold bottled water right out of my refrigerator so it will be nice and cold when I apply this fresh mixture to my skin. (Coldness closes your pores)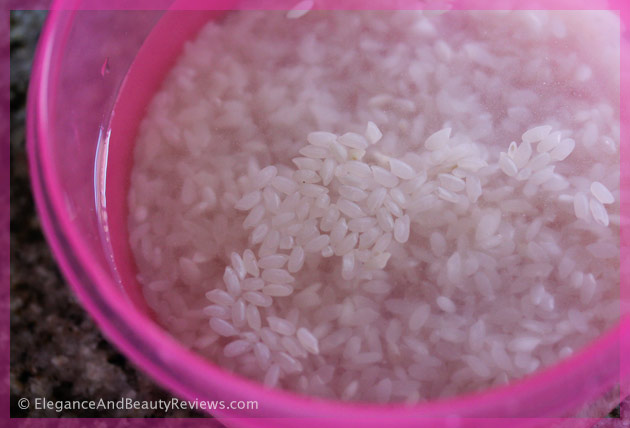 Rice Water Skin Care – How to Make Rice Water – Step 3
– Place the lid on the container and give it a good shake.
– Allow the rice water to sit for ten minutes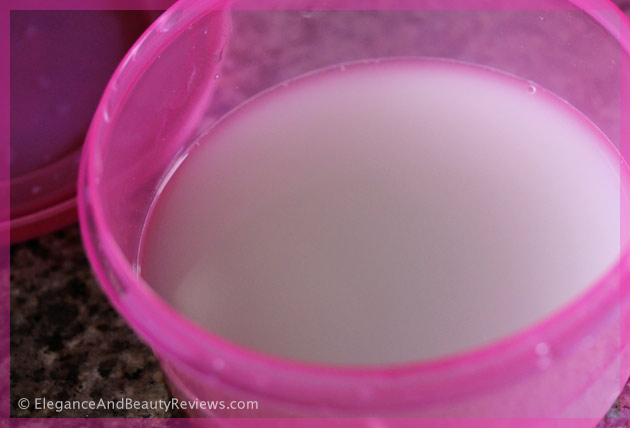 Rice Water Skin Care – How to Make Rice Water – Step 4
The rice water will look very milky white after ten minutes. You won't be able to see the rice underwater! Pick up some of the rice under water and notice it's becoming a little translucent! Pretty huh?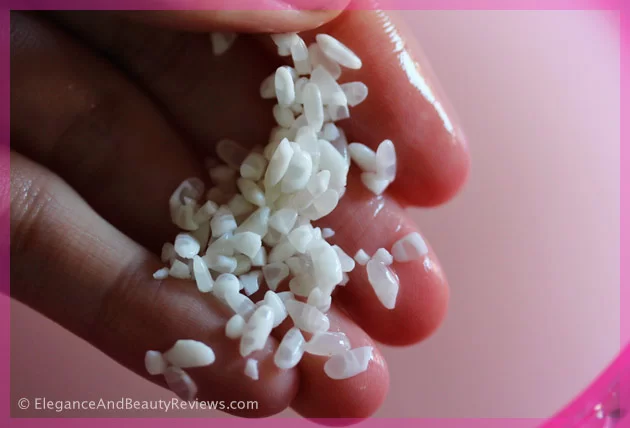 Look how milky white the rice water is! I'm tilting the container and you can't even see through the rice water!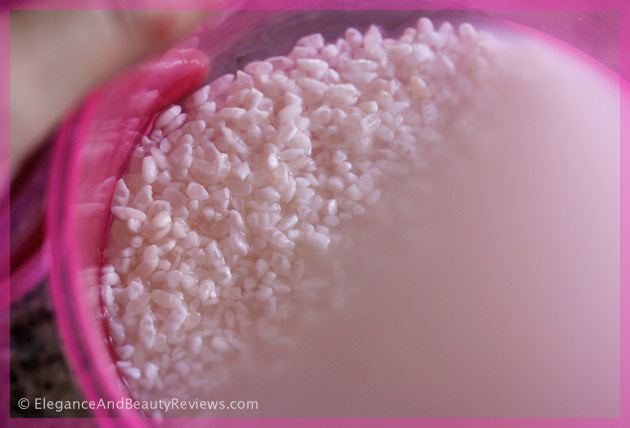 Rice Water Skin Care – How to Make Rice Water – Step 5
Take a cotton pad or paper towel and soak up some of the rice water and gently pat it onto your face. Allow the rice water to soak into your skin and dry. I love to let it dry on my face and reapply more rice water to get a good dose of rice water for my skin! When the rice water dries on my face, my skin feels so soft and looks so luminous that I feel like I don't even need makeup! If you do decide to wear foundation, it will apply so smoothly onto you skin.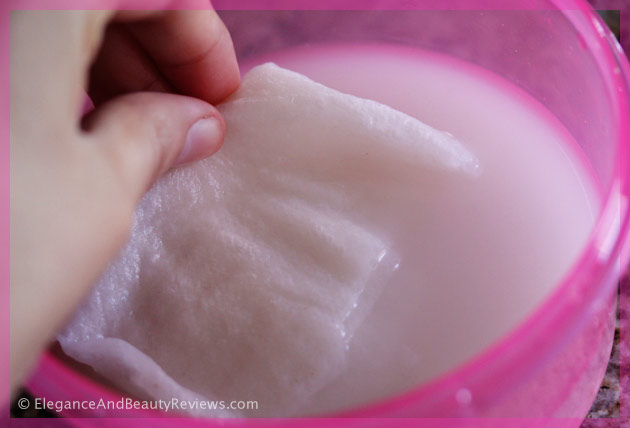 Here's my makeup-free skin getting a good dose of rice water. Let it soak in for five minutes and apply more.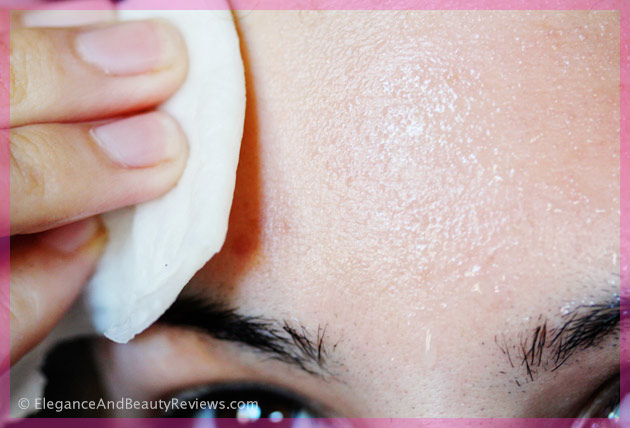 The results of using the rice water! yay! I'm really pleased with the smoothness and glow it gives my skin! My pores are super tight and my skin is smoother than silk! This could be a makeup free day! Who am I kidding? I'm going to add some blush and color to my face. I have done some makeup free days with rice water and my skin feels baby soft all day! Try it! You can also use rice water just like a skin toner. This is a great inexpensive way to pamper your skin! I love to take the leftover rice water onto my neck, hands, and arms.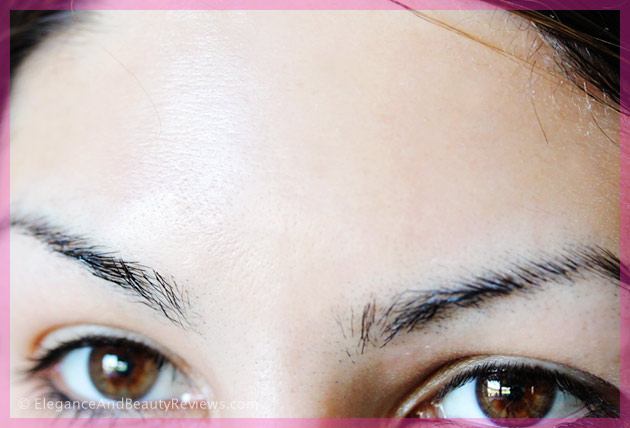 Store the rice water you made in and air tight container placed in your refrigerator up to four days! You can cook the rice grains instead of throwing them away! 😉
Don't forget, you can sleep while having the rice water on your face and skin too!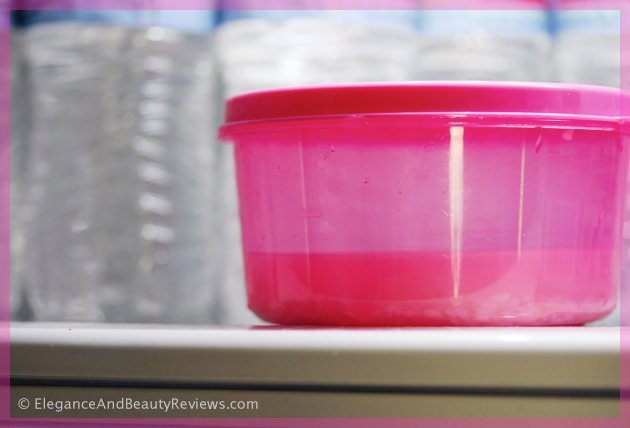 Thank you for reading about Rice Water Skin Care! Please share this article with anyone that wants to lighten their sun spots, age spots, and hyperpigmentation. Looking for more skin care tips? Read my Top Ten Anti Aging Skin Care Tips here
*Update 11/29/2014
Don't want to make your own rice water skin care cleanser?
You can actually purchase rice water soap if it's too much work for you. I know it can be hard to keep rice water fresh in your refrigerator. It's called Kojie San Skin Lightening Soap. I have been trying it now for two weeks and it has all the skin care benefits of using rice water.
Lots of people have asked me about rice water down below in the comments. Maybe their questions can also help you too!
-Jen xo
If you're looking for skin lightening products online: