Tatcha GOLD Camellia Nourishing Lip Balm Review | Luxury Lip Balm Review
Tatcha GOLD Camellia Nourishing Lip Balm Review and photos. Tatcha's gold camellia nourishing lip balm is made to impress.
Genuine 24-karat gold leaf lip balm makes this a $36.00 luxury purchase .
High quality ingredients, superb performance, and of course elegant packaging.
However, if you're familiar with  the brand Tatcha, expect none the less.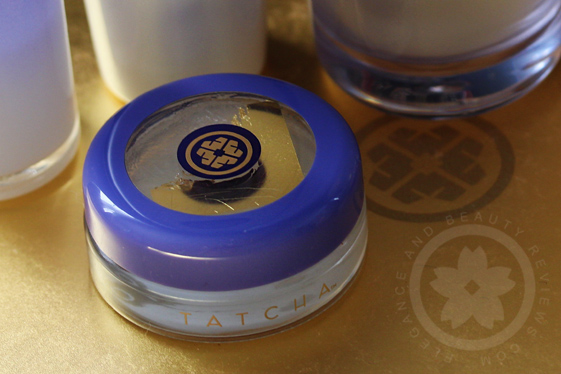 [wp_ad_camp_3]
Did you say 24-karat gold leaf lip balm?
Yes, it's real GOLD.
This is the luxury lip balm that wows everyone. However, more importantly, I like to "WOW" myself. 😉
My first impressions – Tatcha GOLD Camellia Nourishing Lip Balm Review
After unboxing I was too scared to try the lip balm. It's so pretty, you might feel the same way too at first.
I'm in awe of the pretty packaging. Simply elegant. Something I imagine a Princess or Queen might affix to their pout in their leisure. Right?
The first time I applied this to my lips, I was impressed. This has a nice silky feeling on the lips. My lips feel moisturized and soft as rose petals after using.
LOVE that the isn't sticky or waxy. It glides on so soft and smooth. It's the perfect texture.
The smell is nice and soft. Pleasant experience applying. It's nice looking in the mirror seeing the subtle shimmer. Looks amazing in sunlight.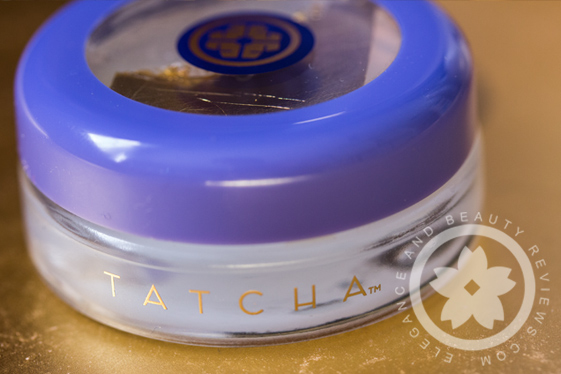 Unique, Simple, Elegant
This Tatcha GOLD Camellia Nourishing Lip Balm is in a round plastic lavender and clear case that's so simple and elegant. Instead of this being a stick or round EOS balm, Tatcha brought it back to simplicity using the timeless design of a round case with twist lid.
When I take this out of my pretty designer handbag, it just looks to chic and elegant.
Tatcha GOLD Camellia Nourishing Lip Balm Benefits
Absorbs quickly
Pleasant smell
Not sticky nor waxy
Refreshing
Give you soft lips
Touch of shimmer
Anti aging treatment for lips
Moisturizes and helps prevent moisture loss

Close up photo of the Tacha Gold camellia nourishing lip balm
[wp_ad_camp_4]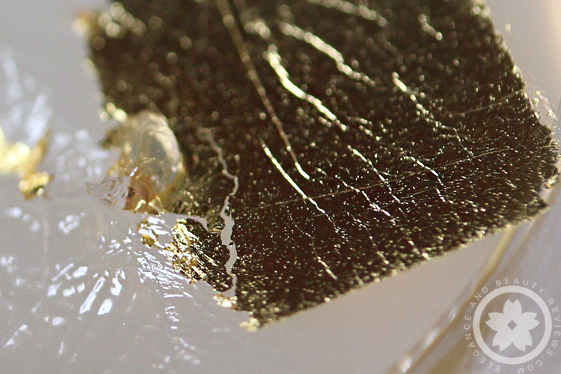 Tatcha Gold Camellia Nourishing Lip Balm Price?
$36.00 for 8g / .28 oz.
Now let's keep it real, my honest thoughts
Yaaaass! Hands down this is a lovely lip balm.
What do I love the most about this Tatcha lip balm? 
The design and luxury.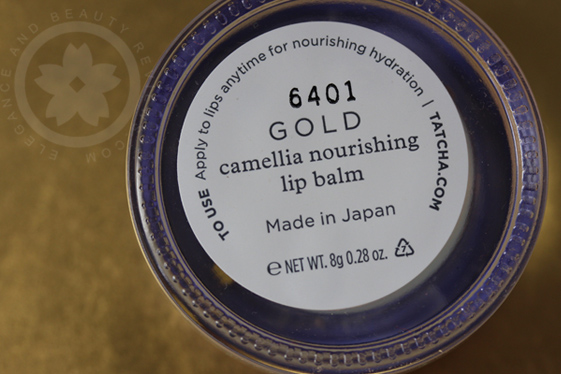 However, do I apply this throughout the day?
No.
I honestly only apply this lip balm before bed or in the morning on makeup free days.
This is a lips balm that I don't apply on top of my daytime lipstick.
That being said, I keep this as a pretty lip goody that I rarely use.
Does this lip balm the best you've ever tired?
On a good note, since I've started using this lip balm I have not had chapped lips. My lips appear more pouty too. So, yes this is actually the best lip balm I've ever used. Chap stick and EOS cannot compete.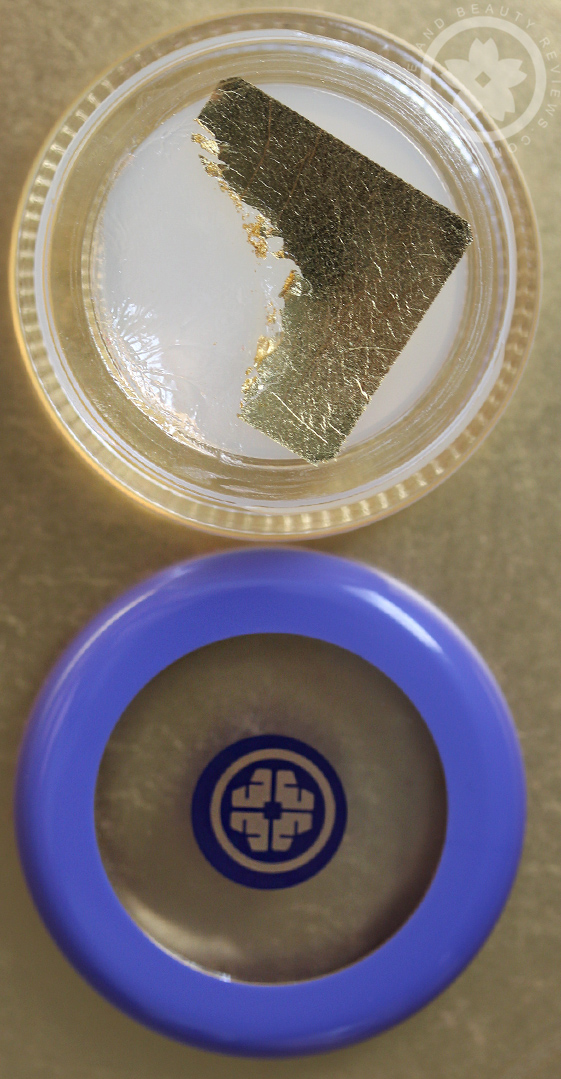 Germaphobe? 
With this lip balm I'm kinda not sold on using my fingers to apply this to my lips.
[wp_ad_camp_1]
How long does the gold last?
Sadly, the gold is a wow factor for the first ten times approximately. Then the gold is gone but you still have all the lip balm goodness.
A gorgeous addition to your makeup vanity and the Tatcha collection
When you see this on your vanity or in your purse, you feel special 😉
Another gorgeous luxury lip care product:
Emile Cordon Cashmere-on Lip Pot Review
Pairs great with this Tatcha GOLD nourishing lip balm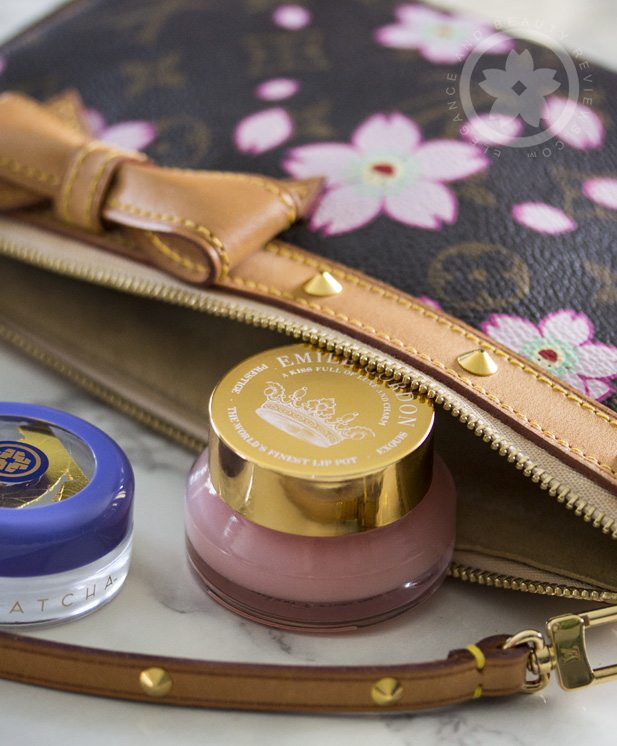 Where can I purchase the Tatcha GOLD Camellia Nourishing Lip Balm online?
Below are some sellers on Amazon that will ship to you. You might even find some good deals or free shipping.
Did you like my Tatcha GOLD Camellia Nourishing Lip Balm Review? Please leave any questions in the comments below.
I love many Tatcha products. All of these beauty products I have purchased myself and was not contacted by Tacha to do a review. Totally 100% honest Tatcha GOLD Camellia Nourishing Lip Balm review.
Check out my Tatcha collection: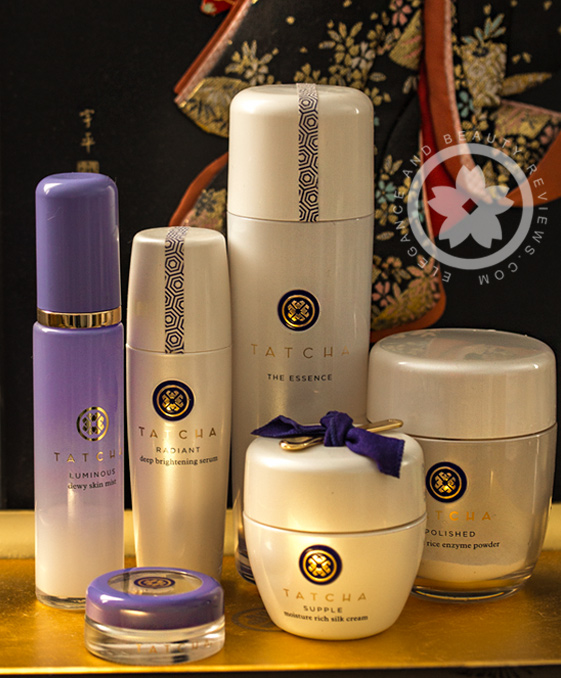 Other Tatcha products I have reviewed and recommend:
Tatcha Luminous Dewy Skin Mist
Jen