How To Remove Wrinkles On Face Home Remedies that are easy! These are all the things that I do in my beauty routine that work for me. I really want to help you with your own natural skin care.
If you have wrinkles on your face right now and you're looking for ways how to remove wrinkles on your face at home with natural and organic anti-wrinkle skincare remedies, or just s little help reducing wrinkles, keep reading.
These natural skin wrinkle removing ingredients are all things you can find at the grocery store. Sure, there's skin creams that remove wrinkles but I'm going to share the natural wrinkle removers that actually work.
I'm going to share everything in this anti-wrinkle skin care guide – How to remove wrinkles on young skin, how to remove wrinkles on mature skin and how to prevent more wrinkles.
How To Remove Wrinkles On Face Home Remedies
Wrinkles can happen to anyone at any age. I'm seeing an alarming number of young people with wrinkles and sun damage. This is caused by too much sun exposure, an increase in environmental toxins in the air, poor nutrition, stress, and not to mention poor skin care. Yikes! The good news is that it's quicker and easier to remove premature wrinkles (skin in 20's-30's) than it is to remove wrinkles on mature skin (60's +) It just takes longer to remove wrinkles on mature skin – but it's possible and I'll show you how to remove wrinkles as fast as possible!

How To Remove Wrinkles On Face Home Remedies
There's some treatments you can do everyday to help remove wrinkles and prevent wrinkles. I do these tips everyday because good natural skin care is my absolute passion. I've learned from women all around the world what works best for them and I've adopted the best wrinkles removing remedies into my everyday routine and now I want to help anyone that's struggling with wrinkles.
How To Remove Wrinkles On Face Home Remedies – My Everyday Routine

Step 1 – remove your makeup with olive oil
The first wrinkle removing method I do everyday is how I remove my makeup, cleanse my skin, exfoliate, and nourish my skin as well as protect it. It may seem like a lot of work at first, but once you get into the routine and see the results, you'll suddenly have time trust me! 😉
I remove my makeup everyday with pure 100% extra virgin olive oil. This melts away makeup fast on contact without irritating your skin. I have been doing this method for years and it helps prevent wrinkles and treat any wrinkles you might have forming or any wrinkles you may have on your face already. This softens and moisturizes your skin with lots of vitamins.
Simply take a small handful of pure 100% extra virgin olive oil, apply it to your face smoothing it around with your fingertips. Allow it to sit on your face for ten seconds and begin wiping it way with a tissue or whatever you have available. I like to use bathroom tissue. I have a video of me: Olive oil makeup remover
If you're curious about benefits of olive oil please read
Step 2 – Anti-wrinkle face cleanser and exfoliate treatment

Now that the makeup is removed from your skin, you can remove the built up toxins, unclog your pores, and cleanse deep down into your pores. I do this step in the shower every night. First I take a handful of the olive oil and apply it to my face. In the warm shower I massage it into my skin.
This should warm up the oil and open up your pores. The olive oil will help remove anything in your pores by bringing it up to the surface. Oil helps remove oil! The oil will go deep into your pores and the warm water will help bring it back up to the surface. Next, we're going to remove the excess oil and remove dead skin cells at the same time in this step:
Exfoliate dead skin and wrinkles naturally


Now that your skin is cleansed and supple, we're going to remove the dead skin and wrinkles. With the oil still on your face, apply a table spoon of baking soda to your face. You may need to apply more olive oil to make it spreadable. Massage the olive oil and baking soda on your skin. Gently around your eyes for eye wrinkles and all around your face spending more time massaging areas that have wrinkles, like your forehead.
Next, allow the olive oil and baking soda to sit on your face for five minutes. You can wash your body or shave your legs in the meantime. The steam in the shower will help this wrinkle face treatment work for best results! You have to do this in the warm steamy shower, trust me! 😉 The baking soda will also help soften you skin, especially the wrinkles. Baking soda is a great anti-wrinkle akin care ingredient, read more: Baking soda for Skin Care
After the five minutes, gently rinse away the mixture and don't scrub anymore. Touch your face and feel how smooth your skin is! I have so many friends that have tried this anti-wrinkle face treatment and they tell me how amazingly smooth their skin feels after. Olive oil has so many amazing skin care benefits too! Check out my article: 40 Skin care benefits for olive oil . That's right 40 skin care benefits for olive oil!
Now there's some after treatments to do for my "How To Remove Wrinkles On Face Home Remedies"

How To Remove Wrinkles On Face Home Remedies – Night Serum
This may not be at your grocery store but I highly recommend you try it! – It's all natural and amazing! Now you need to apply some Rosehip seed oil all over your face. This is the perfect all natural organic anti-wrinkle night serum. It's a little pricey, that's why I save it for using it as a serum and now a cleanser.
This is a must step for gorgeous skin regardless, even if you don't have wrinkles this can prevent wrinkles! If you have wrinkles, this has so many skin care anti-aging goodies and nutrients for your skin. I love rosehip seed oil for anti-aging. I could talk all day about it, here's an article I wrote: Rosehip Oil Benefits for Skin Care
How To Remove Wrinkles On Face Home Remedies – Eye Wrinkles

I have wrote an article just for removing tough eye wrinkles. If you need major help for this difficult area, please read my article: How to remove under eye wrinkles fast naturally
Eye wrinkles are very stubborn and require the most work to maintain and remove.  I would also like to mention the importance of gently exfoliating the delicate eye area. I love to do that by mixing olive oil and baking soda, also by using the device below:
Now that we're covered the daily anti-wrinkle routine, now let's talk about monthly and weekly skin care treatments that help remove deep wrinkles on both young and mature skin!

How To Remove Wrinkles On Face Home Remedies – Microdermabrasion
Microdermabrasion is my preferred method of choice for maintaining wrinkle-free skin and basting away any wrinkles from forming. It's that extra boost that blasts away dead skin. Yes, using baking soda every day for exfoliating is great, but I have benefited from regular microdermabrasion treatments at home too. I use this on my entire face, even my eye area!
I currently use my PMD personal microderm system every two weeks. Depending on how my skin is doing, I vary how often I use it. This is a great wrinkle removing method for anyone that has sun damaged skin. This also helps if you're acne prone because it removes the sluggish layer of dead skin that's blocking your pores! Yes I had to use an exclamation point because this gives you a double skin care benefit. Removing the sluggish layers or skin and wrinkles will also help your skin efficiently absorb any serums or moisturizers.
Why it's so great for sun damaged skin
The sun causes your skin to build up a tough outer layer of skin over time. This tough outer layer of skin starts to easily wrinkle and look dull with acne scars etc. You have to try microdermabrasion for blasting away wrinkles. It's expensive, so I opt for the at home remedy, using the PMD personal microderm system. You can read my review and watch me use it here: PMD Personal Microderm Review.

Wrinkle reducing home facial
Once a month, I like to use this all natural Retinol Anti-Wrinkle Facial. This is a simple and unique all natural way how to remove wrinkles on face at home remedy. This uses paprika and almond oil. You may not want to try this if you have sensitive skin. I recommend trying a test patch before you apply it to your whole face. It's a strong facial that has lots of stimulating vitamins and natural vegetable acids. This helps stimulate your face increasing collagen production and strengthen skin elasticity. You can also see a decrease in wrinkles. Check out this amazing natural retinol anti-wrinkle facial here: Retinol Anti-Wrinkle Facial
Thank you so much for reading my blog and allowing me to share with you my skin care routines and remedies for removing wrinkles at home.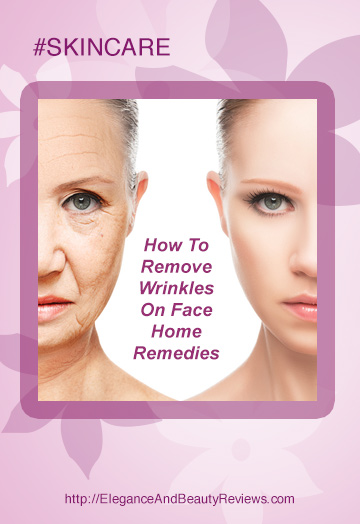 If this has helped your skin as much as my own, please share this blog post with your friends. Or just share this photo on pinterest! Thanks again!
XO Jen