LAPCOS Collagen Sleeping Mask Review
My favorite Korean skin care mask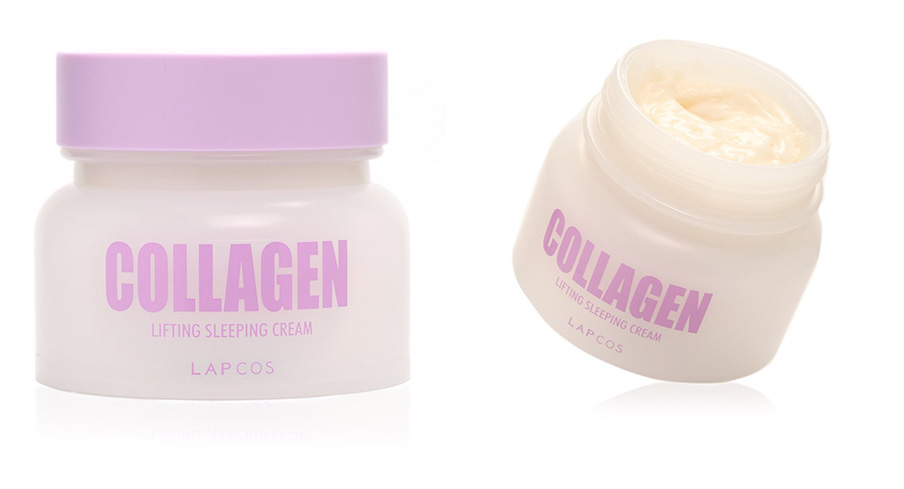 Yes, I'm excited to share my LAPCOS collagen sleeping mask review.
This is listed online everywhere labeled as "LAPCOS Collagen Sleeping Cream – Lifting"
Looking for a new skin care sleeping mask that actually works?
I finally found a night time skin care mask that makes your skin look well rested, lifted, and moisturized when you wake up.
Yes! Packed with Hydrolyzed Collagen, Peptides, Asphodeloides root, Shea butter, and other awesome skin loving ingredients.
Immediate results – 1 night – Lifted skin
This Korean sleeping mask does not disappoint.
The first night I used this mask, I woke up to skin that felt deeply moisturized and rejuvenated. My skin also has a nice glow in the morning.
There were a few nights I didn't sleep well and I still woke up looking well rested.
How to use LAPCOS Collagen sleeping mask
Make sure your skin is well prepped, and toned to absorb the mask.
I prep my skin with:
DABO Hydro Collagen skin toner – To balance the skin PH and remove impurities
Elf hydrating water essence – To allow the mask to absorb deeply
Use the LAPCOS spatula to scoop a generous amount of product onto the skin
Pat the mask all over the face evenly – do not rub it into the skin
Tip: Wait at least 1/2 hour before actually going to sleep wearing this LAPCOS collagen sleeping mask! Why? Because it needs to absorb and set on your skin.
The one weird charecteristic this mask has…
Once the mask is applied, your skin will feel sticky. Don't worry, it's not uncomfortable. The mask just needs to set onto your skin.
Where to purchase
I found my LAPCOS Collagen sleeping mask on Fashion Nova's beauty section. I was very surprised.
Plus it's being sold for only $37.99
This mask is part of my favorite Korean skin care routine:
If you like this skin care mask, you'll love this 3 step anti-aging Korean skin care system.
It's called Dabo Hydro Collagen 3 step
Thank you for reading my LAPCOS Collagen Sleeping Mask Review. It's a high performing skin care mask with awesome ingredients. Honestly, I'm surprised it's so affordable.
Korean Skin Care 101
New to Korean skin care? Learn the famous 10-step Korean Skin Care Routine.
Korean skin care brads are a win-win for everyone. There's so many reasons why Korean skin care is flooding into the United States. First, in Korea, there's soooo much more competition for skin care companies therefore they lower their prices to be competitive.
Korean Skin Care Products
Here's a list of the most popular top 10 Korean Skin Care Products. Korean consumers are keen on skin care ingredients and demand the best. Korea has many tax incentives for Korean skin care companies, which encourages more innovation and more businesses popping up in Korea. Also, the Government allows ingredients to be tested and approved quickly, making Korea one of the most innovative countries – ten years ahead of skin care technology.
If you have any questions about Lapcos or Korean skin care, please leave them in the comments area down below.
Jen