How to Brighten Your Skin with a rice face wash is today's DIY. Take a look around the world of women's skin care routines. Have you noticed most Asian women have a bright silky smooth complexion? For generations, women in Asian cultures have been using rice water to gently cleanse their skin, giving them Brighter, smooth youthful skin! Today I'll share with you how to make the rice water and let you know all the benefits. Continue reading How to Brighten Your Skin.
Update:
Be sure to see me updated step by step photos of my
Rice Water Skin Care here
This is the easiest cleanser to make. All you need is rice, water, a cotton pad, and a container to store the water in. That's all you need and I'll show you how to brighten your skin :
Take 2 Tablespoons of raw uncooked Organic rice and place in a bowl/container
Rinse the rice to remove any dirt
Pour water over the clean rice and cover an inch over the rice with the water
Let the water sit for twenty minutes
Pour the milky colored water into a storage container
Pour some rice water onto your cotton pad
Gently use the dampened pad to cleanse your face
Rinse your face with the rice water
Let the rice water dry by absorbing into your skin!
Add another layer and let it dry again.
Your skin will absorb the vitamins and nutrients as your skin drys. Your skin should now feel extra smooth to the touch and your complexion should be glowing and brighter. You can try different types of rice because the vitamin content is different in all rice. I noticed that short grain sushi rice works the best for me. This face wash is best if you use my Organic Makeup Remover Recipe prior to use.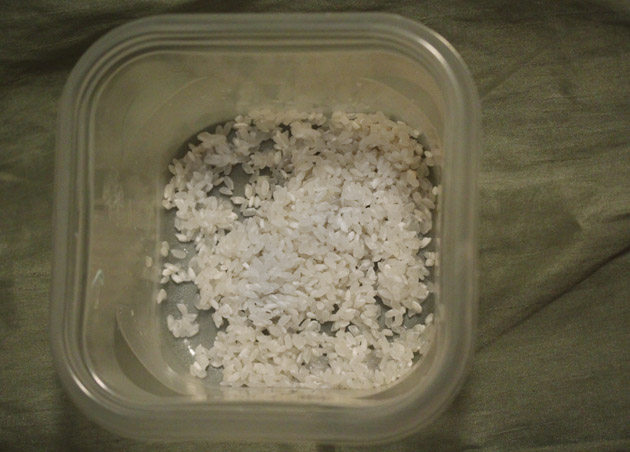 How to Brighten Your Skin – Rice Face Wash – Benefits
Skin will be the softest its ever been!
Skin complexion will be brighter
Firms up your skin
Can be used as a toner
Can be a substitute for water in your facials
Shrinks pores
Protects you skin from the sun
Refreshes skin
It's very Inexpensive!
All Natural Organic Cleanser!
Overall, before I used this cleanser on my face I noticed that whenever I would prepare rice for making sushi, my hands would be incredibly soft after scrubbing the rice to clean it in the pot. For cooking sushi, you have to scrub the rice clean for at least twenty minutes. My hands would be in the water the whole time and they would look amazing afterwards! Imagine what this rice face wash does to your complexion! Give it a try!
I really enjoy this cleanser because it's so simple and the results are great. I like to make small batches of this home made cleanser, store it in an air tight container and keep it in the refrigerator. Cleansing with Rice Water is my fav DIY way how to brighten your skin.
If you enjoy learning about skin care regimens from around the world, I highly recommend you read this article:
Five Major Differences in Asian Skin Care
Do you have a tip How to Brighten Your Skin ? Please share it in the comments below!
Enjoy!
Jen
Don't forget to subscribe to my new YouTube Channel: https://www.youtube.com/user/ElegancebyJen