I'm sharing my Olive Oil Makeup Remover Skin Care Secret ! A big beauty secret is using the right makeup remover. I see too many women using harsh chemicals and makeup removing towelettes that not only do a horrible job removing makeup but they also scratch your skin at a vulnerable time when you're wearing makeup, causing irritation and breakouts. I'm going to show you the best solution that is not only the most effective, it's the gentlest and beneficial way to remove all makeup including mascara and the heaviest makeup. Continue reading: Olive Oil Makeup Remover Skin Care Secret.
Watch me use Olive Oil to remove ALL My Makeup, Even waterproof mascara! (video above)
The Best and Organic Way to Remove Makeup is Olive Oil
! Yay! I use this every night to remove my makeup. At the end of the day, get out a nice fluffy cotton pad, a plastic bottle for storage and grab your stash of essential oils. This is The Best and Organic Way to Remove Makeup! I made this list of organic ingredients in ratios so you can make as much or as little as you want.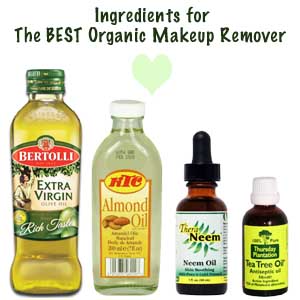 Olive Oil Makeup Remover – The Best and Organic Way to Remove Makeup – ingredients:
2 Parts Organic Olive Oil – Please read the Skin Care Benefits for Olive Oil
1 Part Organic Almond Oil
1 Table Spoon Neem Oil
5 Drops of Organic Tea Tree Oil
If you don't have all these ingredients,  just use a tablespoon of either the Extra Virgin olive oil or Almond oil with a few drops of tea tree oil!
I just like to add almond oil to the olive oil for a little vitamin K! Helps with dark under eyes! Read all about how I removed my Super Dark Under Eyes with Almond Oil: How to get Rid of DARK CIRCLES UNDER EYES NATURALLY
Olive Oil Makeup Remover – The Best and Organic Way to Remove Makeup :
1. Place a small handful amount of the natural makeup remover mixture into the palm of your clean hands.
2. Avoiding your eyes, gently rub the oil onto your face and swirl around with your finger tips.
3. Take the saturated cotton pad and wipe your face in upward strokes
4. Flip to the other side of the cotton pad to remove excess oil and makeup.
5. Saturate another cotton pad and continue the process again until the pad is clean.
Remove Eye Makeup with Oil:
Oil is the BEST Mascara remover! Ditch the chemicals, use a natural eye makeup remover that will nourish your eyes and help keep them looking youthful! Use either pure Olive oil or Almond oil! Don't use the tea tree oil around the eyes, it may irritate them.
For eyes, carefully dot oil under your eye to remove concealer, massage under eye, wipe with cotton pad.
For Mascara, do one eye at a time. Close one eye and apply the oil to your finger tips and gently pull your lashes downward. You'll see all the mascara melt right off! Wash your fingers in the sink and wipe them on a cotton pad. Wipe the eyelashes with a clean cotton pad.
Always make sure the eye is tightly closed!
When cotton pads are clean, wipe dry and open eye and do the same to the other eye.
Your makeup is now gently removed and your skin has been nourished in the process. This organic makeup remover is amazing for all skin types. It does an amazing job melting away all makeup and also pulls out impurities that were trapped under your makeup. Your pores will be unclogged and disinfected from any trapped bacteria. You will notice tighter pores, more moisturized skin, less irritation, no dry patches of skin, more even tone, acne scars removed over time, and less wrinkles.
I highly recommend this makeup remover to everyone! And don't forget to never sleep in your makeup. Enjoy!
Thank you for reading:
Olive Oil Makeup Remover – The Best and Organic Way to Remove Makeup
After you use this organic makeup remover, I suggest you use the Clarisonic Skincare Brush because it will cleanse your skin and prep it for your beauty serums or acne treatments. Read my Clarisonic Review next!
Don't forget to subscribe to my new YouTube Channel: https://www.youtube.com/user/ElegancebyJen