elf Studio Makeup Mist and Set Review because I love this so much I had to share my own experience using this fab elf product. Please read my full review of the elf studio makeup mist and set before you try it! I will also discuss the best ways to use this in elf Studio Makeup Mist and Set Review.
I purchased the elf Studio Makeup Mist and Set six months ago online the official elf website: http://www.eyeslipsface.com/studio/face/tools/makeup_mist_and_set I have repurchased this three times now!
The elf Studio Makeup Mist and Set only costs $3.00 for 2.02 oz. This is an amazing DUPE for the popular MAC Studio fix+. I'm so excited to save some money because the elf Studio Makeup Mist is reasonably priced compared to Mac studio fix +$22.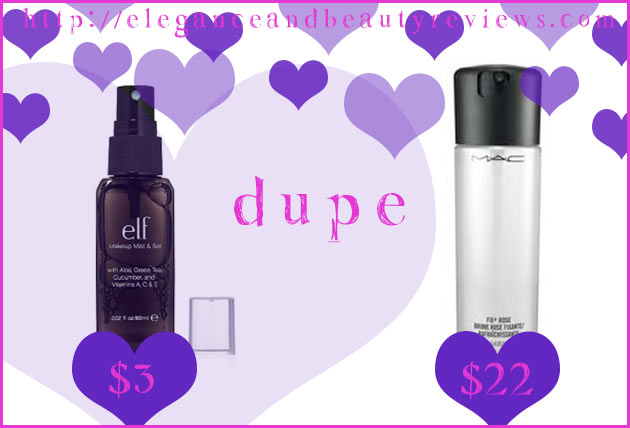 UPDATE: This elf studio makeup mist and set is in such high demand at the moment! Mac has actually changed the size of their own product to only 1 oz for $10.00 just to compete! Wow, that's pretty big news because it shows how popular the e.l.f. Studio Makeup Mist & Set truly is. The ingredients are practically identical and the benefits are the same! Not to mention elf is a cruelty free brand. Also a vegan dupe for a bonus! Mac on the other hand is not. Oh they used to be but that's a whole other can of worms…hmmmm.
[wp_ad_camp_5]
Yes, I consider the elf Studio Makeup Mist and Set a perfect DUPE for the Mac studio fix +. Save that money and bet on this dupe instead! It's a winner!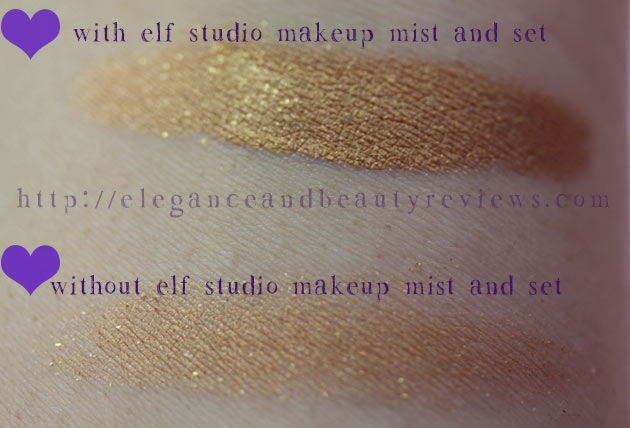 Details on the website:
Wish you could have a product for your makeup like Hairspray is for your hair? Well…keep your makeup staying in place all day with a radiance boosting invisible hold with our new Makeup Mist & Set. The invigorating mist moisturizes and soothes the skin with key ingredients Aloe, Green Tea, Cucumber and Vitamins A, C & E. The lightweight, comfortable and alcohol free formula improves makeup wearability and prevents color from running or fading.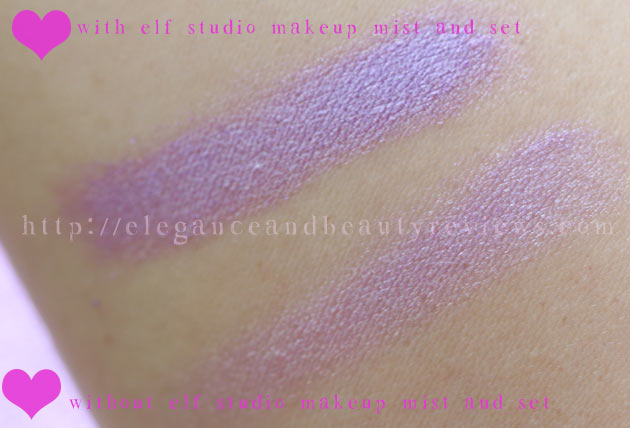 The elf makeup mist and set directions on website:
Spray on after makeup application to set makeup in place or during the day for a quick touchup to refresh. After you have applied your makeup spray a light mist 12-16 inches from your face with eyes closed to set your makeup in place or use for a quick touchup throughout the day to refresh your makeup. Let it dry naturally or blot with a tissue to help speed dry.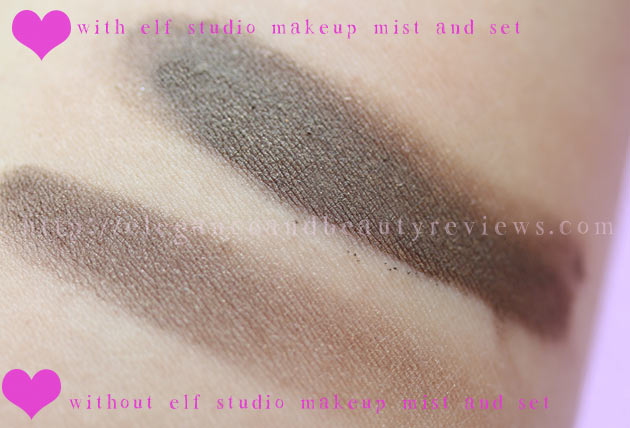 How I actually use the elf studio makeup mist and set spray:
After I'm completely done with my makeup in the morning, I shake up the bottle and spray three pumps 16 inches away from the upper portion of my face and three more pumps on the lower portion of my face. I only spray this in the morning. After the spray dries, I like to add s tiny pat of powder onto my nose and t zone. If I don't I'll look too shiny throughout the day. The spray keeps my makeup in place all day and looks fresh until I come home from work. If I need touch up my makeup again later in the evening, I will spray my makeup the same way in the morning and I will set it again with powder. It makes my makeup feel fresh again and not cakey.
The spray gives your makeup a gorgeous light reflecting finish that's ideal.
Why this stuff is AMAZING:
This makeup setting spray is so amazing and high quality that it will make any drug store makeup look like a million bucks! There's so many ways how to use the elf studio makeup mist and set. It does not matter what level of makeup artist you are.
The Benefits:
The e.l.f. Studio Makeup Mist and Set Spray is very anti-aging and flattering for anyone. This give you a gorgeous youthful glow. I might even say this is glow in a bottle. LOL. You won't have any dryness on your skin throughout the day, it's not heavy either. People might even ask you if you're pregnant because this stuff gave me a glow that I couldn't explain. Yes, my co worker said I was glowing and the first thing I say is that I'm not pregnant….lol.
If your makeup leaves expression lines on your face, this spray will prevent that from happening. Like when I laugh all day, and at the end of the day I can see some makeup malfunction action in the mirror. This elf Studio Makeup Mist and Set keep your face looking fresh and glowy all day! What more can you possible want? There's so many ways to use the elf studio makeup mist and set. Let me know if you discover another great use.
Prevents creasing
Creates a gorgeous glow
Keeps makeup in place
Can mix with loose eye shadows to intensify the color
Can increase foundation dry time – great for blending
Perfect to make thick concealers more creamy and bendable
Makes dry gel eyeliners creamy again!
Cools down your face, refreshing.
The price! $3.00
Removes a powdery finish
Removes a cakey finish
Easy to use
Prefect travel size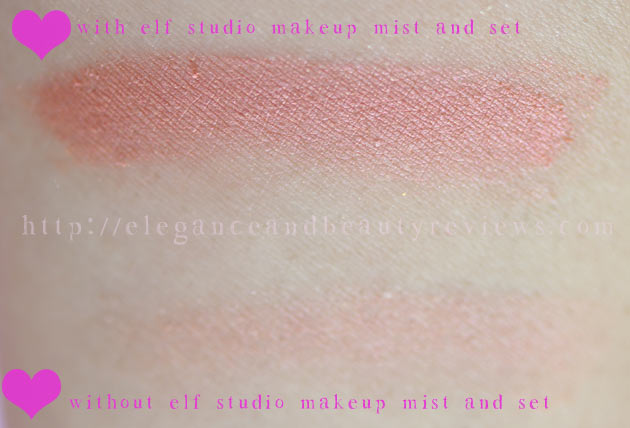 The drawbacks:
Hard to believe there's something wrong with this product, but there's one tiny flaw that you can actually  fix. The spray bottle isn't perfect. Sometimes I feel like I'm spraying myself with a squirt gun right in the face. Doh! Yes…. once in a while the spray mister messes up and gains super soaker strength. This RARELY happens but it happens… You can pour this elf Studio Makeup Mist into your favorite spray mister bottle if it's a big problem. You might even keep your Mac studio fix + bottle and pour it into there.
 If you use too much you can look greasy
Not good for a matte finish
The spray nozzle isn't perfect
If you have super oily skin, you might get too greasy looking
Overall thoughts:
This elf makeup mist and set spray is what I use every day after I apply my makeup. This helps make my skin look healthy and luminous throughout the day. When I get home from work, I look in the mirror and I'm wowed how radiant my skin looks. Thank you sooo much elf for creating this affordable product for ladies such as myself that need to have their beauty on a budget.
Thank you so much for reading my elf Studio Makeup Mist and Set Review