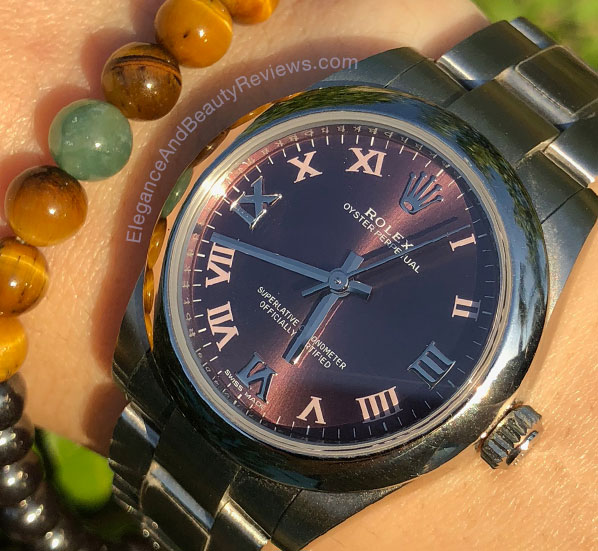 Ladies, if you want to enter the luxury watch scene. I highly recommend this Rolex Oyster Perpetual 177200 red grape dial for a starter watch.
Owning this watch is a milestone and defiantly a well earned treat. Not only am I now looking the part, I have a solid investment in a time piece that will last a lifetime.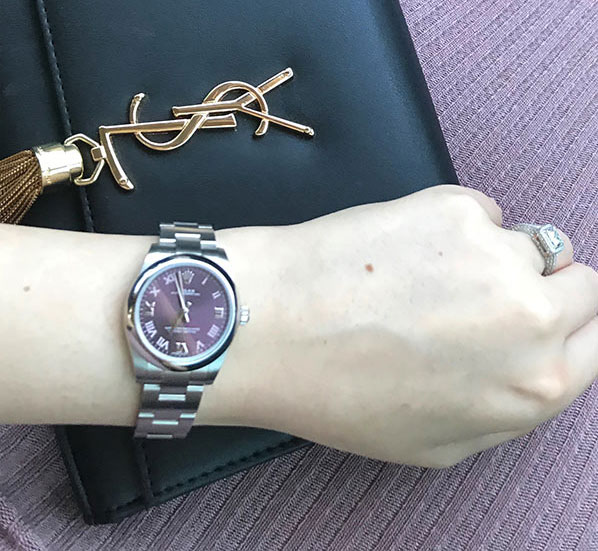 Let's dive into this incredible Rolex Oyster Perpetual watch review.
Versatile Design of the Rolex Oyster Perpetual
I wanted a luxury watch that I could wear all day even in the pool! Dressed up or casual on the weekends. The red grape color is elegant and looks amazing against my olive skin tone! I think you'll want one too!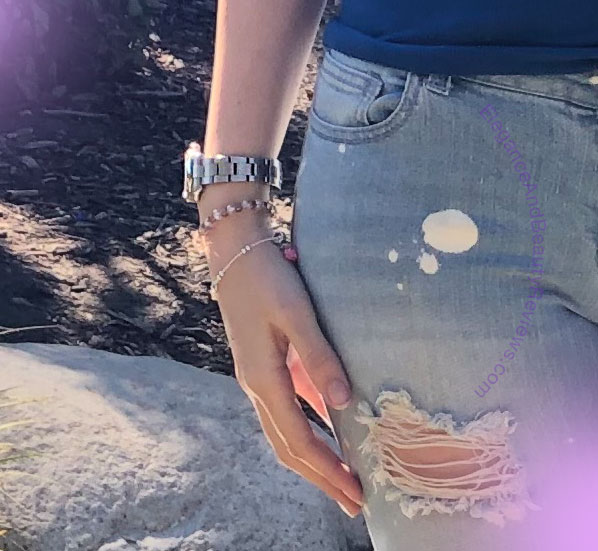 Perfect size! 31 MM watch
Ladies watches do not have to be small and dainty anymore! I feel like a tiny watch is more suited for my grandma. In fact, watch sizes have gone up many sizes in fashion. For example, this 31 MM was the "perfect" men's size watch in the 1960's. Today, the size is considered too small for men. Many men prefer an average 36 – 42MM.
The 31 MM watch fits my wrist comfortably and looks classy. Don't be afraid to try on a larger watch ladies. If a large watch makes you feel fabulous, rock it!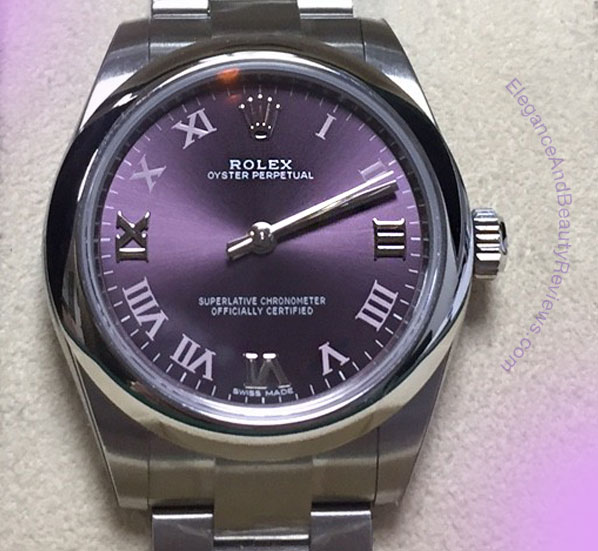 The Roman numerals I II III IIII…
There's something so elegant about Roman numerals. Personally I prefer Roman numerals. It's also available in other styles. If you want a more sporty look, go for the stick markers design (numberless). This watch uses 18K white gold for the Roman numerals and watch hands. This helps prevent tarnish.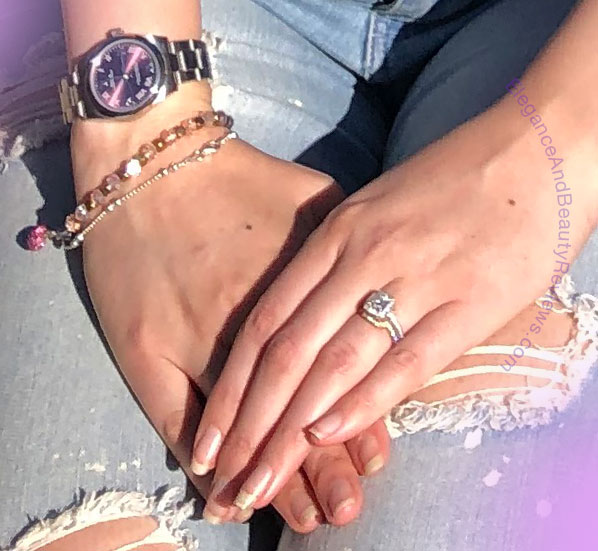 Steel finish
The band is a mix of polished steel and matte steel. It looks simplistic, modern, clean, and not too flashy. To keep the middle polished steel protected from scratches, I applied Phantom Protect luxury watch guard. (It's an invisible layer that helps protect your watch against chips, scratches and stains caused by everyday use.)
Price check this delicious Rolex Oyster Perpetual 177200 Watch NOW… you know you want it.
Check the current price now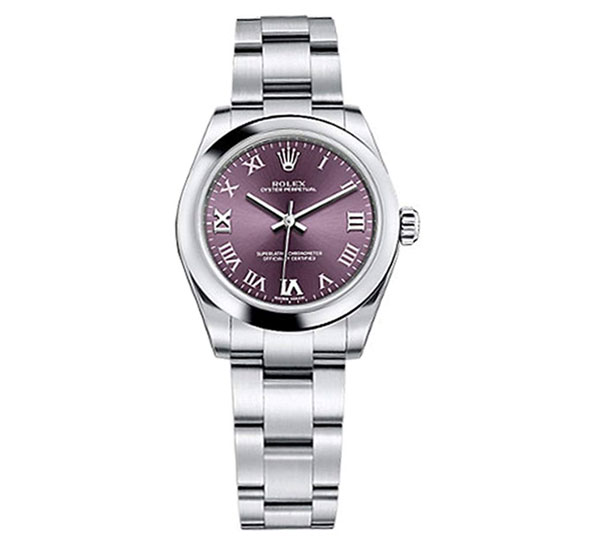 Why did I want this ladies Rolex watch?
Besides the beauty and quality, I wanted a watch that made a statement.
I did not grow up with brand name fashion to say the least! I never cared about that stuff until seeing how "the real world works…"
I have to admit it's a little disgusting the immediate credibility and trust given to someone simply for wearing luxury brands.
I think of "rappers flexing" Here's Drake … 🙂
I have never "flexed" before. 
Until I had to…
When you need to prove your skills to people, showing that you're extremely qualified. "Walk it, like I talk it" You have to have something hefty to show for it. Or you'll lose credibility. It's sad but true right? Why would kids at a college get excited about hearing me lecture about the power of SEO, (search engine optimization) unless I had valuable goods to show my success? Ya actually. 
When kids wanted to know if what I was doing was worthwhile… they wanted to know all my earnings for example… I just showed them my new Rolex Oyster Perpetual 177200 and new Tesla parked outside.
THEN I had their attention…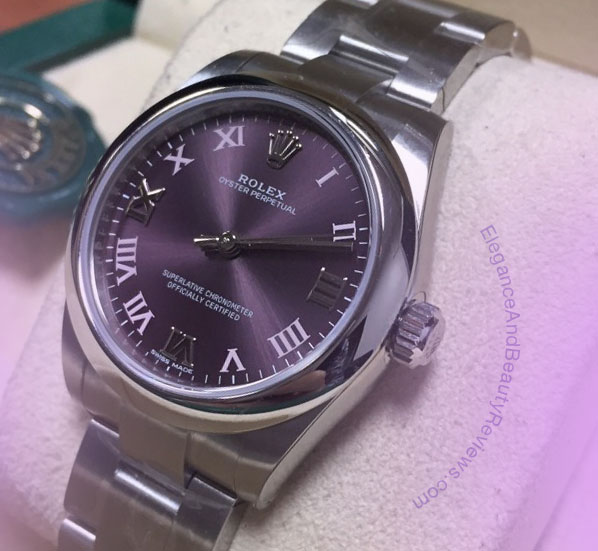 Simply wearing a luxury watch can make a powerful statement
It was my first business referral groups meeting… sitting around San Diego business owners. Everyone was wearing luxury name brands… except me.. LOL.
For example the lady representing a bank in La Jolla was wearing Chanel from head to toe. The realtor was wearing an amazing Breitling Super Ocean 46 watch.
First Impressions…Make First Impressions.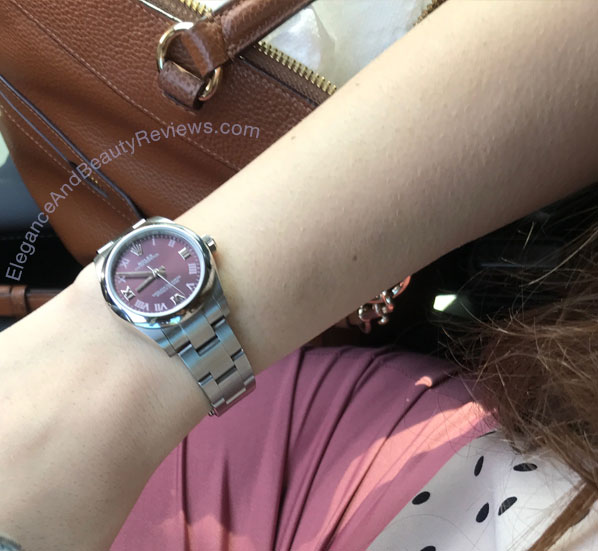 The RED GRAPE Color! OMG!
The color is truly memorizing. A delicate red grape color that's just that, a color in between reddish-purple and blue-purple. Depending on the light temperature, the watch will appear more red or blue. Depending on the colors you wear and lighting, you'll swear it looks like a different color.
Rolex, the power of a name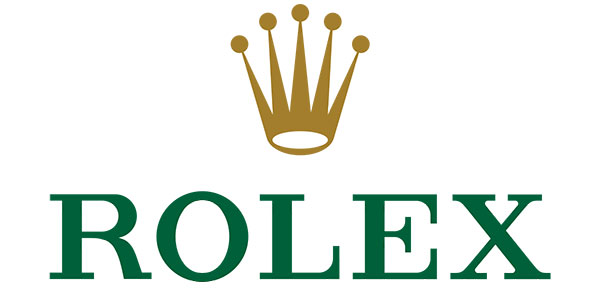 FUN FACT: The name "ROLEX" was actually invented to just sound like an expensive brand. How do you like that?!
My dislikes – Winding the crown
How many mornings I had to set the watch to the correct time. It has a 48 hour power reserve. Meaning, if you don't wear the watch for a couple days, it stops ticking… thus I have to wind the crown.
My only dislike for this Rolex is the manual winding of the watch by turning the crown. I don't like using my knuckles and fingertips to wind the watch. It makes my fingertips feel raw and calloused. I have a hard time winding the watch, so the solution for myself is this watch winder by Diplomat. It's quiet and moves smoothly. (it's hard to find a quiet watch winder, I tested a few that were too loud.) You simply plug it in and let it rotate. 
The fix is to simply use this watch winder.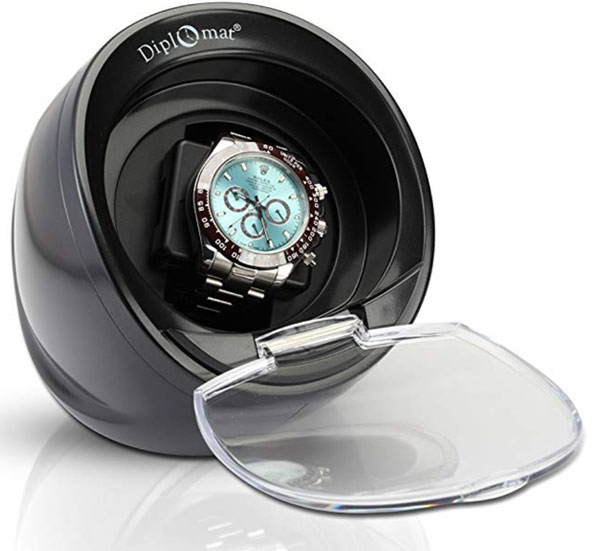 Placing your watch in a rotating case. A watch winder keeps the watch in motion and the automatic movement in the watch running.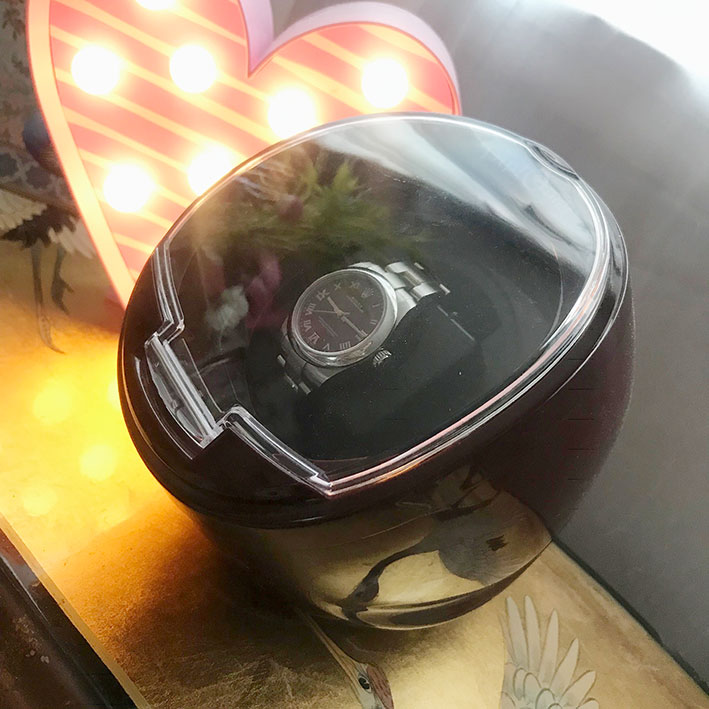 Protecting my watch with: Phantom Protect Luxury watch Guard
Photo from EsquireLife.com. Shop here: http://www.esquirelife.com/shop/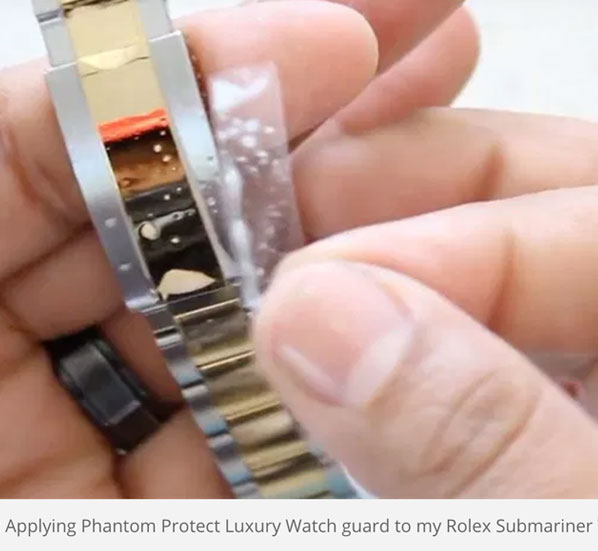 Me modeling my Rolex
Hellllo world!
Go ahead… ask me what time it is. Muahhhhaaa haa.! ?
Pairing my new purse and watch. 
Check out my Louis Vuitton New Wave Camera Bag Review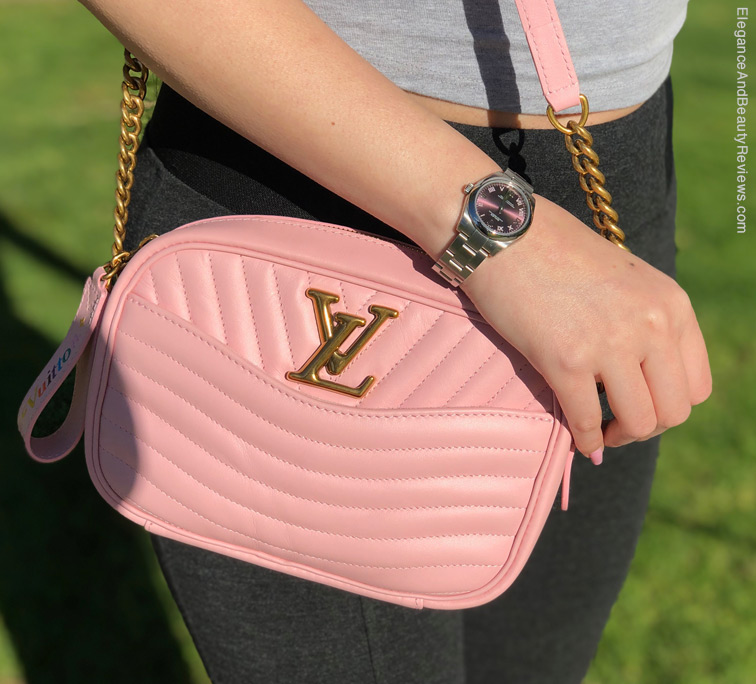 And that's all for now.
Do you have any questions about this fabulous watch? Please leave them in the comments below.
Thanks for reading my Rolex oyster perpetual 31 review.
Jen