Living Proof No Frizz Shampoo and Conditioner Review. If you're looking for a high quality shampoo and conditioner that's sulfate free, safe for colored hair, beneficial for bleached hair, and gives your hair lots of body and volume, try this Living Proof hair care line! Read my complete Living Proof No Frizz Shampoo and conditioner review.( I had the best hair day of my life after using the shampoo aka perfect hair day PHD), conditioner, and styling cream. The science behind this product line is incredible, not to mention co-owned by Jennifer Aniston, It gets even better – Living Proof  No Frizz has won the allure best of beauty award in 2013.
My perfect hair day started when I tried a free sample of the Living Proof no frizz shampoo and conditioner followed by the styling cream sample I received from Sephora. Let me say that yes, I purchased the full sized bottles the following weekend upon trying these samples!
Living Proof no frizz is Amazing! I LOVE it!
Let's start with the thick Lather Living Proof Shampoo has!
I'm amazed how much lather this sulfate-free shampoo has. This lather is super thick and bubbly! You can easily work this product completely through all sections of your hair. You don't even have to "section out" your hair. It felt so refreshing using this shampoo with it's botanical smell. I lathered my hair up for a good couple of minutes, it was enjoyable. It really felt like I was lifting away any dirt and residue from my hair. Even in my California hard water, this shampoo lathered well and rinsed out so easily. My Hair is very long to my waist and I was able to lather all this hair.
Here's a photo of me using the Living Proof No Frizz Shampoo. Look at the incredible lather this shampoo has. My hair is so long, I was able to take this photo of the ends of my hair while showing. I placed my hair on the counter. Hold still! lol 😉 Yes, the ends of my hair are bleached.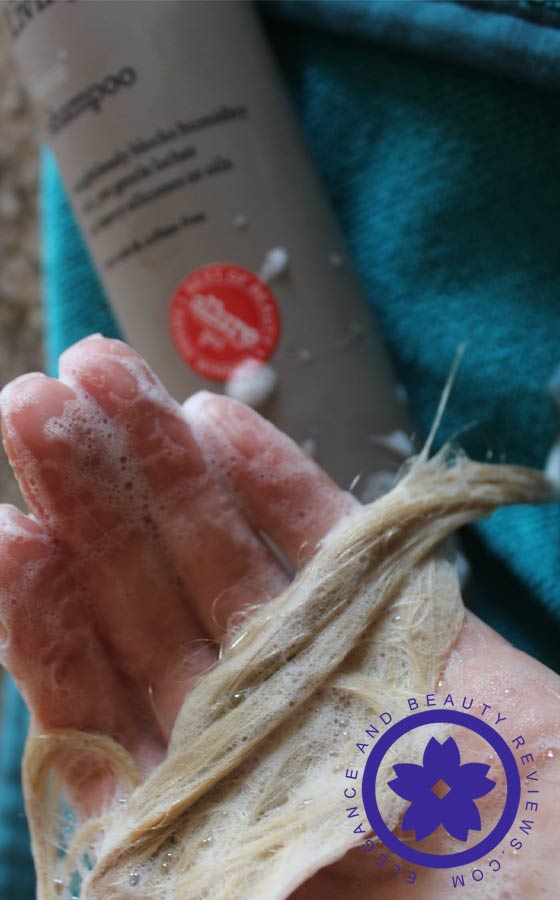 How to Quickly Grow your hair Super Long
Living Proof No Frizz Shampoo is safe for bleached hair
Specifically, bleached and chemically treated hair. This helps restore softness to dry hair too. I grew out my bleached hair, my roots are dark brown and transitions to a blend of bleached hair and fully solid bleached hair at the ends.
Living Proof No Frizz conditioner soaks into your hair!
After shampooing, I lightly squeezed excess water from my hair. I applied a small amount concentrating on my ends up towards my shoulders. I didn't put any conditioner on my scalp, I get oily fast! The conditioner soaked right into my hair and I was able to use my fingers to comb my ends and feel how deeply conditioned my hair felt so quickly. I was amazed. I let the conditioner stay in my hair for five minutes in the shower and rinsed it out in warm water. My hair felt incredibly soft and slippery in the shower. I rinsed it out with warm water and my hair felt soft.
I lightly squeezed out any excess water from my hair again and wrapped my hair in a towel. I let my long hair dry naturally at night and when I wake up it's lightly damp and dries out naturally while I get ready for work in the morning.
[wp_ad_camp_2]
Living Proof No Frizz leave-in conditioner
I like to apply the leave-in conditioner to my hair once it's dry focusing on the ends. I also apply the leave-in-conditioner to my "second day hair" when I want to refresh and liven up my hair. It adds a nice amount of texture and moisture.
The Living Proof Result is voluminous flowing hair
My hair feels so full, soft, and manageable. I can also comb and brush my hair out easily in the morning. I have hair down to my waist so you can imagine my hair usually looks pretty weighted down but this shampoo and conditioner makes me feel like my hair is full and bouncy! Even the ends of my hair look fuller. I'm so amazed at the science behind this formula too.
Have you noticed how amazing Jennifer Aniston's hair is?
Living Proof Shampoo and conditioner has all good ingredients and still has the ability to add body to hair without harsh chemicals!
The Science behind Living Proof
Living Proof is different because they're using the biggest breakthrough in hair history in over thirty years to fight frizz! They have patented a healthy hair molecule called OFPMA. This amazing hair molecule does not weight down your hair. It blocks humidity 70% better that traditional silicone and oil.
It gets even better!
The OFPMA hair molecule actually keeps your hair cleaner, – preventing dirt from locking onto you hair.
The Price!?
This high quality shampoo costs $24 for an 8 oz bottle. It's pricey, I know! I bought this collection both the shampoo, conditioner, and styling cream at Target. You can actually save yourself some money by buying it online off Amazon. You can actually find all three products bundled for $50.
 Or if you just want to try the Shampoo and Conditioner, for $40 on Amazon
Living Proof No Frizz Shampoo 8 oz. and No Frizz Conditioner 8 oz. Duo
This is a great hair system for all hair types. I highly recommend you try Living Proof Shampoo and conditioner.
Thank you for reading my Living Proof No Frizz Shampoo and Conditioner Review
Are you using a shampoo and conditioner that you currently love and recommend? Leave a comment below. Thanks!
xo
Jen