Check out my Dabo White SunStick SPF 50 Review.
Looking to try a unique Korean sunscreen? ☀️
This SPF looks like a stick of deodorant but it's actually a skin smoothing SPF 50+.
Would you be curious enough to give it a try?
I sure did! I'm an American girl trying innovative Korean skin care products.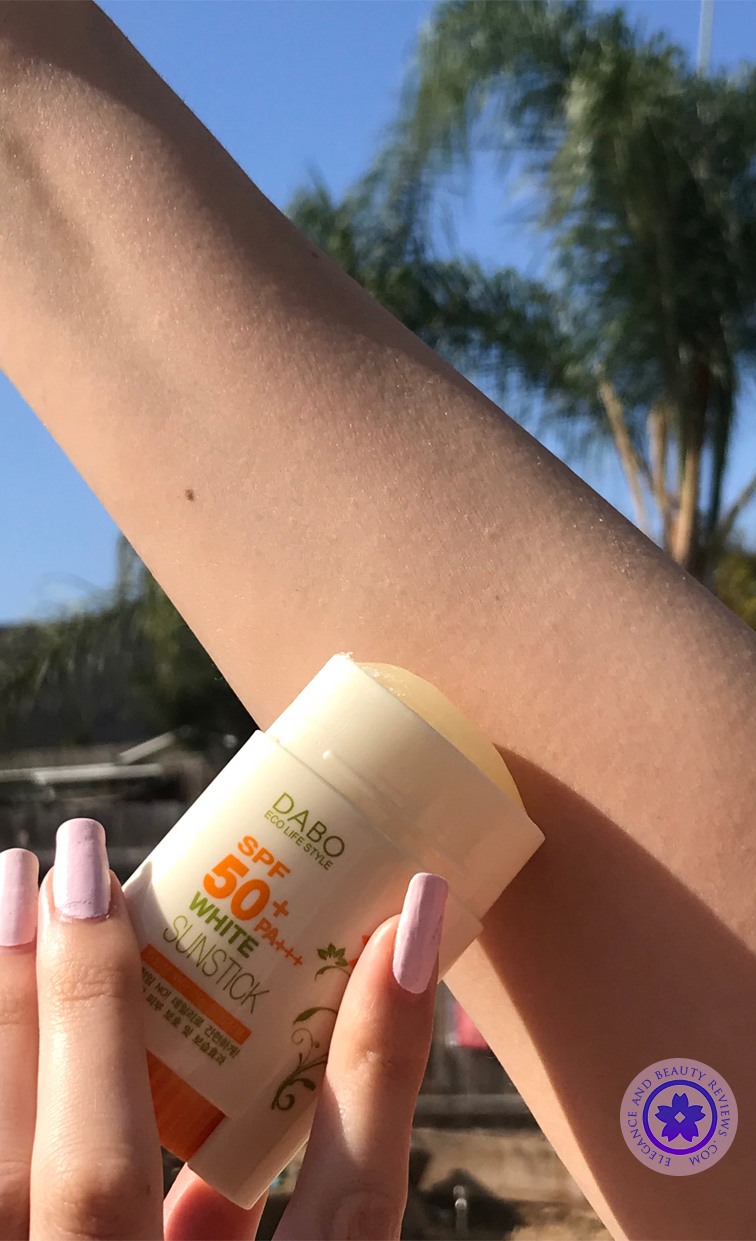 Photo of me applying this Dabo SPF sunstick to my arm. (Yes those are my natural nails, I use Pink Armor Nail Gel – read my review )
This small-sized sunscreen is the perfect size to travel with in your purse.
It's a small, cute stick of sunscreen. Just to show you the size, I placed a penny.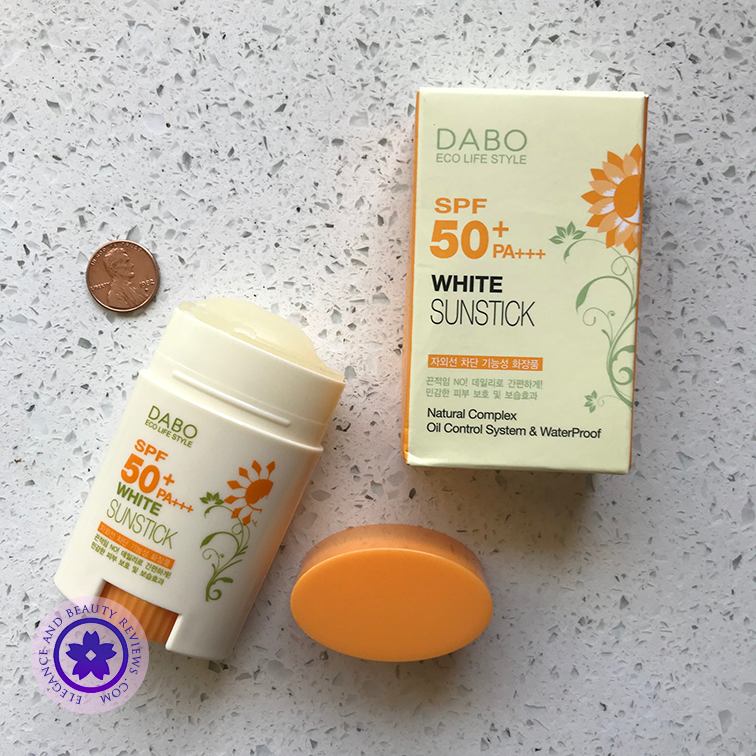 After using this Dabo sunscreen for a month, I have to say I prefer using it on my body and not my face. First of all, I don't like the feeling of dragging this across my face, especially around my eyes and nose. It works better on large areas of your body such as legs.
Pros:
Feels like nothings there
Not oily
Not sticky
Glides on
Undetectable
Soothing, moisturizing
Waterproof
Cons:
The smell is nice but a little too strong (old lady perfume)
Not easy to apply on face
Takes longer to apply vs. a lotion
Frequent application = Smell becomes stronger like an old lady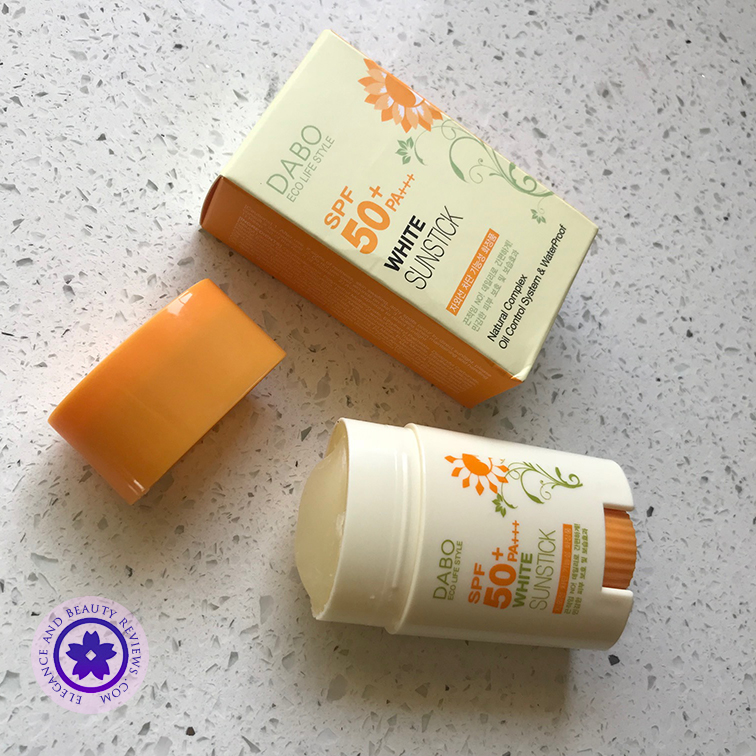 I'm really disappointed at the scent Dabo chose for this white sunstick. So far, all their Korean skin care products I've tried smell light and delicate. This SPF 50 sunstick has too much scent. It's just my personal opinion.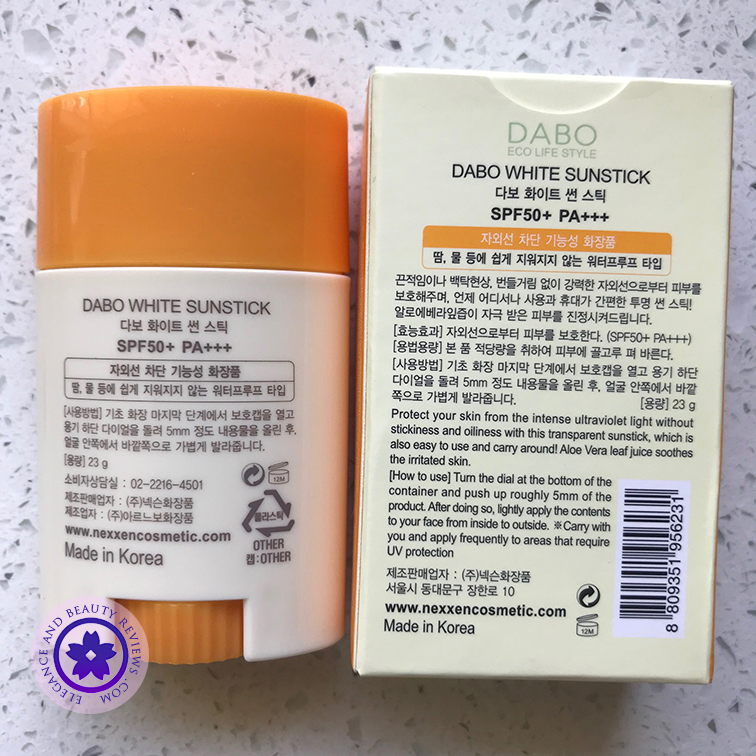 Overall, this Dabo SPF 50 + is nice for using on your body and carrying around in your purse. However, for everyday use, I would not include this in my ten step Korean skin care routine. I'd rather use a Korean SPF in lotion form. Unfortunately, this skin care product will not be a top K beauty product for me.
SPF is a VERY important Step in K Beauty
(Step #7 in Korean 10 step skin care routine)
I think it's wise to be picky with your K beauty SPF. Protecting your skin is crucial. After all, you spend so much time nourishing your skin, you better protect it too. I'm going to keep looking for Korean sunscreens. Hopefully I will find the best Korean sunscreen for acne prone skin.
This is where I purchased my Dabo White SunStick SPF 50:
Korean Beauty Products I Recommend: