You Should try this Korean collagen skin pack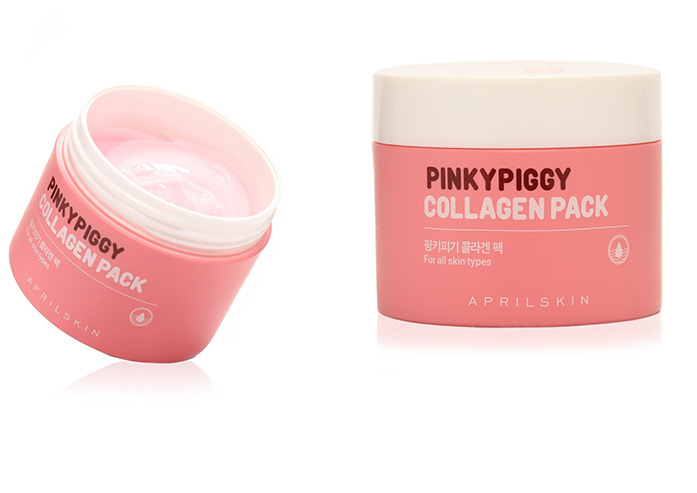 One of the most unusual Korean skin care products I've tried in a long time. I can't wait to tell you all about it!
Yes, the name "pink piggy collagen pack"
? ? ? may sound really unusual for a skin care product here in the United States, right? The name alone had me intrigued. No, it's not made from any pig or pig by-products. After taking a whirl with Korean Korea??? skin care beauty items like snail slime on the name.. you can't help but wonder. If you LOVE collagen skin care items, this product is a MUST try.
The Smell
I LOVE the smell. It smells like strawberry yogurt! OMG right? Yes, the smell it heavenly. To be fair, yes there's some fruit ingredients listed. However I'm not sure if it's just the ingredient of "parfum" listed in the ingredients. hmmmm.
?
Warning ⚠️ are you sensitive to smells like me?
If you put too much of this cream on your face, you may get a headache. Take my word. I can only go to Bath and Body Works for ten minutes tops before I get a headache from the smells.
Here's the deets listed on fashion nova.
The Ingredients
Overall happy with the ingredients. There's some exotic ingredients we don't normally see in western skin care..except "Parfum". Yuck, I hate added scents…
One interesting ingredient:(could this be the base smell?)
Opuntia Coccinellifera Fruit Extract
aka prickly pear fruit. Known for treating burns and inflammation. (Opuntia Coccinellifera Photo credit: nutrawiki.org)
PRODUCT DETAILS
Available In Pink
For All Skin Types
Provides Hydration For A Radiant Look
300g
 Ingredients: Hydrolyzed Collagen, Propylene Glycol Dicaprylate, Butylene Glycol, Dipropylene Glycol, Glycerin, Orbignya Oleifera Seed Oil, Squalane, Niacinamide, Hydrogenated Polydecene, Cetearyl Glucoside, Sorbitan Olivate, Cetearyl Alcohol, Cetyl Alcohol, Propanediol, Tremella Fuciformis Extract, Swiftlet Nest Extract, Hydrolyzed Pea Protein, Phytosterols, Lecithin, Olive Oil, Shea Butter, Ceramide NP,

Opuntia Coccinellifera Fruit Extract

, Boswellia Serrata Resin Extract, Sodium Hyaluronate, Saccharide Isomerate, Tocopheryl Acetate, Allantoin, Adenosine, Cyanocobalamin, Arginine, Sorbitan Sesquioleate, Ethylhexyl Stearate, Trideceth-6, Water, Xanthan Gum, Carbomer, Sodium Polyacrylate, 1,2-Hexanediol, Caprylhydroxamic Acid, Disodium EDTA,

Parfum

, Hydrolyzed Collagen
Made In Korea
The texture
Yes, you guessed it. The texture of a thick yogurt. It includes a clear plastic spatula. It does not feel sticky or tacky on the skin while absorbing. This LAPCOS Collagen Sleeping Mask is very sticky but it lifts up your skin!
The packaging
There's a good amount of face cream here. I was impressed. The design? It's simple, cute, to the point. I'm ok with it. It's not a luxury brand, or high price, so it fits the expectation.
I wish this was in a squeeze bottle tube. It's luxurious being able to scoop product but I'm concerned about sanitary when it comes to facial creams. All it takes is one germ to multiply and increase my chances of bacteria and acne.
moving on…
The Price
I bought the April Skin Pinky Piggy Collagen Pack for only $10.00 on sale. I bought it as an add on item while shopping on fashion nova (my fav ???)
My Favorite Places to Shop Online for Women's Clothing
When to use this collagen pack
I have been using it at night before bed. It has a nice texture that does not feel too heavy like other night creams. (I'm talking about you LAPCOS collagen lifting cream) ? Mmmm hmmm. I've also lightly used this very lightly as a day cream.
Final thoughts….
I approve the skin piggy collagen pack as a nice day cream. If you want to truly wakeup with lifted skin and more results, go for the LAPCOS as mentioned above.
Questions?
Did I forget anything in my April Skin Pinky Piggy Collagen Pack Review? Please let me know in the comments section below.
Thanks for reading!
Jen XO
More of my Korean Skin care reviews and articles: