I'm so happy with my Shiny Smile Veneers, I'm sharing my before and after photos and my review here: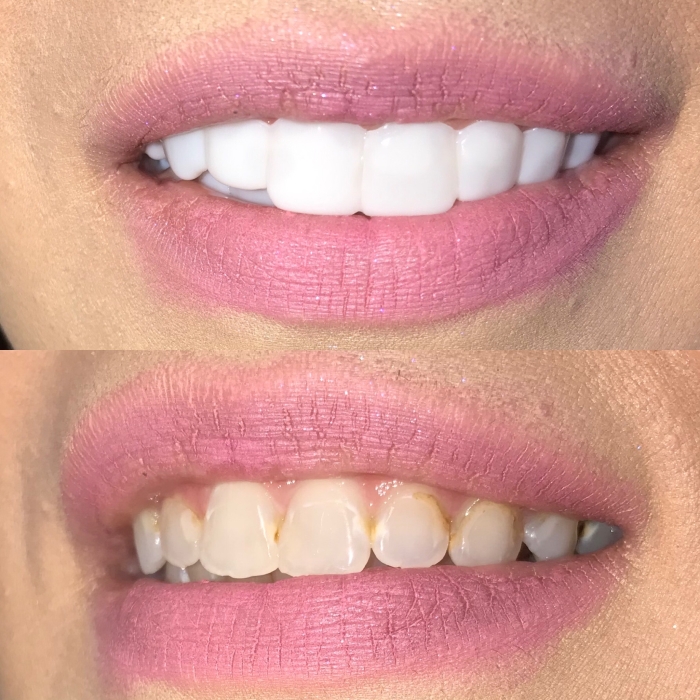 No, I was not paid for this review and YES, I am 100% happy with my purchase. ?
If you have ANY questions, feel free to leave them in the comments section below.
The color I ordered is the "bright white" shade.
Shiney Smile Veneers Review FAQ
Why did I order Shiny Smile Veneers?
I drink a lot of coffee
I was tired of constantly bleaching my teeth
My teeth have stains
Wanted a perfect white smile
Having confidence when meeting and talking to my clients
Getting traditional veneers scared me – the shaving your teeth part!
Shiny Smile Veneers has the most five star reviews
Watching many youtube video reviews sold me! – They look natural!
Why Do I recommend Shiny Smile Veneers?
They look amazing immediately "out of the box".
The quality exceeds the price
Shiny Smile Veneers are comfortable
I can eat with them
Immediately boosts your confidence
Picture perfect smile
You will WANT to smile more!
You can prank your dentist! 😉
How long did I wait to receive my veneers in the mail /order?
About two months – I didn't order the expedite shipping
How many impressions did I do before they were accepted?
The most important and frustrating part of the shiny smile veneers journey is making the impressions. I had to do 3 sets (boxes) of impressions before I figured out how to make a great impression.
Any tips for doing impressions?
I admit, I didn't mix the clay long enough. When I did, it made a world of difference! Also, push the tray up / down instead of biting.
Yes! Mix the clay until they are a solid blue color and push them up into your mouth straight up as far as you can, hold it for an extra minute and you should be good to go! (I feel like a pro now)
How long did you wait and research before you placed your order for Shiny Smile Veneers?
I wish I ordered sooner! However, I researched many other companies and reviews online youtube, and instagram before selecting Shiny Smile Veneers. There was the famous video by "TMONEY" on youtube, she went to school wearing the veneers and her friends were so amazed by them that two girls had the nerve to touch them! SOLD! lol. ?
Do you eat wearing shiny smile veneers?
No. I don't. However I have tried at a restaurant and it felt weird. I was scared they would break! I wanted to enjoy my meal, so I took them out after the waitress asked if our food was ok! LOL. The only thing I ate with them was tortilla chips and enchiladas. If you want to feel comfortable, take them out!
Honestly there's no way I could enjoy a meal eating with them in my mouth. Just eating tortilla chips, I could feel the veneers lifting up and some tiny pieces of chips getting in between my teeth. Yuck!
Do you wear them everyday?
No. They're just for vanity. They're like makeup. I only wear them when I'm going out or taking a photo, zoom call or making a youtube video. They complete any look and elevate your overall appearance! I work from home, so I'm pretty lucky!
My first thoughts on Shiny Smile Veneers
Unboxing Shiny Smile Veneers was the most amazing experience. Remember these veneers are just for my mouth. My first thoughts:
These are lighter in weight than I expected (good surprise)
Wow, they're so thin!!! Delicate!
OMG they're WHITE! But in a good way!
They're plastic!
Did I pay about $500?
I didn't have to get real veneers! YAY!
Why didn't they invent these years ago?!
Now I can have CONFIDENCE when I talk!
I can't stop smiling BIG
People will notice your teeth are WOW!
These veneers look better made than the competition veneer companies
What color do you recommend getting?
Get the bright white! I was hesitant about getting them in white but I knew I'd regret it if I didn't order the whitest shade. SO happy I listened to my gut instinct. Go big or go home!
Why Shiny Smile Veneers company?
There are many new veneer companies popping up. I did hours of research because I wanted to find the most reputable company and the most quality for the price. I am happy that I've found it. No other company has this sort of customer service and quality. I have noticed that if you have any problems or concerns, they help you ASAP to make you happy.
Thanks for reading my Shiny Smile Veneers Review!
Do you have any questions?
I'm happy to answer them for you!
Jen