I got a NEW luxury purse and it's amazing!
? Hi girls, today I'm sharing my Louis Vuitton New Wave Camera Bag Review.
If you're shopping the LV New Wave collection (Spring/Summer 2019), I'm sharing TONS of helpful photos! Also able to answer any questions.
Check out my new Louis Vuitton New Wave Camera Bag review in Smoothie Pink (M53683) $1,800 USD.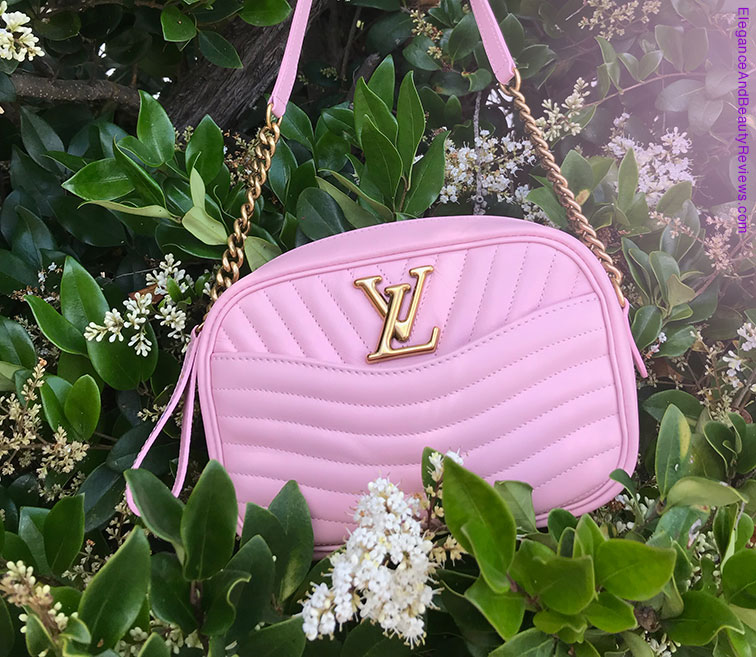 What I'm covering and sharing in this LV bag review:
Helpful photos showing the real pink color of the bag (smoothie pink)
STORY TIME – My complete experience in the Louis Vuitton store in the San Diego, Fashion Valley mall (La Jolla, CA.)
Tips / incentives for purchasing in store
My first day using my new purse and my overall thoughts
Size, pockets, zipper
Why I think this is a practical luxury purse
I'll also answer your questions in the comments below
Lifestyle photos modeling the purse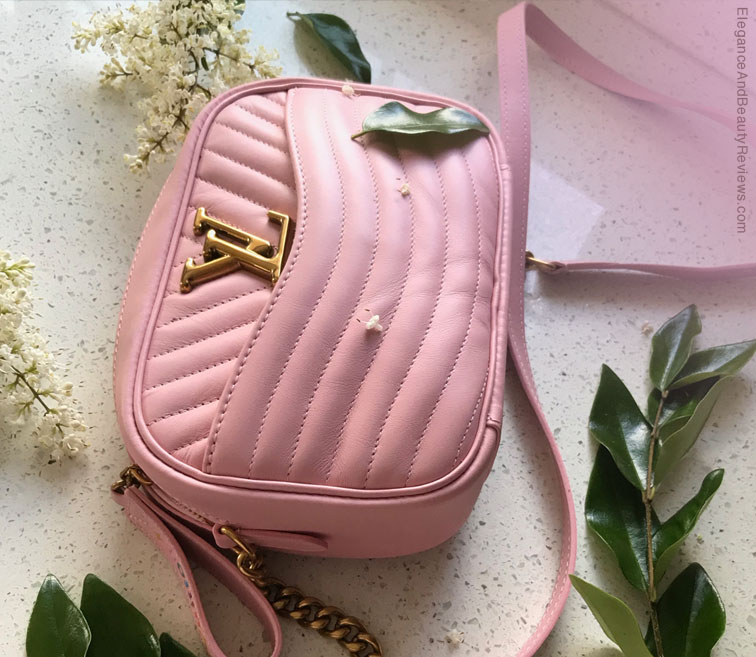 Here's what I LOVE about the LV New Wave Camera Bag:
Smoothie Pink Color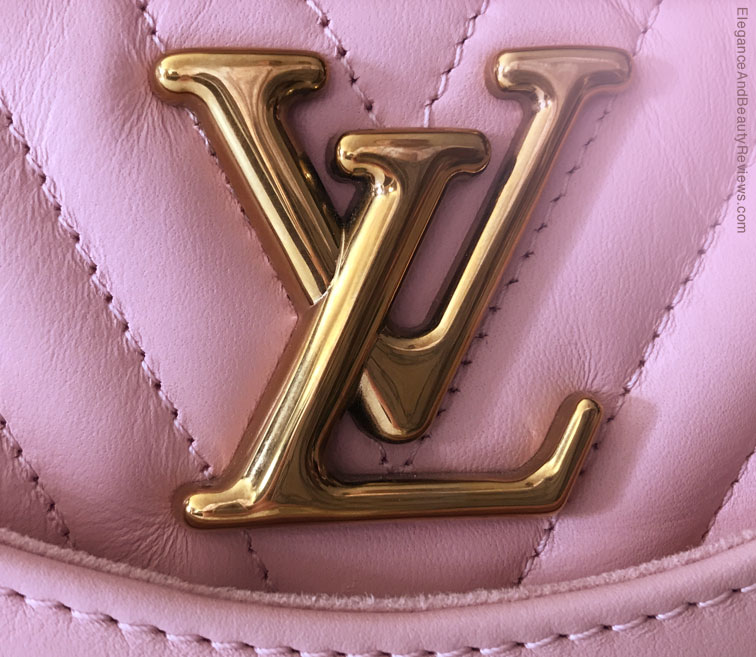 Let's jump into the gorgeous design!
The color smoothie pink won my heart.  ????
This color is really cute and feminine. If you love rocking pink, this purse is for you. Louis Vuitton actually has a lot of nice pink items right now you should get before they're gone. This purse is my favorite pink one because it combines all the functionality of a practical purse I love.
Sharing Lighting Variations to show the LV color Smoothie Pink (Outdoor / Indoor)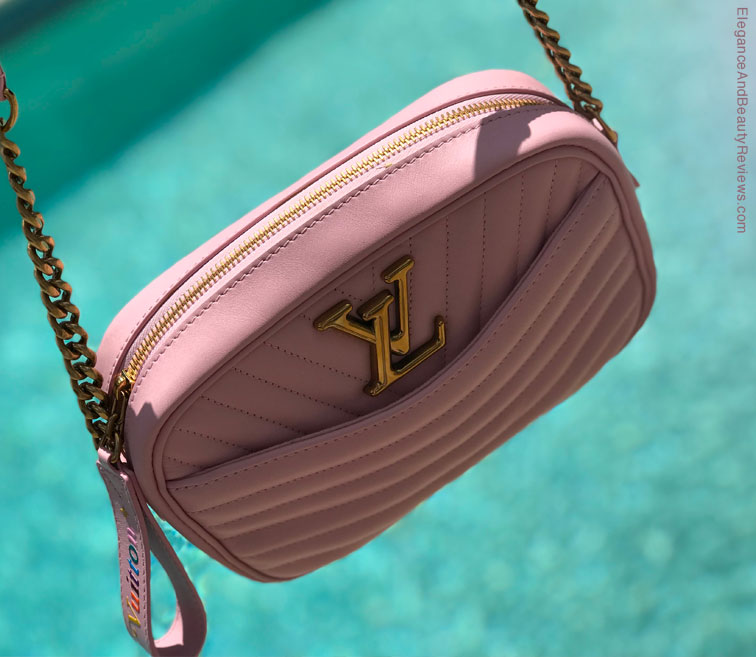 I LOVE pink accessories and often buy pink goodies online, the only problem is the color pink varies on a mobile device or laptop/computer. How many times have I ordered a pink product online and been shocked it's a hot pink or dusty rose pink in real life? A bunch or times…. ? lol.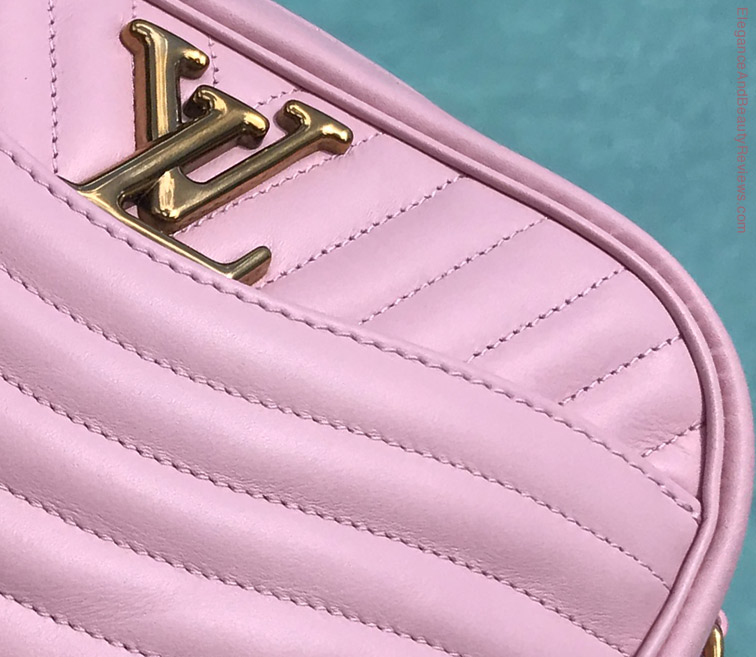 That's why I HAD to go see this pink New Wave Camera Bag in person. The pink color did NOT disappoint. The LV logo and chain was the only color a little different than online. Looks super gold in the online photos but it's more brassy in real life.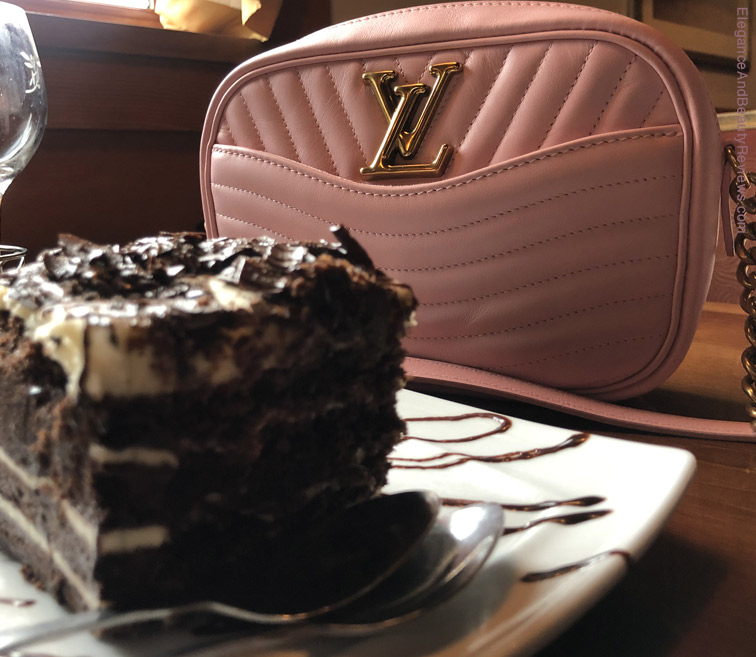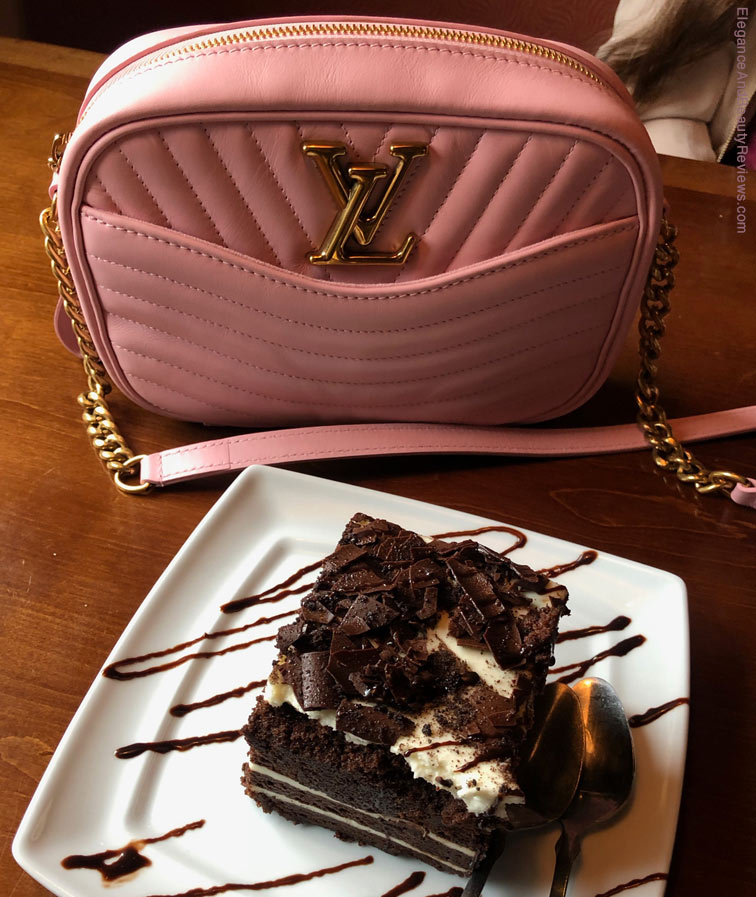 (also available in white or black)
Pink Modern Luxury Cross-Over Bags Compare
GUCCI – A little too bulky, but nice color
YSL – Don't like the fold over. See the chevron shape stitching in the #4 LV bag?  ?
GUCCI – Don't like the nude pink nor the zig-zag stitch pattern. Nice bag shape.
LV – Love that is has the best design element taken from each of third bags.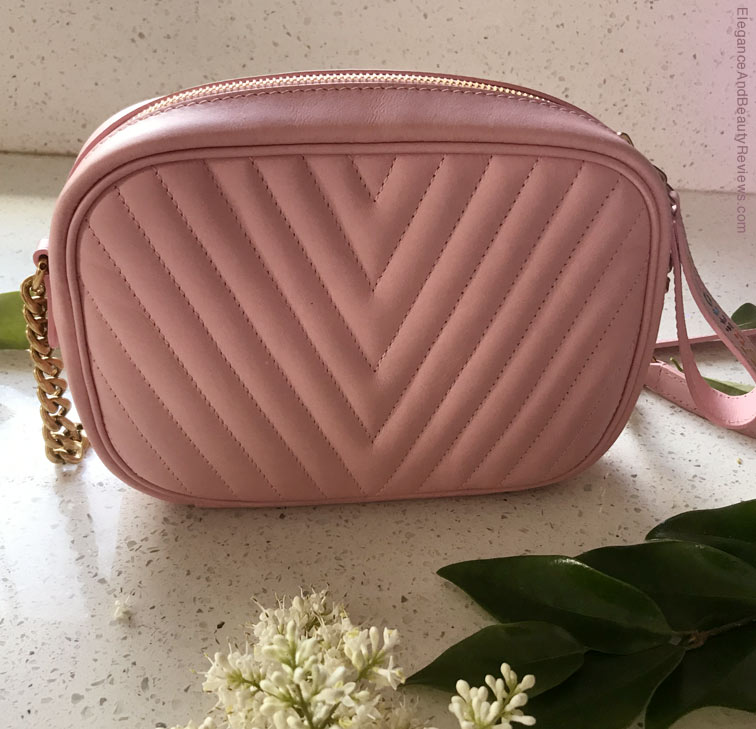 The stitching / quilted leather
The new wave stitching and wavy design is a refreshing modern looking twist to the brand. It reminds me of other modern bags such as GUCCI and YSL. Has a softer looking design. Pouty shape. Combining the soft waves and chevron.
LV has placed "LV" on the front like other luxury brands logos.
Front pocket: Yes I love the functionality / design but I have never used the front pocket. I don't want the bag to look like there's something protruding.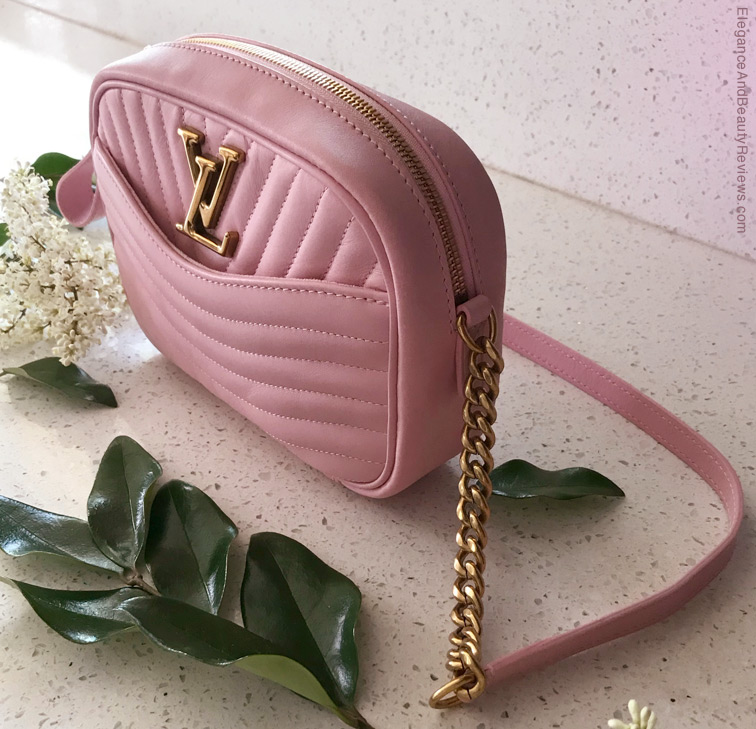 Comfortable to carry! Perfect strap design.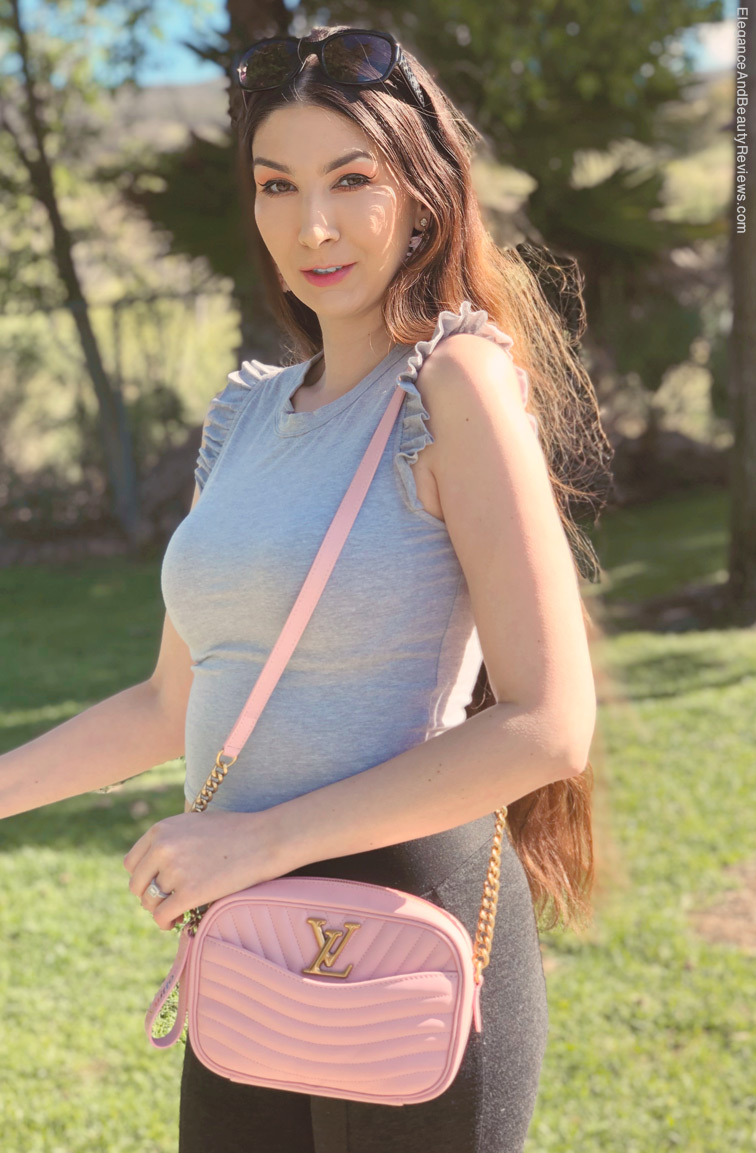 Yes, I LOVE a purse I can comfortably wear and feel care-free.
This new wave purse design has a comfortable leather strap that sits on your shoulder.
Strap Length
Drops down at 19.7 IN / 50 CM
Combined with a chain near the base, I don't like a solid chain design resting on my shoulder, feels heavy.
You can wear it on your shoulder or carry cross-body at the hip.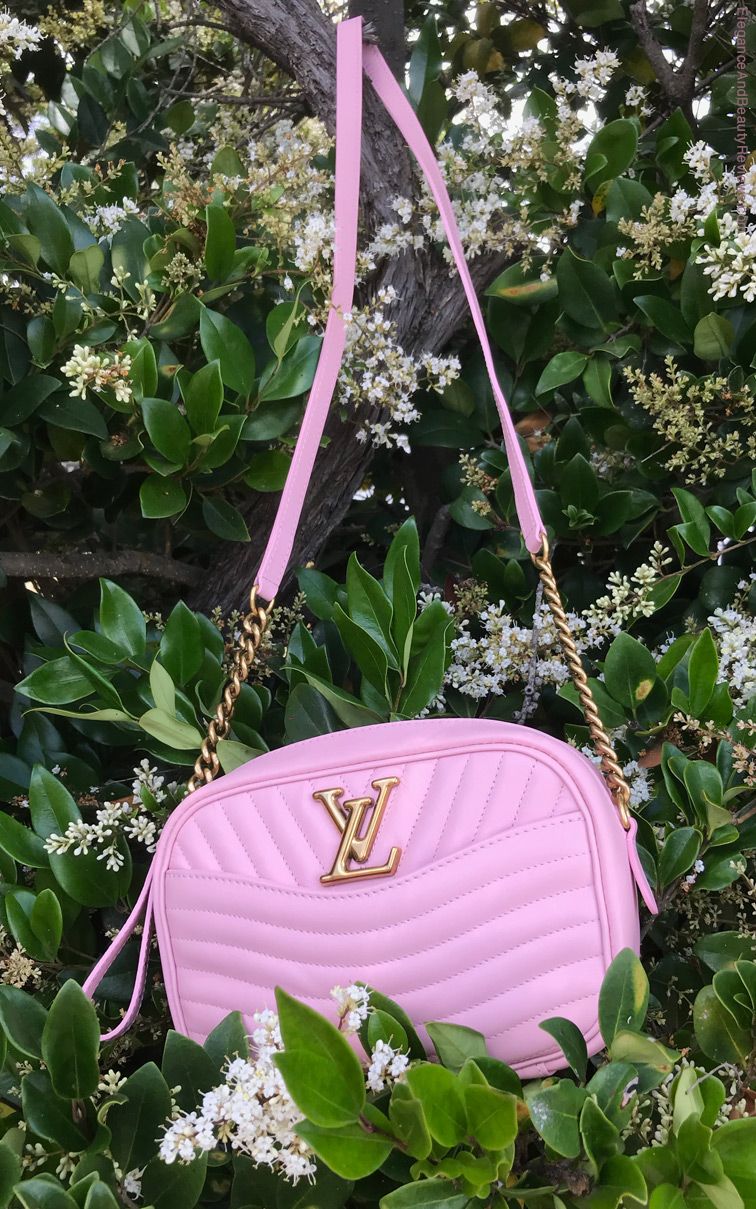 Size
Perfectly sized to put more than just your cell phone!
Throw your lip balm, phone, compact, keys, and maybe a snack?!
The size of the LV new wave purse is:
Length: 8.5 IN
Height: 6.1 IN
Width: 2.4 IN
The Top Zipper and front pocket
My favorite design element of this purse is simply the top zipper. For ease of use, a top zipper instead of a fold over flap that has a button that's hard to snap close is so refreshing to use. Plus LV gave the new wave bag a cute zipper pull tag with a colorful Louis Vuitton signature.
Plus a nice front pocket for easy peazy storage.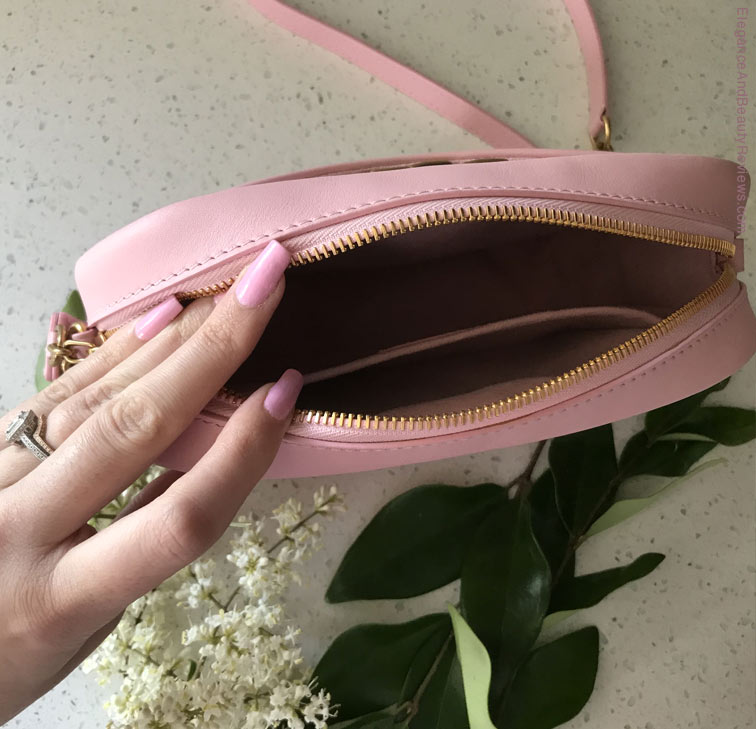 Why I think this is a practical luxury purse
A cute luxury purse you can actually comfortable use? YES.  It's a decent size and has a convenient top zipper. High quality design. I've been hunting for a purse that fits all the criteria of :
Modern design
Color
Comfort of usability
Functionality
I can dress up or down
Heck, I can take this purse on errands with me to Target!
I've been looking for a gorgeous luxury purse for a while. This purse wins my pick hands down!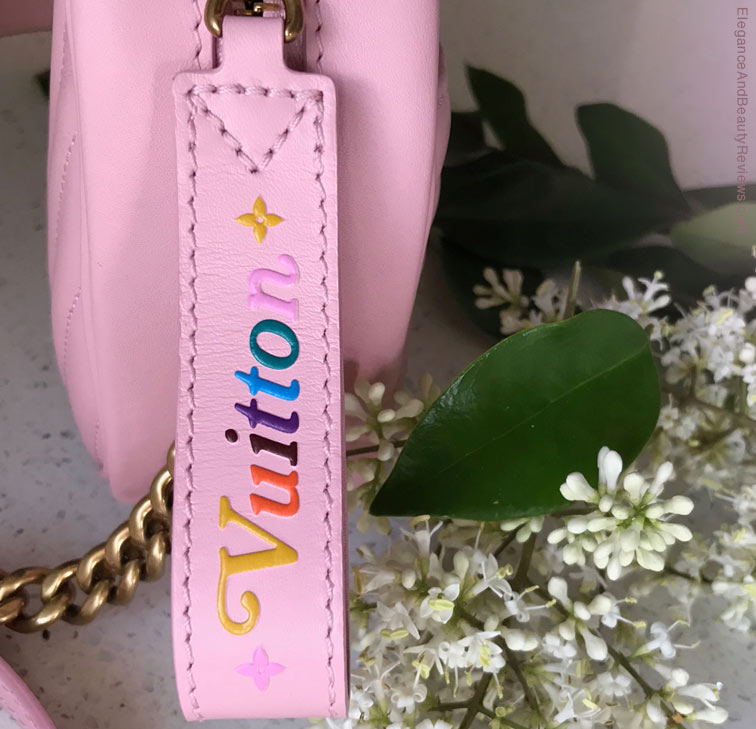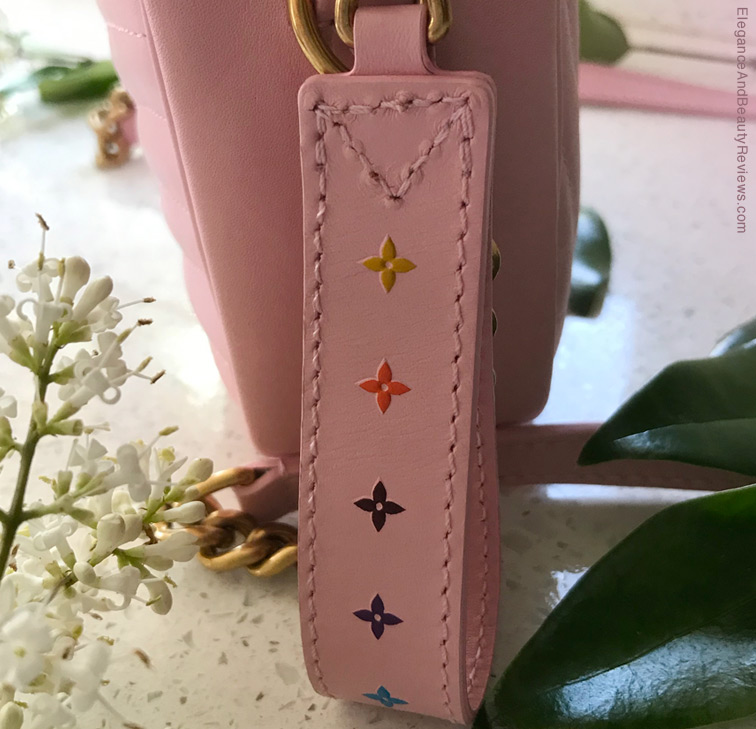 Story Time
My complete experience in the Louis Vuitton store in the San Diego, Fashion Valley mall (La Jolla, CA.)
(This is my first in-store luxury bag purchase. My husband gifted me an early birthday present. ? )
To be completely honest I have always been so intimidated going into this store! Luckily I had my husband with me.
First impressions, a pretty luxurious looking store!
There's a lot of aunties taking selfies and "show rooming". Is anyone going to buy anything? Just looked like ladies were hanging out and using up the sales people's time. Loudness. Women asking "What's the return policy if I don't like the purse?" Who asks this? Are you going to just buy and return once you're done this weekend? Just a side note: ?  It's not eavesdropping if the whole store can hear your business.
Another lady in front of us says her wallet needs to be repaired and the salesman says no, you have to buy a new one. Nobody was buying anything, just a bunch of blah-blah.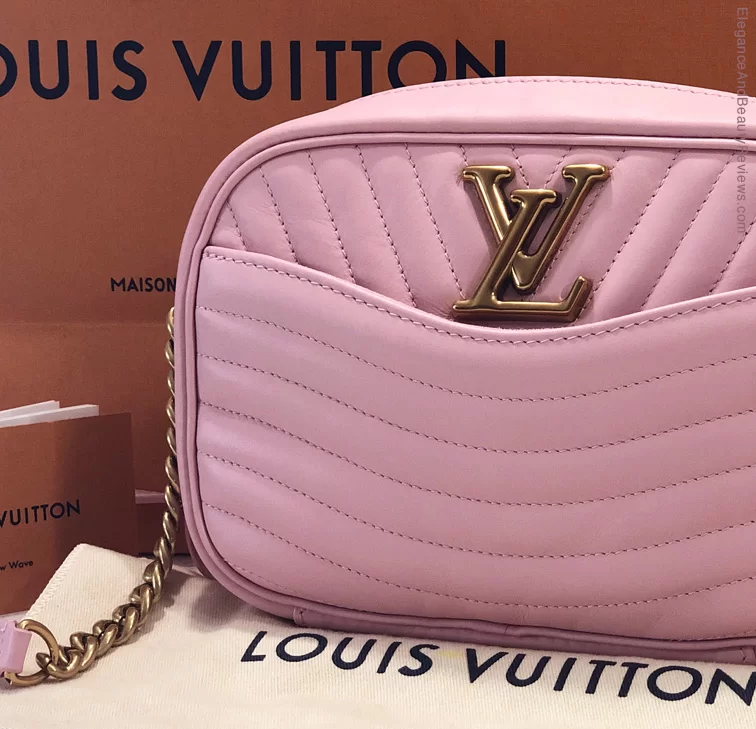 Showroomers at the LV store
No orange bags were leaving the store in that time frame of waiting.
It felt like there was a lot of fake, snotty, chicks in there..even some sales people were giving off these weird "my shit don't smell vibes".. and I didn't like it and all the feelings of why I never stepped foot in there before sank rushing in. So glad to have my husband with me! He was the only guy in the store besides the sales people.
Next, the people to my left is getting champagne Since they made an appointment. (There's your incentive to shop in-store)
Immediately we see the bag I've been looking at online. yay?
It looked busy so we waited in line to be helped.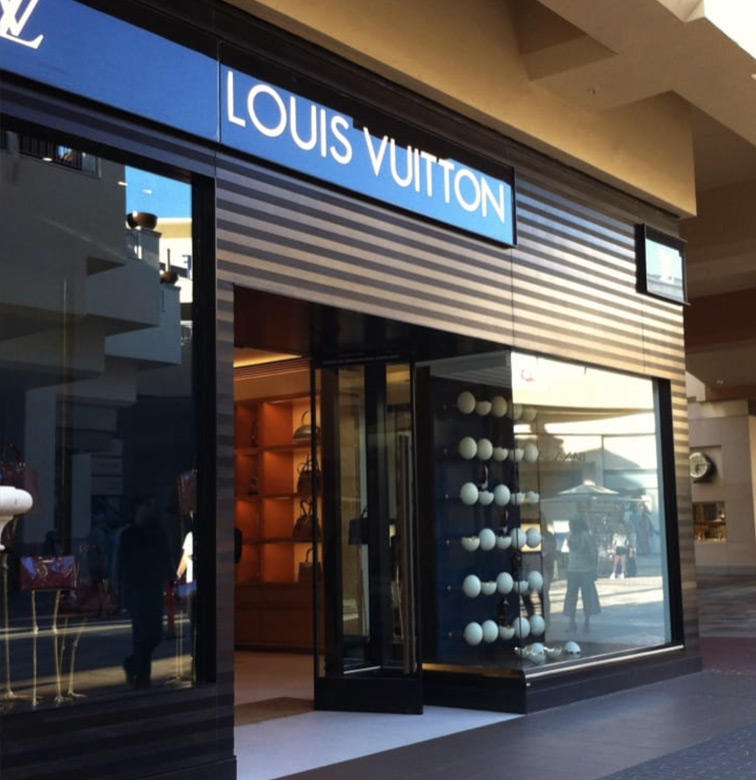 Our LV Salesman
Finally, a nice salesman named Chris helps us.
His sales skills were a little pushy to start. Going for the upsell on a bigger bag before he even closed us on the bag I'm looking for.
Then he asks if I want perfume. No thanks.
Next I'm trying on the purse in the mirror.
Once I'm looking at the bag, he wants to sell me the wallet… slow down there.
Second mistake, he asks if we want to buy perfume again. Are they trained to constantly upsell / cross sell?
OK, get ready for the drama….
Ok, you've been warned. LOL.
Rude Bitches at LV
Next, we're opening the bag, I'm trying it on and my husband and Chris are talking price and he's agreeing to purchase the bag for me! Yay! While this is happening, some rude chick gets all up in our transaction reaching over my husband's shoulder and demands to be shown a bag. I'm thinking….like….. WHOA that was….. ? rude…. Have not even presented the card yet… really it's your turn?
I thought this was a classy store?! ?
It felt like I was at Payless shoes…. (no offense to the brand, it was just the characters around us behaving like they're in a third-world country.) Be ladies! Not savages.
HELLO… we're in the middle of checking out, wait YOUR turn there. Relax… and wait in line like everyone else, you're not the Queen of the Louis Vuitton store…Who does that?
Instead of causing a scene. We just ignored it. My husband even said he wanted to tell her to wait her turn. However, that would probably have gotten crazy. Yikes!
We finally get finished checking out and I wore the purse out and had my husband carry the orange bag out.
Holy moly, there's a lot of bad reviews at this store on yelp and I'm not surprised.
Advice for shopping here ?
I recommend you make an appointment, hopefully that way showroomers and rude customers will leave you alone!
Using the purse
Here's some candid pix my husband took on a warm Spring evening at the park.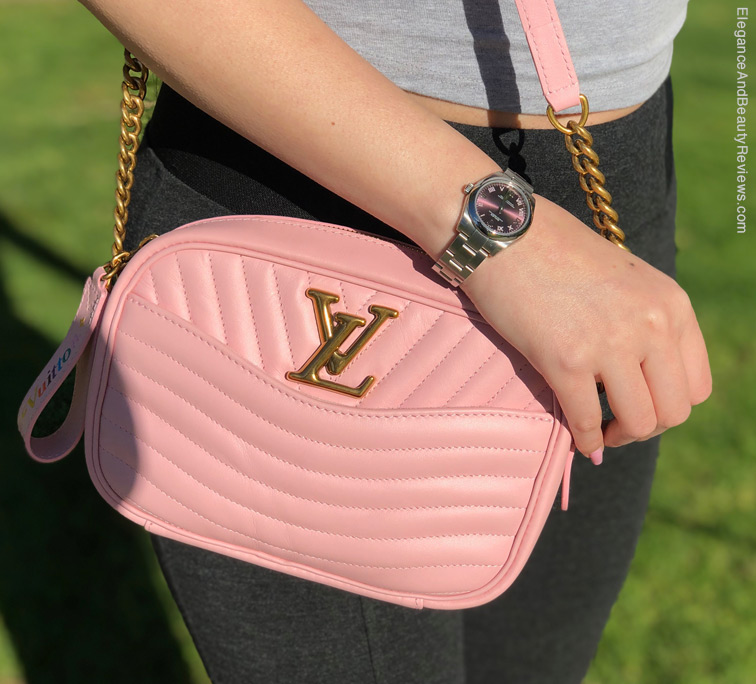 Wear this purse with jeans, leggings, skirts, and dresses. It's so versatile!
Hello! Here I am walking my dog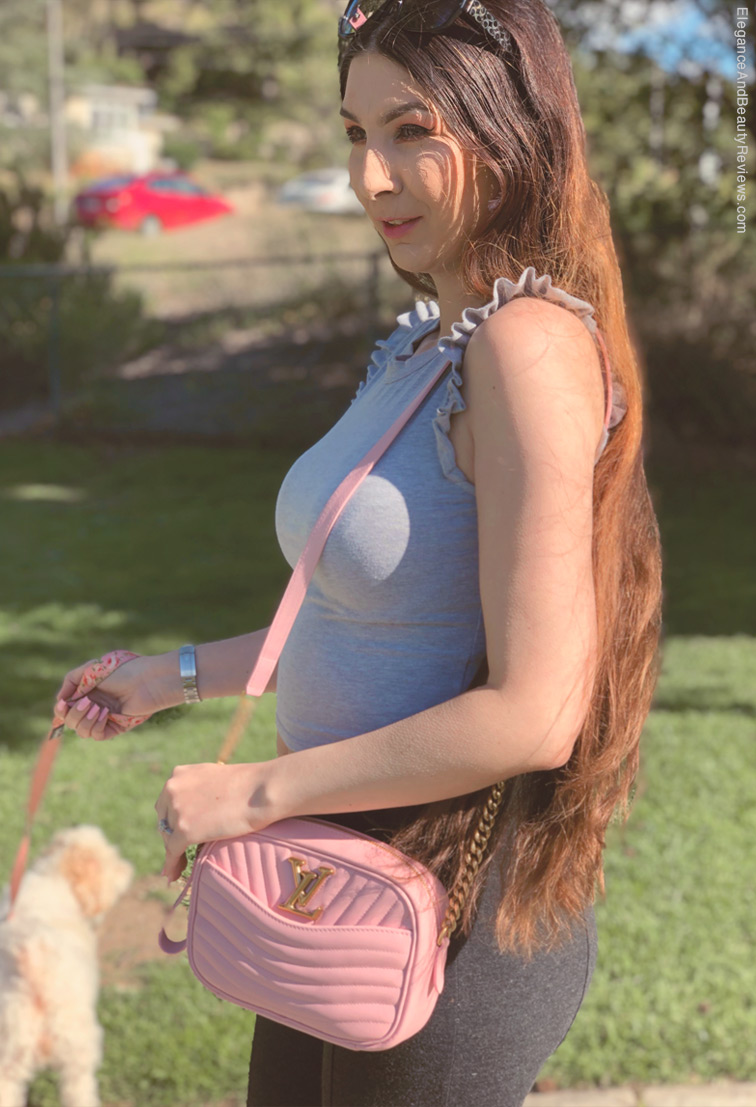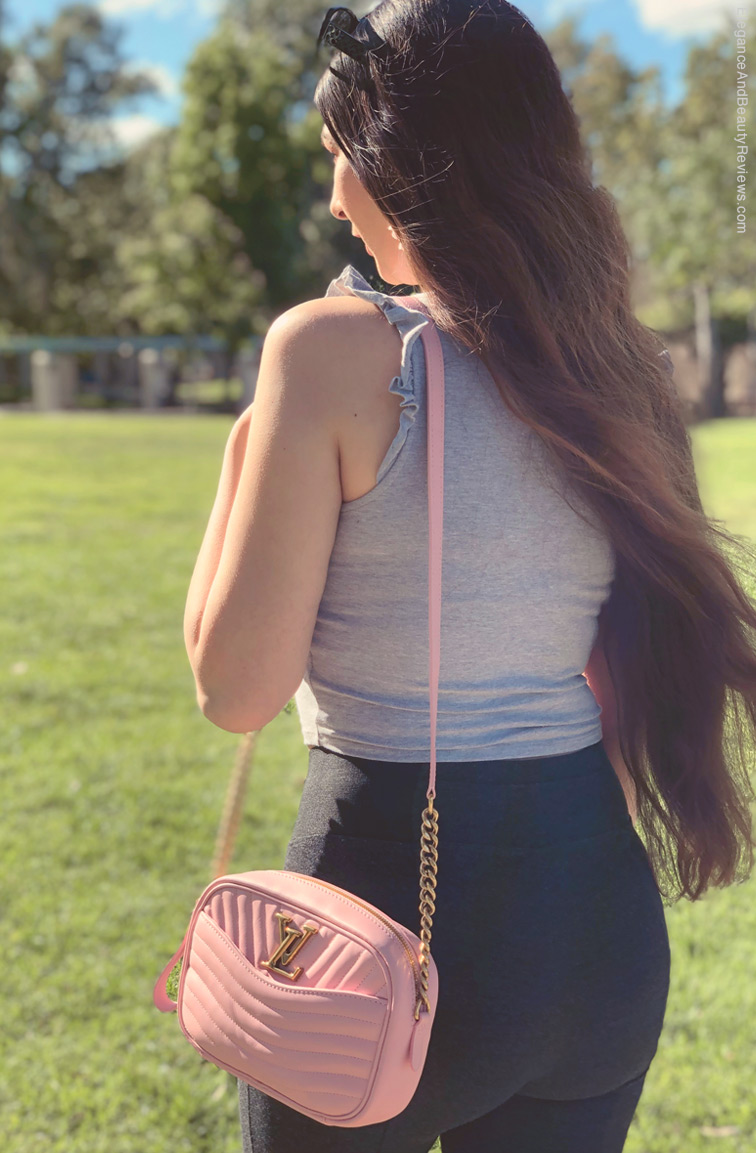 Here's my dog!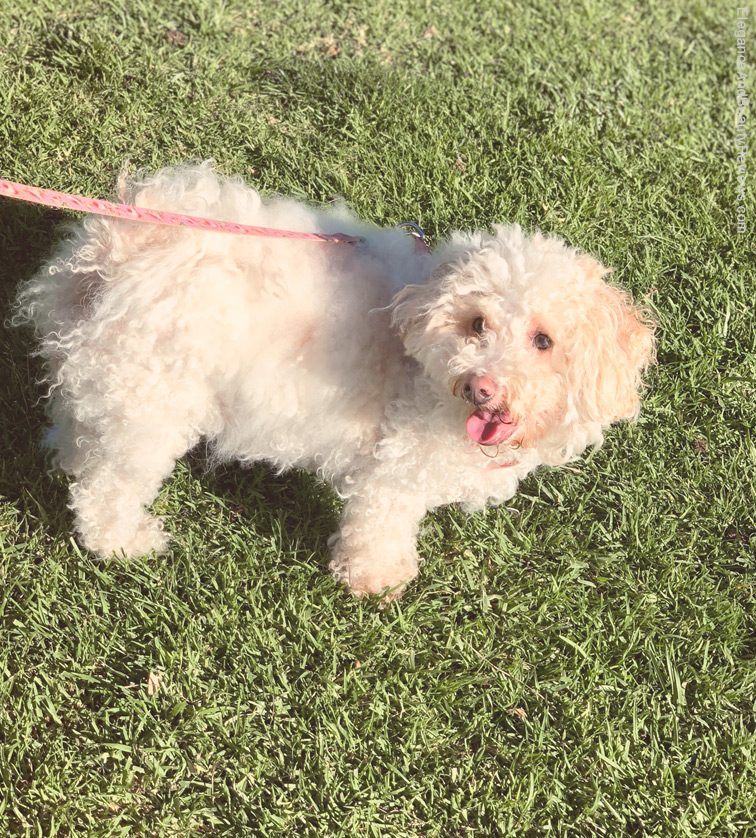 What's in my New Wave Purse?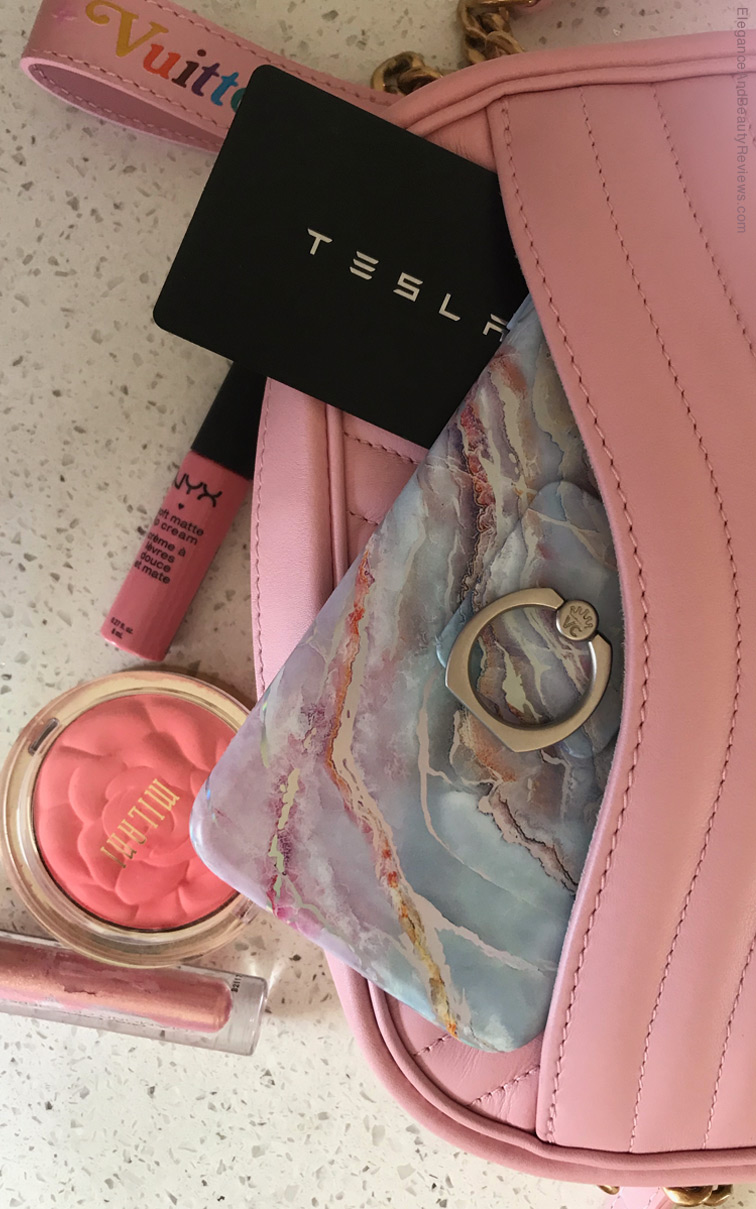 Like my cell phone case? Check out my Velvet Caviar Phone Case Review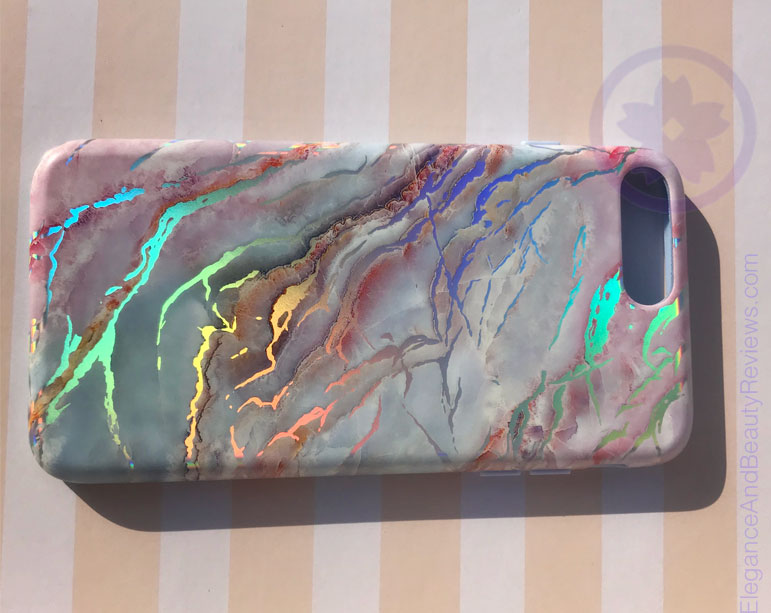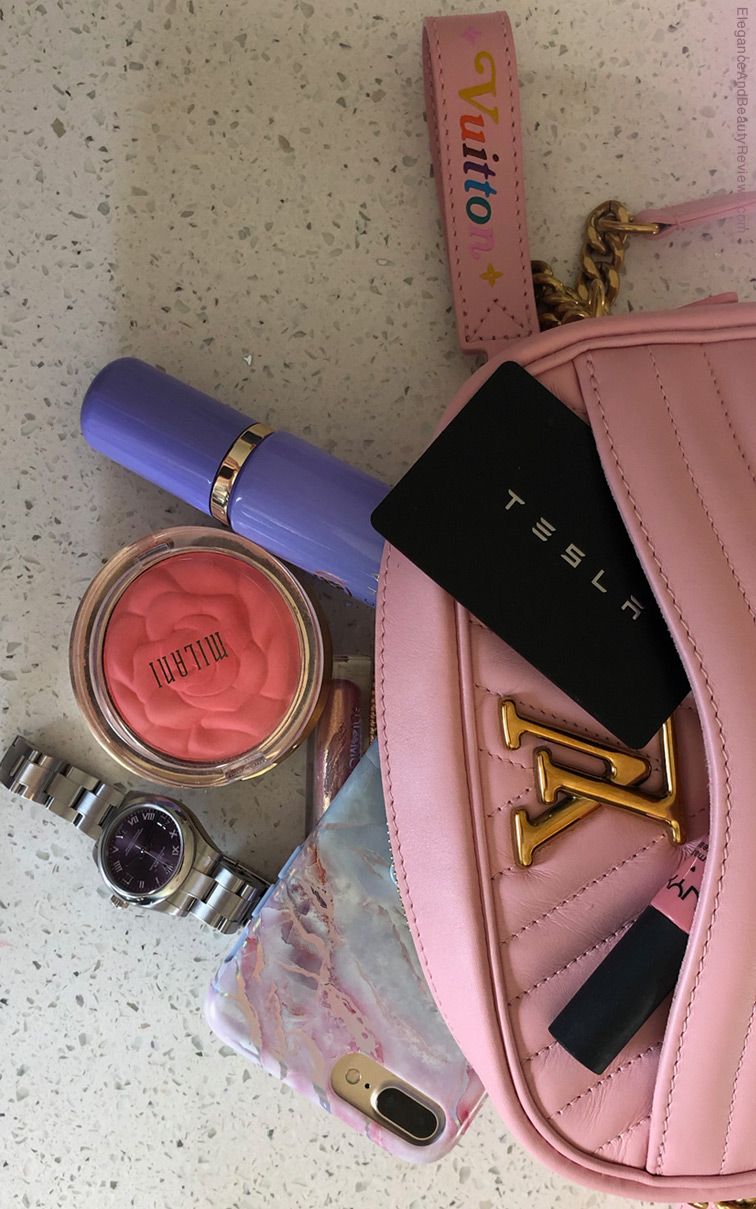 Here's the contents of my purse:
Velvet Caviar Holo Moonstone Case
Rolex Oyster Perpetual 177200 Red Grape Dial
Key card to my Tesla Model 3
NYX Soft Matte Lip Cream – Tokyo
Milani Blush
Questions about my LV new wave bag review?
Please leave a comment with your question below!
Here's where you can get the LV New Wave Bag Online
Thanks for reading!
XO Jen