Puku Pals Backpack Review
My new Weekend Fashion Accessory OBSESSION!
UPDATE: What happened to Puku pals? 
I see this website is selling them in Europe. 
https://www.puku.eu Other than that I have not heard what happened to the company! Seems like since Farshad left Salomondrin's Youtube channel, the site has been down. Hmmm…… 
Ladies, check out my Puku Pals backpack review.
Warning! You're going to want to add this next to your Coach and Saint Laurent purses.
Yes, I'm a grown woman rocking' the cute owl Puku Pals backpack. (and you should too)
Originally designed as a premium kids backpack but guess what? I don't have any kids and I see this as a fun casual fashion accessory! Coach purses Monday – Thursday, and Puku Pals backpack on the weekend! Woo hoo!
It's all about this Puku Pals ZIPPER!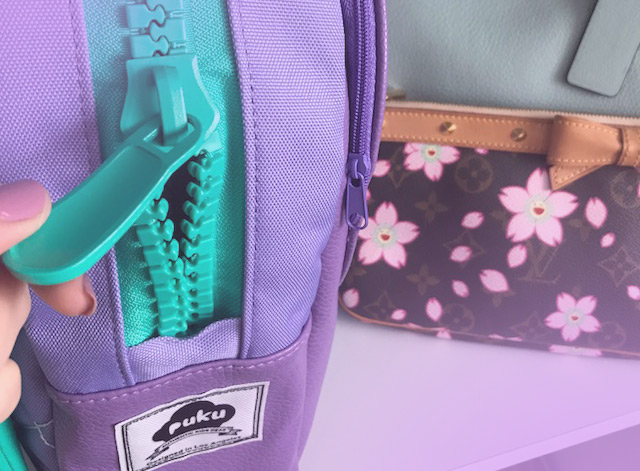 This Puku Pals review is going to be the most complete online review. I'm covering everything from where Puku Pals was first sighted, discount, coupon, Farshad Tehrani, the CEO and owner, and Salomondrin.
Plus exclusive photos of the purple owl Puku Pal. Watch me demonstrate how I incorporate this cute Puku Pals backpack into my fabulous everyday life.

Awesome Backpack Design! Colors + BIG Zipper!
Let's dive right into this exclusive Puku Pals backpack review!
I'm sharing my favorite Puku Pal, the purple owl backpack.
YES! Stunning backpack design that gets people's attention!
The super cute owl and color combination of the purple and big chunky aqua zipper, WOW!
I brought this backpack to work on "casual Friday" and everyone wanted to check it out, especially try the fun chunky zipper. This backpack's zipper is really fun to pull. Functional and fun.
Puku Pal fashion selfies.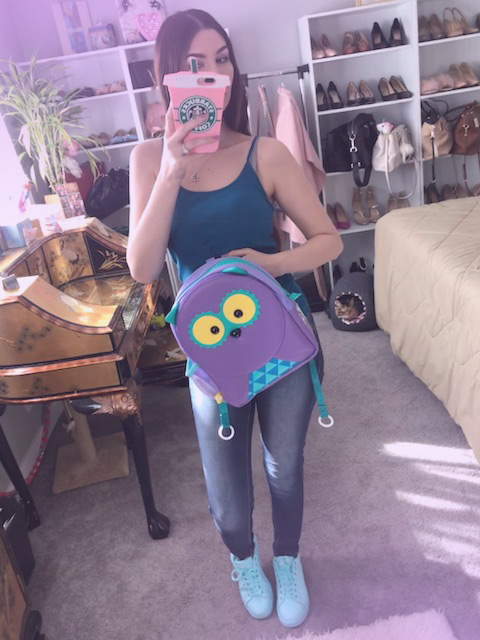 How to Incorporate Puku Pals into your wardrobe
Adding the Puku Pals backpack to your casual looks is easy. Wear some casual jeans, and a fun pop of color to compliment the backpack.
Loving this owl Puku Pal. Looks fun and casual with my neon turquoise adidas cloudfoam advantage shoes
The fun vide this backpack emits just works so well with these happy-go-lucky bright sneakers. Let's face it, when you see a Puku Pals backpack in person for yourself, you're going to smile.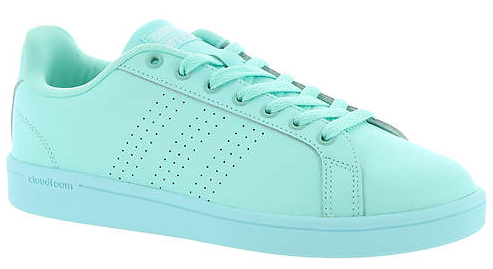 The straps on this backpack are so comfortable.
Kids will be so happy carrying around stuff in this much style and comfort.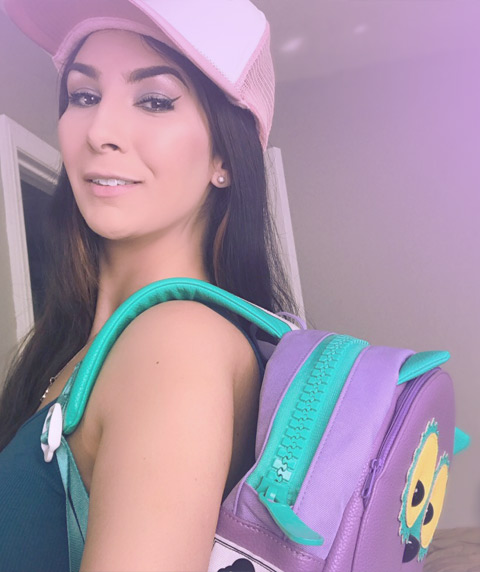 You can tell I LOVE this cute owl Puku Pal right?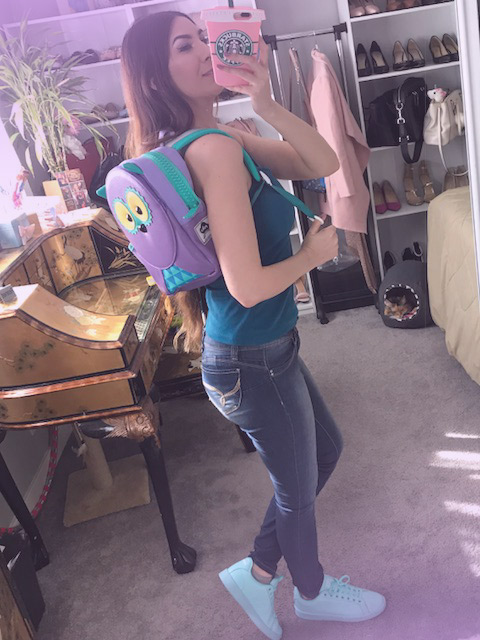 Pssst…Can you spot my cat sleeping in her kitty bed in the background? (above)
My Puku Pal feels so luxurious, it just makes sense having it in company with my purses.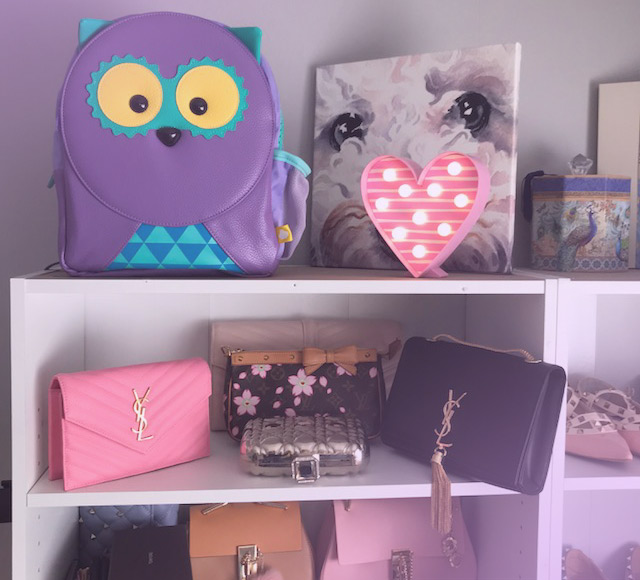 The inside of the bag feels soft and roomy. Another zipper inside, perfect for a tablet or maybe stash a phone.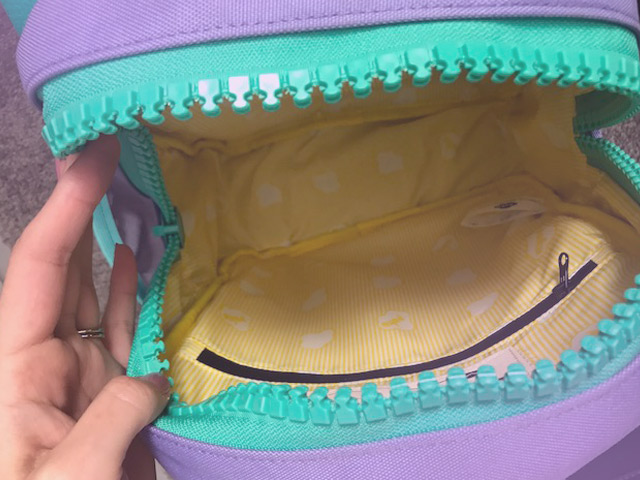 Inside the Puku Pals Backpack
You know this is a super customized designer backpack when you look inside and see this custom lining. Excuse me, side note to the Puku Pal owner: (Hey Farshad, great job on the attention to details. I see you found a nice way to incorporate the Persian gold color. 😉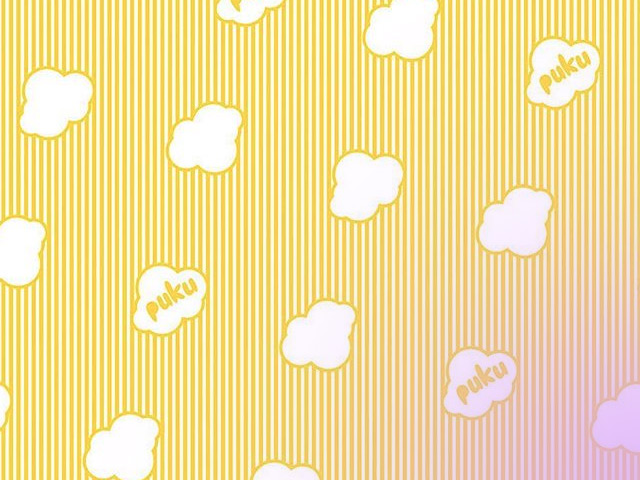 Look at the goodies I packed in my owl Puku Pal: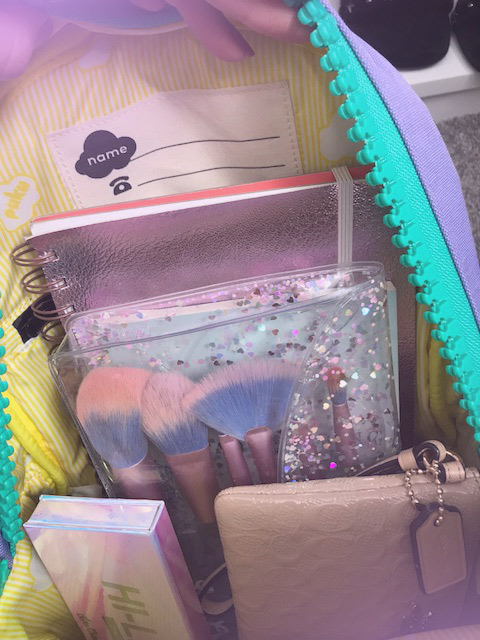 What is this fun stuff?
You can see me notebook, wallet, makeup brushes, and hi lighter:
My Lime Crime aquarium makeup brushes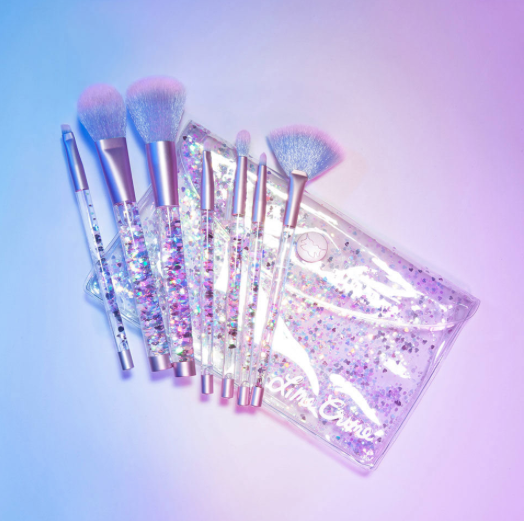 and my Lime Crime Opals highlight palette!
Don't your Love the inside name tag? Kids need this since they're losing stuff all the time… 🙂
Check out two outside pockets. One big chunky zipper and one small zipper.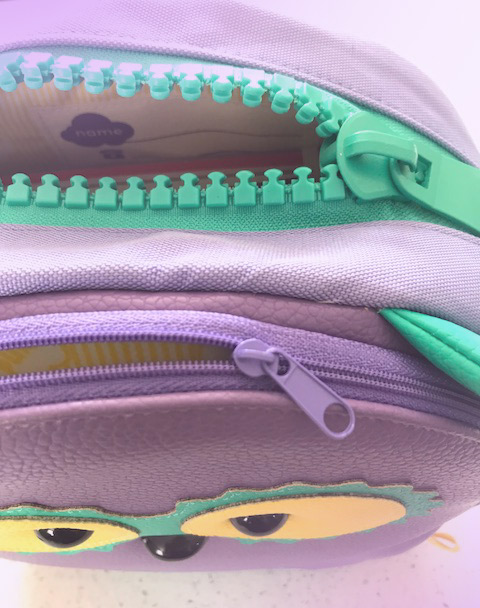 Inside the small Puku Pal zipper.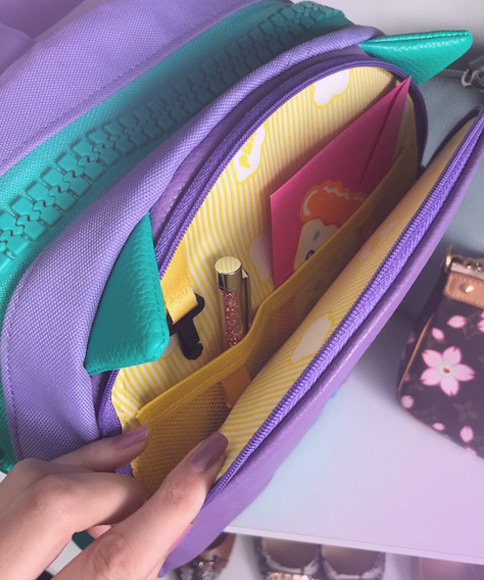 This huge Puku Pal zipper is the star of the show! Simply irresistible to pull.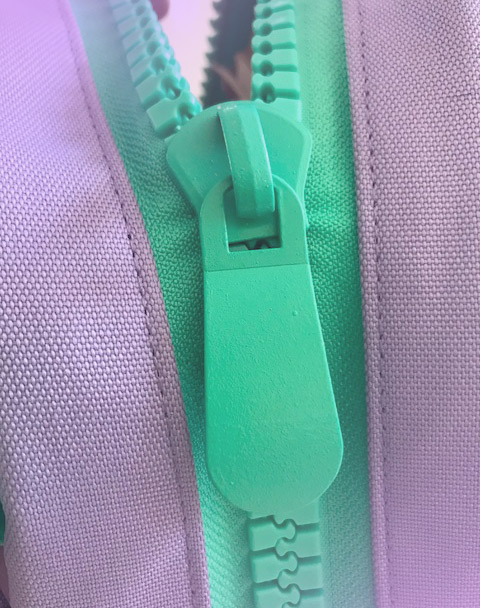 Look at this cute strap adjusters have a fun round functional style.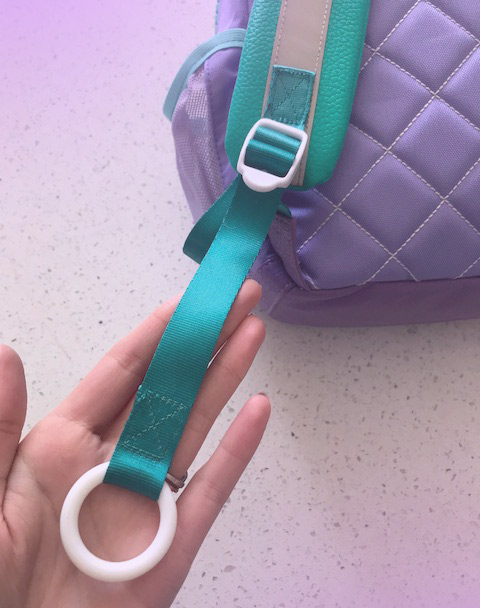 Puku Pals stitching 
Can we also admire the amazing stitching on the back of this backpack? Besides the big famous zipper, the stitching truly makes this backpack unique. It reminds me of a fancy Chanel purse…
I hope kids can realize how fabulous this backpack is. Any kids would be super lucky to have a Puku Pal for their own!
The safety reflectors also showed up well in this photo below.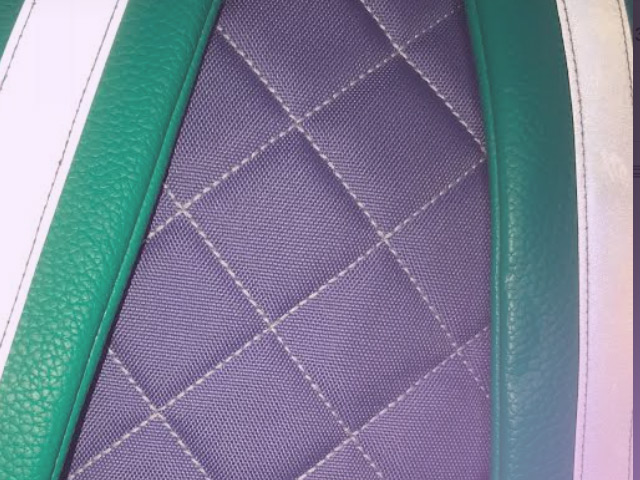 Look, I can comfortably fit my Adidas shoes.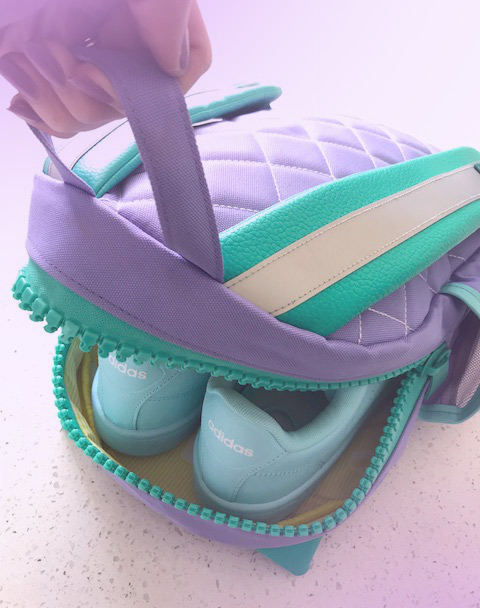 Who? Whoooo? (get it?) Can resist this cute little owl face? The pointy ears are also a favorite; everyone loves touching them ears!
The vegan leather feels so soft and looks a lot like real leather. I love knowing this is a cruelty-free backpack.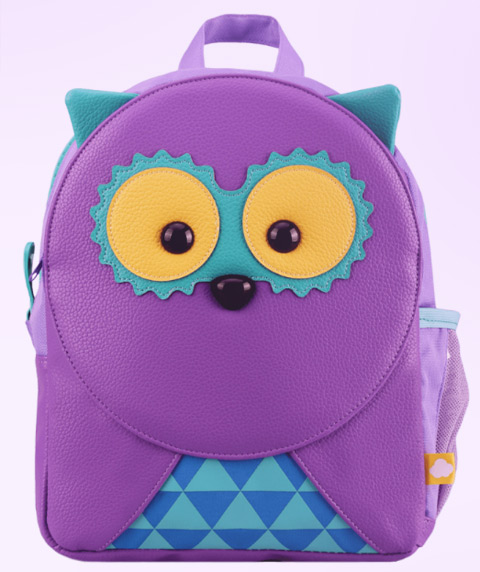 There's nothing like a Puku Pals backpack! UNIQUE & Superior Quality
This kids' backpack was designed to be the best for the safety, comfort, and functionality.
Vegan leather
Oversized zipper
Smart storage
Comfort
Safety reflectors
BPA-free
Luxury stitching
Outside with my Puku Pal Owl
Perfect for taking my dog for a walk. I have her water and water cup in my Puku Pal. If you have kids, it could be a great diaper bag. Or of course a great backpack for your kiddos.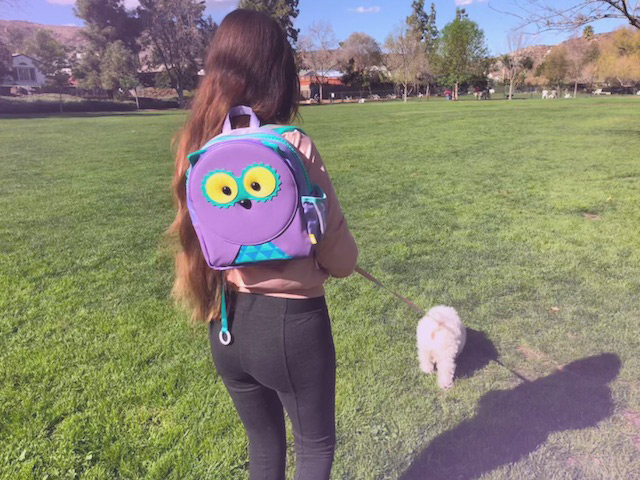 The backpack has a nice cushion, making it super comfortable resting on my back. I wish my backpack had that back in the day!
Driving around with my Puku Pal 😉 LOL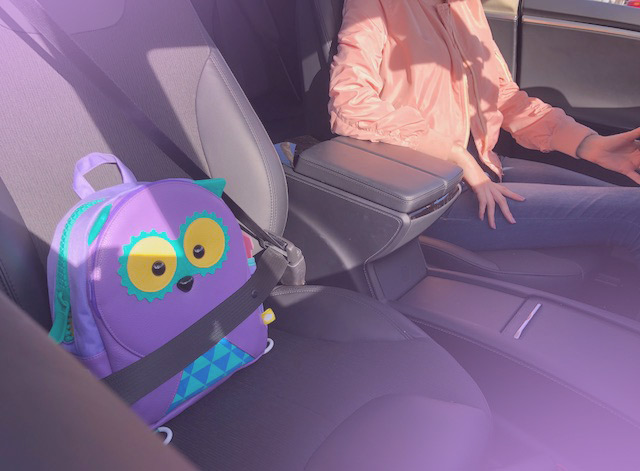 Did I mention this little Puku Pal owl gets to cruise around in a Tesla Model S?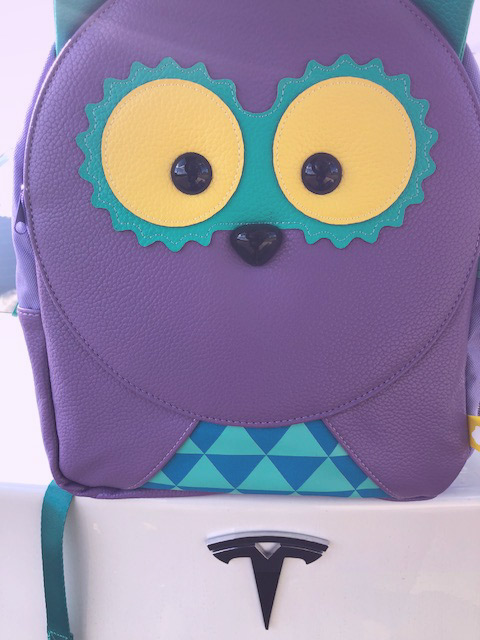 Many more Puku Pals Backpack designs
There's a Puku Pal for everyone. I also hear there's more Puku Pals design coming soon, as well as sizes. There's a cute bunny, space monkey, Teddy bear, and owl. How will you decide?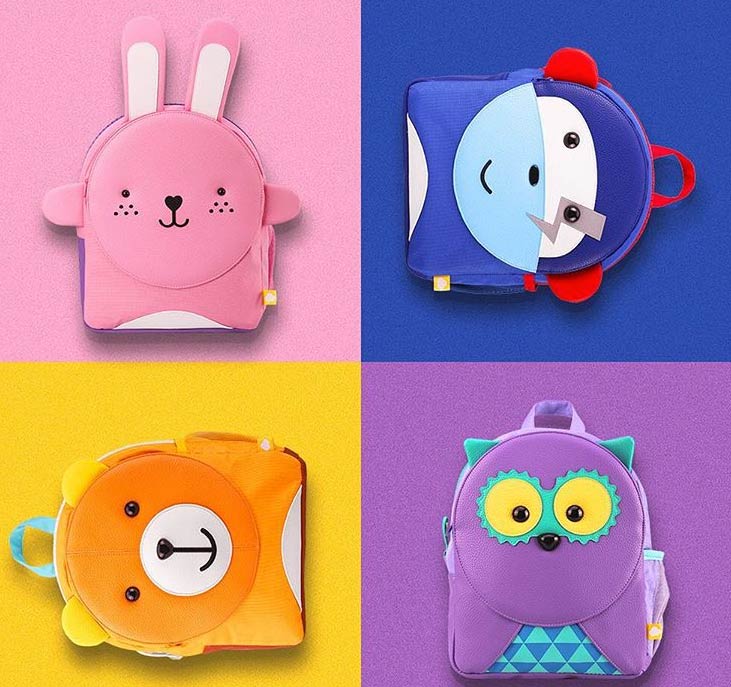 How I discovered Puku Pals
My husband and I watch Salomondrin's YouTube channel. (It's a funny car VLOG in Los Angeles) Salomondrin featured the behind the scenes of Puku Pals.
The CEO and owner or Puku Pals
Farshad (the owner and CEO of Puku Pals) shared the design and production process of his Puku Pals company. The amount of time it went into design and fine tuning was very entertaining and educational to watch on Salomondrin's channel.
After months of watching the Youtube channel, every now and then we'd see the guys walking around delivering or donating Puku Pals. Super funny seeing the guys walking around LA wearing Puku Pals backpacks. When we went to the Los Angeles International Auto Show in January, we saw Galpin Auto Sports (GAS) featured and they had Puku Pals for sale! My husband purchased a Puku Pals backpack for me. Yay! Thanks! My husband also did an amazing Puku Pals review. Pretty cool to read his perspective on this fun backpack.
Puku Pals Discount – Coupon? Yup!
If you too like to watch Salomondrin's YouTube channel, you're in luck! You can purchase a pro membership to his premium content for ($24/year) and get 10 percent off the Puku Pals backpack of your choice.
Or, if you don't want to get a Salomondrin subscription, you can use my Puku Pals Affiliate link and still save!
But wait, there's more! Puku Pals Minis are coming soon! Confirmed! (*Update – New MINI Puku Pals review)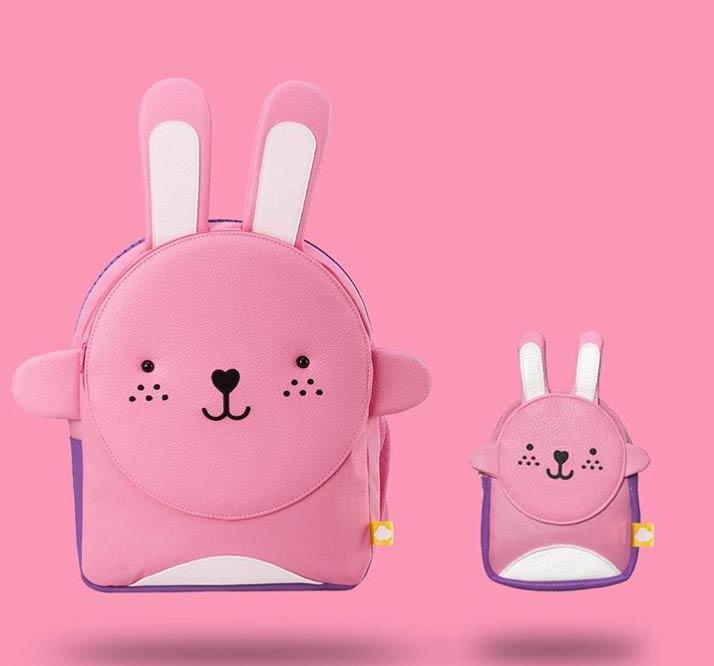 Yes, the mini Puku Pals are here! I have the Bunny, check out my mini Puku Pals review.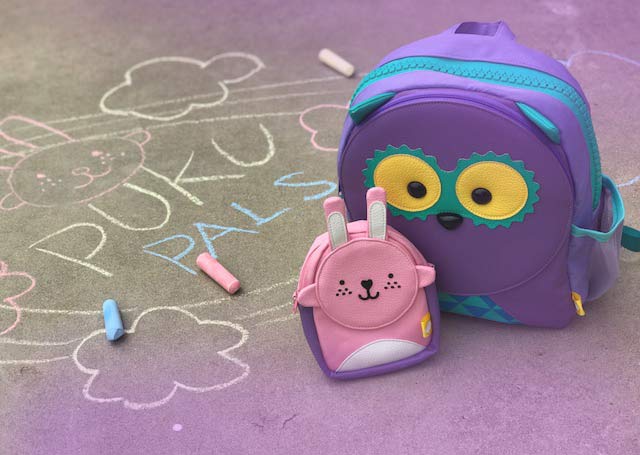 I hope you enjoyed my Puku Pals backpack review. Do you own a Puku Pal or have any questions? Let me know in the comments below.
What?! You don't have a Puku Pal? Now's your chance to get your own Puku Pal for treating yourself or a cool kid in your life.