Looking for the BEST photography equipment for beauty blogging? Everything you need is listed here in one blog post!
Beauty bloggers need a lot of equipment to produce great high quality content.
If you're new to beauty blogging or want to improve your blog posts, take a look at the most recommended and popular beauty blogging equipment used by the best beauty blogs ever.
There's cameras, lenses, special beauty blogging video lighting, backdrops, just to start.
I started with using low quality photos taken from my camera phone (bad mistake) and then improved my beauty blog with stunning images after I invested in the beauty blogging gear listed below. The better your images, the more viral shares you will receive and improve your SEO. here's the complete list of the best equipment for video blogging.
The Best Photography Equipment for Beauty Blogging
1. Lighting for Beauty Bloggers – $200
What's the best ring light for youtube videos? It's the diva right light. Let's start with the best lighting for beauty bloggers. Beauty bloggers want their skin to look flawless and the colors of their makeup accurately shown. Great lighting helps make everyone look flawless and also helps prevent dark shadows and emphasis on blemishes. When your face is evenly lit, you look gorgeous!  You've probably noticed ring rights being used by the top beauty bloggers. The diva right light gives you the polished look. It's overall the best lighting for makeup tutorials.
2. Cell Phone Lighting – $60
The Queen of perfect selfie cell phone lighting is Kim Kardashian. How does she achieve perfect lighting? Kim uses the LuMee case ($69.95) Cheaper on Amazon as shown below:
Lighting can have a powerful affect, use it to your advantage. Yes, this is the best artificial lighting kit for your cell phone. Bad lighting can ruin a selfie or any photo you want to shoot. Imaging having perfect lighting wherever you are to share on social media. No filter needed when you have flawless lighting. Right?
3. The Best Beauty Vlogging Camera – $500
What's the best camera for filming makeup tutorials? If your primary focus is video, vloggers prefer the Sony A5000 camera because of the flip screen. The importance of the flip screen is for being able to watch yourself and make sure you're in focus and the products you're showing up close to the camera are in focus etc. Many top beauty bloggers recommend this Sony A5000. It's compact, sleek, and affordable.
3. The Best Beauty Blogging Camera – $400 
If you're going to do lots of unclose high quality photography of beauty products, packaging, and fashion, you'll want a DSLR camera and you'll want to invest in a couple lenses for macro up close photography. The Canon Rebel is the favorite camera for beauty bloggers.
The image pictured to the right of the e.l.f. Hydrating Gel Mask was photographed with the DSLR Canon Rebel. This camera also has the flip screen.
4. The Best Beauty Blogging Camera Lens – $500
If you want stunning professional photography, you want two different lenses. First you want the Canon 50mm for a great depth of field, meaning the background is blurred and the main subject is in focus. Second, you want a Canon 60mm macro lens for up close photography, perfect for beauty products.
The gorgeous image I photographed on the right was with the canon 60mm macro lens. Notice how crisp the gold lid appears.
5. The Best Beauty Blogging Tripod – $30
You'll want to make sure your camera is able to stay stable whether it's on a table or standing on any surface. There's light weight tripods perfect for traveling and your sturdy classic tripod. There's also a new popular tripod with short arms that's able to bend and hold itself.
6. Seamless Beauty Backgrounds – $40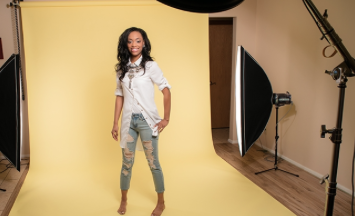 If you want to take stunning fashion photography, invest in a seamless paper background.
You can also use them to sit in front of and film your beauty vlogs or beauty blogger photography.
And there you have it, basically everything you need to have a successful beauty blog or youtube channel.

Final thoughts, plan to invest $700 minimum on photography equipment such as lighting, cameras, lenses, tripos, backdrops etc.
-Jen