WEN Hair Product Review – Sweet Almond Mint
Time for a Wen Hair product Review! Hi Guys,  I finally caved in to trying the famous "as seen on tv" WEN  Hair care  Cleansing conditioner in Sweet Almond Mint! Here's my BIG review on the WEN products by Chaz Dean I purchased: Wen Cleaning Conditioner, Wen Styling Comb, Wen Styling Cream, Wen Re Moist Intensive Hair Treatment, and Wen Texture Balm. I've also included how I went about using each product for best results! Enjoy!
Sweet Almond Mint Cleansing Conditioner Review:
This is my WEN Hair Product Review. I've been using the Wen hair care system for 6 months now! I'm LOVING the WEN Cleaning conditioner in the Sweet Almond Mint scent. I'm giving this product a Four out of Five Stars.
I've known about this WEN cleaning conditioner hair care system for about five years and didn't want to try it because of the price. The introductory kit is about $30.00 USD. I finally decided to give WEN a try after watching a tv segment on the QVC channel. I had fun watching all the before and after model comparison photos. The founder of the product, Chaz Dean seemed genuinely enthusiastic about his product and I did learn some new hair facts. You know that magic ingredient that creates bubbles and luxurious lather? Well, it's not good for you or your hair! I learned that this ingredient is called, sodium laurel sulfate and it causes irritation to your hair and scalp. This chemical is responsible for causing dried out hair and itchy scalps….yuck. BTW I found it cheaper on Ebay

I didn't want to commit to QVC to make the purchase because of the auto-ship plan.
So my first impression opening the bottle… the smell. MMMmm. Minty!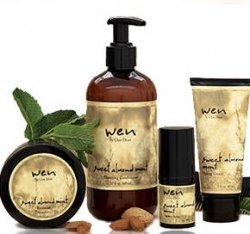 Wow, WEN has a very "herbal" "natural" and in this case a strong minty fresh smell. The Sweet Almond Mint is the only one I've tried so far. I have to admit that I LOVE the smell! Ok, my fiance loves the smell even more. (thank goodness) The pump is a great design for this product because the cleansing conditioner is very thick. You'd have a hard time getting that out of the bottle without the pump. Reading the directions I thought the amount of product they recommend I use was exaggerated. 10-15 pumps? I didn't need that many pumps and I have very long hair (3o inches of hair). I assume this is for a newbie that needs to get the hang of evenly spreading this through the hair. Or perhaps for very thick curly luxurious hair that I don't have.
The only thing that takes a long time to get used to is the fact that the Wen Cleansing conditioner doesn't lather! Ahhh! It felt so weird at first. I felt like I was putting toothpaste into my hair because of the fresh minty smell.
The Wen felt very refreshing on my scalp and made my hair feel like it was being nourished. I LOVE the fact WEN does not have harsh chemicals that are bad for your scalp and hair. The whole time I was moving the product through my hair, I felt like my hair was being quenched with natural goodness.
The best Way How to Use WEN Cleansing Conditioner:
I had the most luck with Wen, when I combed my hair out before washing, and parted my hair down the middle. This way you can really work the product all the way down into the thirsty ends of your hair. I wet my hair very thoroughly and rinsed my scalp before "pumping" the WEN. Then I took two pumps and massaged it into my scalp, adding a dash of water to spread it around my head working with my fingertips to remove any dirt and buildup of oils on my scalp. Once I felt my scalp was fresh and clean, I rinsed some of the product down into the middle of my hair and took four pumps for the middle length of my hair. Working it into the hair sections by squeezing the hair together and pulling it gently down to my ends, finger combing it in gently, I grab my hair tie loosely tuck my hair into a bun and let the ingredients soak in for five minutes. This is when I move onto cleaning my face and the rest of my body. When I'm done, I undo my hair tie and my hair feels really hydrated and slippery. I gently rinse it out and repeat touching my scalp to make sure there's no residue on there. At this point my hair feels amazingly well conditioned and my hair lays straight, long and flat against my back. This is when I make the decision to either add more product to my hair (only if it feels like I missed some spots) or to gently pat out the excess water. I noticed that my hair is so well hydrated and healthy feeling, that the hair shaft is sealed and any stray hairs that I may have shed during the day will easily slip down and collect at the ends of my hair.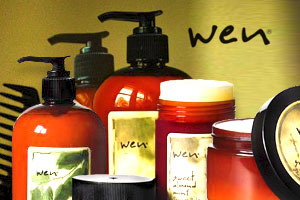 My hair always feels nourished and moisturized after I use Wen. I saw an immediate improvement on the elasticity of my hair strands (less breakage) and my hair looked hydrated without looking oily. My Mom and especially my fiance noticed my hair had more shine and volume that same day! My long hair didn't look weighed down, it actually looked like I had more body. I was sold on the WEN system starting day one! The next day my hair still felt hydrated and I didn't need to wash it. I added some of the styling cream for anti-frizz insurance protection and I loved the smell too. A little goes a long way. It's very hydrating and actually refreshes your hair. The hair wax/balm smelled the strongest (very good) and you only need a little. This weighs down any stubborn "fly aways." My hair looks so touchable and luxurious after I use all these steps.
In conclusion, after using WEN for 6 months, I admit that I love the WEN Cleansing Conditioner and I would recommend it to anyone that wants to splurge on their hair care. I've already ordered more of the Sweet Almond Mint cleansing conditioner from ebay! I will never use a hair product that has sodium laurel sulfate in it!
Wen Styling Comb Review
I was disappointed with the WEN styling comb. The Wen comb is very thick and has a unique texture. I didn't like it for my long hair at all. It didn't feel comfortable in my hand. I guess I was expecting a bigger comb. This came with the Wen kit and I thought it would be good for untangling snarls but I feel a long tooth comb is better. I don't recommend this comb for anyone because of the way it fits in the hand is not comfortable. This one Wen product sadly found its way into my notorious Beauty Junk Drawer! Who wants it?
 Wen Styling Cream Review
I love this WEN styling cream! It smells amazing, smooths out and refreshes my hair by lightly hydrating it. I love to put a little of this in my hair if I'm wearing it down, it adds incredible shine and revives the moisture right away. I would recommend this to anyone as a nice hair "pick-me-up" even if they don't use the other Wen products. I could see someone that has very dry, brittle hair enjoying this!
Wen Re Moist Intensive Hair Treatment Review
I love this moisturizing hair treatment/mask. I'm going to refer to this as a mask, because you need to leave it in for thirty minutes to get the full effect. I like to actually put this in my hair before I wash it. I'll go into the bathroom and wet my hair slightly damp and then apply this treatment starting at my ends and work my way up to the mid length of my hair. The results: super moisturized hair that will even "straighten" out your hair slightly, weighs it down making your hair look longer and not feel greasy. My hair really looked longer overall! I didn't apply this to my roots because I want some volume around my face frame. I highly recommend you try this and use it weekly. This conditioner adds incredible shine and softness! I have a hair tutorial How to get Shiny Hair using this WEN re moist intensive hair treatment! ALSO, for a BONUS, I use this to treat and Repair Bleached Damaged Hair <– Read my tips to repair bleached hair!
 Wen Texture Balm Review
This product, I don't use as often as I should because you have to take extra time to warm it up before you can use it, overall it's a great product. I use this when I have some "fly aways" it really calms them down and keeps your hair in place! I don't like that I have to rub this into the palm of my hand and wait for it to slightly melt into an oil. I take that and gently glide down the top sides of my head. Then I'll take my boar bristle brush and brush my hair down to get rid of those "fly aways" Works great. The only thing I don't like is the palm of my hand has an oily/waxy feel. Smells the strongest of the Wen products and it smells amazing! I would recommend this Wen Texture Balm to anyone who has a lot of bothersome "fly aways."
Overall I love this Wen hair care system and I recommend it for all hair types. The overall immediate
benefits of the Wen hair care system:
Moisturized hair
Hair elasticity enhanced
Healthy scalp – no itch
Hair has more volume
Hair looks longer
Nourishes Scalp for growth
Shiny Hair!
Hair grows faster
Hair feels moist for days
Have any questions or want to share a Wen tip? Please comment below!

Thanks for reading my WEN Hair Product Review – Sweet Almond Mint Thanks! -Jen
Related Posts :