EASY tips for planning your wedding reception – TOP 10
Last minute planning your wedding reception? No worries, you got this!
Check out our easy top 10 tips that will keep your wedding reception planning simple and sweet. Some of these tips are pretty easy and common sense practical tips but holy moley, how many wedding receptions have you been to that were lacking a basic necessity?! YIKES.
If you're planning a wedding reception or know somebody who is, please share this article! (Help do your part to prevent a wedding reception disaster)
Come on ladies, let's stop making wedding planning a complicated task and keep it simple.
First of all, when you keep wedding planning simple, there's less things you have to compromise on if you're planning the wedding with your new husband or wife. Less bells and whistles, less options, less headache am I right?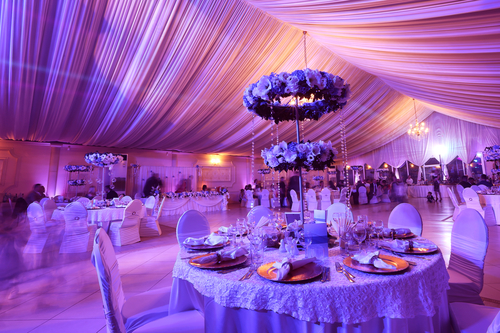 People forget the most basic elements to consider when planning a memorable and enjoyable wedding reception. These tips will keep you on track and realize how easy planning a wedding reception can be. Did I mention, you'll also save money too? Yes! Finally…
Why spend months planning when your wedding day will go by in the blink of an eye?
Keep it simple, and keep it stress free. If you do it right, the happy warm memories of the biggest day of your life will last forever.
Here's my top ten tips for planning your wedding reception:
1. Management of invitation cards
In any event, the most important thing is to invite guests. People are usually invited traditionally through letters or cards. Invitation cards are to be given to each family or a group of members. In an average wedding reception, you need to invite a minimum of three hundred members. This means you need to arrange lots of invitation cards. One of the most important things to manage is your budget. If lots of cards are bought, it may cost you a lot. To avoid wastage of money, you may need to dedicate one card to a whole family or a group of families.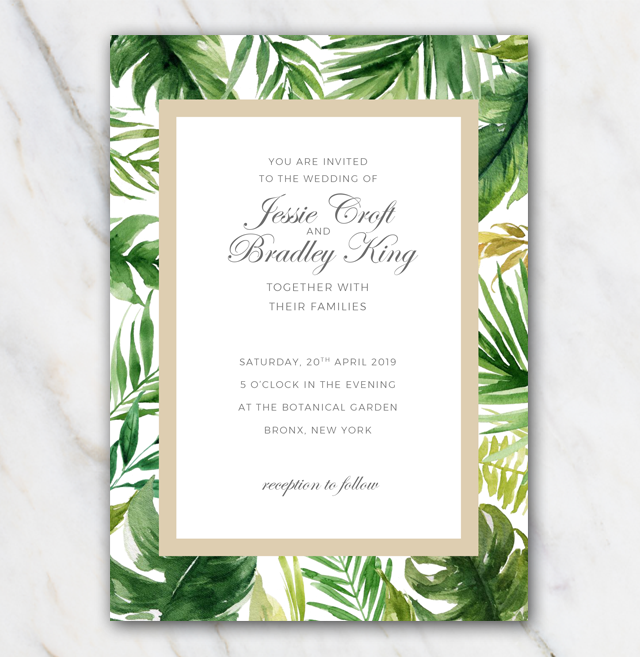 2. Delivery of cards
A big issue to be concerned about is the delivery of these invitation cards. You must allocate some responsible people a region in which they need to deliver. This will help you save time and fuel.
( These invitations below are Free wedding invitation templates for Word.)
3. Decoration
The decoration of the venue is very important to be concerned. The decoration must be according to the weather and the latest trend.
(This simple wedding decoration pictured below is just white cardboard shaped into letters and has floral foam in it with roses, SUPER EASY and chic!)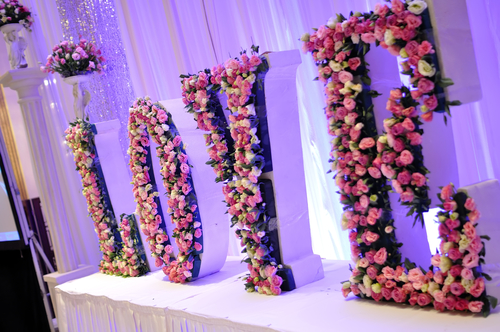 4. Theme
Your wedding must be according to a theme. A theme must be according to the recommended colours of the bride.
5.
A separate beauty bag
You're going to be busy the day of the wedding and it's crucial you look your best. That's why I recommend you keep a separate wedding makeup beauty bag. Along with that make sure it has a mirror and a comb. Make a checklist of all the makeup you need. Everything from special eyelashes you want to wear, to the exact shade of lipstick you want to wear. Keep this little makeup bag separate from your entire makeup collection so it's simple to grab on your wedding day.
6. Number of guests
25 to 30 square feet for each guest is perfect to have because many other accessories like table, chairs and the stage may cover some space.
This free and easy Wedding Save the Date template can be very helpful for you to invite your guests. (great resource)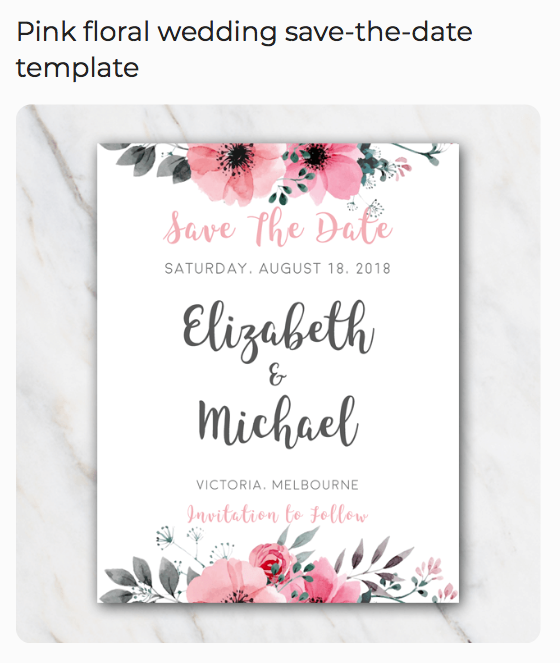 7. Wedding date
It is very important to decide a wedding day. You must be responsible and active when choosing a wedding date. Many times there are chances of another event at that day. There may be another event at the venue you decide or there can be any national event which can affect the traffic. And don't get married on your relatives' birthday's or their wedding day either.
8. Nature must not be underestimated
First of all you must check the weather conditions and you must avoid much colder and hotter days. Outdoor wedding venue? Please make sure the weather is warm. Nobody wants to remember being cold the whole time outside with their teeth chattering.
9. Avoid Mutton
Mutton is an expensive item and when arranged for a crowd can cost a lot. (Fancy Lamb meat btw)
10. Find cheap hotels
You must find a cheap hotel so the money can be saved to spend it on important things. Remember, your family and friends that are visiting from out of town have no clue where the budget friendly places are near your venue. Do them the small favor and they'll have less stress!
I hope you enjoyed this week's guest post.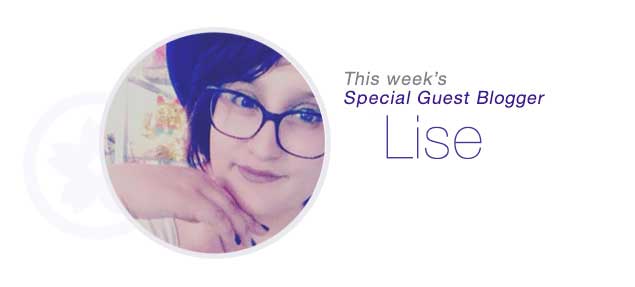 Author Bio:
Ilse Frank is the mother of two little boys and is an amazing wedding planner. She is obsessed with wedding traditions and all the customs. She regularly posts at https://www.temploola.com/