THEORIE Green Tea Hair Mask Review with photos and swatches. This is unlike any hair mask that I've ever purchased and tried on my chemically damaged hair. I'm going to share all my thoughts on the results and talk about the quality, smell, and texture of this unique THEORIE Green Tea Hair Mask Review.
NEW Post: Tea Tree Oil Skin Care Benefits

THEORIE Green Tea Hair Mask Review – Packaging
I was gifted this spa-like THEORIE Green Tea Hair Mask from my friend Jes. Thanks Jes! I had it displayed on my bathroom towel shelf next to my pretty fancy soaps because I just loved looking at the gorgeous packaging. Reminds me of something I'd find at the spa. (not that I ever go) lol. Do you ever have products that have "high end" "pretty packaging" that you want to admire in your bathroom?
The packaging has a very long lid and it's easy to open. I love the usability of this packaging. The lid is something I'll never loose and it's nice to open and close. I'll never have to worry about it spilling either for a nice bonus.
THEORIE Green Tea Hair Mask Review – Texture
If you want a thick hair mask that actually spreads easily, you're in luck. This THEORIE Green Tea Hair Mask has a nice creamy texture. It looks like a small bowl of whipped cream when you open it. If you look closely, there's some tiny "blue beads" mixed in. I think this might be tine fragrance capsules, I'm not sure but they dissolve when you touch them. It makes the hair mask look really pretty and luxurious too!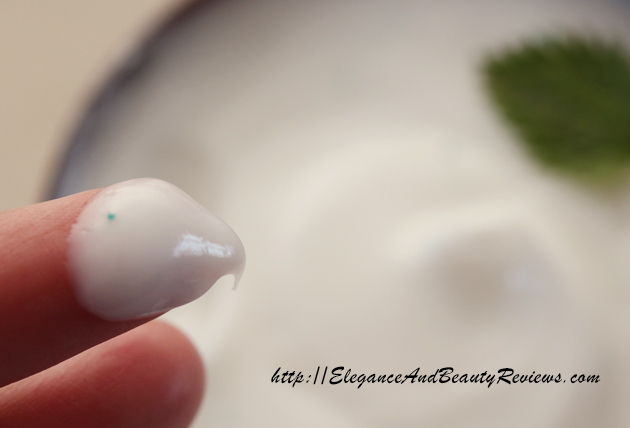 Before I applied the THEORIE Green Tea Hair Mask, I shampooed my hair with warm water, washed it out and slightly dried my hair in the shower by gently squeezing the length of hair. Next, I sectioned my hair hair in half and started applying the mask at my hair ends. You always want to start at the ends because they're the driest and most damaged part of the hair. I worked my way up to my scalp and used a scrunchi to hold my hair back for ten minutes while I washed my body. After exfoliating, and shaving, I washed the THEORIE Green Tea Hair Mask out with warm water. My hair felt so slippery, smooth and silky to the touch with it was wet. While rinsing it out, my hair actually felt thicker and fuller – more volume already!
THEORIE Green Tea Hair Mask Review – Smell
I just want to express how much I love the smell of this THEORIE Green Tea Hair Mask. I'm holding the container in my hand right now and taking a big "wiff" of the hair mask. Aaaaahhh! I really want to be accurate describing the smell because it's truly that incredible. The best description I can give for the smell, it smells like the Pacific Ocean beaches we have here in San Diego, CA. Yes, it smells like ocean waves and sand on a warm beach day. You can smell the salt and ocean air! If you have never been to the beaches on the west coast, I do apologize. The smell is also very calming with the subtle hint of green tea. I'm going to really miss the smell when I run out soon! lol!
THEORIE Green Tea Hair Mask – Price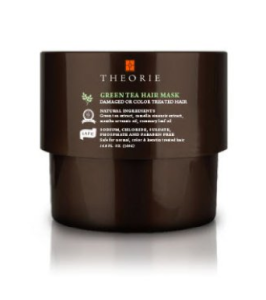 I've found the average price online for $34.00 for 16 Fl oz.
You can purchase the THEORIE Green Tea Hair Mask here on Amazon.com
THEORIE Green Tea Hair Mask Review – My Before Photo
 I photographed one section up close so you could see the real difference. As you see my ends were dry and unmanageable.
THEORIE Green Tea Hair Mask Review – Showing the texture on my hair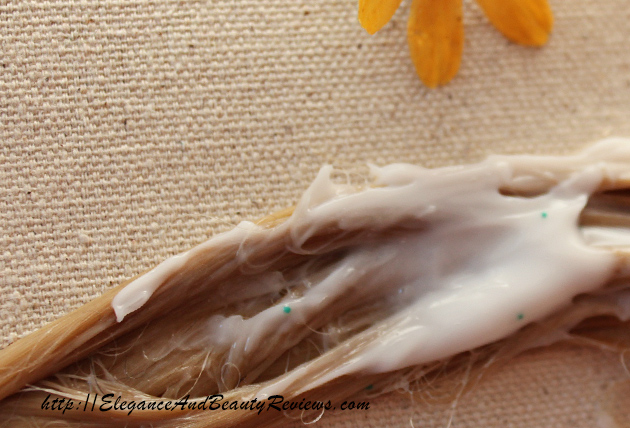 After I rinsed my hair: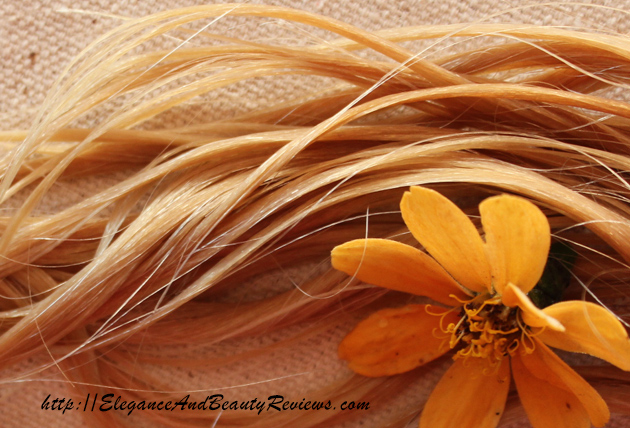 THEORIE Green Tea Hair Mask Review – My After Photo
My hair felt refreshed, soft, with lots of volume. I recommend using this weekly. My hair didn't feel weighed down at all. Until now, I have never used a hair mask that didn't weigh my hair down.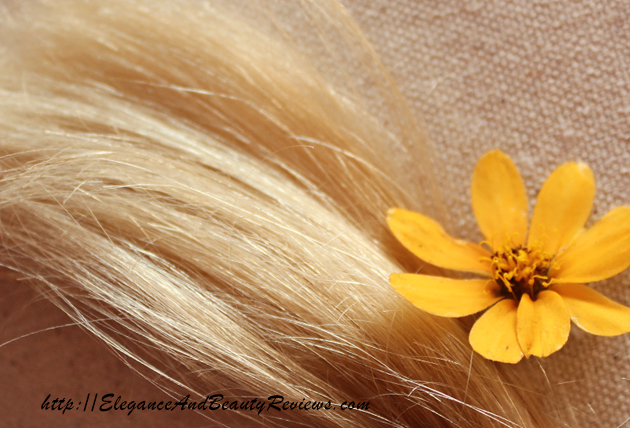 Thanks for reading my THEORIE Green Tea Hair Mask Review!