The skin care benefits of rosehip oil are so amazing, you'll want to start using it now! (Updated 1/27/19)
My blog post will cover everything you need to know about rosehip oil, aka rosehip seed oil.
If you have a question about rosehip oil, I'm here to answer it.
Ask me in the comments section below and I'll reply!
If you have been looking for an all natural anti aging skin care product that's gentle and powerful, rosehip oil is for you.
Rosehip oil is the most light weight oil that won't leave your skin feeling greasy!
I highly recommend you try using rosehip oil in your anti aging skin care routine. I saw a difference in my skin within one month of using rosehip oil and you can too!
Let's dive into the immediate benefits of rosehip oil!

Immediate skin care benefits of rosehip oil:
Deeply Hydrates Skin
Softens Fine Lines
Radiant Glow to Complexion
Helps Exfoliate
Protects Against Sun Damage
Boosts Collagen Development
Antibacterial
Softens Cuticles
Long Term Skin Care Benefits:
Rosehip oil contains skin loving ingredients: Vitamins A, C, E, and essential fatty acids.
Everything your skin needs to look healthy and youthful. After using rosehip seed oil for at least three months, you can expect to see long term benefits.
Youthful Complexion
Firmer Skin
Faded Acne Scars
Fade Dark Spots
Evened Skin Tone
Brightened Skin
Hydrated Skin
Reduction of Inflammation
Reduced Hyper pigmentation
Faded Stretch Marks
Although rosehip oil is very gentle, please
See your doctor if you experience:
For a detailed list of Rosehip Benefits for skin care click here.
What is Rosehip Oil?
Rosehip oil comes from the seeds of rose hips. Rosehips are the base of the rose that hold the petals into place.
The unique characteristics of rosehip oil: An amber colored oil that smells like black herbal tea. Rosehip oil is a very light weight oil that quickly absorbs deeply into your skin. Once you apply rosehip oil to your skin and rub it in, the oil will absorb within five minutes. Rosehip oil is also popularly known as rosehip seed oil.
Pure Rosehip Oil to try: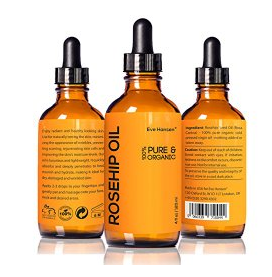 This is the current rosehip oil I'm using by Eve Hansen. I purchased it from Amazon.com
Read my review of this Eve Hansen Rosehip oil
This is what this looks like in person when you get it in the mail: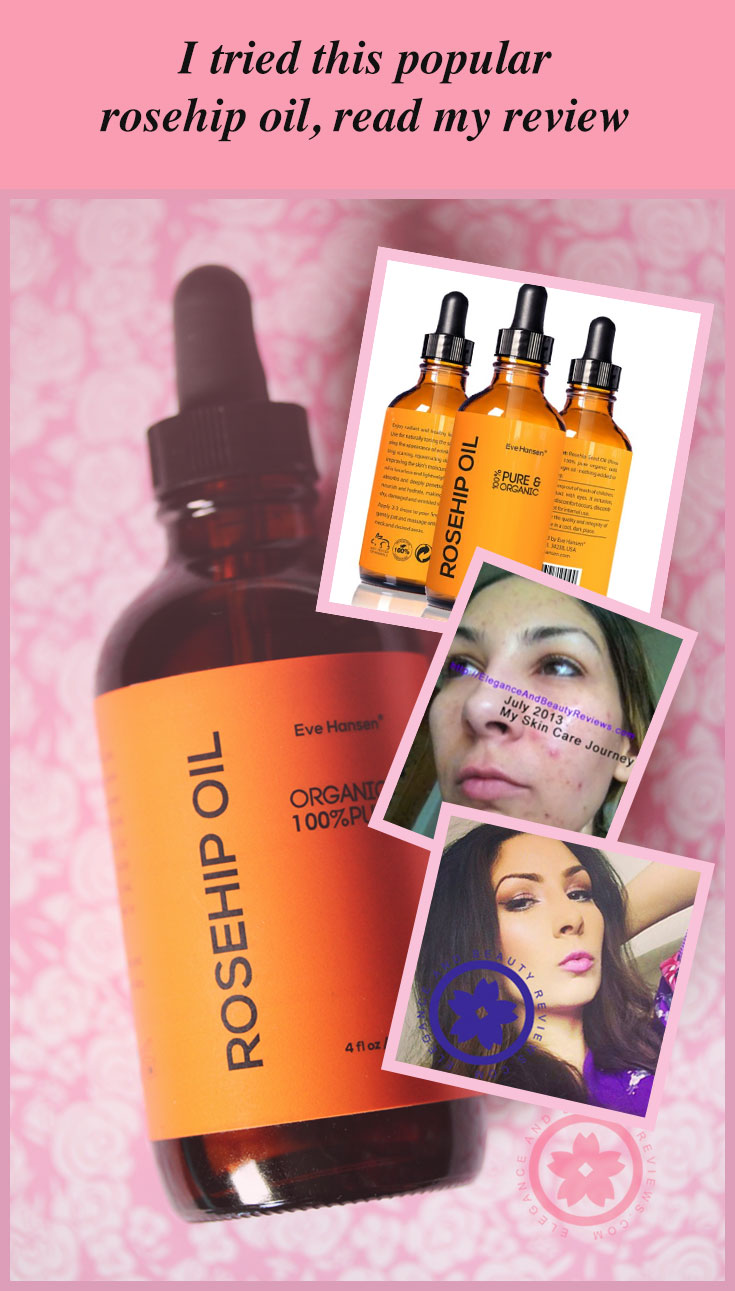 More Rosehip oil products to try:
Miranda Kerr, the lovely Victoria's secret Angel, has just developed an all natural and certified organic skin care line.
She grew up in Australia with a very keen sense and love for living organically. When she moved and started living in busy cities, she could not find natural and organic skin care, so she decided to establish her own.
She encourages women to detoxify their skin by using all natural organic skin care and living a clean lifestyle. She also mentions the fact that the average woman uses beauty products on her skin that have over 200 chemical ingredients. More than half of these chemicals absorb into the blood stream! Read more about Kerr's organic lifestyle.
Kora Organics by Miranda Kerr. – A light weight creamy moisturizer with Rosehip oil with jojoba and many other precious oils that smell amazing. This is perfect if you're not ready to make the switch and use an oil. ($65.00)
Weleda Wild Rose Night Cream – Another creamy light weight rosehip oil

How to Use Rosehip Oil / How to Properly Apply:
Rosehip oil is unlike any other oil applied to the skin. This is why it may seem confusing the first time you apply it to you skin.
It's known as a "dry oil", meaning it's "non-greasy".
When you apply it to you skin, it will completely absorb into your skin after ten minutes, rather than sit on top of your skin.
How Do you use rosehip oil on your face?:
Take a dime sized amount of oil
Apply small dots around your face or body
Blend using your fingertips
Massage gently into the skin
Allow to absorb for ten minutes
For extra dry areas, apply another application
If any areas do not absorb after ten minutes, wipe and blend into other areas
Now that you know how to properly apply rosehip oil, here's my personal routine:
My rosehip oil skin care routine
Famous Celebrities that use Rosehip Oil:
Kate Middleton and Miranda Kerr love using rosehip oil
These ladies are known for having a gorgeous glowing complexion. They swear rosehip oil is their skin care secret.
They literally have influenced thousands of women to add rosehip oil to their cart. Source: GoodHouseKeeping.com
Rosehip oil FAQ:
Q: Does Rosehip seed oil smell?
A: It does have a light "herbal" smell. You can mix it with your favorite lotion to mask the smell.
Q: Which rosehip oil is best for face?
A: I highly recommend Eve Hansen's brand because it's pure, paraben-free, cruelty-free, and I have good results.
Q: Is rosehip oil and rosehip seed oil the same?
A: Yes! It's the same oil.
Q: Does rosehip oil need to be refrigerated?
A: No.
In conclusion, there's really nothing rosehip seed oil can't do.
It's pretty amazing!
Thank you for reading The skin care benefits of rosehip oil
If you enjoyed reading this, please read: Rosehip Seed Oil is my Skin Care Obsession Health Benefits and Uses.
If you liked this article, you'll love learning why Rosehip Seed Oil is the Next Coconut Oil
For more information about Rosehip Seed Oil Benefits please read this more in depth article.
Do you have acne and acne scars? read how the Rosehip Oil Benefits Acne
XO
-Jen