Kate Spade Supplies for Home & Office + Review & Elegant and Cute office supplies and Ideas. My desk and office looks like a happier workplace now that I've purchased these Kate Spade office supplies. If you've been looking for professional, elegant and cute office supplies, come check out these ideas, supplies, even cute desktop wallpapers. Not only does my office desk cheer myself up, it also makes my coworkers smile! Get inspired, I'll even show where I purchased everything online.
I love my New Kate Spade Office Supplies
Check out my mini office make over and cute office supplies I purchased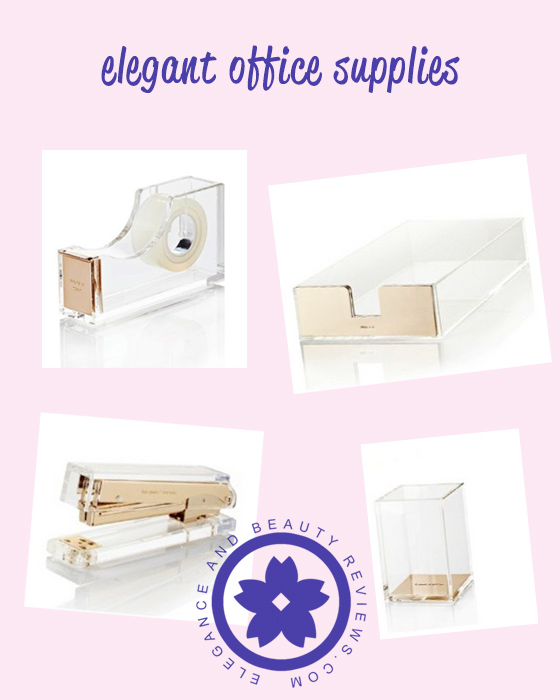 Here's my Kate Spade office supplies review and photos of my desk. If you love gold, polka dots, and elegance, you need to get these Kate Spade office supplies for your own desk. I purchased these all from amazon.com after seeing photos of cute office desks online and office supplies. (I think I spent an hour looking at office decor on Pintrest) However, unfortunately the majority of photos online are not as good as when you see these Kate Spade office supplies in person. I just discovered this Kate Spade office supply collection and it's a Summer 2014 collection I had no idea existed until last month. Grab them while you can online!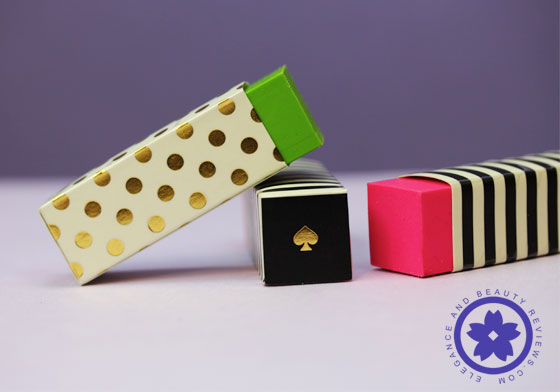 I'm truly amazed at the quality and beauty of these Kate Spade office supplies
For example, the Kate Spade acrylic gold pencil holder, stapler, and tape dispenser are sparkly and gleam with gold! The edges of the acrylic pieces sparkle like crystal! They're going to be very eye catching on any desk. Replacing your ordinary office supplies with these will give your desk a 360 instant makeover. They're clean, chic, and of such high quality, less will truly be more in this case.
Take a look at this Kate Spade Pencil cup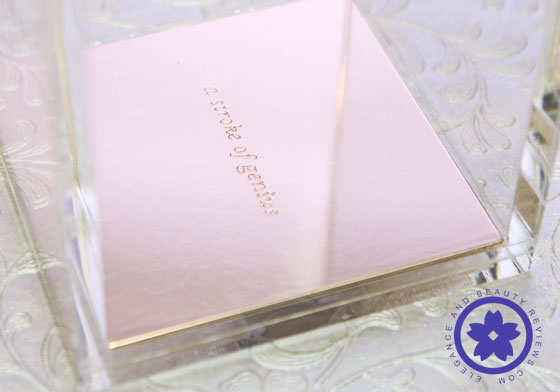 It's acrylic and gold, sparkling from every corner. Picking it up, it feels solid like glass, I accidentally left my finger prints all over it while picking it up becoming enchanted at its gleaming gold engraved message inside "strike of genius" I love how pretty this displays my favorite pens and pencils. What woman wouldn't want this on their desk? It's chic and tasteful for any desk to the most professional business woman to the cutest teen desk. heck, I'm thinking of getting another just for my makeup brushes on my makeup desk.
I had to take some epic photos of these Kate Spade office supplies
Photos online just don't do Kate Spade's genius designs justice. This woman is a modern design mastermind and my office supply hero! Thank you Kate Spade, truly Thank You for producing these cute office supply essentials. My desk even thanks you.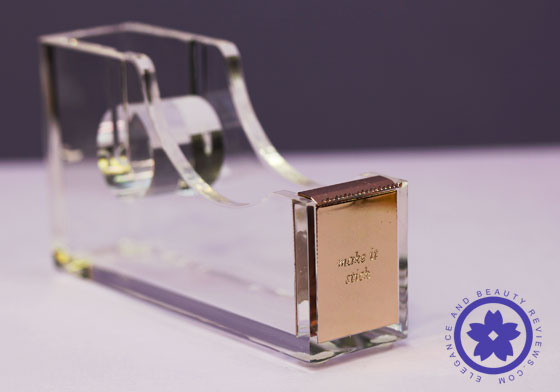 Take a look at this Kate Spade Tape Dispenser
Another acrylic office supply accented with gold and engravings. It says "make it stick." Honestly, I don't even need tape at my desk and I wanted this cute office supply piece. Why Jen? Why?! Hey, I might need tape someday and I'd rather have the option having a gorgeous tape dispenser. Sorry scotch tape, your my BFF for holiday gift wrap only and you'll be kept in a drawer from now on. Sorry.
If you want to get even the most amazing tape to match, check out "washi" tape and be amazed. I had no clue this sort of cute tape was on the market. Did you?
Take a look at this Kate Spade Stapler
Forget your boring 9-5 stapler, this gold and acrylic Kate Spade stapler adds a punch of pizazz! Don't forget to purchase some matching gold staples for the "wow" moment of truth. It may be "going overboard" but the magic is in the details. It wows and excites with each use. People are going to want to borrow this from you, warning! As you know, staplers are one of the most borrowed and forgetful to return item in the office.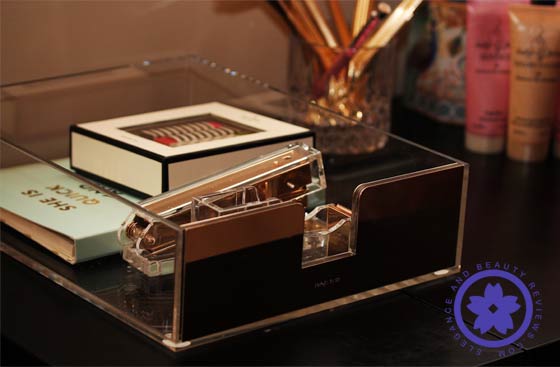 Take a look at this Kate Spade Letter Tray
To really complete this collection and bring it "all together" I recommend this chic letter tray. Yes, another Kate Spade smash hit of the office. I'm so amazed at the beauty and glam of Kate Spade letter tray. If you purchase the other Kate Spade office supplies and leave this one out, you'll be kicking yourself. Get the complete Kate Spade "strike of gold" Summer 2014 collection while you can find it anywhere online.
Tip: you might want to get two of these Kate Spade letter trays, one for "in" and the other for "out"
Are you sick of all my polka dot fun yet?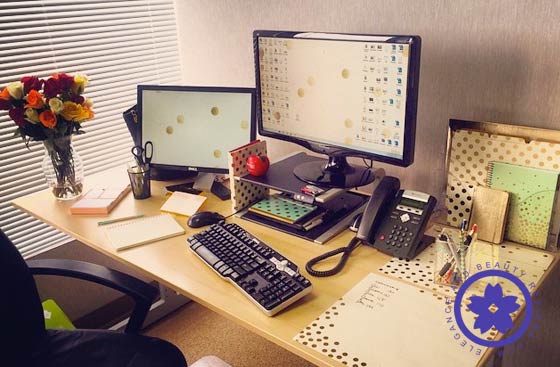 My boss calls me the "polka dot girl" LOL. I'll take that title and enjoy it!
Kate Spade gold polka dot file folders set of 6
See the polka dot folders on the right side of my desk? OMG It was love at first sight when I discovered these cute Kate Spade golf polka dot file folders. I just love looking at these on my desk. gold Polka dots, they're playful, elegant, and just plain pretty fabulous! They're also high quality and made of a nice thick paper stock. The gold is a nice and shiny reflective, not matte. You can see the light reflective shine from any view.
More Kate Spade Office supply pizazz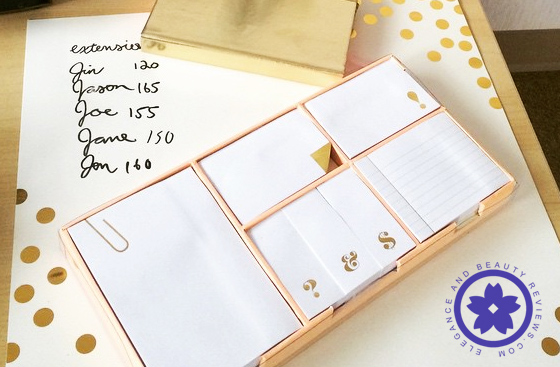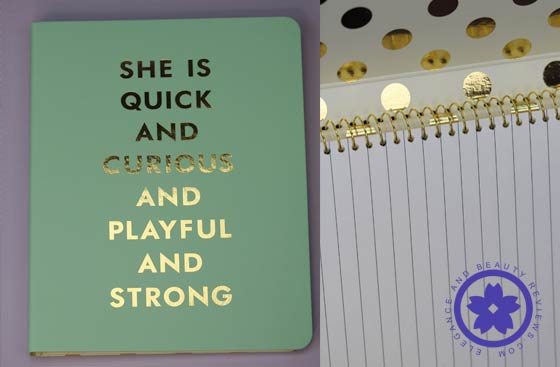 Don't forget this coordinating gorgeous Kate Spade Note pad, erasers, and spiral notebook.
Give your Workspace a mini makeover
You don't have to go "polka dot crazy" like me, decorate your office in a way that makes you smile. Your office desk and workspace is where you spend on average about 80 hours a month if you're working full time. Does it uplift you with positive energy or drain your with despair? Depending on the type of person you are, you can easily create a more appealing and attractive workspace that dazzles and delights you each morning you enter the office. Investing in a few quality office supplies can do wonders how you start your morning, even cheer up people who visit you desk!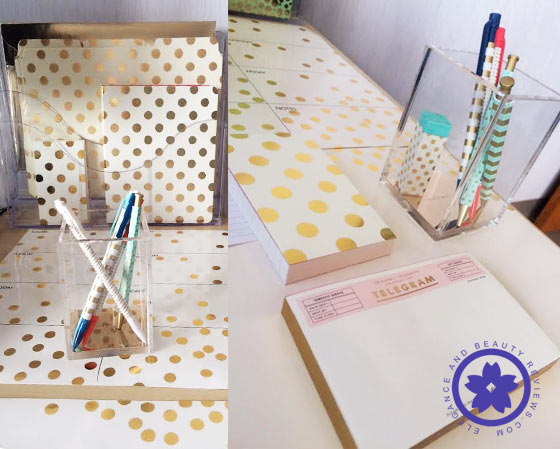 I don't even "need" some of these Office Supplies, I admit I just like to use them as decor
Sure, I don't need fancy notepads like this Kate Spade "telegram" notepad. However, the gilded gold edges of the paper and gold lettering is so pretty and elegant it makes me smile and it's lovely desk decor.
I browsed hundreds of cute office supplies online
My new Kate Spade office supplies are a big hit at my work. I browsed hundreds of chic, cute, and elegant office supplies online and that's what I purchased.
I'm overall happy with my Kate Spade office supplies! The quality is stunning. I recommend you purchase this rare collection before it's sold out everywhere online.
Where you can buy these fancy Kate Spade office supplies:
I only had luck online amazon. Some of these things are hard to find so I included links to everything I purchased:
Do you like my polka dot desktop wallpaper? I downloaded it for free:
There's tons of elegant and pretty desktop wallpapers here too
Gold Confetti Desktop Wallpaper
Thanks for reading: Kate Spade Office Supplies Review + Cute Office Supplies. Which is your favorite item?