How to Tighten Neck Skin

9 Ultimate Solutions

Finally, how to tighten neck skin.
Whether you're looking how to tighten neck skin without surgery (aka turkey neck home remedies) or new neck tightening procedures, or even the best neck cream for saggy skin, they're here.
It has always been typical for people to worry about increasingly prominent wrinkles on their faces but, excess skin on the neck can go unnoticed for years until the damage becomes visible enough to attract even the owner's attention. Does the best neck cream for saggy skin have what it takes to restore the youthful appearance of aging skin? Perhaps but, here's the big secret: there are eight other ways to tackle your loose, saggy skin neck problem.
What's New In Aging Neck Skin Care?
Is it a double chin, saggy or excess neck skin that is causing you alarm? The ultimate solution to remove turkey neck could be the treatment that you are looking for. Listed below are nine of the best treatments and remedies to tighten neck skin. Whether one bests the other is not the question but that your consideration should be how bad your neck skin appears and what results are you looking forward to see.
Exfoliation.

Exfoliating regularly will intensify the corrective functions of the eight other escess skin solutions included on this list. Any effective anti-aging skincare regimen will include a mechanism for exfoliating skin as this facilitates faster skin renewal and regeneration. How frequently should you exfoliate? It depends on the method of your choice, your skin's tolerance and the strength of your exfoliator. Under normal circumstances, exfoliating once up to three times weekly is the recommended frequency.
Professional Exfoliation.

Whatever exfoliation method you use at home ought to be periodically topped off with a professional microdermabrasion or chemical peel. Why? These treatments reach deeper into your skin and while these can be done at home with a DIY microdermabrasion kit or a professional grade chemical exfoliant, the results are simply not the same. Besides, since the objective is deep exfoliation and you can expect more severe bruising, it is best for you to be under the care of a trained professional.
Ultrasound Therapy.

Also termed, "ultherapy", this procedure utilizes ultrasound waves to deliberately injure the skin tissues surrounding the platysma muscle of the neck which is vertically oriented from your chin down to the base of your neck. This mechanism causes skin cells around these parts to produce collagen fibers faster to help makeup for the damage. Expect minimal or gradual improvements in skin tone with this procedure.
Kybella.

This treatment is FDA-approved particularly for the elimination or shrinking of double chin. This procedure further enhances the neck skin contour by pulling it up and tightening the skin. What to expect with Kybella? This is a minimally invasive procedure that requires injection into the affected area. Kybella, which consists of fat-dissolving acid, then melts away the excess fats that causes you to show a double chin. Kybella is typically combined with Ultrasound Therapy for more intense and longer-lasting improvements to saggy, turkey neck skin.
Intense Pulsed Light Laser Treatment.

This procedures involves the use of broad spectrum light waves in contrast to the highly specific frequencies used by laser treatments. IPL is used for skin tightening and resurfacing purposes because of its ability to correct multiple skin issues, including hyperpigmentation with every treatment session. Although, it may take several visits to your skincare specialist before you can see visibly tighter neck skin.
Radio Frequency Therapy.

Completely non-invasive and powerfully capable of visibly enhancing the appearance of aging neck skin, this procedure makes use of a device that delivers radio waves that deeply penetrate the skin. As it traverses the deeper layers of your dermis and subcutaneous layers, it reawakens sluggish skin cells, causing collagen to be produced in significantly higher volumes, and facilitating faster skin turnover. RF and IPL therapies are often combined to result to positive impacts delivered sooner.
Liposuction.

It is now considered a traditional procedure but, it remains helpful in achieving neck skin improvements for more problematic types of neck issues. In this procedure, the fat is sucked out of the fat deposit area which causes neck skin to appear loose and saggy. Liposuction is now commonly combined with a non-invasive skin tightening procedure, such as RF Therapy or Ultrasound Therapy to help tighten the gap left by the extracted neck fat.
Topical neck creams.

Again, depending on the extent of skin damage, a well-formulated neck cream can help you eliminate your excess neck skin. In any case, incorporating a neck cream in your daily skincare regimen is also highly recommended even after you've had any of the procedures listed above. Great for maintaining the youthful and healthy appearance of your aging neck skin, the best products can also, by themselves, improve the appearance of loose and saggy neck skin, specifically by instantly filling, plumping and pulling up loose skin. Results derived from topical creams, however, are fast but short-lived. The best formulated products will have buildable effects but, it takes several months before improvements from topical neck cream alone to become visible.
When choosing a neck cream, it is best to have the following ingredients in the formula for maximum positive impact to your skin:
Peptides. These help improve cell-to-cell coordination, significantly curbing the rate of repair, regeneration and renewal.
Moisturizers and Hydrating Ingredients. Examples include hyaluronic acid, essential oils, glycerin and squalane.
Antioxidants. Maximize skin healing and protection with top antioxidants, Vitamins C, E and B3 (Niacinamide).
Ceramides. These components help rebuild the skin's surface layer to strengthen your skin's protection from future damage.
Sunscreen.

Apart from natural body aging or senescence, frequent unprotected sun exposure damages your skin inside and out. Sunscreen, coupled with other sun protection strategies, helps your skin get ahead of the damage that badly require repairs. Sunscreens infused with antioxidants work well in protecting your skin from UV, infrared from blue screen on your devices, as well as free radicals from both oxidative stress and environmental sources.
Conclusion
When you see excess neck skin, don't waste time, There are at least 9 solutions that you can try to improve the health and appearance of your neck skin starting now. Imagine what results these solutions can bring when you mix and match these in giving your skin a boost, as well as to provide protective and corrective functions. Time to get that saggy, double chin out of the way!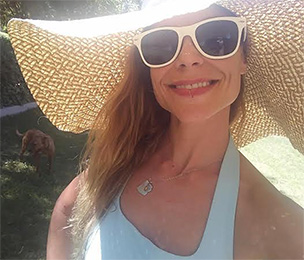 Author Name – Brittany Artwohl
Brittany Artwohl is a fitness expert and outdoor enthusiast in sunny Arizona. A certified first-responder, lifeguard and fitness trainer, she has also worked as a professional nutrition writer with a focus on nutraceuticals for over 7 years delivering newsletters, blogs, press releases, product listings and more. Today, you'll find her work at mtnweekly.com, budnow.com, beverlyhillsmd.com and Vital Updates, among others.