How to Get Clear Acne Free Skin
This is my secret home natural remedy how to get clear acne free skin fast! This is a natural face mask you can make at home for treating acne. If you use this acne mask regularly, you will always have clear acne free skin! You only need 3 simple ingredients and most importantly it actually works. You can find these anti acne skin care ingredients in your grocery store. Your skin will glow and your acne will clear up fast. I've been using this acne mask for the past five years to naturally clear my acne and prevent new acne from forming. If you have a special event coming up, you'll want to use this acne free face mask at least four times a week to get clear acne free skin fast. Here's my recipe how to get clear acne free skin fast.
When I have an important event and I need clear acne free skin, I make sure I have the tree ingredients in my kitchen. I admit sometimes it's hard to find the time to do face masks. I try my best to do this acne face mask before bedtime. I usually do this facial after a shower before bed because your skin is softened and your pores are open.
When your skin is acne free, you don't have to worry about covering your acne. You can go without makeup and that's the best feeling! Having gorgeous skin!
How to Get Clear Acne Free Skin Recipe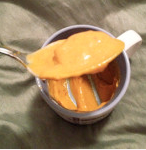 2 Tsp Turmeric spice
1 Tablespoon of Plain yogurt
1 Tsp Lemon Juice (freshly squeezed)
Mix it into a nice paste. Not too runny and not too stiff.
Mix these three anti acne ingredients in an airtight container such as Tupperware or ziplock storage containers. You can save any leftovers or make enough to last four days (recommended) Just use ratios. Keep refrigerated. Only keep in refrigerator for a maximum of four days. You don't want this to go bad.
Apply this anti-acne face mask to your face and lay down and relax if you can. 😉 Usually, I apply a light coat to keep it comfortably on my face. If you apply too much it will be runny.
LOL I always picture the scene from the movie Mrs. Doubtfire when her white whipped cream face mask falls into another woman's cup of tea. LOL. I'm always doing housework wearing my face masks around the house. It's like killing two birds with one stone.
The most important ingredient is turmeric, please read the benefits of Turmeric spice.
Turmeric for Treating Acne
The first anti acne ingredient is Turmeric spice. You can find Tumeric in the spice aisle! It's a beautiful deep-orange-yellow spice that's part of the ginger family. It is a native to southwest India. The roots are harvested, boiled, and dried in hot ovens. Finally, they're ground into the beautiful deep-orange-yellow spice. It's tasty, but I like to save it for treating my acne! Turmeric has many skin care benefits, especially for treating acne.
Turmeric for treating Acne:
This Tumeric face mask ingredient has antimicrobial properties to help destroy acne causing bacteria. It's also an anti inflammatory spice and it can sooth your acne too! The tumeric will also beautify the skin, repairing damaged skin, helping correct wrinkles, and scars.

Turmeric also is used as:
Natural pain killer: active ingredient curcumin
Treating acne: antimicrobial properties
Detoxing the liver
Repairing damaged skin
Treating wrinkles
Treating Cancer
Natural Dye
Yogurt for treating Acne:
Yogurt helps this face mask stick together and it's also beneficial for treating acne. You skin will feel pampered, silky, and refreshed with this added Acne Free Skin ingredient.
Zinc + Vitamin B Nourish the skin
Yogurt kills some bacteria
Balances the skin's PH level
Treats acne
Prevents acne
Lactic acid exfoliates dead skin cells
Moisturizes skin
Lemon Juice for treating Acne:
Fights inflammation
Kills acne bacteria
Helps clear clogged pores
Helps oily skin
Thank you so so much for reading How to Get Clear Acne Free Skin. If you have any questions about this facial, please feel free to ask in the comments section below.
xo -Jen