I've been using Eve Hansen Rosehip Oil for the past three years. Why it's taken me three years to write a review is simply because I wanted to test this rosehip seed oil and compare it to other brands. This brand of rosehip oil by Eve Hansen is the highest quality rosehip oil I have ever tried and it's the brand I'm 100% confident recommending and purchasing from. Keep reading my Eve Hansen Rosehip Oil review and learn why I think this is the best rosehip oil on the market.
I'm passionate about natural skin care to say the least! I'm really excited sharing my results using this Eve Hansen Rosehip Oil. I discovered it by searching for a rosehip oil that was USDA organic and cold pressed.
Something else that was very important to me was looking for a brand that concentrated on quality and of course cruelty free, meaning the company does NOT test on animals. Third, I wanted the bottle to be glass and dark colored to protect from sun / vitamin loss. Next, I wanted to test a rosehip oil that agrees with sensitive skin, bingo. Finally, it had to be pure rosehip oil without anything added (such as fragrance or filler oils) and nothing taken away during processing. After searching high and low, I discovered the Rosehip oil in a 4oz glass bottle highly recommended on Amazon.
This is the best rosehip oil I've tried for many more additional reasons besides the benefits mentioned above.
What I love MOST about this Eve Hansen rosehip oil is that it works the fastest in my experience.
From the first time I tried it, it deeply moisturized my face and palm of my hand where I tested it.
Best of all, it didn't leave a greasy residue. It quickly absorbed deeply into my skin giving me the look of naturally healthy skin with a healthy glow from within.
This rosehip oil has the highest potency and it's 100% pure, loaded with skin loving fatty acids, ready to provide an impressive list of skin care benefits.
Read more: Full Skin Care Benefits of Rosehip Oil
When I started using this rosehip oil every morning and night on my face, my skin started to look more even toned. After a few weeks I honestly didn't need any foundation. I could walk around the house makeup-free and feel pretty. That's huge for me. After all, I've been on a skin care journey.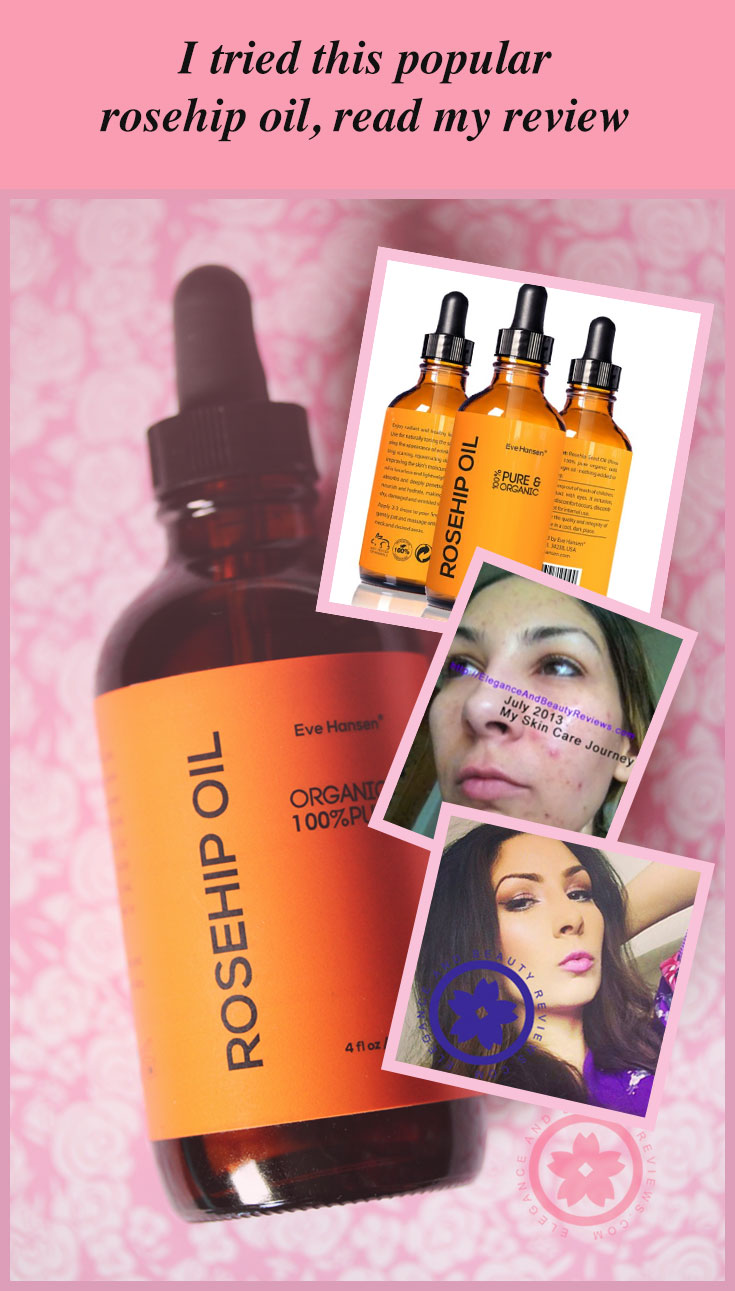 My skin used to be just terrible. I was using chemical cleansers, drying out my skin with acne treatments and not using natural ingredients. I had dark under eyes, acne, oily combination skin, patches of dry skin, my jowls were starting to look saggy, acne scars, hyper pigmentation, puffiness, yuck I could go on… I cannot believe how much my skin has healed and transformed into gorgeous youthful skin. Now people come up to me for advice and I give it to them. 🙂
*Update: I have used up a few bottles of this rosehip oil over the years. When I'm all out of this, my skin starts to feel dry and does not look its best to say the least 😉
Look what this Eve Hansen Rosehip oil heals:
Heals dry skin
Heals fine lines
Heals Acne scars
Heals Eczema
Heals Psoriasis
Heals sun damage
Protects skin from sun damage
Improves skin texture
Skin brightener
Improves appearance of pigmentation -restores skin tone
Repairs and Regenerates damaged skin tissue
Contains Natural Vitamins
Natural source of vitamin E
Natural anti-inflammatory
Natural anti-oxidants including lycopene
Natural source of fatty acids omega 3,6,9
Natural source of vitamin C
Look at the gorgeous amber color this rosehip oil has: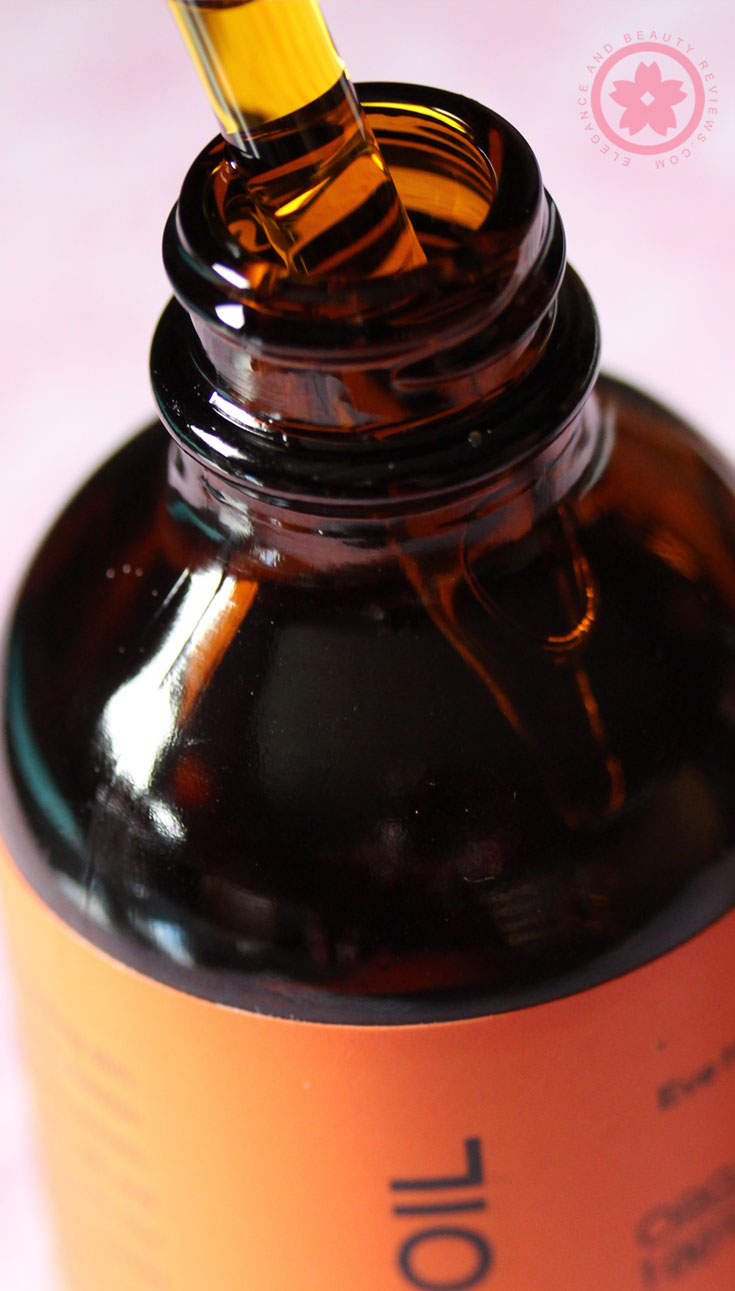 I cannot say enough great things about this rosehip oil. I use it every morning before I apply my makeup, I also apply it generously before I go to sleep. If you're going to only try one skin care oil this year, go for the rosehip oil by Eve Hansen. Thanks for reading.
If you have any questions about this rosehip oil, please leave them in the comments below. Also, I'm interested in hearing your fabulous results too.
Last, I want to mention I was not paid to write all these wonderful things by the Eve Hansen rosehip oil company, also I purchased this rosehip oil on my own.
XO Jen