Here's 3 affordable Elegant Office Fashion Ideas for Women. Ladies, if you want to gain more respect at work, dress with elegance. Here's a few photos of me wearing my favorite office outfits and where I purchased everything online. If you're looking for office wear inspiration, these ideas are appropriate for any age. Please check out these 3 inexpensive Elegant Office Fashion Ideas for Women.
Bring elegance into your office
Elegant Office Fashion Ideas for Women
Hello ladies, perhaps you're going back into the workplace or just want to update your office wardrobe and you're unsure what's appropriate for work. If you want to not only play it safe but gain respect and look lovely, check out my elegant office fashion ideas for women of all ages. Employers want classy and sophisticated employees. It makes any company look more professional and upscale when employees dress respectful.
First I would like to mention that I have been working in male dominated industries for the past decade. Most places I have worked, I was also the only woman in the office. One thing that placed me on the right path early in my work career has been dressing respectful.
Elegant Office Fashion Ideas for Women
Elegant Office Outfit #1
Polka Dot Power: Polka dot blouse, long black skirt, earrings, nude pumps, black handbag, pantyhose, black tank top under shirt.
(Where I purchased everything is listed down below)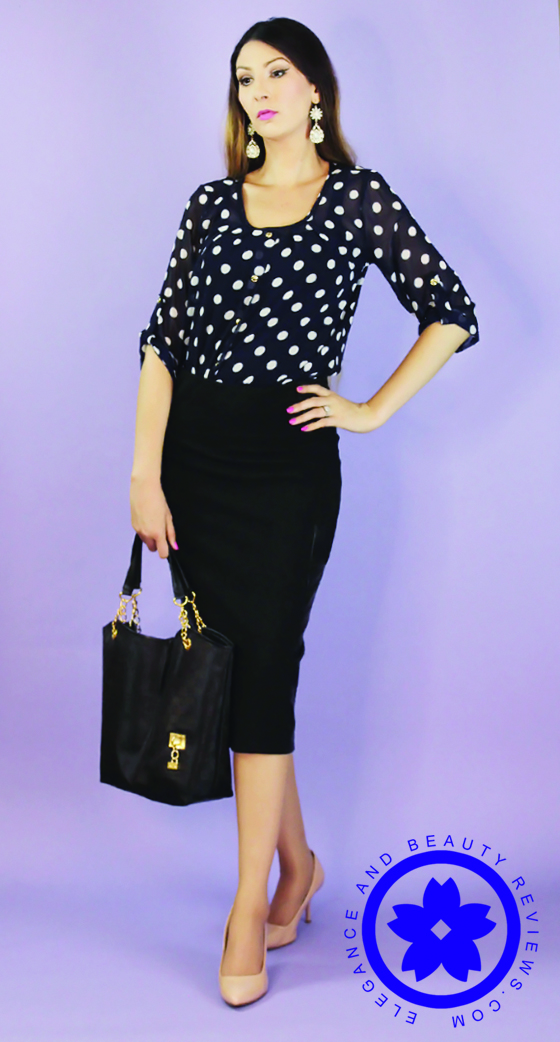 Don't you want to stand out for your job SUCCESS rather than your "SEXINESS"?
It all starts with respecting yourself. Your morals and your work ethics are important, reflect them in your dress attire. Ladies, whether you like it or not, we're all judged on our outward appearance and showing too much skin actually shows the wrong message in a professional work environment. How does it look when you walk into a professional business and people are walking around in flip flops? Not very professional of course right? Sure there's casual Friday's but even then, you should know what's appropriate work attire.
Here's one of my favorite quotes that beautifully translates this:
The more skin you show in an office the less power you actually have.
I have always noticed successful, powerful women dress professional and I adopted this in my teens when I first entered the work force. As always I wanted to dress in a fashion that would make my mother and family proud of me too. Growing up with young brothers, I always wanted to dress in a way that would set a good example showing that women are equal and respectable. It feels good knowing I have been able to work at places and not had to "rely on my looks" to be seen as a valuable asset to a company.
Elegant Office Fashion Ideas for Women
Elegant Office Outfit #2
Chic Chevron: Chevron blouse, grey slacks, navy blue shoes, navy blue patent belt, earrings, black tank top under shirt.
(Where I purchased everything is listed down below)

My first step towards success would be as simple as "dressing for success."
You would never believe how many times my bosses or co workers have thanked and complimented me for dressing respectful.
Showing cleavage, midriff or too much leg makes the office work environment look unprofessional. It would be like men walking around in their boxers or just wearing their undershirts. Sadly, many women don't realize this. As women, we have come very far yet we have so much longer to go. Why not start with showing that we respect ourselves?
Fun unbelievable office story time…
Get your coffee, it's about to get good. Let's dish!
I remember applying to a job and getting "the call" to come in and interview with a large company. The owner of the company was nice until he asked me how bad I wanted the job. He told me…
"if you're serious about coming in to interview, make sure you wear a skirt OK?"
What????!!!
The next interview was weird too… I walk with a manager down the hallway so he can interview me in his office. On the way as he's talking to me, he turns his head to stare at woman's behind that passes us. These ladies were dressed with short skits and cleavage bearing blouses. I thought I was on a hidden camera show. Really? I felt uncomfortable as we made it to his office. He was married and was obviously a great big pig. I declined the job offer.
I remember one time at work, my boss wanted me to talk to a young lady about her work attire. We walk across the building and see this lady showing full cleavage and my boss discreetly asked her to hide it by waving at her and moving his hands across his chest trying to "hide his chest" She looks up and smiles big and says a loud "Thank you." My boss shakes his head and crosses his hands "no no no." I had a hard time now laughing at this moment.
Dress to be taken seriously not taken for a fool
Here's some lovely outfits I wear in the office. I love these blouses, slacks, skirts, shoes, and purse.
Lets talk professional office fashion guidelines
Skirts: Nothing thigh length. That's too short.
Pants: No jeans, no skin tight leggings or "jeggings" No Midriff belly showing.
Blouses: No skin tight, No cleavage. If your shirt has a "sweetheart" neckline or is cleavage bearing, wear an under shirt. I love to wear black tank top shirts underneath. Try not to show your bra straps. Nothing see through that shows your bra ; wear a solid under shirt.
Pantyhose: Yes, wear panty hose. It can flatter your legs, but don't wear bizarre patterns. It can help make your legs look tanned, even colored and hide imperfections. You should never show any visible leg hair, bruises, cuts, scars. Throw away any pantyhose that has runs or damage.
Hair: Try to keep your hair out of your eyes, no buns on top of you head, no rainbow hair colors, if wearing a ponytail – wear it low at your nape. (back of your neck)
Garment care: Be sure to cut away any loose threads, keep your clothes clean, shoes clean.
Perfume: Don't wear any perfume at work. The only smell you should happen to give off is the scent of soap or freshly washed and dried hair. (Never show up to work with wet hair) How many times have you gone to work and had a headache from breathing in someone's perfume or cologne? Most people apply a scent and become "nose blind" to it. Then they spray more to ensure the scent is still there. Many professional companies have a Scent-Free policy for the workplace.
Shoes: No platform pumps, No open toe shoes, no sneakers, no dirty shoes, nothing taller than 4″. You should be able to walk properly in them.
Elegant Office Fashion Ideas for Women
Elegant Office Outfit #3
Signature Blue: Blue blouse, peach floral necklace, grey pencil skirt, black suede and copper tipped pumps, pantyhose, black tank top under shirt.
(Where I purchased everything is listed down below)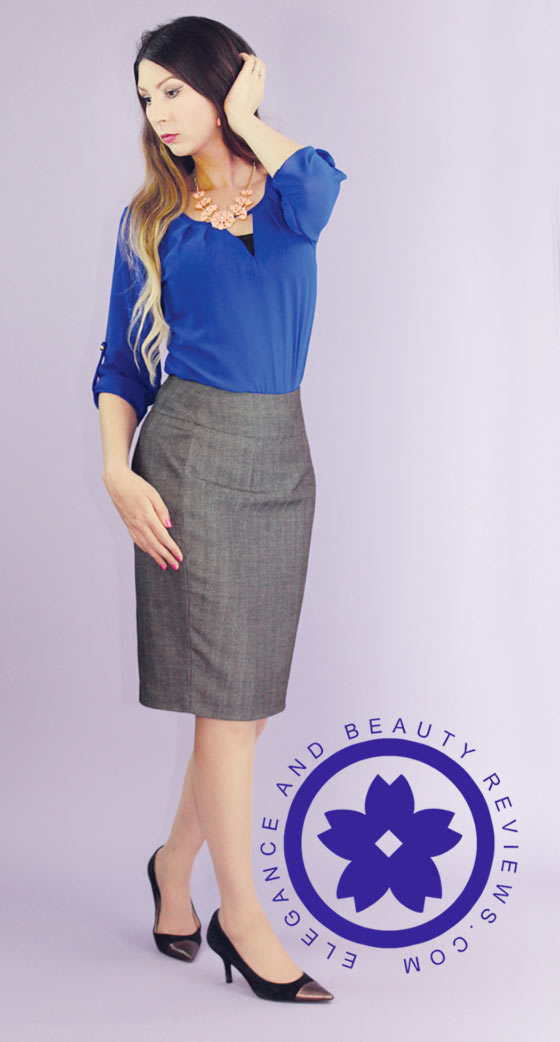 Where I purchased these affordable and elegant office work clothes:
Blouses were all purchased online at A'GACI for the average price under $20.00 each: A'GACI Blouses
Navy Blue Patent Skinny Belt purchased at A'GACI online for under $3.00: A'GACI Accessories
Skirts and pants were purchased online and in store at Target also priced under $20.00 each: Target Women's Clothing
My black tasseled purse:
Shoes:
Nude pumps purchased at A'GACI: A'GACI Shoes
Navy Blue Pumps by Katie & Kelly purchased at DSW
Suede and copper tipped pumps purchased on sale in store at COACH
Jewelry:
Purchased online at: A'GACI Accessories
Elegant Office Makeup Tutorial Video:
Want to bring even more elegance into your office?
Check out these elegant office supplies I use in my office.
Can't get enough elegance? Here's my top 10 ways how to be a truly elegant woman
Final thoughts,
You don't need to spend a lot of money to look elegant and respectful. Remember, there's always something memorable, soft, and gentle about an elegant woman.
Until next time,
Thanks for reading about my Elegant Office Fashion Ideas for Women.
-Jen