What's the best electric callus remover?
Last week I had a few huge calluses on my feet that the MicroPure Rechargeable foot file blasted away fast!
The Micropure rechargeable foot file will give you soft pretty feet super fast! I promise! Today I'm sharing my MicroPure foot file review and proving why it's the BEST callus remover.
YES! Check out my amazing electric callus remover review + before and after photos using the MicroPure rechargeable foot file.
If My feet can go from "busted" feet to Feet of a goddess; yours can too!
Here's my before photo of my foot with the MicroPure callus remover. Wait until you see the upclose and personal before photo with my flaky skin and rough dry calluses.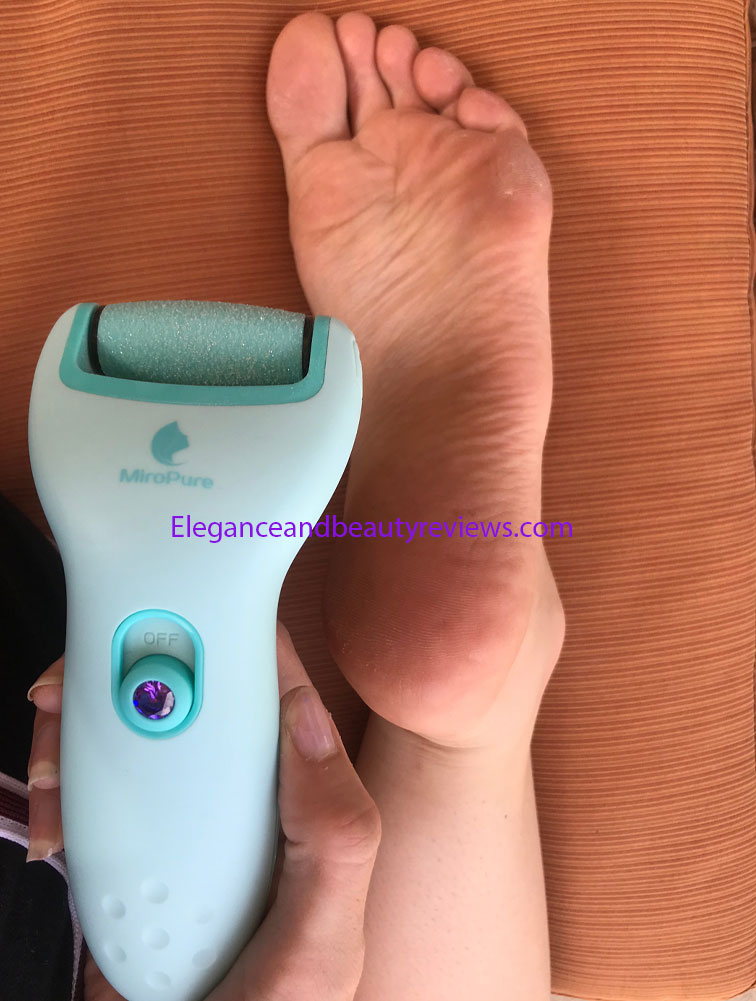 Up close photo of my dry callus before I used the MicroPure callus remover.
Wow, yuck! I can't believe how dry my feet look. Calluses, flaking skin. Not good!
Does this foot scare you? Sorry, but I'm keeping it real.

You can tell I often walk "pigeon toed" See all the dry skin on the upper corner of my foot.
In this photo I'm about to turn on the electric Micropure callus remover.
Watch how fast I remove the dry flaky skin and calluses.

After using the MicroPure callus remover for ten seconds, look at all the dead skin accumulated on the unit.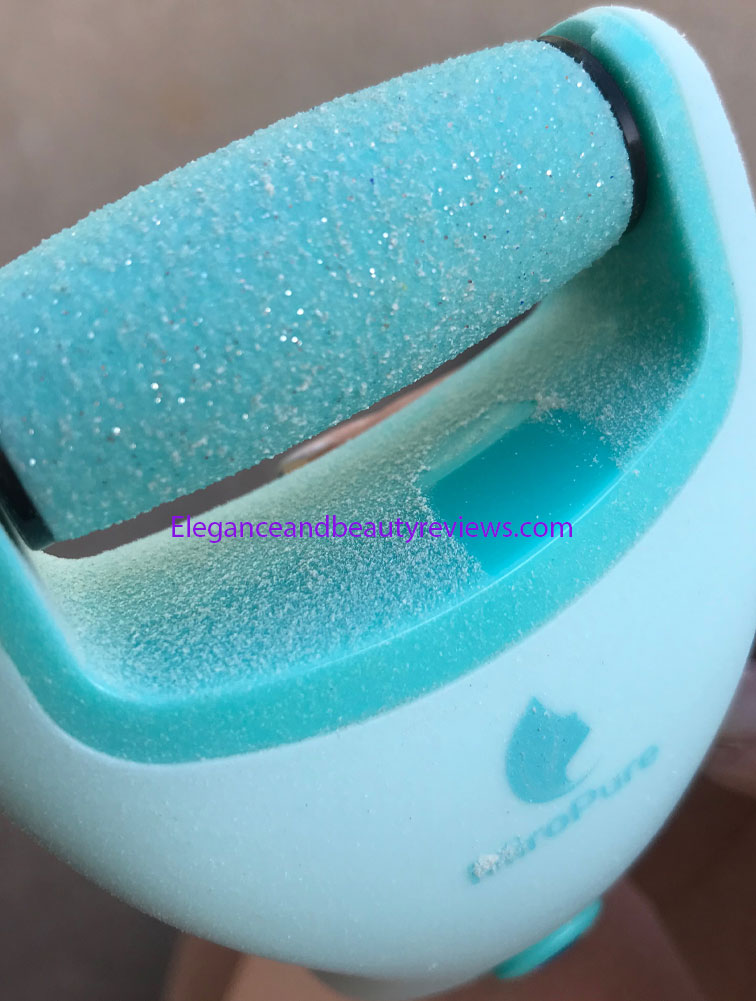 The after photo of my foot! The calluses are removed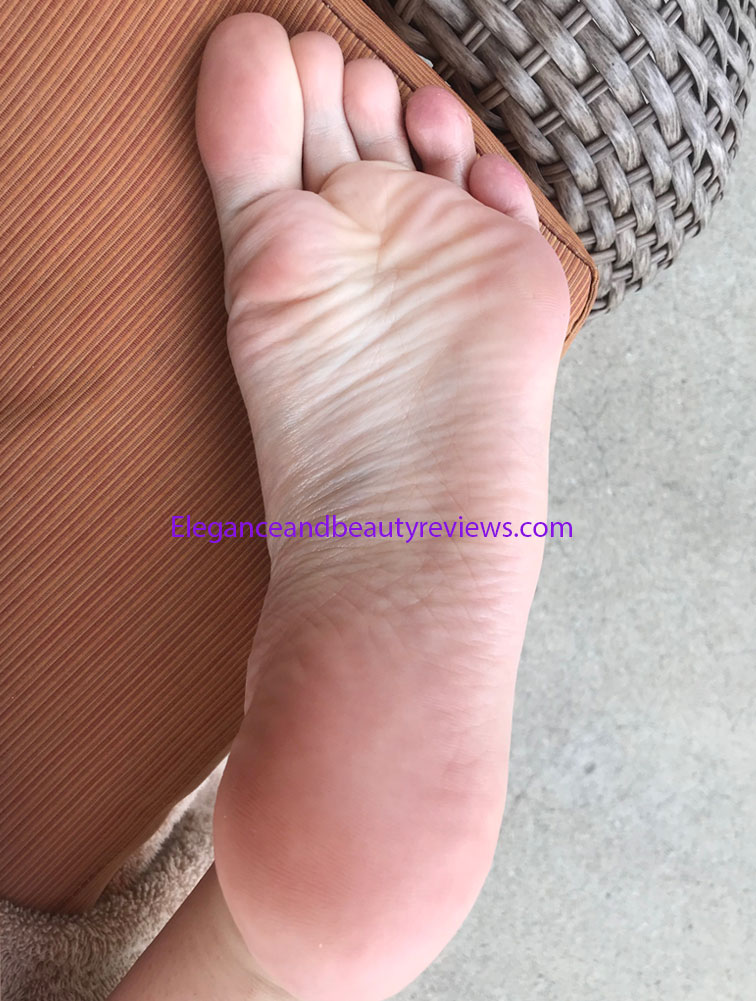 MicroPure Rechargeable Foot File Features
Electric -⚡ POWERFUL outputs 5V / 1A
Rechargeable – takes 30 minutes
USB charging cable
Has a fine and coarse roller heads
Long lasting charge 80 minutes
Waterproof – easy to clean!
Replaceable roller head
Cleaning brush
Affordable
Pretty design
Removes dry callus fast
Removed cracked heels
Silky feet in thirty minutes
Costs under $27
Why Amope Pedi Perfect is NOT worth it
Amope uses 4 AA batteries
Amope Costs $35-$38 +
More noisy
Not as powerful
How to use the MicroPure callus remover for best results:
Soak feet in very warm water for at least ten minutes
Wipe dry
Turn on the callus remover and slide over the callus area
Wipe area you're working on to keep track of progress
After removing dry callus, clean feet
Moisturize feet
Wash the MicroPure callus remover
Protect your feet by wearing socks and shoes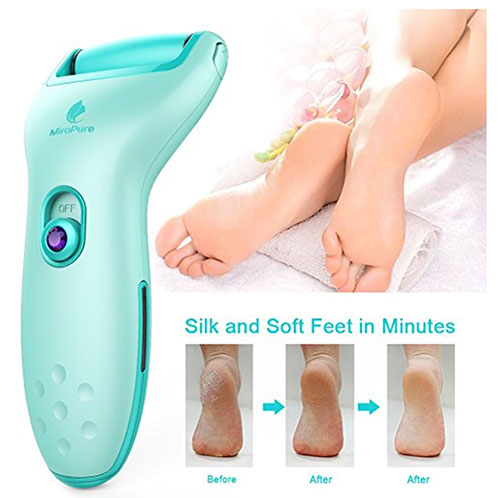 How often should I use the MicroPure callus remover?
If you take great care of your feet, you won't have to use the callus remover often. However, If you're like me and you like to go barefoot around the house and in the backyard, you'll need to use it monthly to maintain the smooth silky feet. It feels so good walking in the backyard with my feet on the warm cement, but it's the fastest way to get the calluses back on your feet. Especially if you don't moisturize after.
How to take care of your feet
Good hygiene, clean your feet daily with soap and warm water, especially when they're sweaty and dirty
Moisturize your feet daily
Clean your toenails often
Wear shoes that fit properly
Change your socks daily
Most smelly feet? Use foot powder.
Shower safely. If you shower in a locker room, wear sandals
Trim your toenails straight across
Every two weeks give yourself a pedicure – remove your calluses
If you stand most of the day, give yourself a foot massage
Dry rough feet? Soak them ten minutes in warm water
My MicroPure callus remover story
With the warm weather fast approaching sandal season, I was examining my feet the other day and felt some rough dry calluses. To my surprise I tried looking at my feet extra close up, even taking some cell phone photos to zoom in and see how bad my calluses really are.
I was shocked how much dead skin built up on the soles of my feet. So embarassed. It's been only a few months since I had a pedicure at the nail salon. That awkward moment when your feet look haggered and nothing like they did after a pedicure. Yikes.
Time to take action! I hunted online for the perfect electric callus remover. Defiantly had to be a powerful roller that was not battery operated. I want fast results and I'm not paying too much money. Bingo, the MicroPure callus remover is just what the Dr. ordered…. even Dr. Scholls would approve. (foot joke) haha.
The MicroPure callus remover arrived fully charged!
As soon as it arrived, I went in the backyard to blast away the dead skin. NO, I didn't even soak my feet first as recommended. Just aim the roller at your dry foot callus or heel callus and sand away. SHOCKED at how much dead skin started basting away. The sunshine helped me see all the dead skin exfoliating and blowing away in the wind. Gross right? Sorry neighbor. That's not parmesan cheese, it's my dead skin being blasted away from my feet.
Yes, I used the entire battery charge on my feet. Both feet took over forty minutes. Not to mention I did keep stopping to have a close look and wipe away the dead skin and take photos for you lucky readers. LOL.
Never, have I seen my feet so smooth.
Over a decade of dead skin has surely been removed from the heels of my feet. Calluses that I've had since before I got my driver's license. Calluses that I thought I'd have for the rest of my life were exfoliated. It felt like a miracle. Honestly, it feels like I have new younger feet. My feet feel smaller in my shoes.
Why do I want pretty sexy feet?
Well, glad you asked…. 😏
I like having pretty feet 👣😊
Pretty feet are feminine, flirty, and just super sexy right?
There's something about the right pedicure nail polish color with the right sandal or stiletto.
Don't forget when you walk away, everyone can see your smooth heels.
Pretty feet that are moisturized, and have a natural "glow from within" make you look youthful and vibrant.
Know what's really embarrassing?
Dried feet with chipped toe nail polish and cracked heels and calluses.
When you go for a pedicure and your feet look like "Fred Flintstone or Barney Rubble" feet.
You can feel the nail salon ladies making fun of your feet… right? LOL.
("Oooooh she say you have pretty feet....")
And let's get one thing straight. They totally deserve to talk trash about your feet. Feel sorry for them they have to fix your feet situation. I couldn't imagine giving pedicures all day looking at dirty feet coming in the door all day.
Ugly feet can kill the mood?
Imagine this scene. You're on a date with a handsome man. He takes you to a five star restaurant and you're dressed to impress. However, there's one area you neglected that people are noticing as you walk by. Your busted feet, chipped toe nails, ingrown toenail, and dry heels walking away. Yuck!
Now imagine if your date didn't notice your foot situation and he brings you back to his place to make out. You get comfortable and take your stilettos off and behold your crusty feet. Trust me, the appearance of your feet, manicured hands, well applied makeup and hair are a reflection how you take care of other parts of your body. Do you think he's going to be as excited after seeing your feet looking sloppy?
My electric callus remover shopping story
First, I was shopping for a hassle-free electric callus remover that had to be electric, rechargeable through USB, waterproof, strong, and affordable. I don't like the battery operated callus removers because I don't want to constantly purchase batteries. Nor do I want to worry about running out of batteries while using a dry skin feet remover device.
And let's face it, the battery powered callus remover motors just feel weak and not as effective. Last, I'm not paying over thirty dollars! I've seen the Amope pedicure callus remover at Bed bath and Beyond for over $40 and said forget it! I shopped for many callus removers and I've actually owned many different types of callus removers.
Can we talk about callus removers?
The "parmesan cheese grater" Manual callus remover. AKA Ped Egg
Yuck. I remember using this back in 2007. I remember filing and filing only to be disappointed to see very little dead skin from my calluses. Weirdly, wanted to see the ped egg filled up with a surprising amount of dead skin. My feet's calluses didn't get fully removed either. Bummer.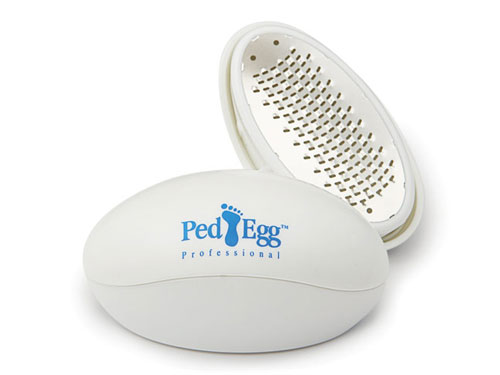 Pumice Stone – Does anyone really use these?
Just the name is enough to not want to use a pumice stone. I've always kept a pumice stone in my shower because it just felt fancy but I always felt they were ineffective. Then they get all gross and I throw them away. When I go to get a pedicure, the salon girls with spend ten seconds scrubbing my feet and it does not really make a difference. Nail salon ladies will also tickle your feet by scrubbing the places you don't have any calluses. Anyone?

Thanks for reading my MicroPure callus remover review.
Let me know if you have any questions.
I'm so excited about the before and after results this callus remover gave me.
Have you tied these callus remover methods? How did they work for you? Please let me know in the comments below.
Jen