Born Pretty Store Review today showing you my new Pink Rhinestoned False Eyelashes. Have you ever shopped at the Born Pretty Store? It's a great place to save money on glammy beauty products. There's so many unique items on the website, these pink Rhinestoned false eyelashes are my favorite false eyelash pick. I'm going to share my complete review on these gorgeous must have eyelashes.
These Pink Rhinestone false eyelashes are so glamorous and pretty! They make me feel like a princess. Long fluttery eyelashes are beautiful enough as it is so adding pink rhinestones is the icing on the cake! My review on these lashes is below, keep reading!
My head just near exploded when I saw the amazing false eyelashes selection on their website! There's more kinds of eyelashes than I ever imagined possible for example there's:
False eyelashes sold in bulk! You could really purchase enough eyelashes for a reasonable price to last you for months! Or even years! LOL. Personally, I like to try and reuse my false eyelashes whenever possible. With this complete set of 10 pairs of pink rhinestoned false eyelashes, (these are the ones I got!) these lashes will probably last me at least 1 year!
These are my favorite false eyelashes because they're so pretty, girly, and they have that "jaw dropping" gorgeous wow factor. These scream beauty! I would consider these eyelashes a great way to dress up your eyes in glamor. My fiance told me he loves the way these look on me.
I've always wondered where women bought their eyelashes in bulk like this. I've never seen them sold in stores like this with 10 pairs of eyelashes per box! I remember going to a party and the host was still getting herself all dolled up for her guests to arrived. Her vanity table was incredible with tons of these boxes of false eyelashes! Now I know her secret 😉 Passing the info along to you lovely ladies 😉
Born Pretty Store Review – Pink Rhinestoned False Eyelashes:
I rate the quality 4 out of five stars. A couple rhinestones fell off the eyelashes during it's shipment from Singapore to California. No big deal, I can glue them back on. Other than that, these eyelashes are top notch in quality and performance. They're soft and they have nice thick black eyelashes. They look amazing and I'm very happy with these pink rhinestone eyelashes. I'm overall impressed with the company and I highly recommend ordering from the Born Pretty Store! Here's the direct link to the Pink Rhinestoned False Eyelashes. (shown here) The website is very fun to explore!
Did I mention for 10 pairs of these gorgeous pink rhinestone false eyelashes cost a total of $7.17? Math, hello that's like $0.70 per set of eyelashes! Or $0.35 per eyelash! Wow that's crazy right? I look at all my really expensive false eyelashes in shame. The quality is there with this Born Pretty Store. If you're on a tight beauty budget, go for some of these inexpensive false eyelashes! There's a coupon down below that will help you save even more! Crazy right?
These false eyelashes do not come with eyelash adhesive. I'm glad they don't because one bottle of eyelash adhesive lasts me a lifetime! This also helps keep the cost down too I can imagine. Speaking of price, you can save 10% off your entire purchase when you use this
Born Pretty Promo Code: EBH10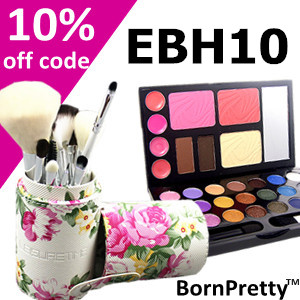 Thanks for reading my Born Pretty Store Review!
I have another Born Pretty Review on their lipstick here!