Black Charcoal Mask Review with photos and videos! Black charcoal masks are everywhere right now! Do they really work? I want to answer all your questions today about these trending purifying black peel off masks and how they remove blackheads and more super fast! I also don't want you to over pay for these masks, I purchased mine for $2 and they're amazing! Watch my black charcoal mask video and see the up close photos what the black charcoal mask pulled out of my pores. 🌚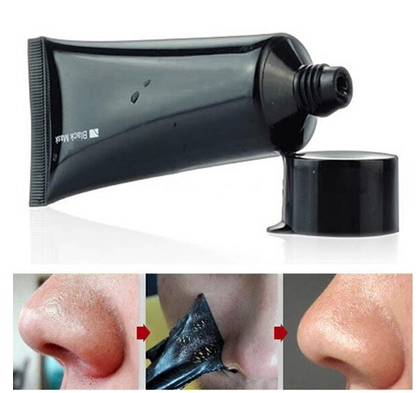 Black charcoal mask photo from wish.com
Black Charcoal Masks
Do they REALLY Work?
Read my Black Charcoal Mask Review!
Do charcoal masks remove blackheads? YES!!!! YESSS! YAAAAAAAS! 🙌 Yes, Black charcoal masks look funny but I'm AMAZED what this black peel off mask pulls out of pores. People are sharing their before and after photos and this charcoal mask practically sells itself.
What the heck did I just pull out of my skin?
Deeply Removes blackheads
Removes trapped dirt
Removes flakey dead skin cells
Removes peach fuzz!
Removes trapped toxins
So I gave the black charcoal mask a try!
It feels so tingly and minty the first few minutes. I LOVE it!
It's easy to apply and feels so smooth.It's an easy mask to apply, however… Be careful, don't get this on your eyebrows! oops! I accidentally lost some eyebrow hairs when I peeled it off;(
Next, I remove the black charcoal mask. See how shiny this black peel off mask dries? It looks wet. When the mask starts to feel tight on the skin, it's ready to peel off.
It's a little hard to get the mask removed in one peel.
I love peeling off this black charcoal mask:
It sounds like I'm removing tape from my face.
Removing the mask feels like your skin is super fresh and clean and your pores feel unclogged. The result is purified, super clean skin with any simple blackheads removed. Some blackheads may be very deep, and you might need a pore extractor tool for spot treatment.
Overall, I'm super excited about the results using the black charcoal peel off mask.
This mask removes blackheads
I'm super excited that this mask removed anything from my skin because I honestly didn't think I had many black heads. The first time I tried this peel off face mask for blackheads, the black mask was COVERED in lots of small and big blackheads. Since I've been using this blackhead mask once every two weeks or at least once a month, I have been seeing less blackheads coming out in this black peel off mask for blackheads. With that being said, yes the more often you use this charcoal blackhead remover mask, the less blackheads you'll have.
I don't want you to over pay for this mask, I found it at wish.com for only $2 and it's just as good if not better than move expensive brands. I recommend you purchase this one too rather then making your own.
Here's a photo of the product you'll find at the wish.com website.
I couldn't perfectly apply the black mask like the model pictured below LOL.
For best results with the black charcoal mask, I have some tips. Trust me, you don't want this stuff stuck in your hairline or dripping into your eyes. The first time I tried this mask, I applied too much. After five minutes my face was dripping all over onto my chest and floor. Now that I'm a black charcoal mask guru, I have some tips to share!
How to apply the black charcoal mask
Step 1: Use your favorite face cleanser to make sure your skin is makeup free and clean.
Step 2: Tie your hair back and wrap it up securely in a towel.
Step 3: On dry skin, pour a dime sized amount onto your fingers or use a clean makeup brush. (avoid hairline and around eyes and eyebrows!)
Step 4: To avoid drips, apply a thin application, don't reapply in same area.
Step 5: Allow up to 30 minutes to dry
Step 6: With dry hands, peel off slowly to minimize any discomfort
Step 7: If any small pieces won't peel off, rinse away with warm water and wash cloth
Step 8: Moisturize if your skin feels dry
BTW, I've seen many black charcoal mask sellers recommend you apply a skin prep, but it's mostly for people with super oily skin. If you skin is still oily after cleansing, take a cotton ball and use a good toner or even use a rubbing alcohol to remove all oil.
Black Charcoal Mask Review
What I

LOVE

about the black charcoal mask
The fact that the mask is black
The black contrast color is a HUGE benefit. You can FINALLY now actually see what's coming out of your skin. Traditional peel off masks are usually clear / transparent. There's no real "WOW" factor in contrast. The black charcoal peel off mask however, shows a high contrast, making it easier to see EVERYTHING!
Activated charcoal is an oil sucking miracle ingredient!
Activated charcoal attracts dirt and oil like a magnet! Sucking it out of your pores! Activated charcoal in history has been used as a poison antidote. Yes, in ancient times, activated charcoal was used as a poison antidote because of its strong ability to absorb. Today, it's still a trusted oil-absorber.
Activated charcoal is gentler than clay and skin care acids
If you have dry skin, these black charcoal masks won't over dry or irritate your skin like clay and acids. Yay!
The mask is gentler on the skin than using purge tools
This makes it easier for me to extract my pores! It's FUN too!
I can use this mask every Sunday to prep my skin for the week.
It's easier than using my pore extracting tools. However, it's nice to have a pore extractor on hand if you want to spot treat! I love my pore extractor tools and I will still use them monthly for tough areas like my hairline and nose crease. (you know it!)
Black charcoal masks also "wax" peach fuzz! Yaaaaaas!
What a fun bonus I accidentally discovered. It can also be the reason why it may feel a little painful! The smoothness is sooo worth it.
Is the charcoal black head peel off mask is good for acne prone skin?
YES! When you use this charcoal black head peel off mask at least once a month, you'll see a reduction in breakouts. Why? Blackheads can lead to pimples and acne. The more unclogged your pores are, the better chance you will prevent acne.
Can you use this black charcoal mask every night?
No. This would actually irritate your skin and might make it more oily and sensitive.
Are there dangers to using the black charcoal peel off mask?
If you have highly sensitive skin, use in moderation. Perform a test patch before applying all over your face. If you apply the mask more than once a week, you may irritate your skin. Do not use this mask everyday.
Can I use the black charcoal mask on my body?
Ideally it's for your face since the skin on your face is thinner and works better with the mask. For body acne, I recommend you use a body cleanser that's designed for acne and "backne"
How often should I use the black charcoal peel mask?
I use it once every two weeks.
What's the best blackhead peel off mask?
I have only tried a few and my favorite it the inexpensive blackhead peel off mask I listed below.
Where should I buy black charcoal masks online?
After looking at ingredients I felt safe purchasing a $2 cheap black charcoal mask from wish.com.

Final thoughts, like all skin care products, they might not work with all skin types. However, I've had great results with my sensitive combination skin. My results were sooo great, I purchased three more bottles of this black charcoal peel mask.
If you have any questions, please leave them in the comments section!
Thanks for reading my black charcoal mask review.
Hey can you share my awesome photo below on Pintreset!? Please?? Thanks!!!! XO

XO Jen