Makeup Vanity Ideas you'll want to copy now. Everything from vanity ideas for small spaces, lighting, makeup brush holders, and more. Get inspired with the best makeup vanity ideas and photos. We've also included steps how to achieve these makeup vanity ideas.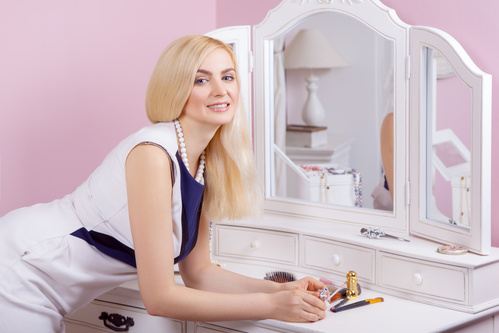 The Top 3 Makeup Vanity Themes
If you are a woman, you will agree that vanity is an inseparable furniture in the home. Even, you like spending some hours in front of it. To make it more comfortable for you, I gather makeup vanity ideas in creating organized woman's domain.
White Simplicity Theme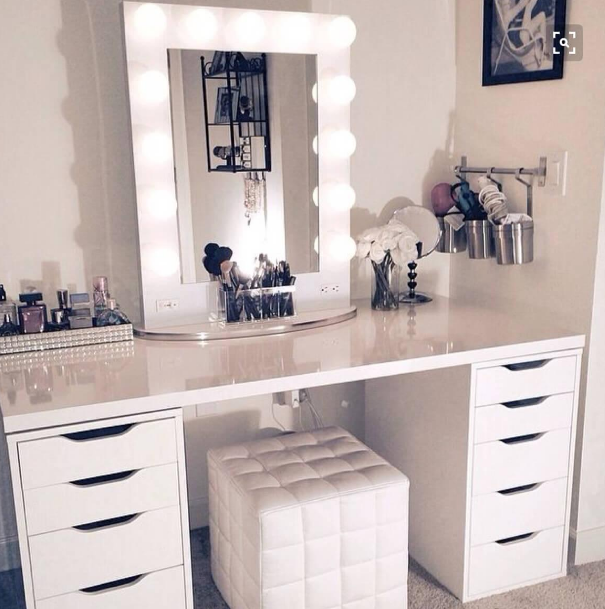 You can not start the day without putting makeups on your face, right? That's why an elegant vanity is a must in order to brighten your life. As neutral colors, black and white are seriously needed for bringing the pure vibes to the room.
Steps:
Put a geometric black and white rug on the floors.

Place a white vanity table on the corner of your room.

Put a white storage towers beside the vanity table.

Place a framed mirror in black color on the table. Line the mirrors with lights will be a good idea.
DIY Antique Vanity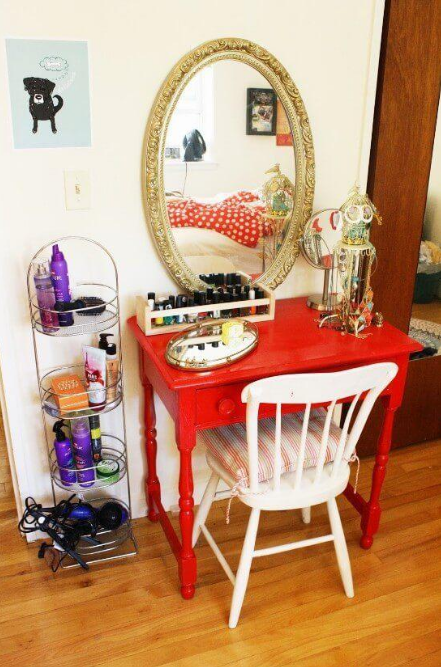 When you are on budget, you are able to make a gorgeous vanity for sure. This idea persuades you to think creatively using your fancy items in the home. Although the furnitures are not expensive, your vanity will be so impressive.
Steps:
Repurpose your chair and table. Paint them with bright colors.

Place the table near the bedroom's wall.

For the chair, place it in front of the table.

Buy a vanity tower in thrift store and place it beside the table.

Hang an antique oval mirror on the wall.
Space-Saving Vanity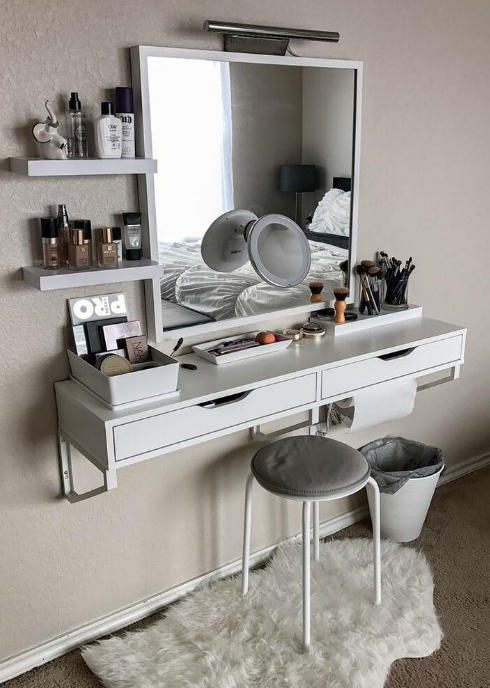 Is your bedroom area small? Then, you must not be worried because you can steal this space-saving vanity idea. It highly emphasizes on minimalistic designs and furnitures. So, it can do magic for your vanity when they are perfectly combined.
Steps:
Install white floating shelf for your dressing table on the wall.

Hang a square mirror above floating shelf.

Place a white short stool under the floating shelf.

Put a small wool rug on the floor near the short stool.
Hence, you are strongly recommended to apply those makeup vanity ideas. They will dramatically turn your ordinary vanity into the awesome one. So, let's get started!
3 Beautiful Vanity Mirror Ideas You Must Steal
Redecorate your vanity is really important to keep it in style. Then, mirror must not be forgotten when it comes to the vanity decor. However, you may get overwhelmed due to a great number of mirrors. If you are looking for vanity mirror ideas, below are the inspirations.
Double-Up The Mirror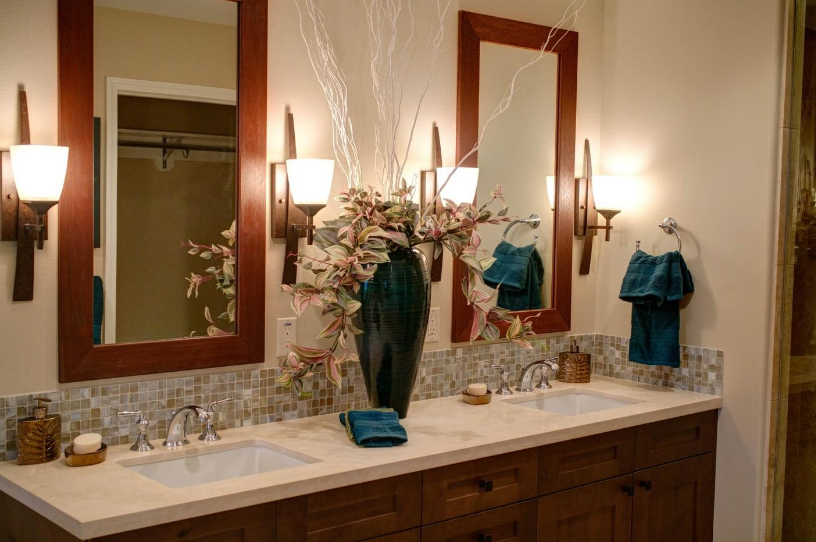 There is unarguably true principle which states that two is better than one. Instead of using one mirror, you can install a pair of lighted mirrors. To make your pampering times more interesting, surround your mirrors with light bulbs.
Pros:
It is great solution especially when you have a roommate. Both of you can get ready faster than using single mirror.

Relatively easy to install on the wall.

You can add various lightings to surround mirrors.
Cons:
Tiny room will look smaller.

The maintenance is more difficult.

Sometimes, double-up mirrors are quite boring.
DIY Sunburst Mirror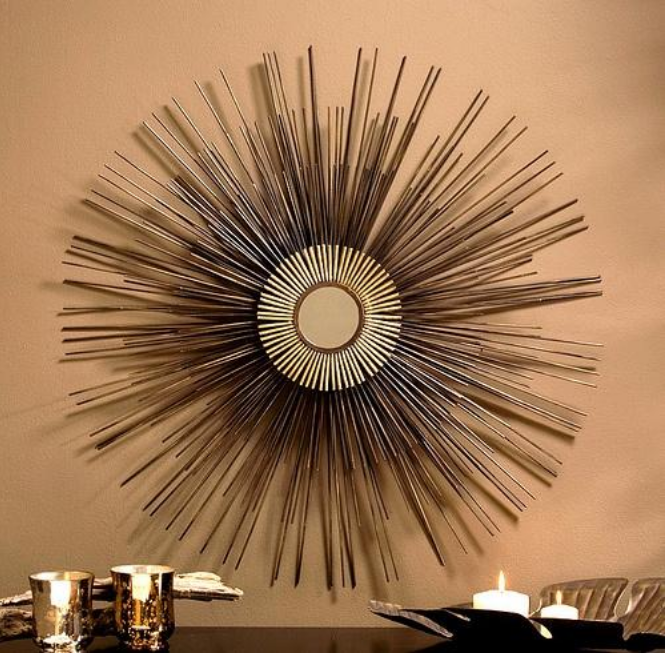 This makeup mirror is really popular. Unfortunately, the price of sunburst mirror expensive. However, you can make it yourself at a reasonable price. Purchase thick wooden skewers, round mirror, hot glue, spray paint in gold metallic color, circle wooden plaque and cutting pliers. Then, craft them to sunburst mirror.
Pros:
This is definitely a no-brainer idea.

It brings spaciousness to your room.

Sunburst mirror has visually appealing look.
Cons:
It is a pretty small mirror for some people.

The installation of sunburst mirror may be time-consuming.
Ceiling Hanging Mirror

Most of the time, you will hang mirrors on wall. Obviously, you can go an extra mile by hanging mirror on your ceiling. In addition to that, you are able to add the other textures such as wire and thick rope.
Pros:
It is such wallet-friendly mirror.

Lots of materials you can choose to suspend the mirror.
Cons:
It is quite hard to install.

The mirror is fragile.
Therefore, which one is your most favorite makeup mirror idea? Do not forget to try vanity mirror ideas listed above to beautify your room.
3 Ways to Apply These Awesome Makeup Organizer Ideas
As a beauty junkie, you have tons of makeup supplies. The problem is there will be always unwanted makeup mess. Sometimes, you may think hard to make them organized. If you want to a find real solution, I have rounded up makeup organizer ideas for you.
Upcycle Your Old Mail Organizer

Recently, almost everything is online. That's why sending postcards are rarely done by people including you, right? Instead of throwing your unused mail organizer, it is better for upcycling yours. Surprisingly, it will turn to be gorgeous makeup storage.
Steps:
Cut your retro mail organizer to your desired size. It depends on how many makeups stuff you own.

Stick the decorative paper onto its surface using glue. Another method is by painting the mail organizer with your favorite color.

Gather your beauty items and put them in a chic organizer.
Magnetic Makeup Board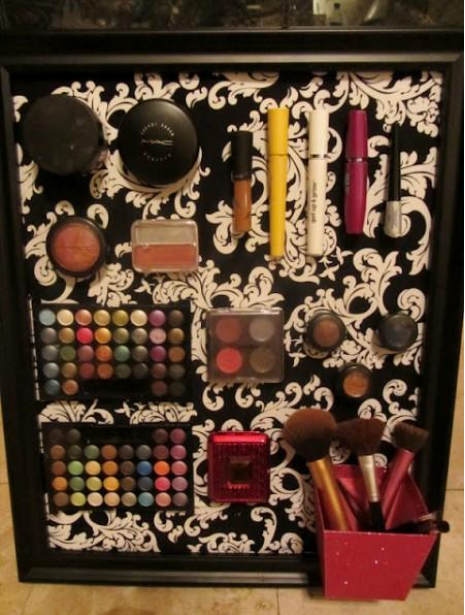 Are you a creative woman? Then, you definitely love doing this DIY project. Furthermore, this organizer will not take up too much of your time. You do not need to dig makeup basket anymore when you are in need.
Steps:
Purchase and paint the frame.

Buy and cut the metal, so it can fit inside your frame.

Stick the fabric to metal using spray adhesive.

Buy magnets and stick them with hot glue on the back of each eyeshadow.

Place all your eyeshadows on magnetic board.
Aluminum Vase Holder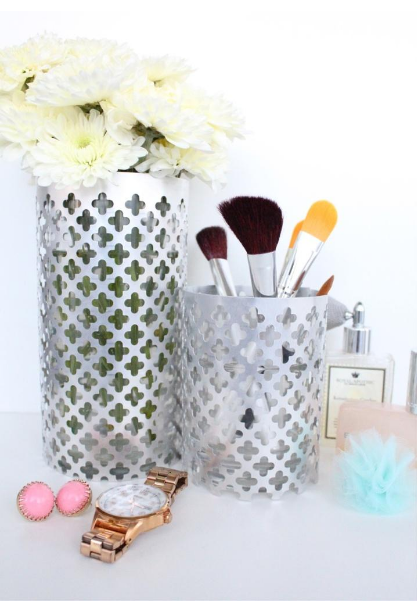 Your makeup vanity is not well-kept without having a special organizer. It plays big roles in creating a cozy environment when you do makeup. Luckily, you can solve your makeup problem with this idea.
Steps:
Purchase the materials such as decorative aluminum sheets, scissors, small screws and bolts, glassware, sandpaper, washers and work gloves.

Wear your gloves and cut aluminum to your's glassware height.

Roll aluminum sheet around glassware.

Insert the screw and on the other side, twist it with the bolt.

Slip the aluminum sheet over the glass.
Finally, those are my makeup organizer ideas. Hope you get inspired!
3 Best Inspirations for Your Makeup Vanity Lights
A perfect lighting does matter in every makeup game. You can not create a flawless makeup if this important element is off. Before putting the makeup on your gorgeous face, you must ensure that your lighting works really well. Here are my solutions to tackle the issue of your makeup vanity lights.
Vanity Desk Lights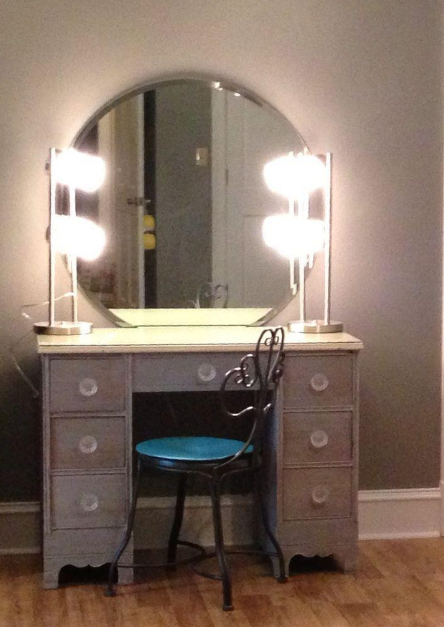 Your dressing table will be incomplete without the presence of table lamp. I suggest you not to purchase yellow table lamp because it will make you wearing so much makeup. Installing overhead desk lights is seriously bad idea because it casts the shadow. Just place 2 desk lamps on each side of your mirror on the vanity table.
Pros:
It is such easy-peasy vanity lighting idea.

There is no difficult installation process.

The price of desk lamp is still affordable.
Con:
It may not give you a good amount of brightness.
Ring Light with Stand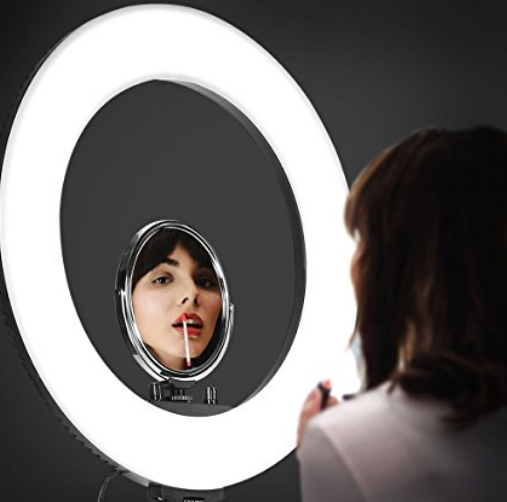 As a woman, you must be obsessed with everything relates to makeup. Then, you certainly have dreamed of wearing an on fleek makeup. Now, your dream comes true for sure. Ring light with stand is perfect for you. Just turn it on and it will help you to get any makeup looks like you want.
Pros:
It surely gives you great lighting when you apply the makeup.

This ring light is very portable due to its lightweight characteristic.

It has a wonderful durability.
Cons:
Ring light with stand is quite expensive.
Light Bulbs Surround the Mirror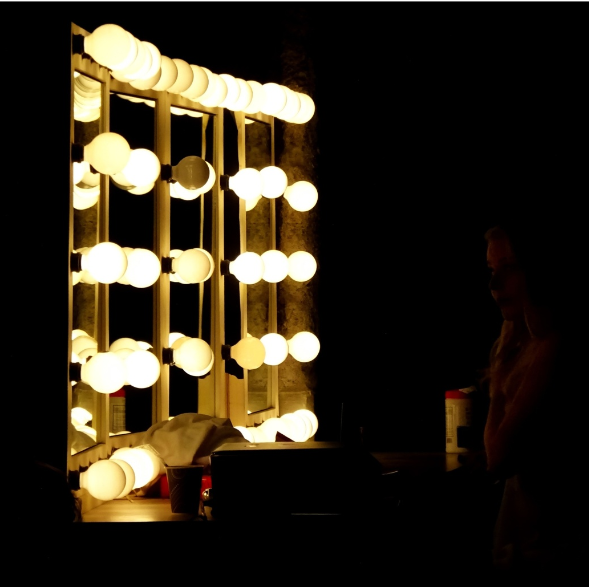 If you want to fill the space on your dress table, the anwer is installing light bulbs on your mirror's frame. Furthermore, it can be said that light bulbs bring retro vibes to your makeup vanity. For information, it is better to choose natural white light bulbs.
Pros:
You can get high-quality lighting.

The price is pretty reasonable.
Cons:
Sometimes, its look is aesthetically unpleasing.
Hence, you will have a gorgeous makeup look as long as you apply those ideas of makeup vanity lights explained above. Just, try it yourself.
3 Brilliant Ways to Store Your Makeup Brushes
If you love wearing makeup on daily basis, you must own lots of makeup stuff. In reality, you may face storage problem. One of the unwanted storage issues comes from your excessive brush collection. To tame the clutter of your makeup brushes, I have found the smart ideas for you.
Painted Mason Jars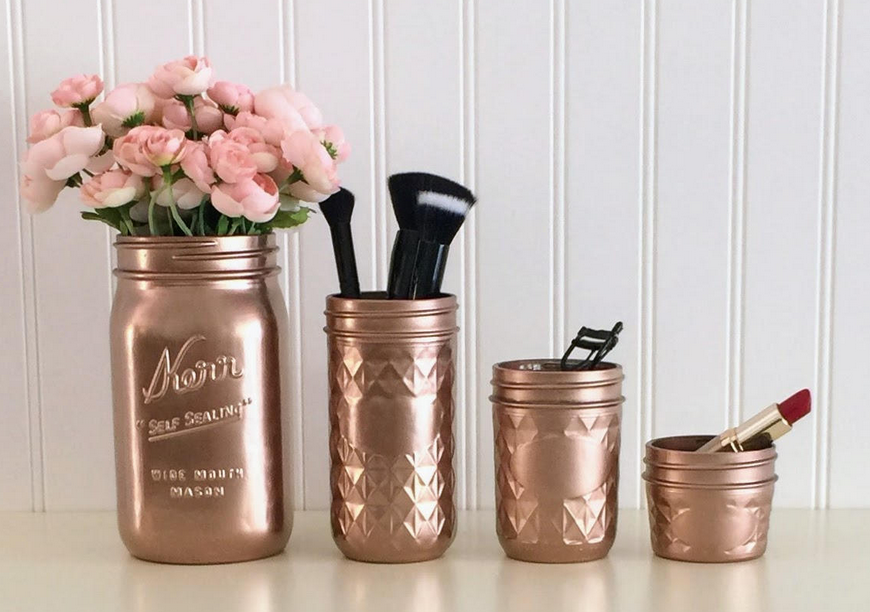 There is nothing easier than apply this idea. Most importantly, it is seriously wallet-friendly. Moreover, you can definitely mix and match your mason jars with favorite paint colors. Do you have abundant brushes? Do not worry! Because you only need to purchase mason jars as needed.
Steps:
Buy mason jars, newspapers, scissors, masking tape and spray paint.

Place the mason jar on newspaper, then coat the outside of jars with spray paint.

Cover the outside of mason jars using spray paint 3 times.

Put your brushes in the painted mason jars.
Fish Bowl Brush Holder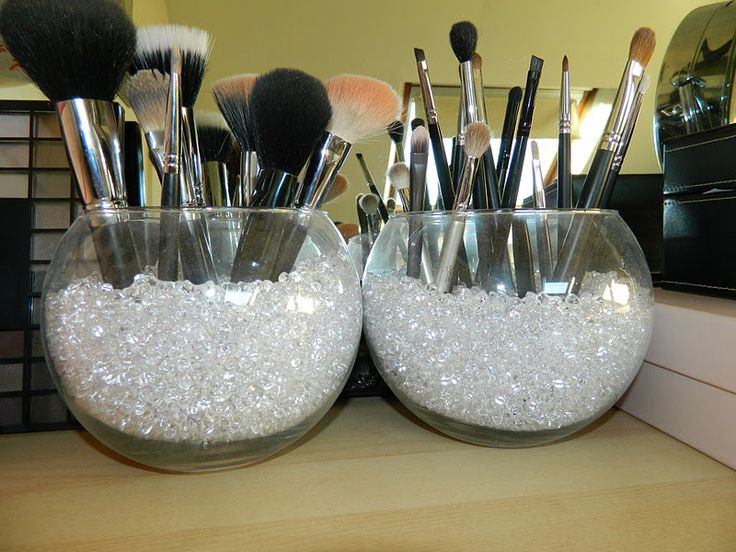 An ordinary holder is too boring for you, right? To declutter your brushes, this idea is extremely worth to try. Guaranteed, it is very affordable even when you are on a budget. Instead of using the old plastic holder, I recommend you to use fishbowl due to its roomy storage.
Steps:
Purchase fishbowl in the pet store.

Fill it with coffee beans or rocks. You can use another filler such as plastic beads.

Store your brushes in the fish bowl.
Glamorous Glass Storage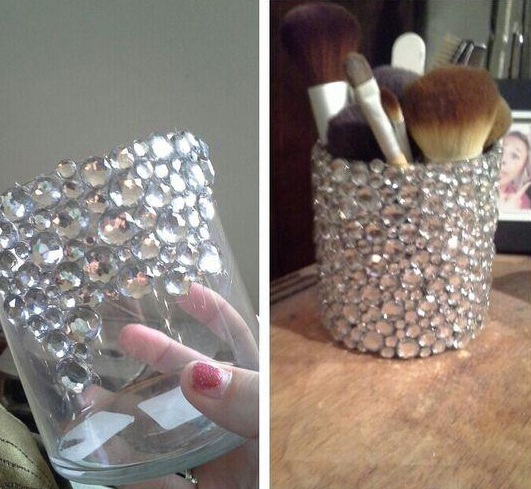 When you are looking for modern brush holder, it is the right one because it has a stylish design. Trust me, if you make brush storage with a glass jar, your friends obviously envy you due to its awesomeness. Plus, it is super easy to do.
Steps:
Shop little jewels and superglue in the craft store.

Stick little jewels with superglue on the outside of the glass.

Add your makeup brushes to the glass.
In conclusion, storing brushes is not as difficult as you may have thought. You are only urged to solve your problem creatively. Let's say goodbye to the clutters of your makeup brushes!
Did you like these makeup vanity ideas? Please let us know in the comments below.
Did you enjoy this week's special guest blogger? Be sure to check out his amazing website!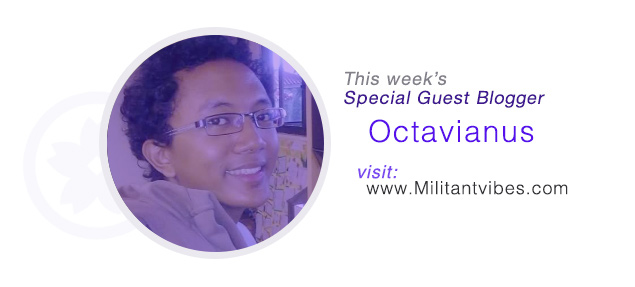 Octavianus Tri Harjanto is an entrepreneur, publisher and editor who is passionate about wonderful home design ideas. He's written extensively to help people gather ideas in creating & maintaining marvelous homes. He will support you with inspiring visuals of cool homes, artistic garden, architectural marvels and up to date design trends. Find him here: www.Militantvibes.com.