Uses for coconut oil you can use for health benefits, beauty, and even household uses.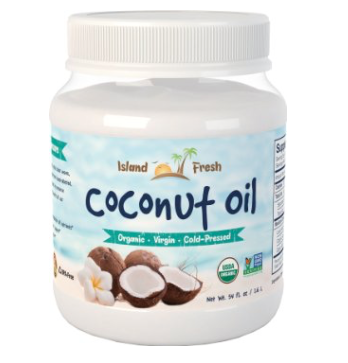 Be sure to use organic cold pressed virgin coconut oil. Why? This coconut oil has been minimally processed and has the vitamins and minerals intact and not damaged from heat.
It's rare to find cold pressed coconut oil when I go to Target, they're mostly expeller-pressed.
This Island fresh coconut oil is pure, organic, cold-pressed, and in my opinion the best smelling kind you can buy. It's my new favorite to use for both beauty and cooking. Nobody has paid me to say anything about this coconut oil and nobody gave me this for free.
I want to show you how this pure coconut melts into your skin
Coconut oil is actually fun to apply when its in solid form. Just opening the lid of this jar smells refreshing. You just scoop a spoonful of the soft waxy goodness into the palm of your hand. Apply wherever you want using your fingertips. The coconut oil melts with the warmth of your skin. I used a small 1/2 TSP to show you on the back of my hand pictured below. It just slowly melted and slid down the back of my hand faster than butter. Coconut oil is lighter than olive oil, so it never feels greasy. It also smells nicer than olive oil. 😉
Coconut oil has a cooling effect when you apply it to your skin. It's a unique sensation, and great for a hot day. I really can't explain it. When I apply coconut oil to my face, I feel it melt into my skin and it feels amazing when the warmth of your skin and coldness of the coconut collide. Go try it and see for yourself. 🙂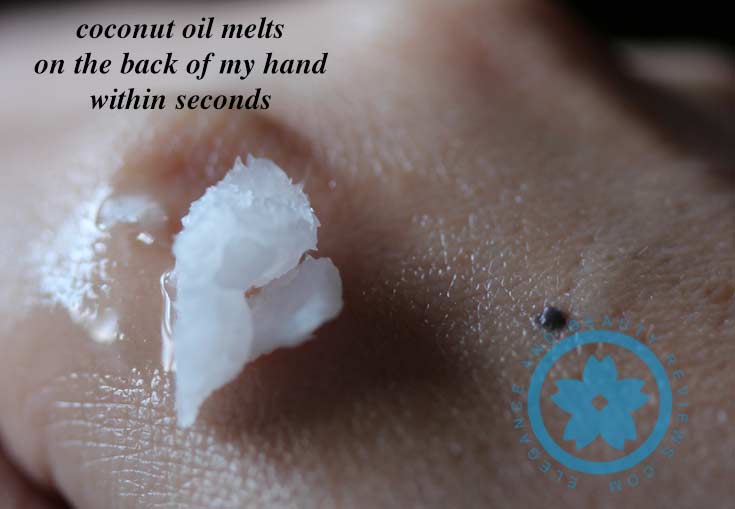 Uses for Coconut Oil
Here's the complete list of coconut beauty benefits
Coconut oil is my favorite for moisturizing my face and body, it just smells so amazing and absorbs so deeply. I do use other oils that don't smell as good such as rosehip seed and olive. I like to apply the coconut oil on top of these oils to cancel out the smell.
1. Smooth frizz and fly-aways instantly by dabbing a pea sized amount into your hands and rubbing onto your hair
2. Substitute your daily lotion with coconut oil for more healthy looking skin
3. Make "no poo method" shampoo – wellness mama.com
4. Clear up acne with coconut oil applied daily to the skin
5. Coconut oil is a main ingredient in luxury homemade lotion bars
6. Make a homemade deodorant bar for sensitive skin – Thank your body.com
7. Exfoliate dead skin and condition at the same time when mixed with equally with sugar
8. Coconut oil is a great carrier oil to add drop of your favorite essential oils to
9. Anti-aging facial massage oil
10. Dishpan hands remedy – massage onto hands and apply rubber gloves while doing the dishes, softer hands you'll love
11. Softer skin with homemade whipped coconut oil body butter – living the nourished life .com
12. Stimulate hair growth massaging warm coconut oil into your scalp
13.Exfoliate lips with a homemade coconut oil lip balm – bustle.com
14. Apply to skin for treating a sunburn
15. Use a small mount as a nightly facial moisturizer – wake up to glowing skin
16. Makes a great tanning lotion
17. Anti-fungal cream
18. Prevent and treat dandruff
19. Relieve dry elbows
20. Lock in moisture after showering
21. Cold sore treatment
22. In-grown hair treatment and preventer
23. Prevent brassy hair by using as shampoo
24. Aftershave – dab onto your face or legs to prevent rashes
25. Make a skin detox charcoal and clay facial soap – wellness mama.com
26. natural hair detangler for kids
27. Naturally rebuild your teeth making them stronger with coconut oil! Make a safe homemade mineralizing toothpaste – Dr. Axe.com
28. Naturally lighten age spots over time using coconut oil
29. Makes a great massage oil for summer, cools the skin and moisturizes
30. Makes an amazing deep conditioning hair mask the crunchy moose.com
31. Mix equally with salt to remove rough dry skin on feet
32. Coconut oil for dry cracked feet and heels – Dr. Monavand.com
33. Makes a great cellulite treatment – coconut oil tips.com
34. Reduce the appearance of varicose veins by using coconut oil as a lotion
35. Makes an incredible homemade white tea coconut oil bath bomb – bakingdom.com
36. Shaving cream for the perfect shave – hello glow.com
37. Sooth skin with a coconut oil bar soap – mommypotamus.com
38. Naturally whiten teeth by mixing with baking soda for a tooth paste
39. Condition cuticles to help grow out your nails
40. Grow longer eyelashes – good health academy
41. Grow thicker eyebrows
42. Natural makeup brush cleanser
43. Help prevent and seal split ends
44. Hair gel substitute
45. Reduce under eye puffiness
46. Reduce under eye redness
47. Help reduce under eye circles
48. Cleanse the skin naturally
49. Help prevent wrinkles
50. Help lessen the appearance of wrinkles
51. Help heal the skin from severe sun damage
52. Natural cheekbone hilighter
53. Makes a refreshing makeup remover, the coconut oil releases a cooling sensation on your face and deeply removes makeup
Here's the complete list of Coconut oil benefits for Cooking
54. Adding a teaspoon of coconut oil to your foods or beverages for energy
55. Substitute your coffee creamer with coconut oil for a healthier cup of coffee
56. Perfect for "buttering your toast"
57. Healthy popcorn topping
58. Healthy topping for baked potatoes
59. Healthy non-stick cooking spray
60. Sports drink replacement – coconut oil, chia seeds, fresh fruit water
61. Makes delicious meltways – perfect healthy coffee treat yum! – wellness mama.com
62. Substitute butter when cooking with coconut oil, a great vegan butter substitute
63. Keep eggs fresher by sealing the pores of eggs in your refrigerator with coconut oil
64. Make a healthy homemade mayo: recipe – wellness mama.com
65. Coconut oil sunscreen – the coconut mama.com
66. A healthy substitute for any vegetable oils when cooking
67. Season a cast iron skillet with coconut oil – thank your body.com
Here's the complete list of Coconut oil benefits for your Health
68. Balance your thyroid function with coconut oil – health impact news.com
69. Improve your sleep by taking coconut oil daily
70. Natural throat lozenge
71. Boosts immunity
72. Helps prevent bone loss
73. Constipation relief
74. Eating coconut oil helps improve depression
75. Protects against certain types of cancers
76. Ezcema cure and treatment
77. Fights heart disease
78. Balance hormones naturally with coconut oil – Draxe.com
79. Diabetes –Balance blood sugar levels naturally with coconut oil – coconut oil.com
80. Increase your mental awareness by ingesting coconut oil
81. Speed up weight loss
82. Delicious coconut cream concentrate for an instant boost of daytime energy – tropical traditions.com
83. Help prevent or reverse Alzheimer's with coconut oil -alzheimers.net
84. Coconut oil makes a great natural remedy for removing cradle cap – massage in and remove with warm water – bellybelly.com
85. Great remedy for yeast infections – Yeast connection.com
86. Sooth chicken pox, poison ivy, and dry itchy skin
87. Sooth hemorrhoids naturally when applied externally
88. Massage into skin to help lessen arthritus
89. Help speed up UTIs both internally and externally
90. Treat lice using coconut oil – homeremediesforlife.com
91. Lessen the absorption of chlorine when swimming when applied to skin
92. Eat raw coconut oil to naturally boost your metabolism, it's high in MCFA – healthy home economist.com
93. Rebuild muscles with a homemade coconut post-workout smoothie – healing smoothies.com
94. Brain boosting healthy coconut oil snacks for kids – Healthimpactnews.com
95. Add a tablespoon of coconut oil to your hot tea for a faster recovery from the flu or cold
96. Makes a great laundry soap – perfect for highly sensitive skin -lovin soap studio.com
97. Heals skin infections – love strong.com
98. Safe all natural personal lubricant
99. Healthier gums with coconut oil pulling method – drake..com
100. Coconut oil trims your waistline – articles.mercola.com
101. Eating coconut oil will improve your cholesterol values – nature pacific.com
102. Gentle treatment for pink eye
103. Psoriasis home remedy DIY – coconut oil tips
104. Coconut oil for can help with allergy symptoms
105. Help speed up ear infection healing – mercola.com
106. Coconut oil pulling chews for healthier mouth – wellness mama.com
107. Sooth a soar throat by adding coconut oil to hot tea
108. Eating it helps your body absorb calcium and magnesium
109. Lessen anxiety by eating coconut oil daily
110 Make your own vapor rub – wellness mama.com
Coconut Oil Uses for Moms
111. Increase milk production in nursing mommies – take 3 tbsp per day
112. Coconut oil is perfect to make a homemade baby wash – bellybelly.com
113. Postpartum soothing spray to alleviate after-birth – wellness mama.com
114. Nipple Cream to sooth tough nipples during breast feeding – natural fertility.com
115. baby body lotion perfect chemical-free moisturizer – bellybelly.com
116. Apply coconut to your belly to prevent stretch marks
117. Coconut oil is part of a natural diaper cream recipe – Wellness Mama .com
Household uses for coconut oil
118. Coconut oil leather cleaner – Massage into leather to soften and condition – for shiny leather only. Always do a test spot – apartment therapy.com
119. Remove rust with coconut oil – apartment therapy.com
120. Bronze polish + Cleaner – apartment therapy.com
121. Non-toxic bug repellent recipe – coconut oil.com
122. Great for soothing pet's skin externally
123. Fix a squeaky door hinge
124. Furniture polish
125. Dress your tires with coconut oil – moisturizes plastic trim
126. Stain remover – one park baking soda/ one part coconut oil, apply to stain for several minutes – Motherearthliving.com
127. Wood polish – mix coconut oil with lemon juice for all wooden furniture and floors – coconut merchant.com
128. Label remover – coconut oil and baking soda – one teaspoon of each to rub away sticky labels – coconut merchant.com
129. Sooth your pet's dry cracked paws – pet 360.com
130. Coconut oil improves dog breath. Brush their teeth with coconut oil. – pet 360.com
131. Coconut oil gives your dogs an energy boost
132. Improve the look and feel of your dog's coat
133. Remove chewing gum from hair
134. Prevent hairballs coconut-oil tips.com
135.Pet ear mite remedy coconut-oil tips.com
136. Sooth pet's dry nose
137.Natural Flea repellent – apply lightly on dog's fur
138. Natural dog shampoo recipe: coconut-oil tips.com
139. Natural hand soap
140. Coconut oil candles – thrive market.com
Thanks for reading Uses for Coconut Oil, please add your own benefits.
-Jen